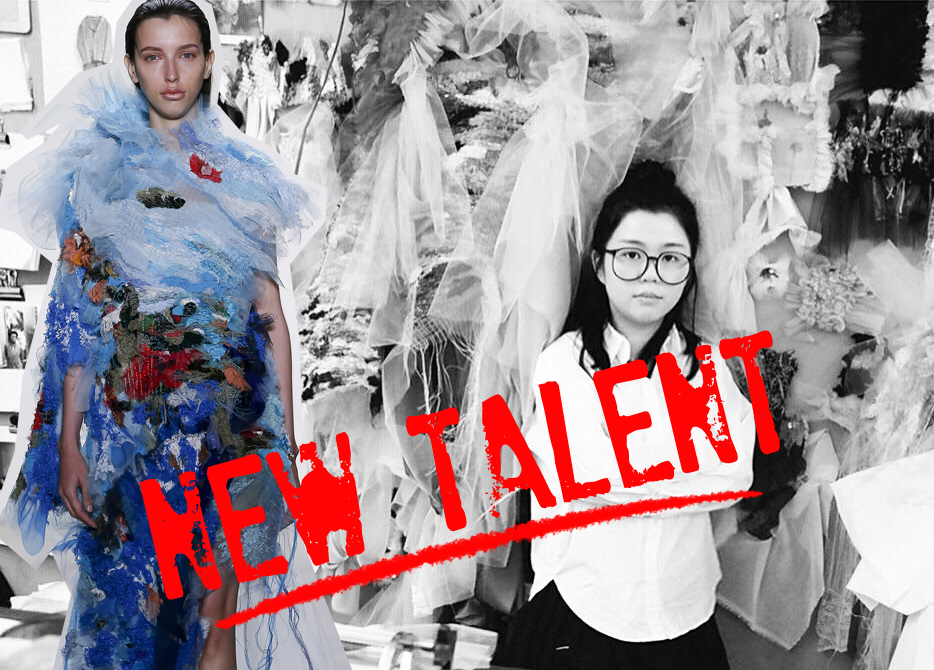 Her MFA graduate collection was one of the most photographed and admired at New York Fashion Week and
she conquired the hearts of public and professionals with immense
clouds of tulle and handmade embroideries. Let's talk with Caroline Hu, the young and nice student of Parsons School of Fashion
Sometimes can happen that one student of a fashion school, also if is so renowed as Parsons is, dazzle the public with a graduate collection incredible mature and innovative at the same time. The novelty is not technological this time, but more poetic and artistic. As we haven't seen in a long time (do you remember John Galliano and Alexander McQueen or Martin Margela examples?), she give us the final demonstration that fashion is a real form of art.
Her summer 2018 collection, presented with all the other students of MFA Parson School of Fashion at last New York Fashion Week, is a rapture of ecstasy and delicacy, of fabrics used as brushstrokes on meters and meters of tulle to recreate the effect of a

Reinassance

painting. As she made since the beginnings at Central Saint Martins school, fashion is not only a question of shape, proportions or colors. As she said in this interview, dresses become real artworks, are made with the same matter of dreams.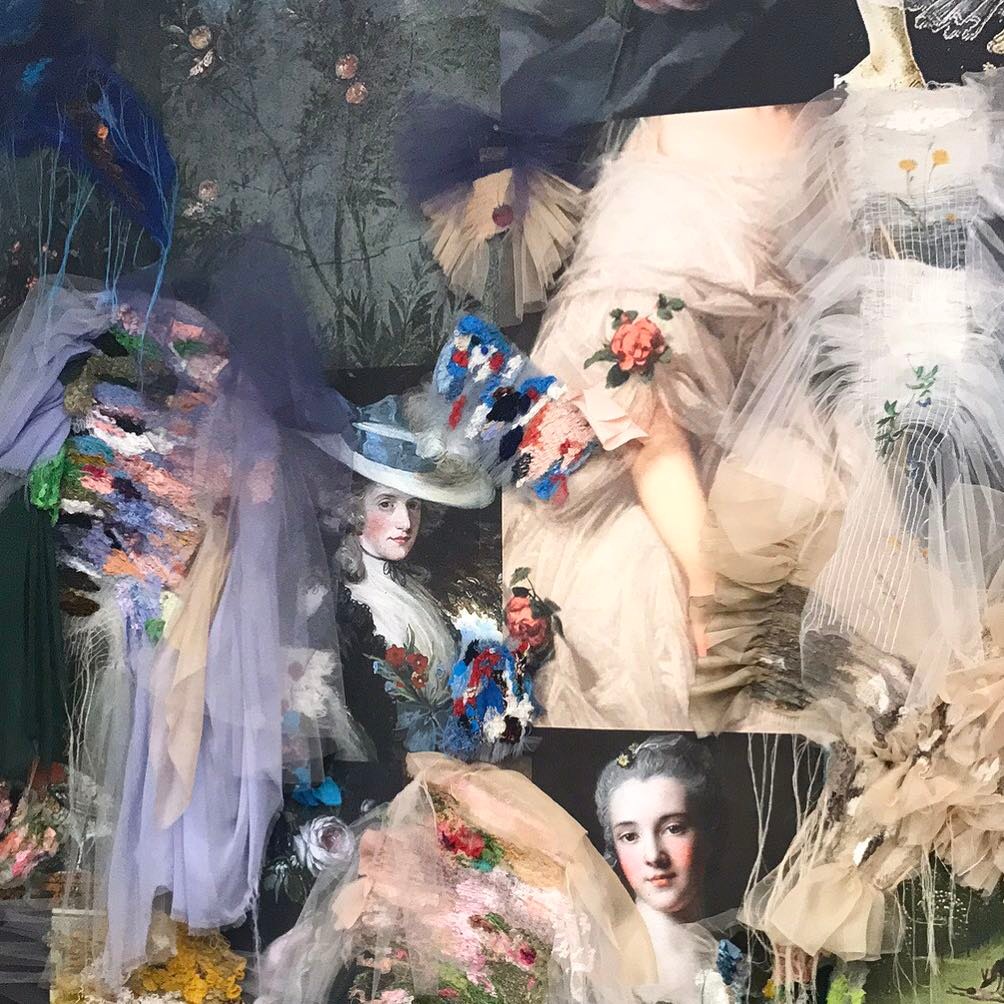 Caroline Hu PARSONS MFA summer 2018 collection mood board
This is a complicate but wonderful job. When you decided to become a
fashion designer and what were the difficulties and best satisfactions
during your studies?
I
think I always enjoy my design process. I think that the more difficult part is
how to focus only one thing and balance the design. Because fashion
students always like to put all the thing they know into one project and
this looks too surface, so in these years I've tried to focus on one or two
things at a time and research/develop
deeply o
ne technique. Like my NYFW collection, I focus on fabric design and put my inspiration and my very personal
feeling into fabric design.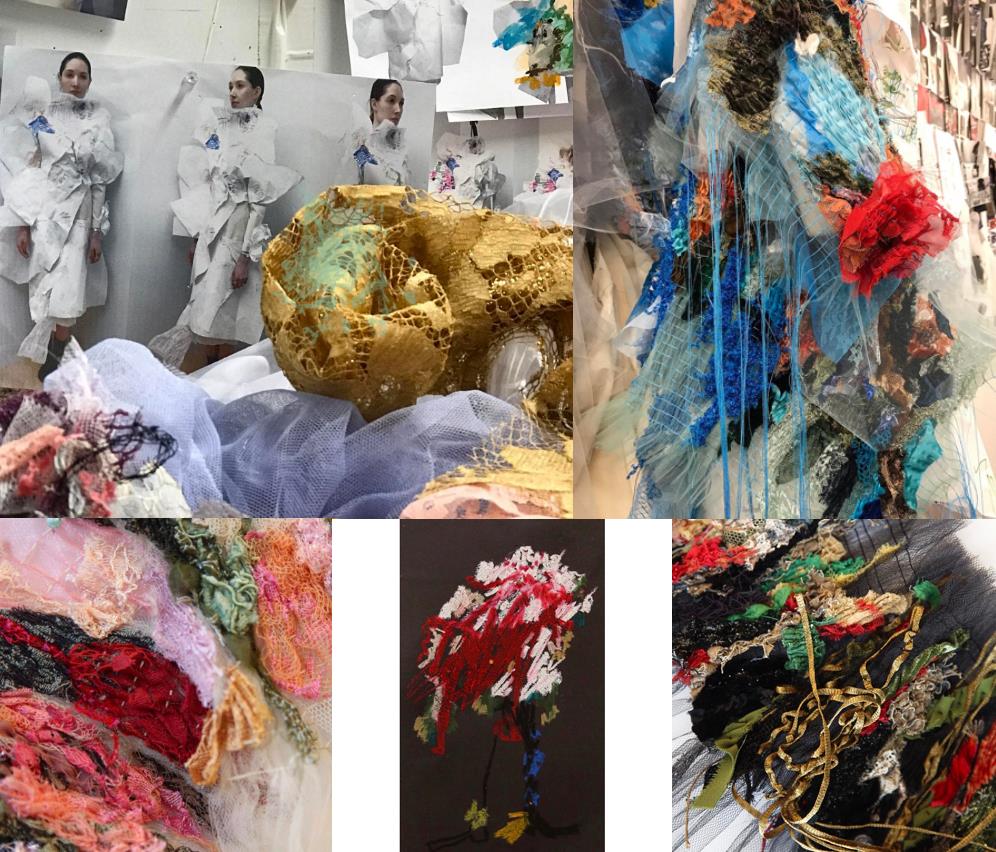 Caroline Hu PARSONS MFA summer 2018 collection fabrics
What are the major differencies between Central Saint Martins and Parsons School of Fashion?
…difficult
question. I think they are different not only because two different schools.
They are in different city. New York is more focus on technique,
London is more about attitude and everyone is not afraid to express
thinkinsg and feelings, even if lots of people don't like
that. I think CSM taught me to be brave and be myself. And New York
people care time
more
efficiently and
designer need to know the value of his job and even more about business. Maybe it's not right, I
just feel that. But I need to thanks for Parsons Mfa program, our tutor
SHELLEY and Joff who very encouraged me to do what I want to do.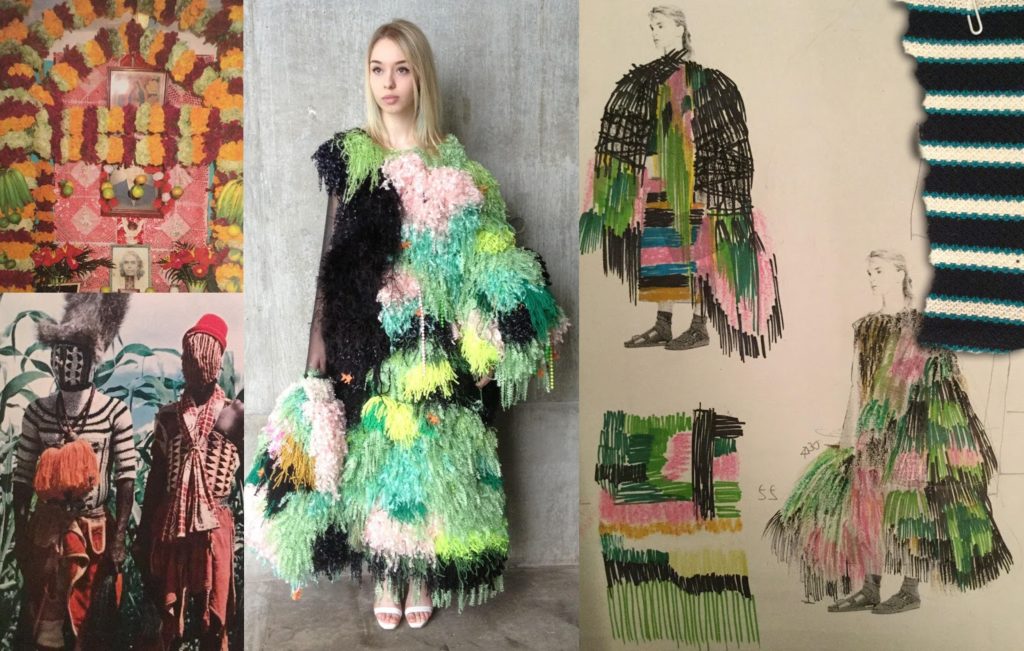 Caroline Hu Central Saint Matins "Death project"
Every designer has his own method. How is your approach to design
process and where do you make reasearch to find inspirations?



I
like drawing and take photos when something really inspired me. I think I'm a very emotional person, I alway has a story in my mind, maybe coming
from my dreams or maybe just my imaginary. When I working on my collection I need to keep my self
energy
very positive, if I feel sad it means that I can't make beautiful things today…hahah!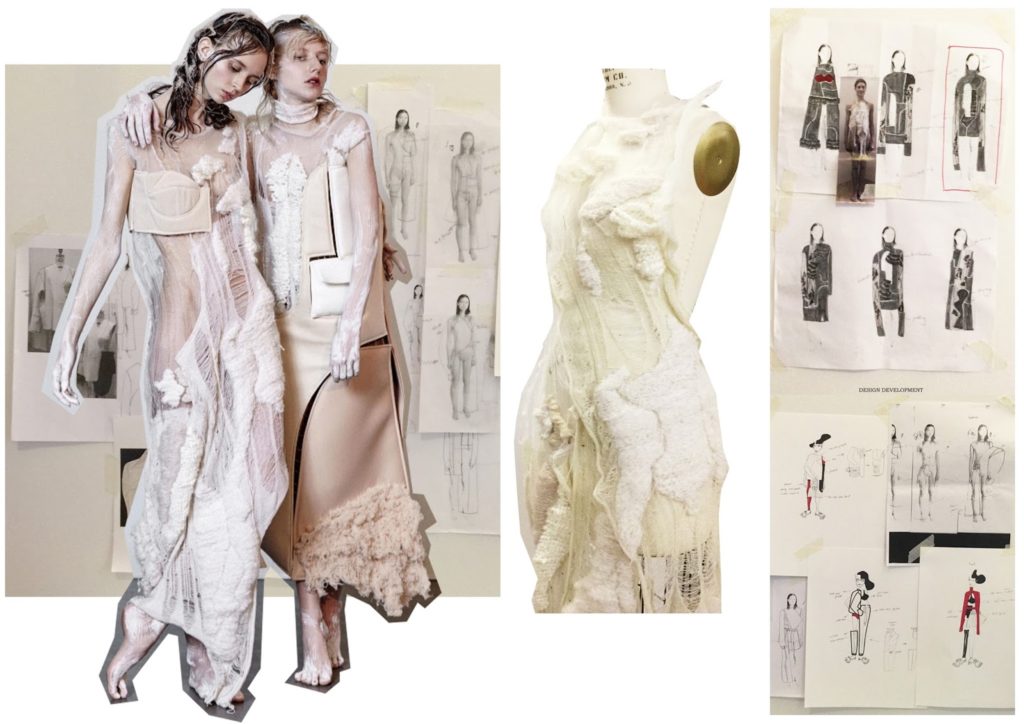 Caroline Hu's Parsons "Protection project"
In your previous final collection for CSM I've seen a great study of
ancient costumes mixed with traditional elements. How is your connection
with the past and how it affects your style?
For my
BA final collection, I was inspired by a movie name "Elizabeth Bathory". She killed hundred of girls and use their blood to keep her young. And
she was a real person in history, that's very shocked me. And in that movie
she was not just molded into a bad queen, she also a very good mother. She had
many faces, was very kind, romantic, while in another side she wasvery evil. I'm
always attracted to mysterious things or person. So I tried to used
embroidery to connect all this with my inspiration. But I want my design
more contemporary, so I tried to embroidery on plastic bag. Just use
cheep materials to made luxury feeling, keeping big volume in my
design.
I
alway know that I'm good at textile/fabric design and I like to use color to
express my design. Some people like to dig deeper into pattern making. But I
like fabric design, also if people don't like too dramatic shape in their daily life.
If I had make nice textured fabrics with simple shapes, I think people will
like that. Oh see, this is a very different thinking when I'm in London. There I
don't care about other people hate or love about my design, I project just what I
want to do. But in NY, I will thinking about who is my customers.
Interesting.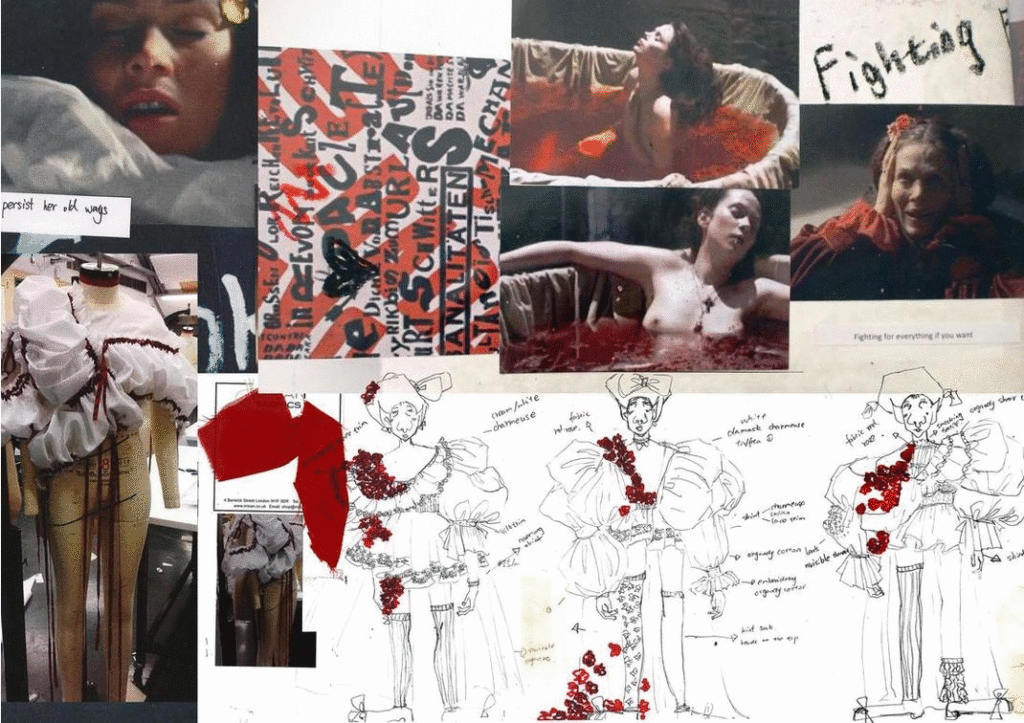 Caroline Hu CSM final collection moodboard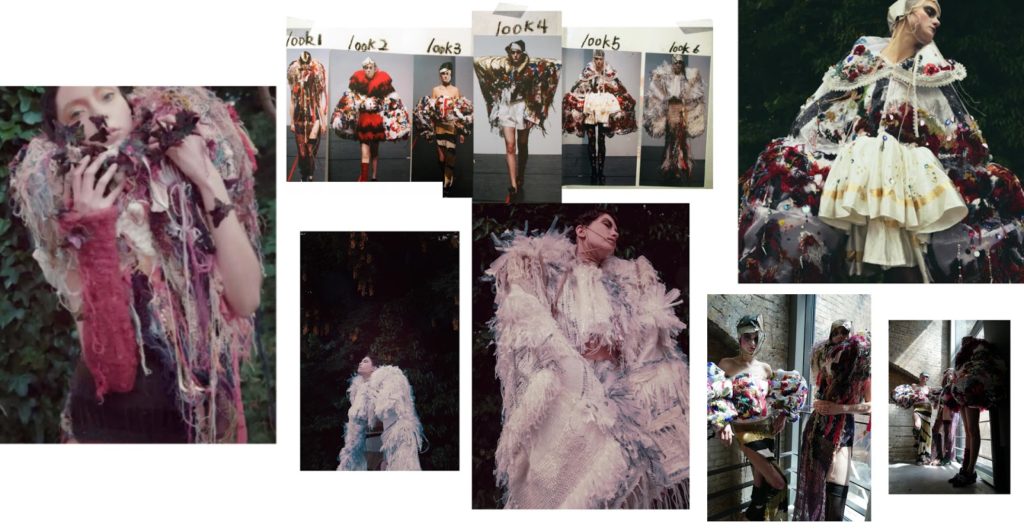 Caroline Hu CSM final collection
Textile seems really important for you. In what direction are you moving about innovation in this field?
I
think I will keep focus on textile/fabric design. I like to learn
some traditional technique and recreate it. Like bobbin lace, that's a very old and dedicated lace.
Finding a method in the ancient history is very difficult like to learn how this
working, but it still unique, so I want to recreate it and use in my own way
to build up a different design language. Even after 50 years when you'll look
your wardrobe, you'll still love it because of fabric.
Can you describe the inspiration of your summer 2018 graduate collection?
We
had a project before. My tutor assigned me a project about a brand named "Brioni" (menswear), they asked me to recreate this brand. This is a very
tailored menswear brand. Totally not my style, so I
spent long time to research the brand's background, trying to find out
something can inspire me and also connect to this brand. So I found that
Brioni was founded in Rome in 1945. I
researched a lot about Rome city, architecture, history. And it's a very Romantic city. I was deeply touched by it. And I find out that Rome's remains
buildings had lots of scaffoldings on top to rebuild or repaired them. So I
use the
keyword
"rebuild" to recreate my fabrics, destroying something to
build it again. So finally I find out my texture design. I've continue
to develop this texture in my final collection. It's also inspired
from Renaissance arts and painting, like those by Bosh. Every look has different
story and color palette but the main keyword is Romanticism.
Caroline Hu MFA Parsons graduate collection
Your collection is one of the most noted and appreciated by fashion
magazines, blogs and surely buyers. How is changing your life and what
are your projects for your soon future?
Thank you!! I'm just replying emails everyday
… you know my english is not very good. Still I need
more
practice.
Hi Caroline, thanks to you and your indomitable spirit! We are sure that whatever are your projects your future will be bright because you are really talented!
And dear reader, what do you think about our Caroline Hu?
Enjoy more fashion stories and info about graduate collections, young designers and avant-garde fashion in our blog, always focused on illustration and inspirations!