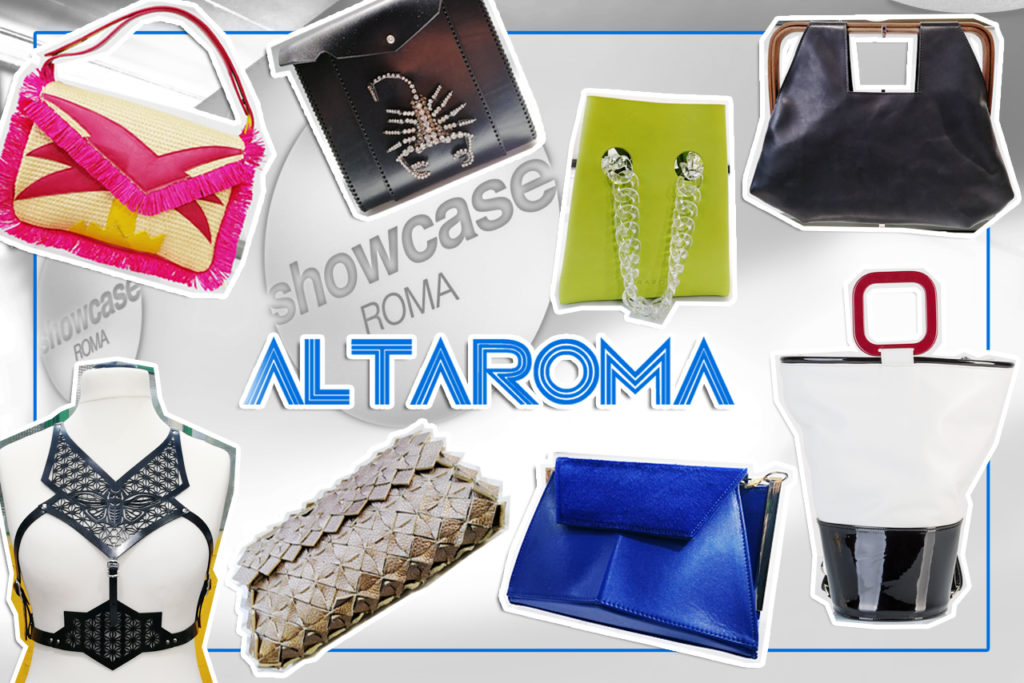 Showcase is an occasion to discover new and interesting avant-garde emerging brands. Arrived at its 4th edition, this special exhibition organized by Altaroma is even more becoming a real jumping-off point for the new generation of designers who carry forward the excellence of Italian design and manufacturing.
For 4 days the large post-industrial spaces of Pratibus District have been the perfect set for the exhibition of Showcase, a project organized by ALTAROMA with the support of Italian Ministry of Economic Development to present many emerging brands and young designers to an important audience of international buyers and mass media.
Showcase Altaroma
The aim is to promote and enhance the work of the designers giving them the space to show their creations, speak with journalists and to make contact with many buyers and owners of famous and important stores, with the real chance to expand the business opportunity.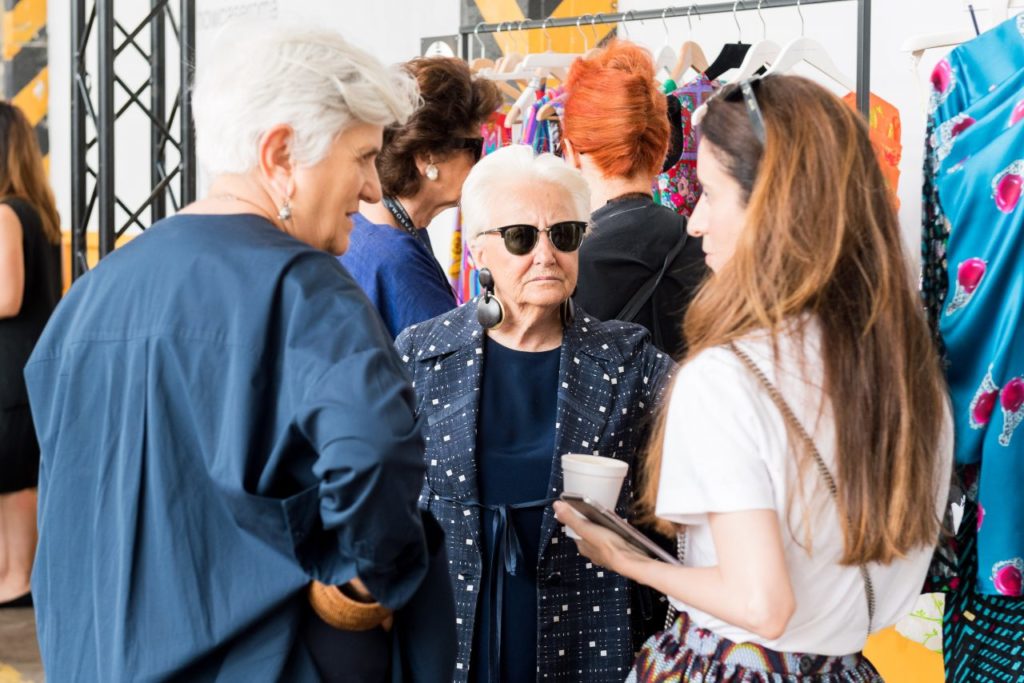 Laura Lusuardi, Fashion Coordinato of Max Mara, and Deanna Ferretti, founder of Modateca Deanna, at Showcase Altaroma
Among the designers who were at Altaroma, surely those who presented accessories and bags were the most appreciated. I met some of them, speaking about their brand and often falling in love for some innovative design or bold detail.
0770 is the brand by Irene De Caprio and Enzo Pirozzi, a designer duo who creates incredibly sensual and cutting-edge accessories dedicated to strong and self-confident women. Leather corsets, collars, jewels and bags totally handmade, sometimes with handicraft manufacturing that requires even 3 days. And for this edition their creations are also enriched by the jewels of Vittorio Ceccoli, for one-of-a-kind pieces that unify the bold beauty of black leather to the luxury of bejewelled animals and figures.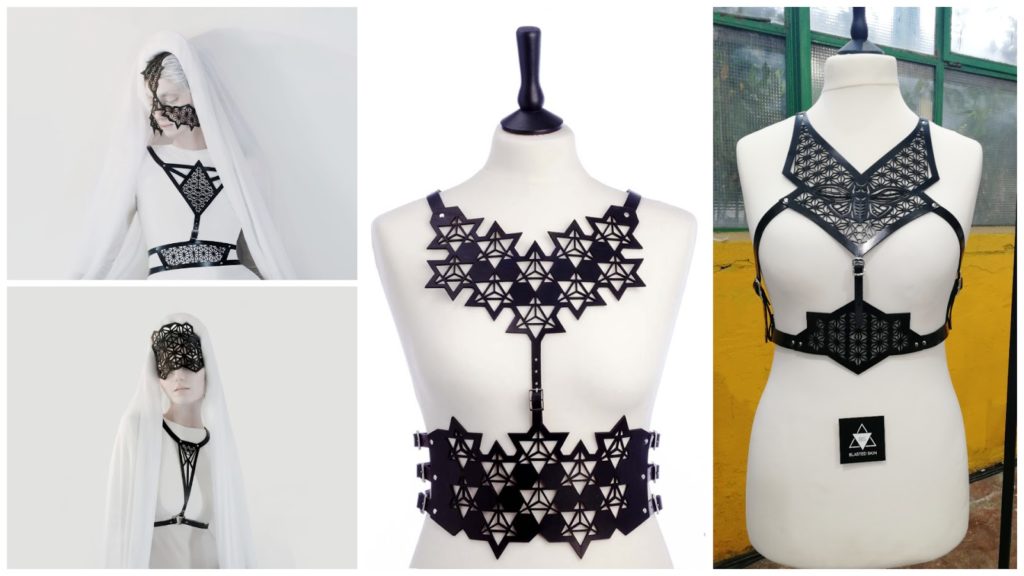 Blasted Skin, leather accessories brand by Federica Sivieri, at Showcase Altaroma
BLASTED SKIN is the bold accessories brand created in 2018 by the designer Federica Sivieri, who studied before at the Academy of Fine Arts of Rome and then at Central Saint Martins and Esmod Paris and worked for many important Haute Couture brands like Givenchy. Through geometric patterns, the designer transforms the dark and almost fetish body jewels, collars and bracelets into intricate and sophisticated leather laces.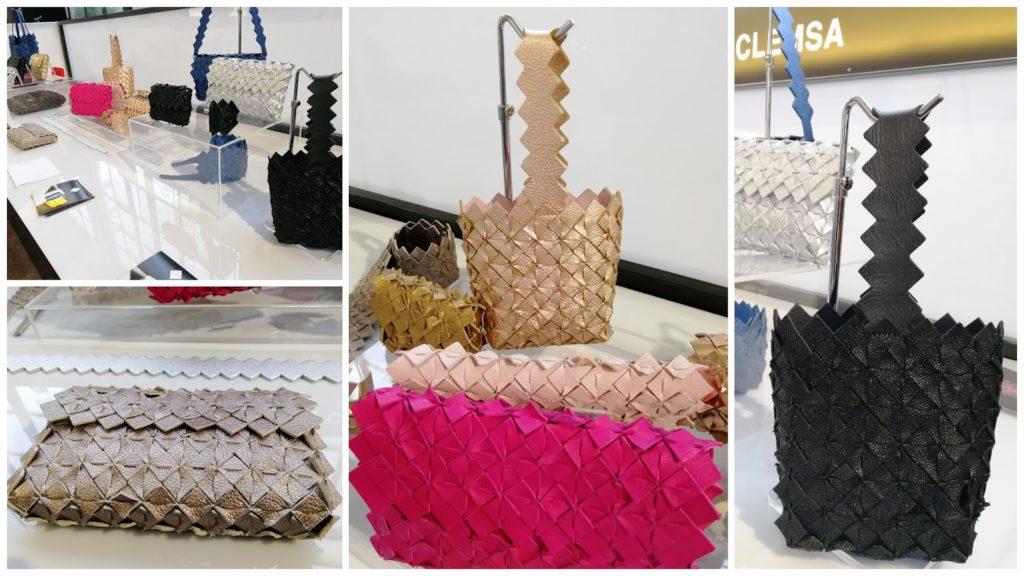 Clemsa, brand by Sabrina Clementi, at Showcase Altaroma
CLEMSA is the interesting label by Sabrina Clementi, interior designer with a passion for textiles. After the studies as architect, she specialized in Product Design and gave life to a thesis project of wearable tapestry. Soon the project became a brewed method for intertwining without seams different types of fabrics and leather, thanks to which the designer creates three-dimensional textures and an entire collection of accessories for fashion and interiors.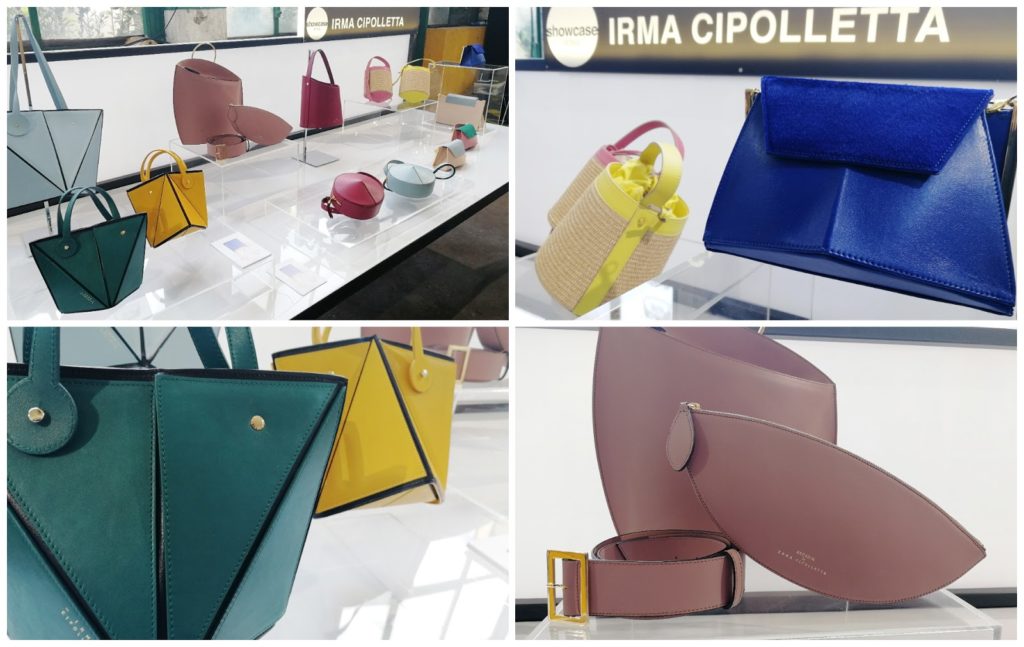 Irma Cipolletta at Showcase Altaroma
IRMA CIPOLLETTA is an architect and designer who, after an experience as interior designer for Maison Fendi, decided to approach the world of fashion by attending a course of 3D patternmaking with Shingo Sato and then the Master in Accessories Design at Accademia di Costume e Moda. So in 2014 she founded her namesake label, creating a line of bags and then collaborating with Arcadia for the realization of two caspule collections. Her style is highly recognizable for the volumes based on geometric solids and transformable shapes.
Maison Dressage, accessories brand by Matteo Dazzo and Rossella Mancini, at Showcase Altaroma
MAISON DRESSAGE is a label founded in 2012 by Matteo Dazzo and Rossella Mancini in Trieste. At the beginning the brand was more focused on fetish-style products, but passing time the designers embraced a more sophisticate and geometric minimalism, creating a line of wearable jewels and bags made with vegetable tanned leather, brass and the same type of wood used for the construction of ships.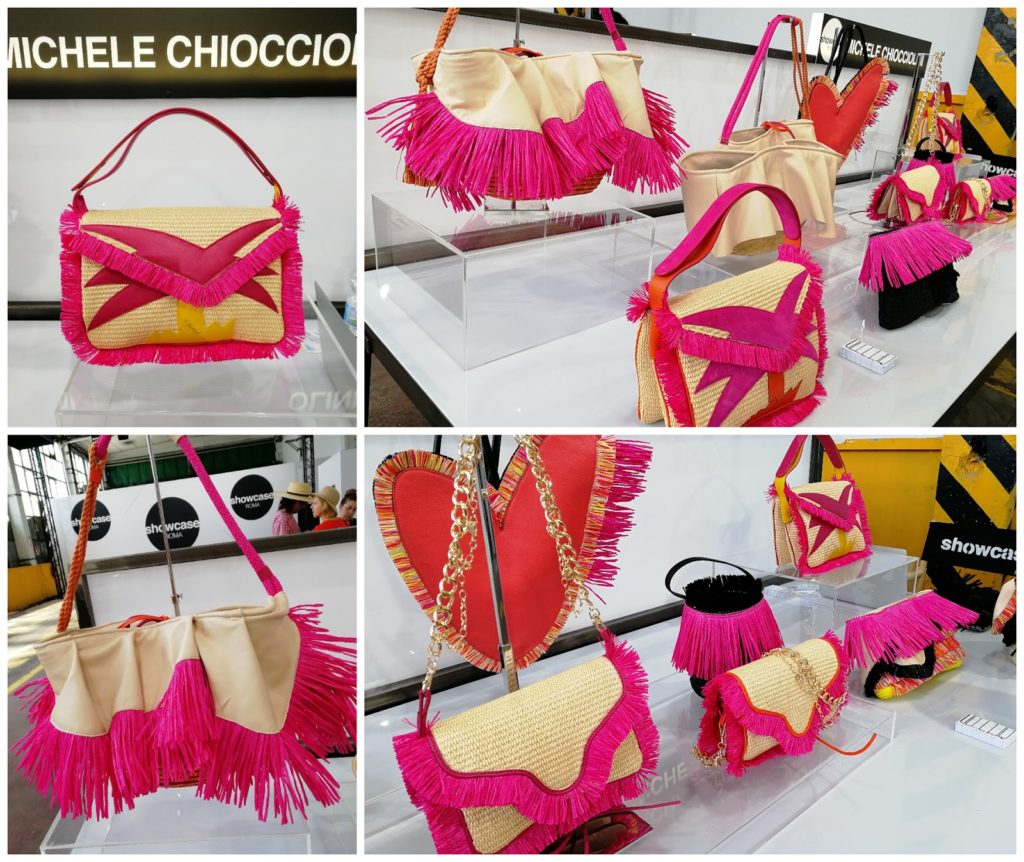 Michele Chiocciolini at Showcase Altaroma
MICHELE CHIOCCIOLINI, architect, graphic and fashion designer, gave to Showcase a colorful twist with a spring/summer 2020 collection inspired by the bright shades of 60s and 70s resort style. His collection of bags, with always the iconic heart-shaped shoulder bag now interpreted with more funny colors, includes straw and rafia fringes, cords and hand-cutted pieces of leather, for a delicious and fresh touch.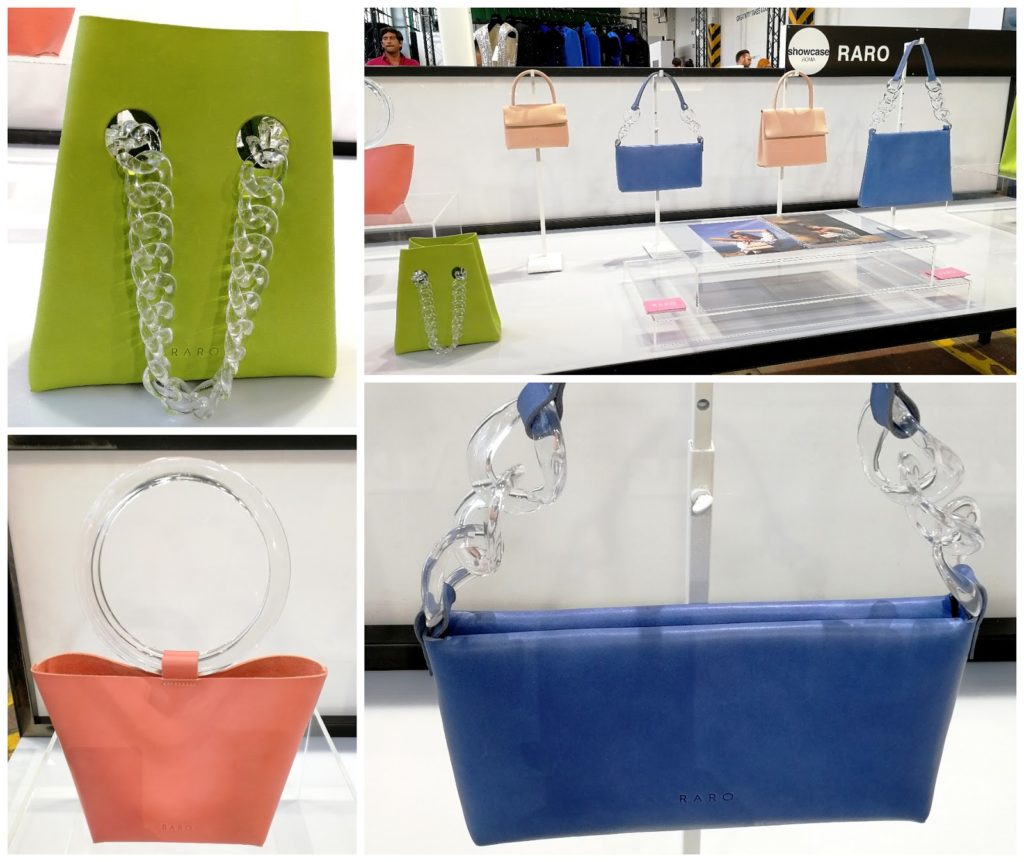 Raro, brand by Giorgia Vergamini, at Showcase Altaroma
RARO, the label established in 2015 by Giorgia Vergamini, is the perfect example of the modernity of Minimalism. Fascinated by the techniques of Italian leather craftsmanship, the designer creates by herself all the bags, characterized by high-quality materials, simple shapes, pure and sophisticated details, being able to unify a contemporary design to the beauty of tradition.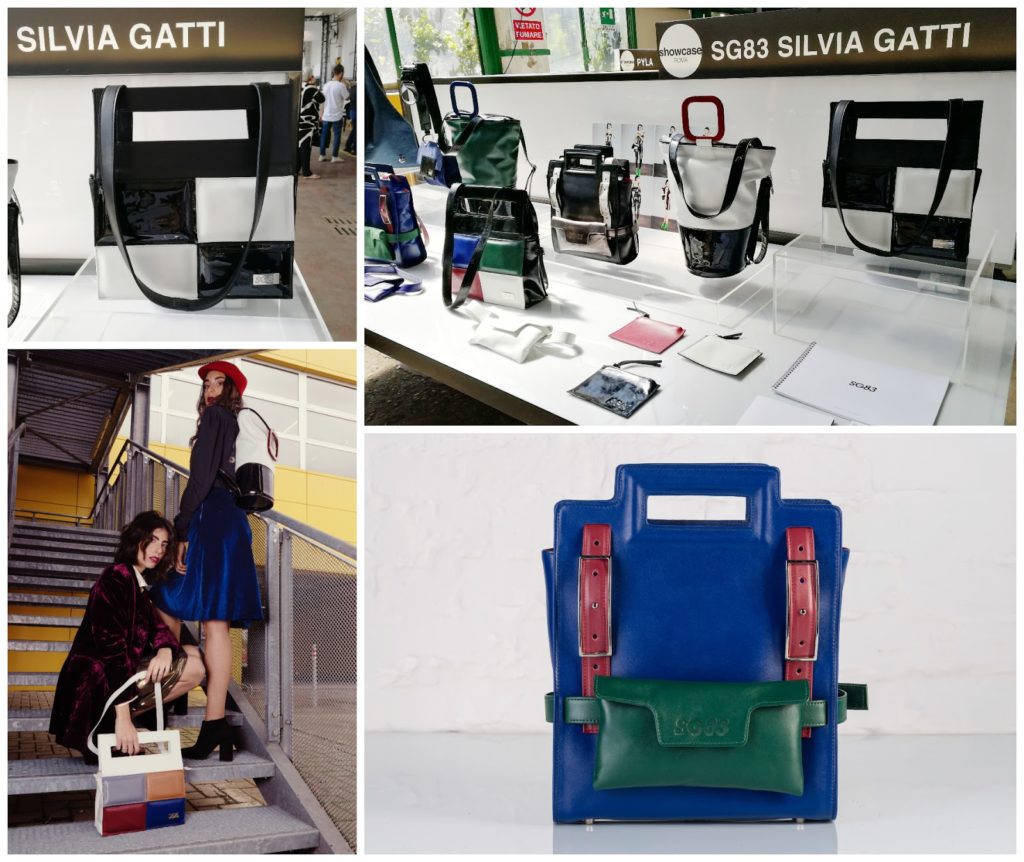 SG83, brand by Silvia Gatti, at Showcase Altaroma
SG83 is the new-born brand founded by the designer Silvia Gatti. Using only high-quality leathers and rediscovering the traditional artisanal techniques, at Altaroma she presented the collection "Around the Future", which mixes inspirations taken from the Sixties and the iconic beauties of that time to artistic references to the Neoplasticism of Mondrian. The result is a line of very practicle bags that can be transformed from shoulder to backpacks and with detachable clutches that can be turned into belt bags.