Today we discover together the Show-Hub-Milano, a new project born from the idea of the entrepreneur Massimo Pavesi, a place where everything can be and become, where fashion, interior design, art and culture come together, thanks to innovative and contemporary objects, mixed to create a global and united vision of the immense space of multicultural research.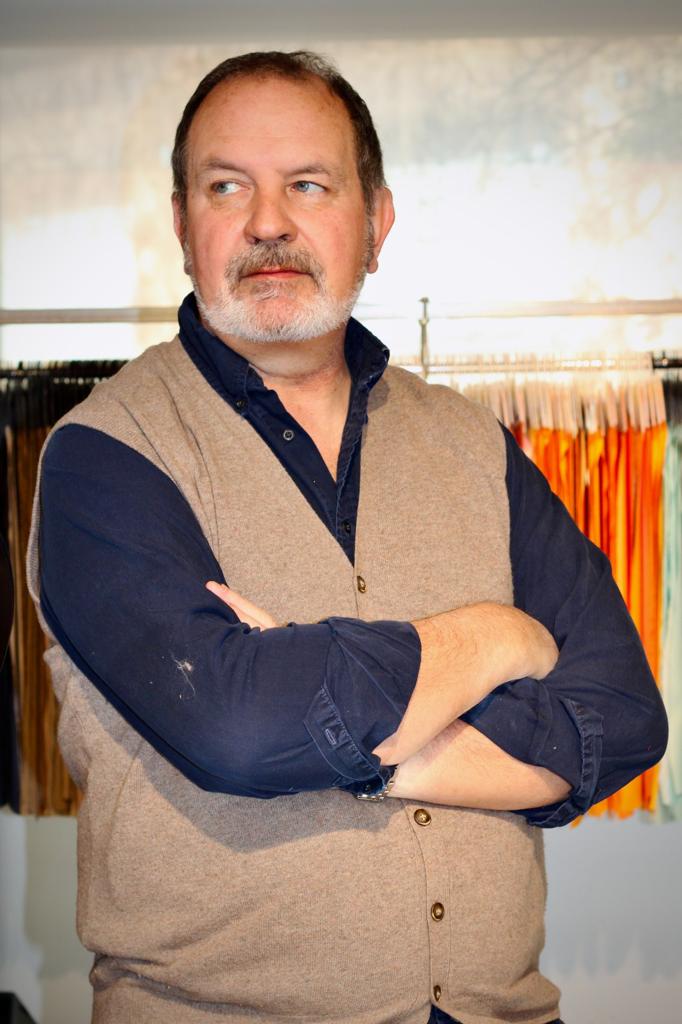 A new dimension in which innovation, trends and contemporaneity are the protagonists, to rediscover the great quality of Made in Italy, also thanks to objects linked to fashion and design, creativity and a rediscovery of manual skills apparently lost and almost forgotten.
Show-Hub-Milano represents a new reality that is born and is structured in Milan, a fundamental city in the fashion world, a physical and concrete space dedicated to emerging and non-emerging brands of fashion, design, textile and art whose fundamental values are the absolute innovation, the desire and the need to never stop, even during difficult moments, as we are experiencing now and in the past two years.
The young emerging fashion designers are the protagonists and are involved in various initiatives, they are put in contact with Italian realities and companies in the fashion sector, and can participate in projects that give them the opportunity to show off and freely express their inspiration and their vision of life.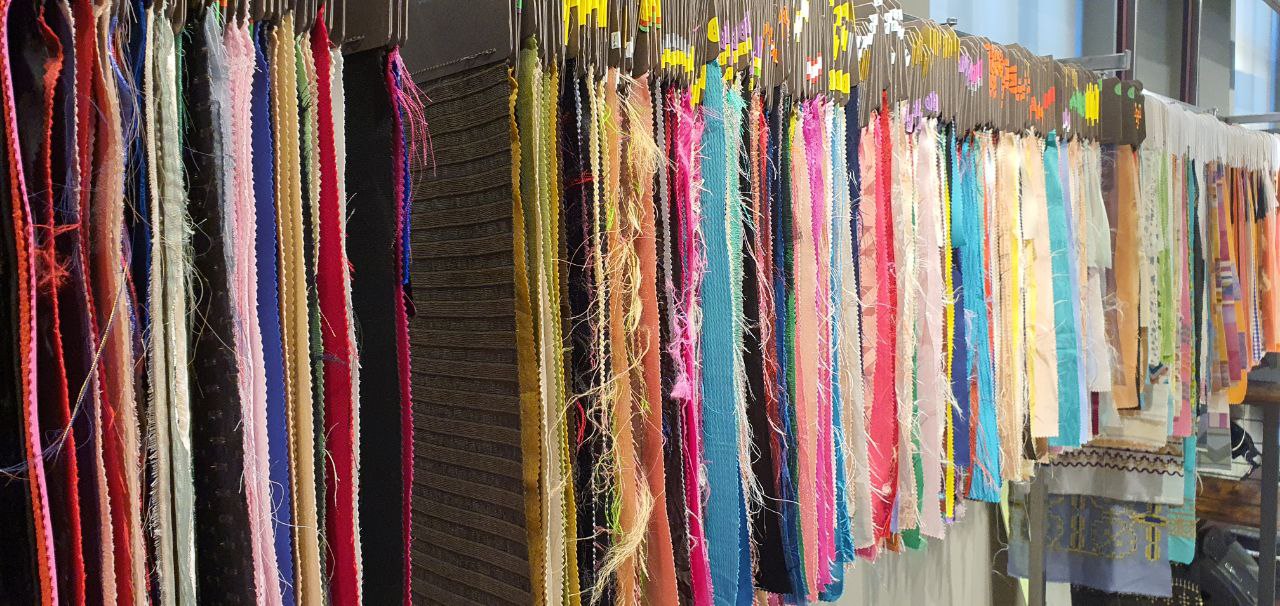 We were invited to discover this magnificent place in advance, in a comparison between this professional reality, TFP Talents and its emerging fashion talents.
Paola Emilia Monachesi, an important fashion designer, is the Fashion Expert working on this project and she welcomed us to Show-Hub-Milano to tell and make us live what this space means and to know all the behind-the-scene.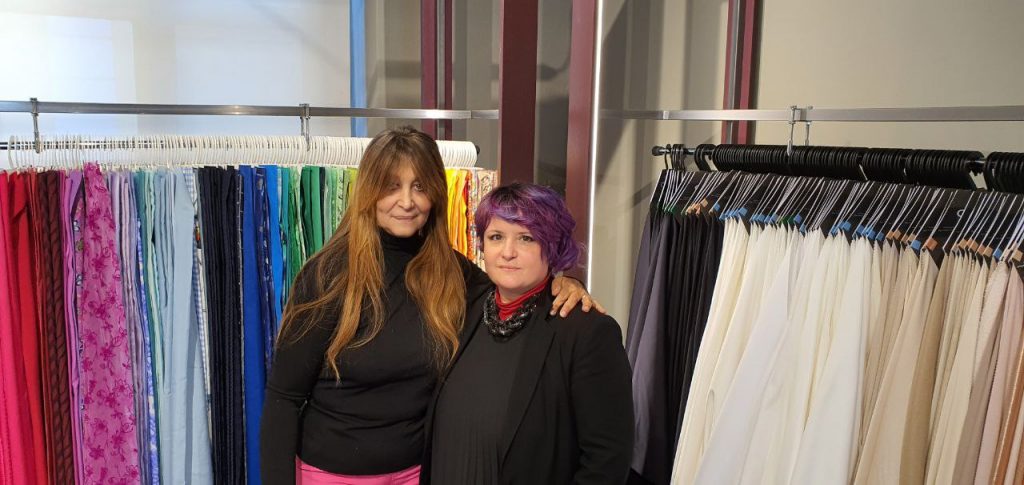 Thank you for inviting us to discover the new Show-Hub-Milano project in Morimondo street, a new space that we could define as multi-faceted, in the sense that it embraces different realities. What is Show-Hub-Milano?
Show-Hub-Milan, conceived by my friend Massimo Pavesi, was born mainly as an environment where designers and new fashion talents come to look at and select fabrics, from silk to cashmere to embroidered textile creations, coming from some of the the best Made in Italy textile companies. In addition to this, it is a space that hosts exhibitions of unique and exclusive pieces. The other day, for example, Show-Hub-Milan hosted an exhibition by the artist Roberto Comelli, who creates art pieces with can-can dancers and pop images such as Marilyn Monroe on layers of plexiglas. We could define it as a multi-space, which brings together apparently distant things and as if by magic harmonizes them together, a place that enhances different characters and talents, even if it is especially focused on fashion and textile design. Fashion designers come here and are fascinated by all these fabrics of always different colors and types.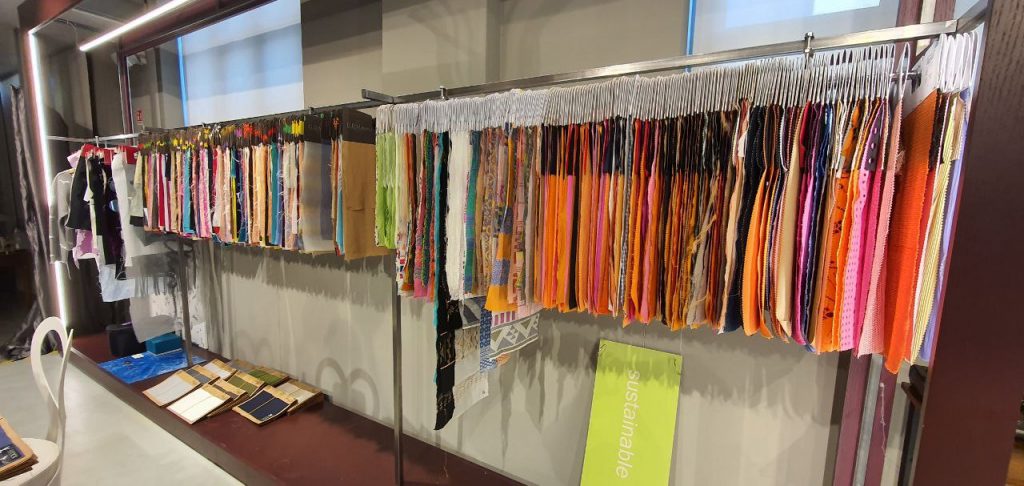 So also a textile offer that meets all the needs of designers?
Not only oriented to all the needs of fashion houses, but also an orientation to all trends, new technologies and innovations. The selection of fabrics from the companies present in Show-Hub-Milano is oriented towards the future and gives designers the opportunity to be contemporary.
Also very creative then, because we have seen embroidered fabrics, as well as laser cuts, material interventions and new embroideries. So the designers who come and choose the fabrics also have the possibility to customize them according to their style?
Yes exactly. Another very important fact is that in many cases too high minimum quantities are required in the purchase of the fabric while Show-Hub-Milano allows new talents to dare a little more, because they have the economic possibility of purchasing the fabrics.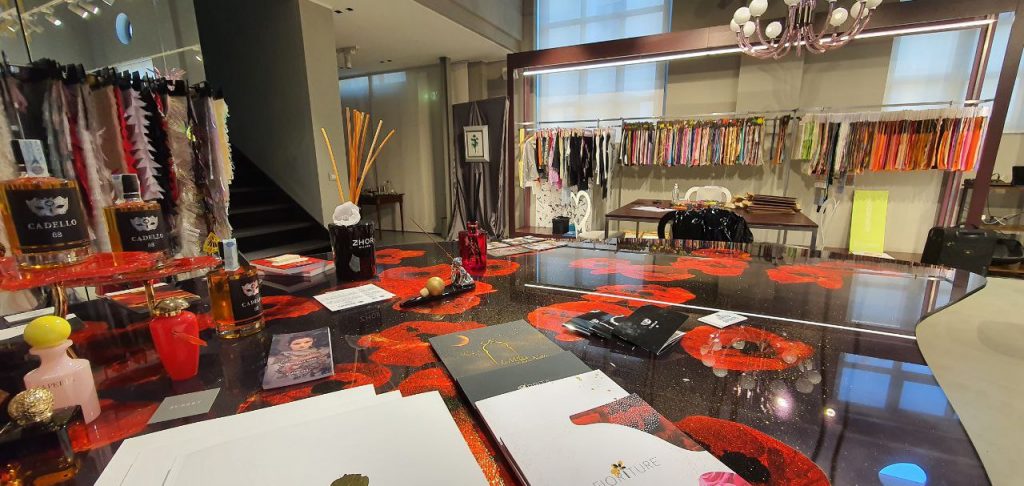 But is Show-Hub-Milano therefore very future-oriented both in the choice of fabrics and in the mix of different genres, which create a single creative and cultural discourse?
When Show-Hub-Milano was born, in September 2021, a presentation of the project was made. Simonetta Nepi, partner of Massimo Pavesi e Showroom Director, began to insert different elements within the spaces such as a table with white, black and gold floral decorations, which combined perfectly with a collection of black and white cashmere fabrics. Later other partners also arrived, painters and artists, excellence in design and Made in Italy, but always with an added value, namely contemporaneity, new technologies, new materials.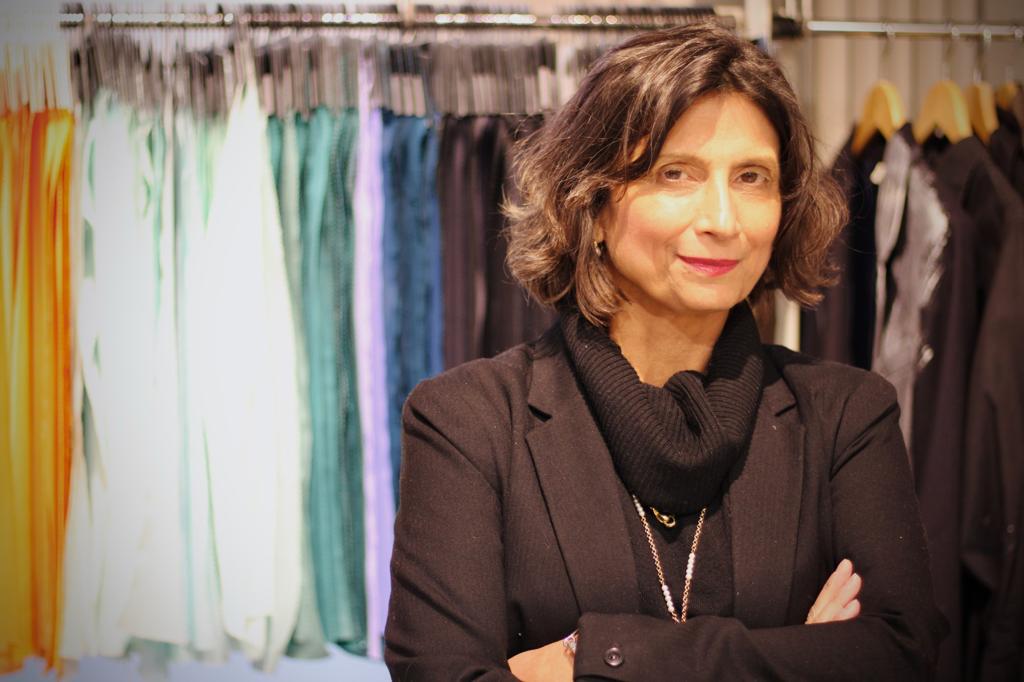 Does this mix of genres determine the identity of Show-Hub-Milano as an innovative creative space?
Super innovative! We are giving a lot of space to new partnerships, because they go well with our image and with which we have things in common. We only select companies and brands that are able to feel our creative warmth, the color and scent of the environment.
What is Show-Hub-Milano doing for new fashion talents? And why are you interested?
We are interested in the new emerging talents first of all because they are definitely informed about how the new world of fashion is progressing and what the future will be. Young fashion designers will have the opportunity to enter Show-Hub-Milano and we will offer them the chances to express themselves, through our fabrics and exhibition spaces. This is very important for young designers who have no place to show their collections, especially in Milan, where showrooms usually ask for a lot.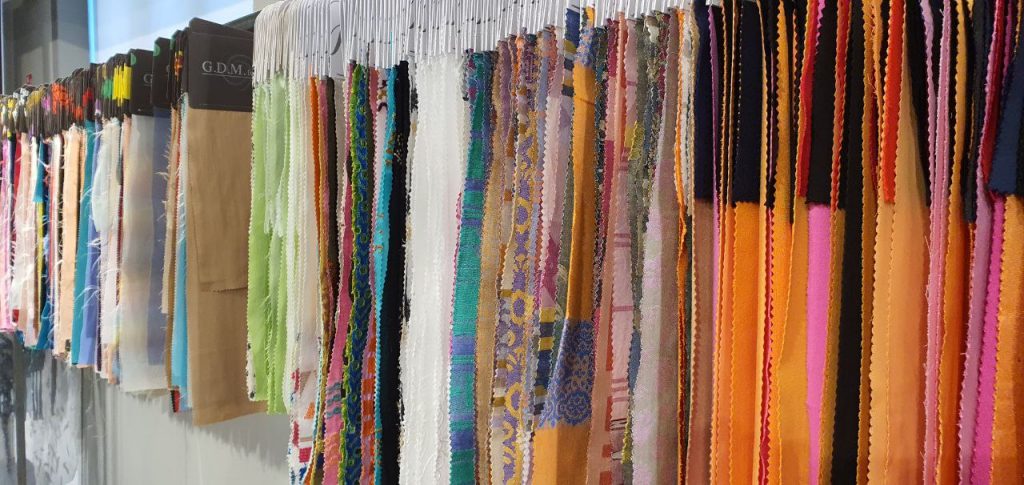 So Show-Hub-Milano also acts as an exhibition space for their collections?
Show-Hub-Milan is also an exhibition space for the collections of the best fashion talents and offers a commercial management service. Show-Hub-Milano is a showroom where designers choose the fabrics with which to create their collection, which they can then exhibit here.
So from the point of view of opportunities, Show-Hub-Milano meets the needs of young designers who have difficulty exhibiting and making their collections known in order to reach buyers?
Absolutely yes, it is the fundamental part. Exhibiting the garments in our space is the first step of a test to make the collection known, since we are in the Milan showroom district. Young fashion designers who make their collection in small atelier or thanks to small tailors, can give us their creations… It is important for us to select and then meet the designers to understand how to develop the collection in order to have a future together.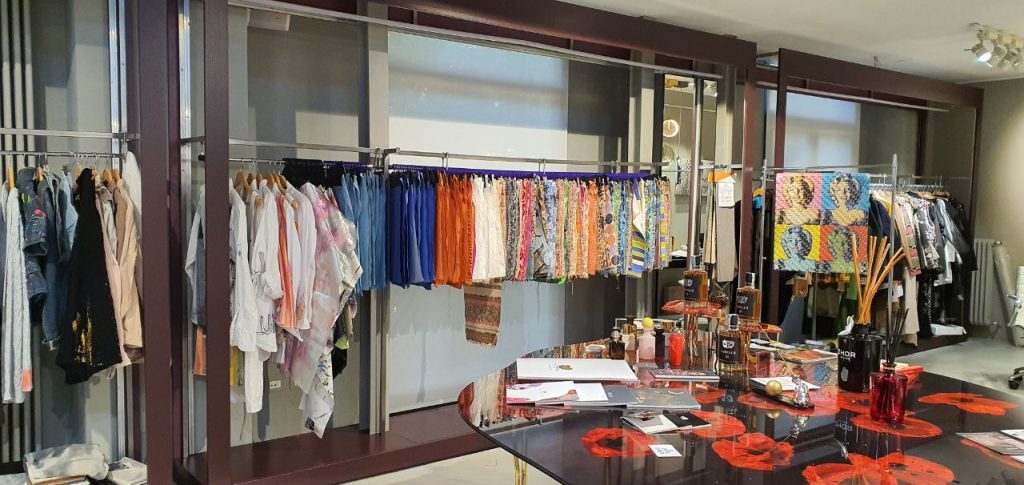 How important is it for Show-Hub-Milano to select the best of young Made in Italy designers?
It is very important. The collection must become that perfume, that flavor and that warmth, which is part of Show-Hub-Milano and everything must be in syntony. To enter the world of Show-Hub-Milano, therefore, the emerging designer must be in line with our values, our strengths.
Paola, in this context of Show-Hub-Milano you are inserted with a very important job. Tell us about your contribution within this reality.
First of all I am the Fashion Expert of Show-Hub-Milano and I deal with many aspects, from positioning the fabric collections so that they have a strong visual impact to the selection of new talents together with professionals in the sector. Like you Elisa, the only one who can give me a hand in this aspect … and not only … here will probably also be shown my next collection.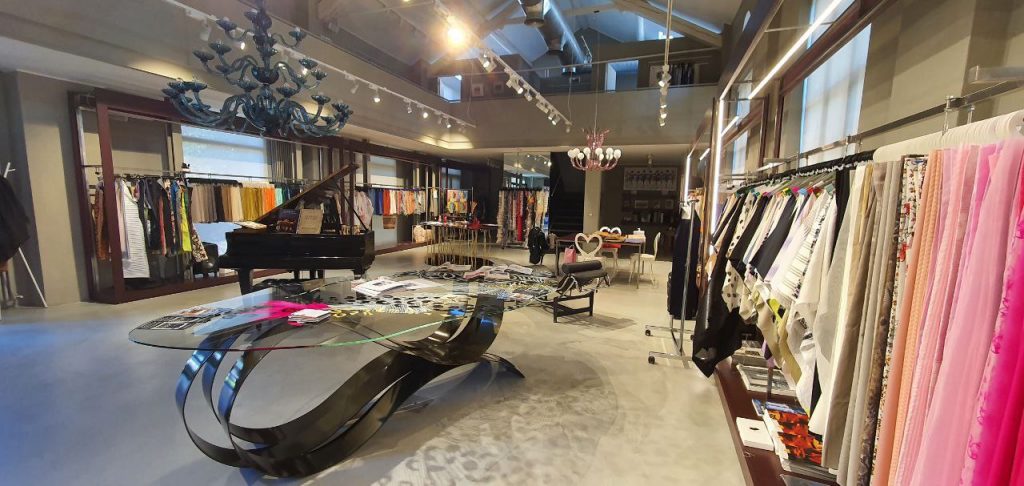 So you are fully involved in making the brands and companies present here known?
Absolutely yes, this is my job too.
If I had to say it in a nutshell, what is the best thing about Show-Hub-Milan?
The taste.
Which is a particular concept, if linked to fashion…
In the sense that I almost feel the taste in my mouth, the warmth, which almost reminds me of the strawberry aroma.
This association is very beautiful because it makes us perceive with a further sense what the world of aesthetics, art, design and fashion is, which we normally see and touch. But actually entering here today, the first thing that struck me, besides of course the sight, was the sense of smell, which is linked to taste. So it's a very interesting sensory perception.
This is a very important thing. I am very attracted to the "perfume" of designers and collections, to get in tune with them and to wrap them in the perfume of Show-Hub-Milan.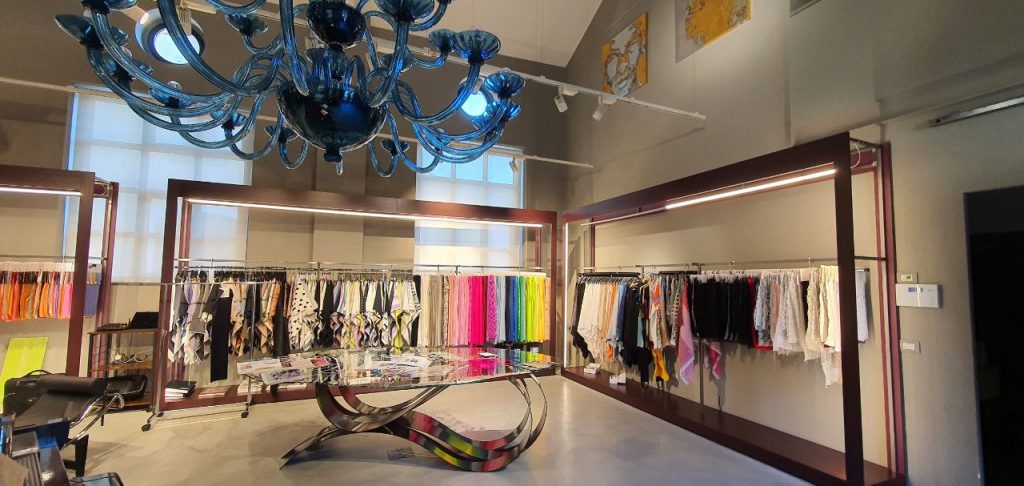 The designers who will have the opportunity to enter Show-Hub-Milan will therefore have a real contact with the world of fashion, they will be able to approach and enter a reality that is normally closed to them. Can we say that you help young designers to enter this world?
Of course, absolutely, we want to help them, see them and see what they do. Getting into the fashion business doesn't happen with a snap of your fingers, but these guys have to start somewhere …
How creative is it to work in such an environment?
I have recently been living this experience, but I started it because, in my innate creativity, I already see the future, a long-term project. There is a lot of creativity here, but when you work with many collections and companies, you must always be very humble and humility is the winning thing.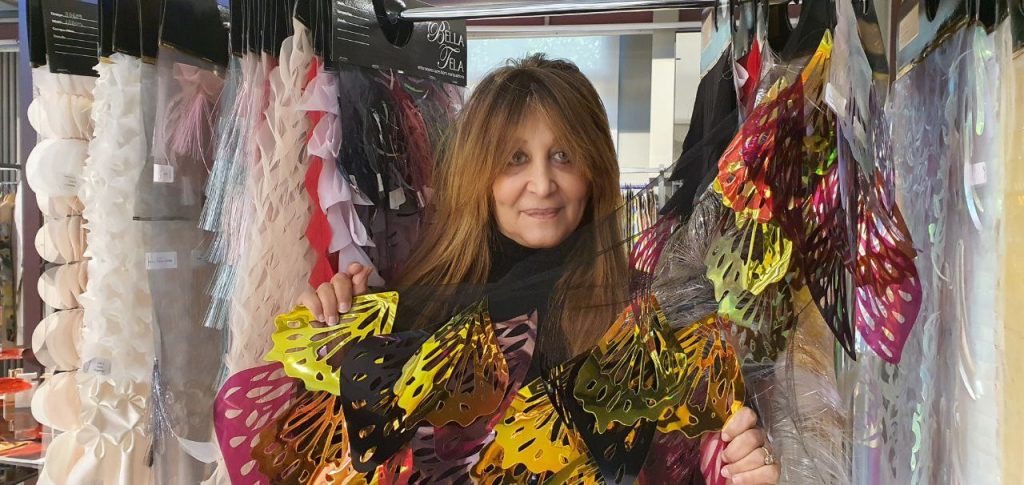 So are the projects that will be carried out built step by step?
Yes, they are team projects. I asked to work in a team, where everyone speaks the same language, knows the same things and responds in the same way, in synergy.
How should the new Made in Italy be for Show-Hub-Milano?
For us the new Made in Italy are the new talents, even if this phrase is often repeated and is now obsolete, already old … The innovator … Made in Italy is the innovator. We must be the ones who arrive first, create by innovating.