Giorgia Cicatello is an emerging designer and stylist from Rome and the winner of the 14° fashion contest by TFP Talents with Kate Cavaliere. Her fashion collections are inspired by human emotions and have a clear art influence thanks to her studies background.
Through her garments Giorgia Cicatello tries to have a better understanding of people feelings and human behaviour, the young designer tries to find the answers and inspirations beyond the first impression. She is also a jewellery designer, who likes to experiments with different materials such as metals and wax. Currently she is working with 3D printers and researching sustainable materials.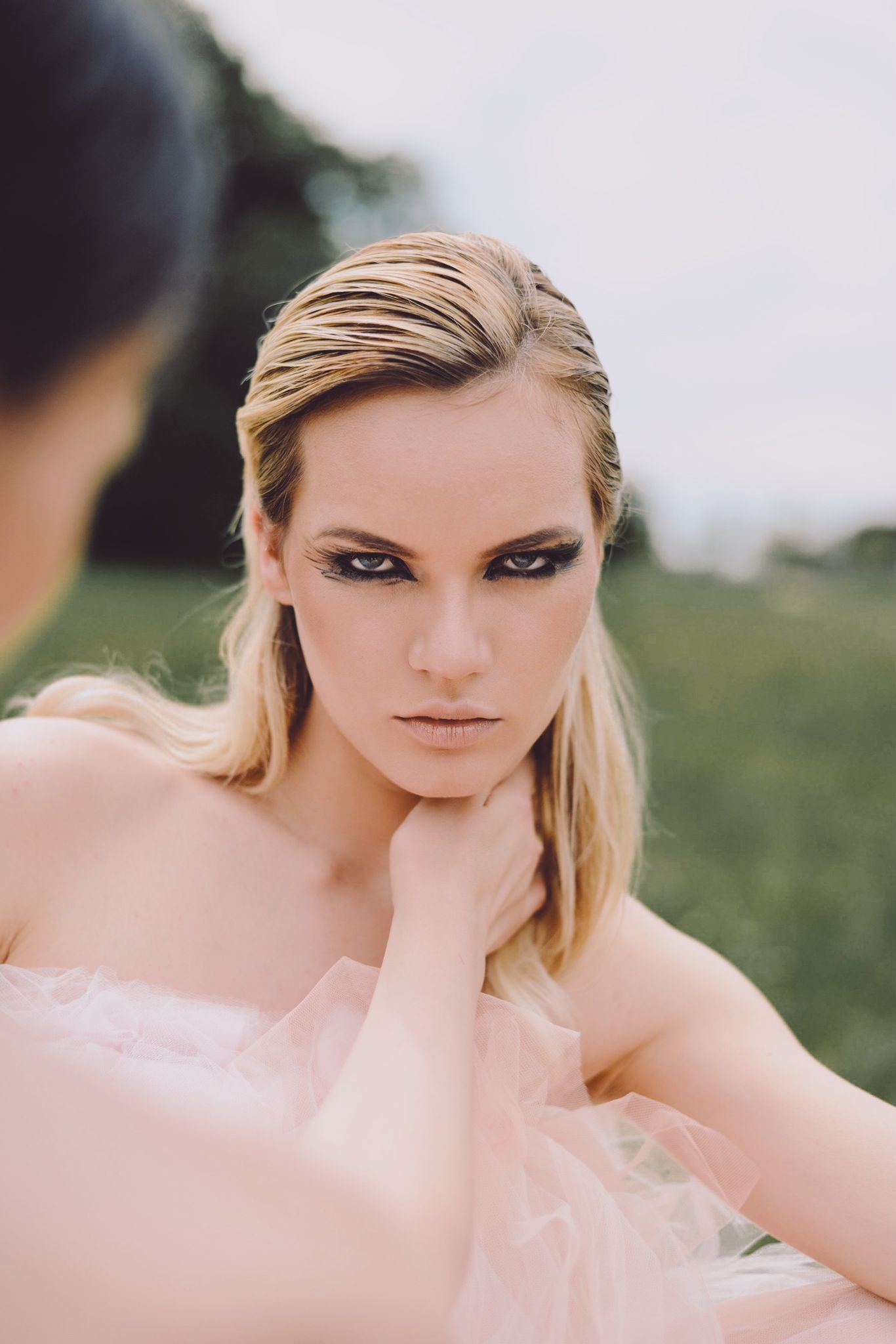 The emerging designer grows up in a family of humble origins, but who have always left her free to cultivate her creativity. Her passion for fashion originates in art. After graduating from the art institute, Giorgia experiments and creates through painting and sculpture, first approaching the world of theatre as a set designer and then as a costume designer.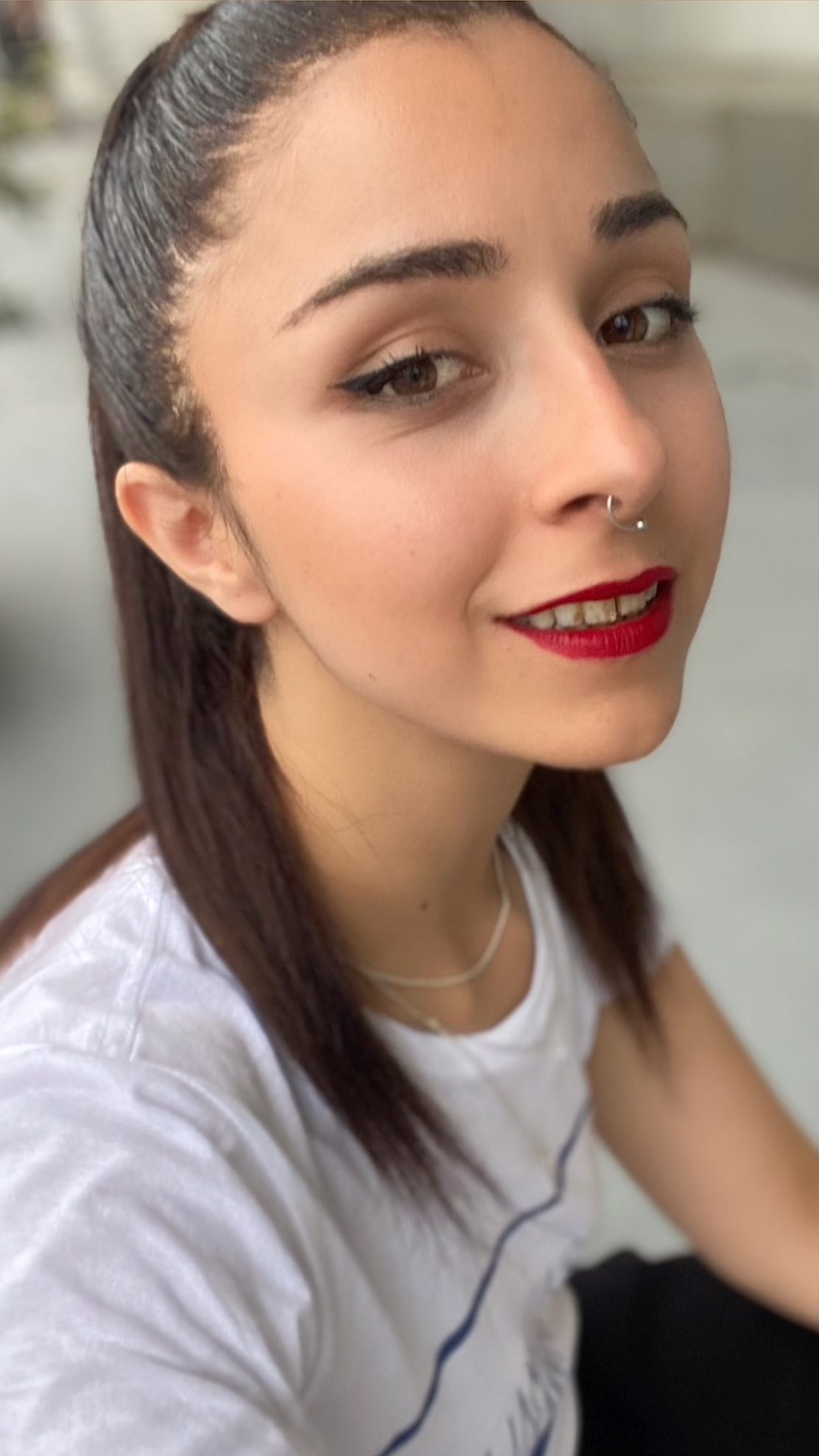 In 2018, she understands that through fashion, she manages to express her values ​​and her flair. She decides to found her own namesake brand, creating unique pieces at first and real collections today. She also partecipate in different fashion competitions and won the TFP Talents fashion contest in collaboration with Kate Cavaliere and the influencer agency Star-let's Go.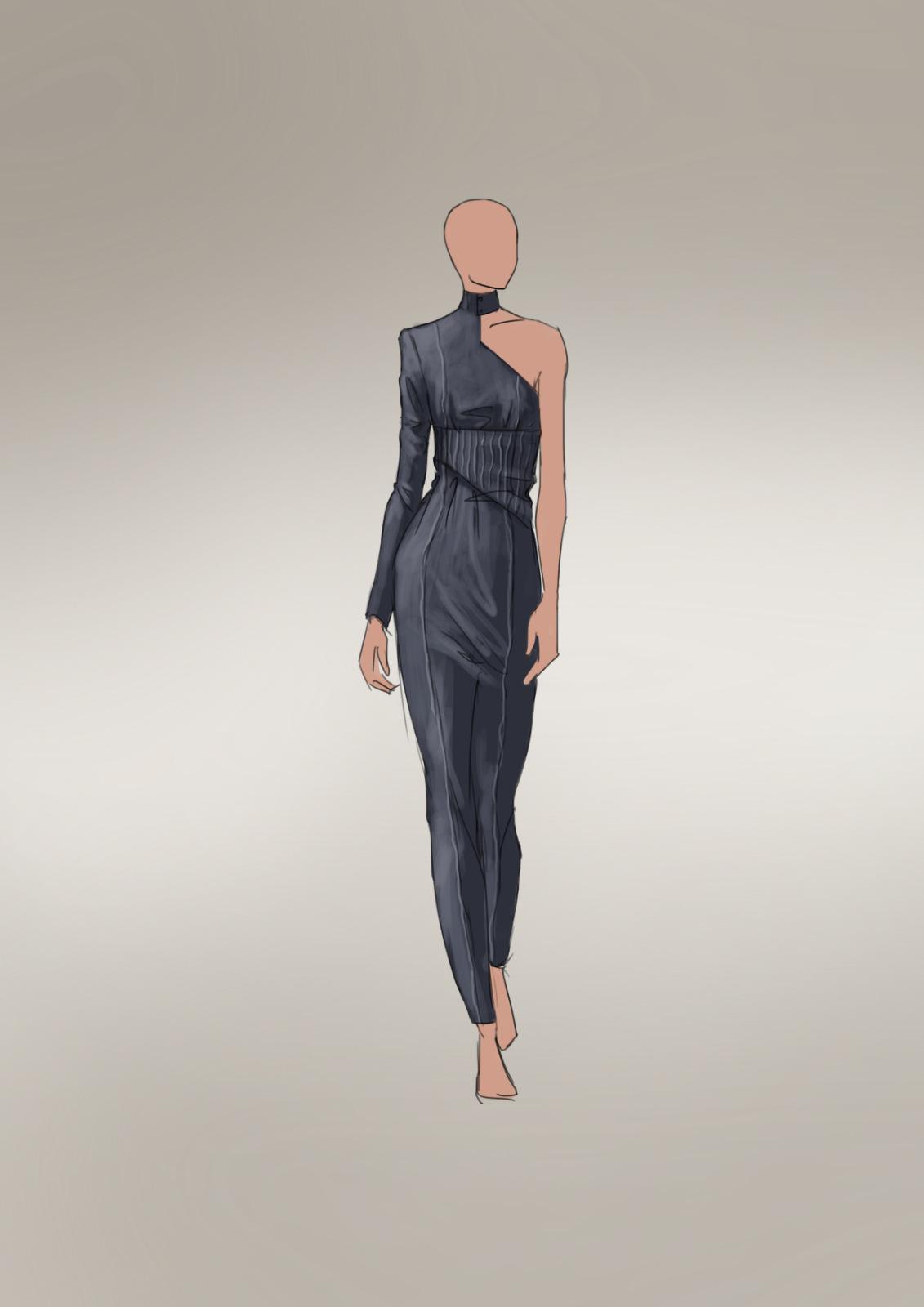 "I believe that the beauty that is hidden in each individual must be expressed and not repressed, because our diversity is what makes us unique, and I believe that fashion is the best way for me to do it"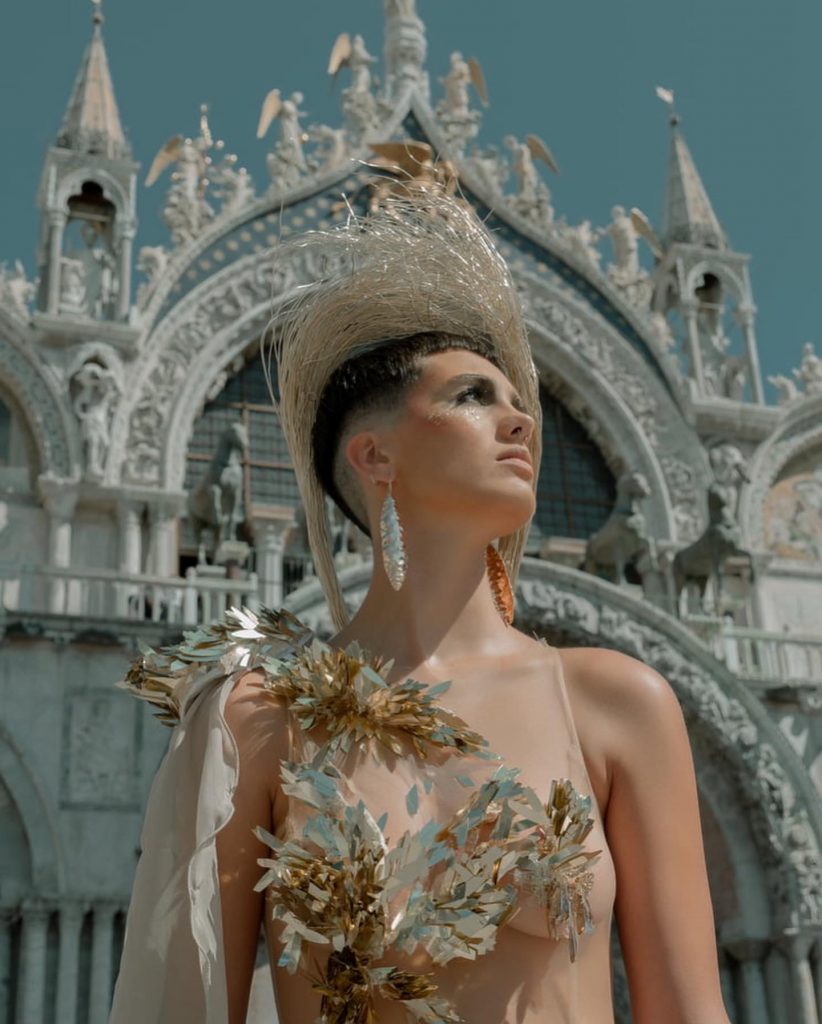 To reward this young fashion stylist and designer, we dedicated her a special interview to learn a lot more about her history, her background and her successes.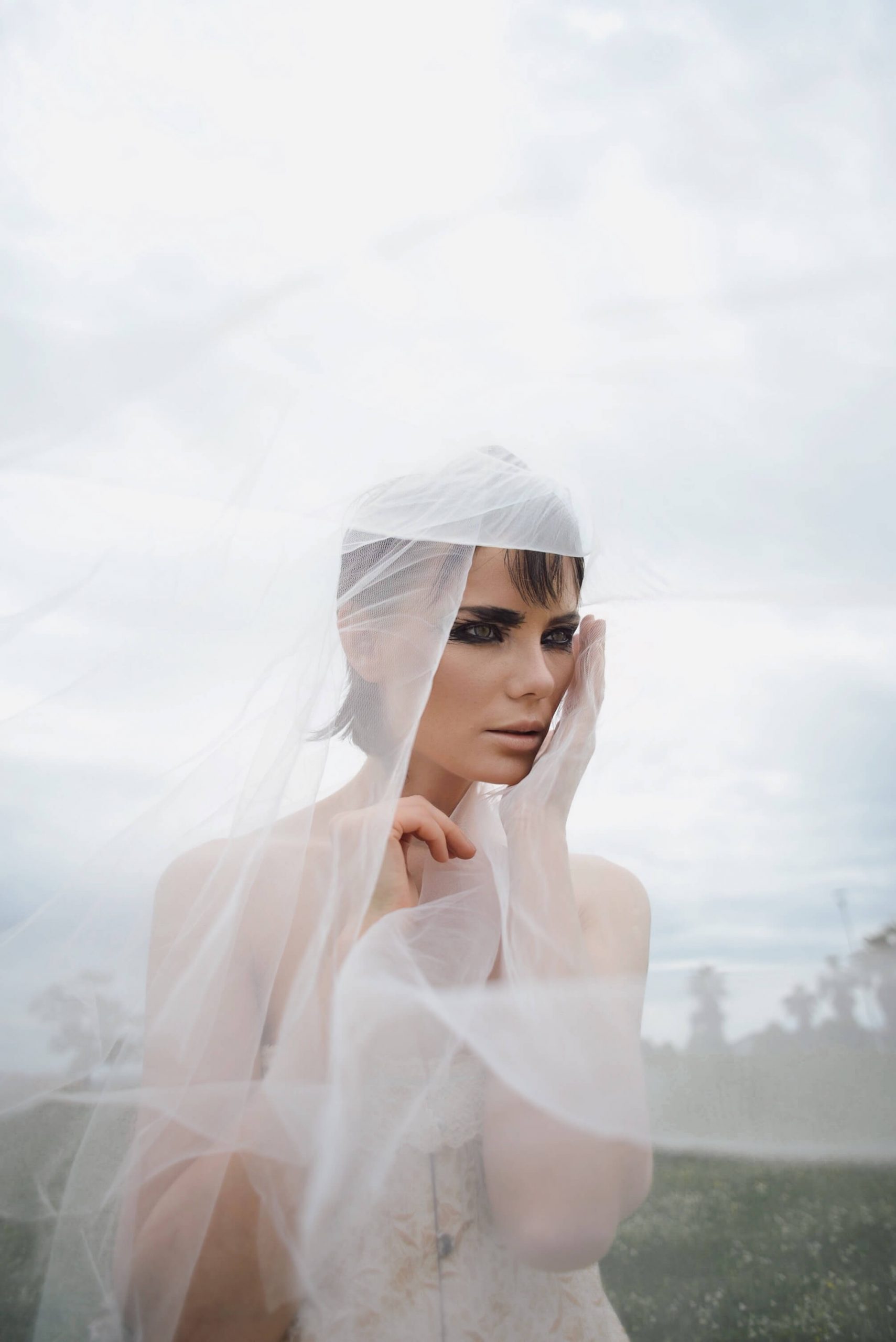 Before becoming a fashion designer, you studied in the artistic field. Can you tell us something about this period?
Of course! It was an amazing time when I had the chance to experiment and prove myself in different things like painting, sculpture, theatre, and cinema. The time I spent in the artistic field gave me the opportunity to be among other artists, and learn from them, which made me grow not only professionally, but, mostly, personally.
I believe the most important thing I learnt during that time, excluding of course the many different skills and techniques, was the research and understanding of human emotions. People have a lot to say, if we are willing to listen. It is particularly important for an artist to go beyond the surface and dig deeper to really understand people emotions, feelings and needs.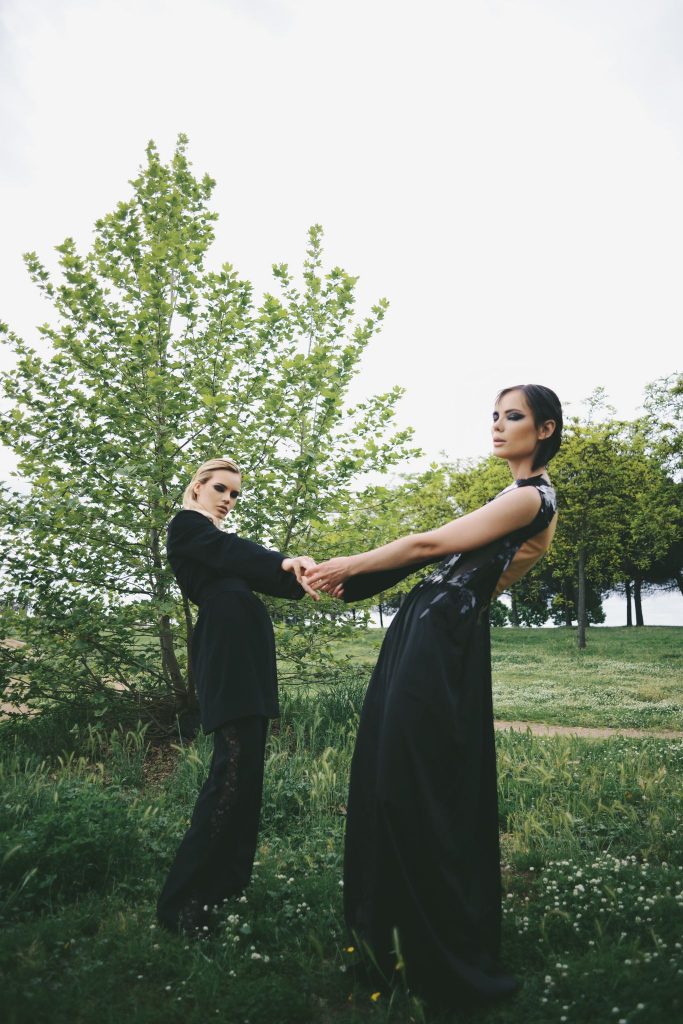 When did you decide to approach fashion?
I am not going to lie, I am a very curious person, and after years working in the theatrical costume design field and after coming back from Berlin, in 2017 I decided to take my art to the next level. In the past I had already approached the fashion design world by attending private courses in fashion accessories and working in wedding and ceremonies tailoring.
What really urged me to make this change and begin a carrier in fashion design was the challenge behind it all. I asked myself: could my art find its way towards fashion design, and could fashion be an alternative way to express and communicate my ideas and emotions? My answer of course was yes.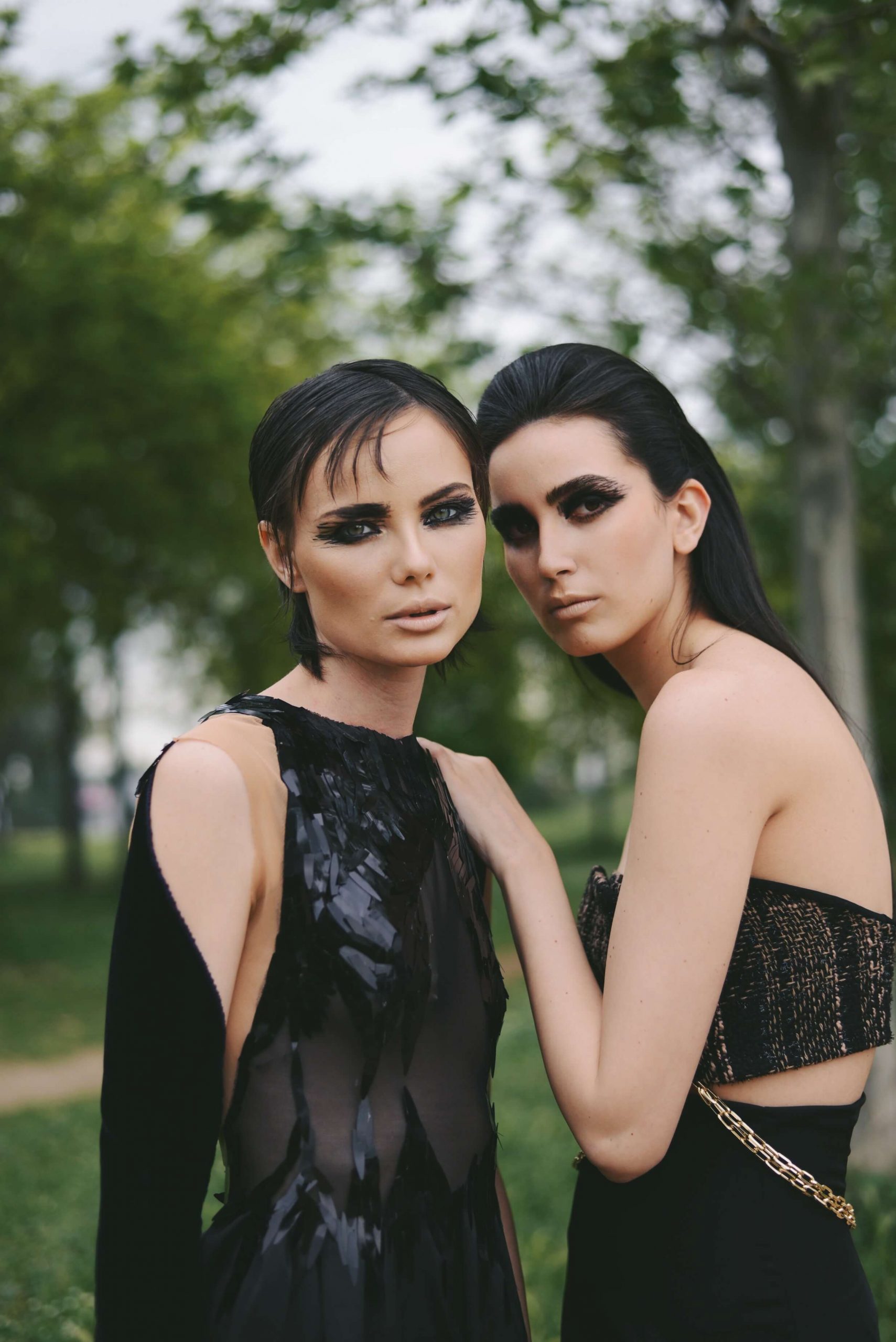 You are also a jewellery designer. Which kind of techniques did you develop?
I studied at the fashion institute Sgrigna, in Rome. There I mainly studied the lost-wax technique. I think it's extraordinary how you can have absolute freedom in modelling and creativity thanks to the malleability of wax and molten metal. In the past I have experimented with many different materials, including resins. Recently, I have created some accessories with the 3d printer using sustainable materials, something I am particularly invested in.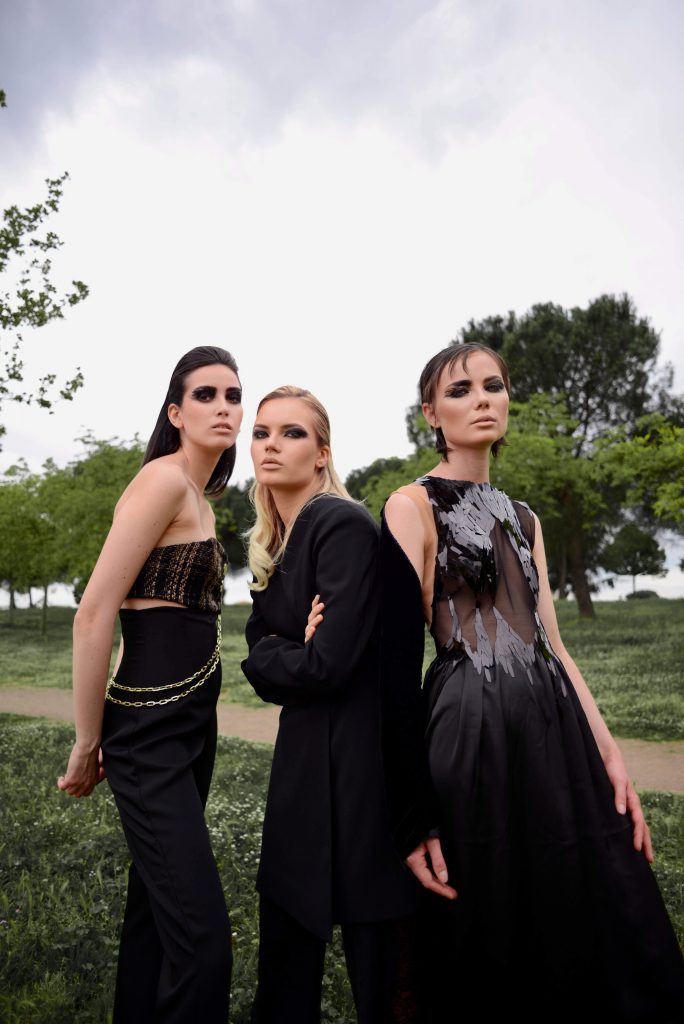 In your life you spent also some years abroad in Germany, far from the artistic world but with the possibility to have a very interesting human experience…what did you learn from those years?
To withstand the cold for sure! There were -20°C the day I landed at Schonefeld airport in January 2014! Jokes aside, despite the distance from my family and my work, those have been years of great personal growth for me. I was living by myself and for myself for the first time, and I could really appreciate the sacrifices to be made to become a small business owner, and how much commitment and dedication is required to follow your dreams.
In Berlin I had the opportunity to get to know many different cultures, each one with their own history and traditions, and each one of them allowing me to grow not only personally but also creatively.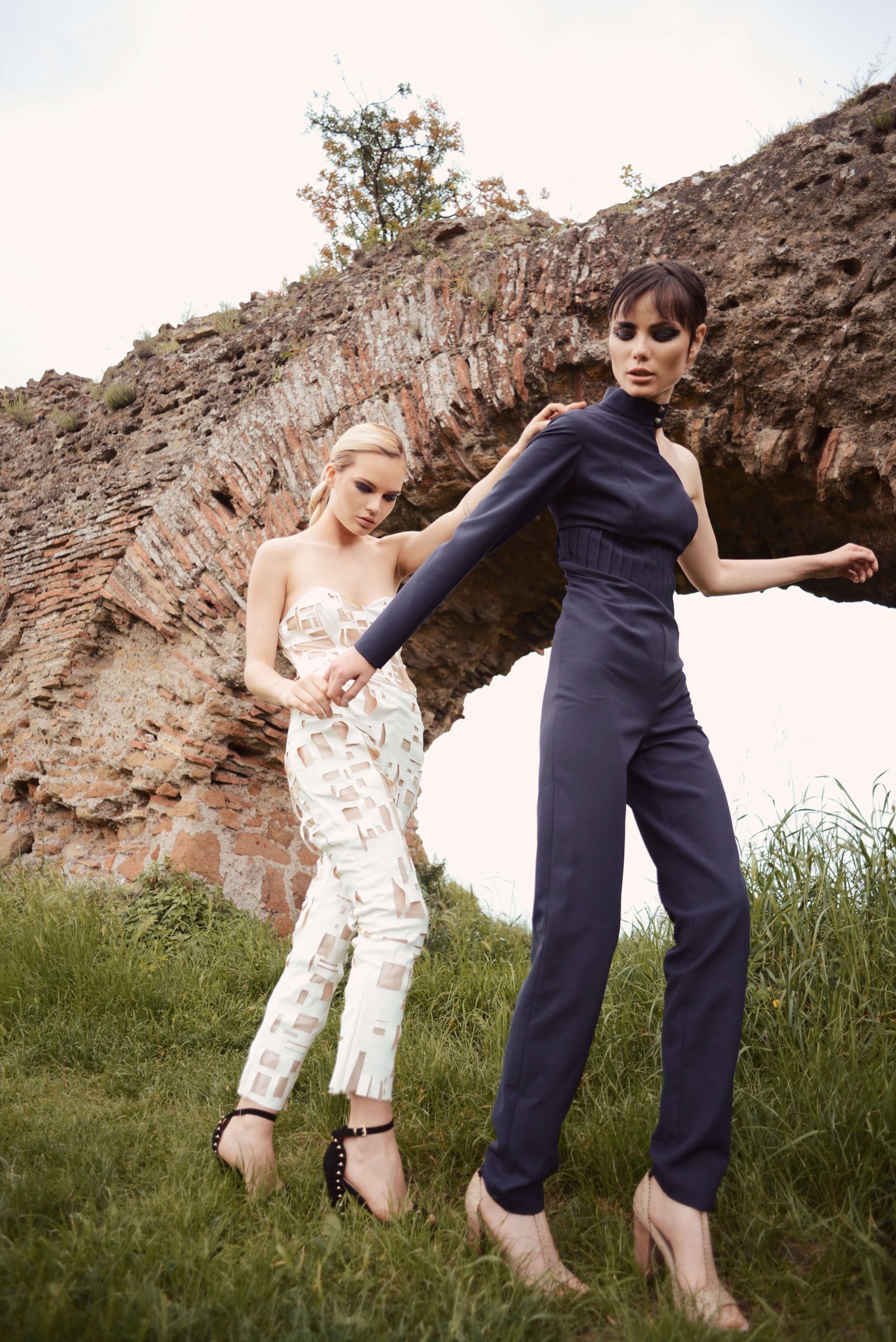 Returning to Italy you soon started to design fashion, working since the beginning with made-to-measure methods and with direct contact with the clients. Why this choice?
I have always believed that people are like artwork. Every person has something to say and to express. I wanted to exalt the uniqueness and the identity of each individual, and working closely with the clients allows me to do just that.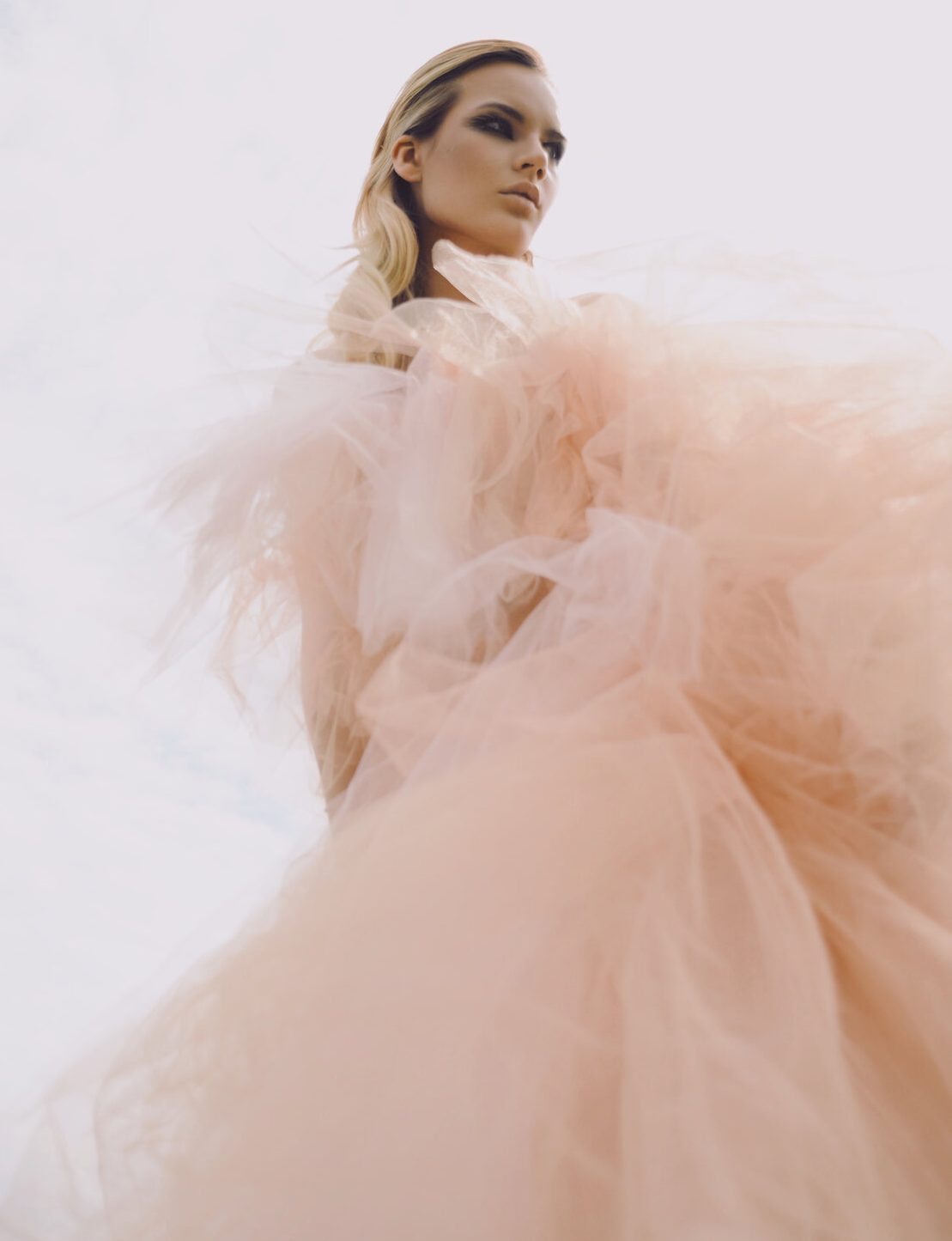 One of your particular focus is on fabric and modelling experimentations. Which kind of techniques do you experiment?
I really love experimenting with materials, and sometimes I even found myself working with materials not normally used for clothing, like resins or some kind of plastics. Recently I started working with the 3d printer, I find it fascinating combining the concept of modernity to sartorial tradition.
One thing that really distinguishes my style is the geometry of shapes in opposition to the sinuosity of the silhouette. My clothes are contrasting but harmonious, and I try to bring my feeling and emotions into cuts or inserts, embroidery or coating, organza or eco leather.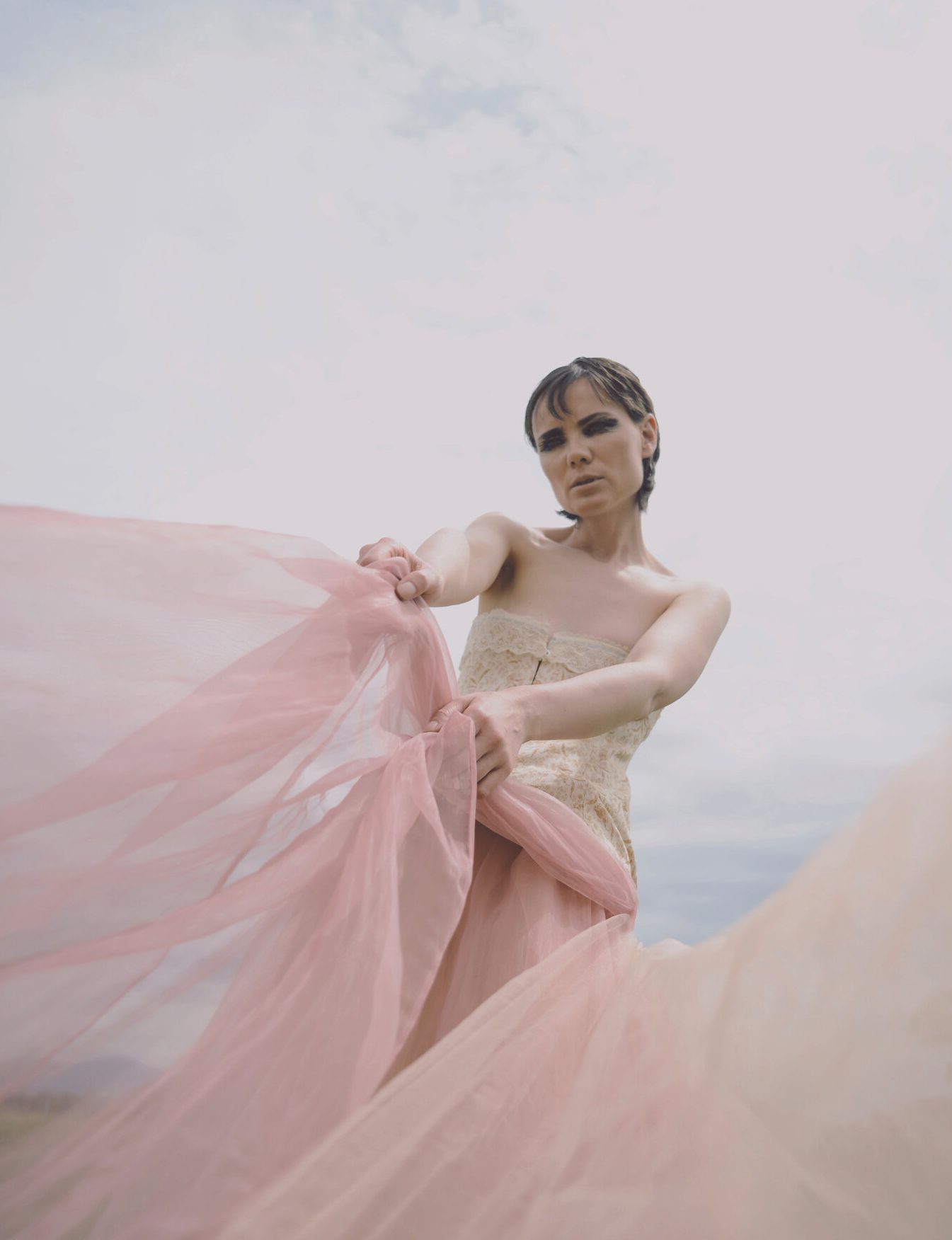 What are the differences between working with the clients and designing a complete fashion collection?
When I make a tailor-made fashion piece, I take the time to get to know the client, and we create the final product together, something unique and tailor-made that will really exalt the client. On the contrary, through a fashion collection I can tell a wider story, have the possibility to express a more universal concept and send a message that can resonate with a wider audience.
In a fashion collection each piece has the ambition to exalt everyone's story, and the differences between people. I believe there is no better way to tell a story or an introspective journey than through a fashion collection.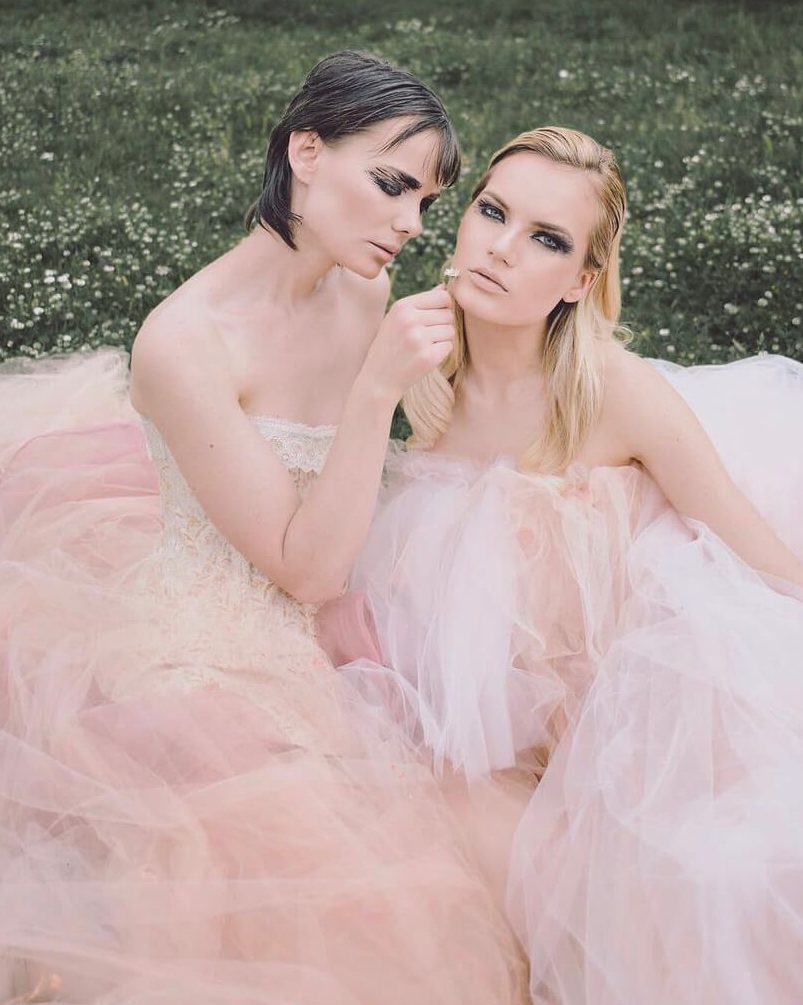 Now you are working on the re-branding of your namesake label…
Yes, absolutely. I decided to make some improvements, to strengthen and make more social my idea of avant-garde fashion design and of couture. I am currently working on a new fashion collection, but most importantly, with the help of TFP Academy and Elisa Gibaldi, I am working on myself and on the fundamentals of my brand.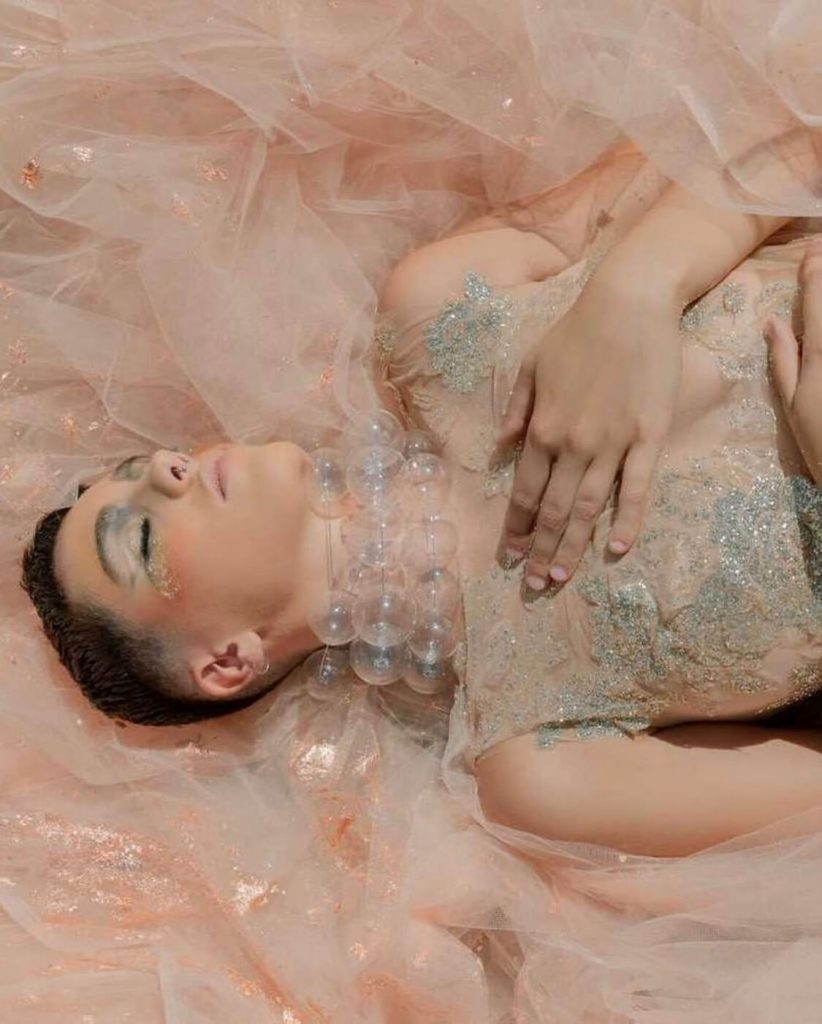 During your career you made a lot of interesting experiences, participating too many events and winning important prices. Can you tell us something more?
Whenever I am asked this question the first experience that comes to my mind is my participation to the Biennale of Venezia in 2019. Having the opportunity to be part of an event of such importance at only one year from the foundation of my brand made me realise that I was on the right path. I am artist that embraces every kind of experience.
For example, I have made the dress that Natalia Paragoni wore for her "choice" on her last day in the tv programme "Uomini e Donne". I have also won Cosenza Fashion Week in 2018, and Independent Style in 2019. The latter will allow me to experience the fashion district of Weinzhou, once the pandemic and the current sanitary emergency will allow it.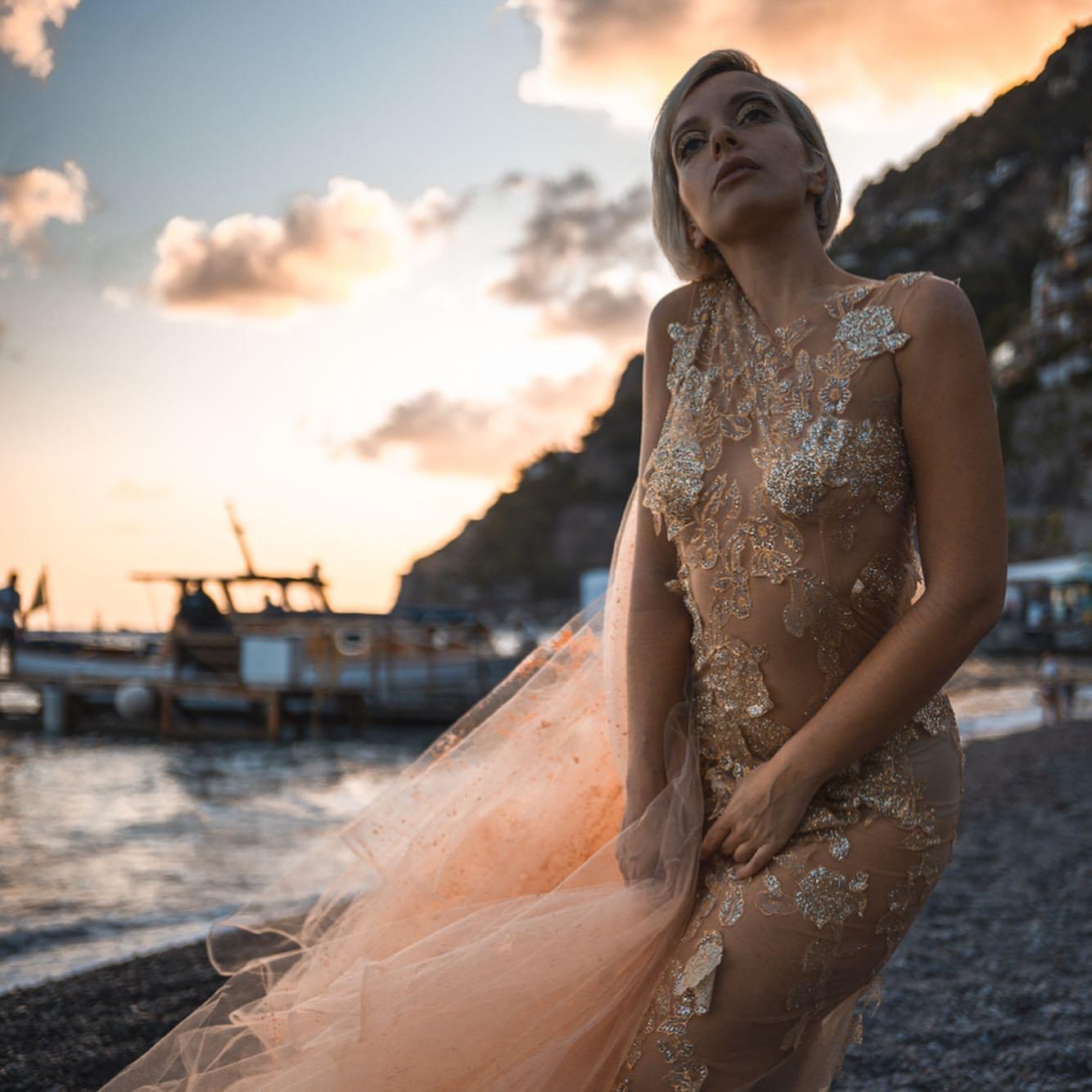 You were also at GDD Fashion Week in August 2020, a very important event for emerging designers…what happened after this event?
GDD Fashion Week is definitely a very good showcase for emerging designers, and for me it transformed into an amazing opportunity to collaborate with other designers met during the event. With some of them we are working on a project, called Dimme, a brand more linked to social networks, and based on collaborations between designers. GDD has also represented the moment when I realised it was time for me to really work on myself and on my brand.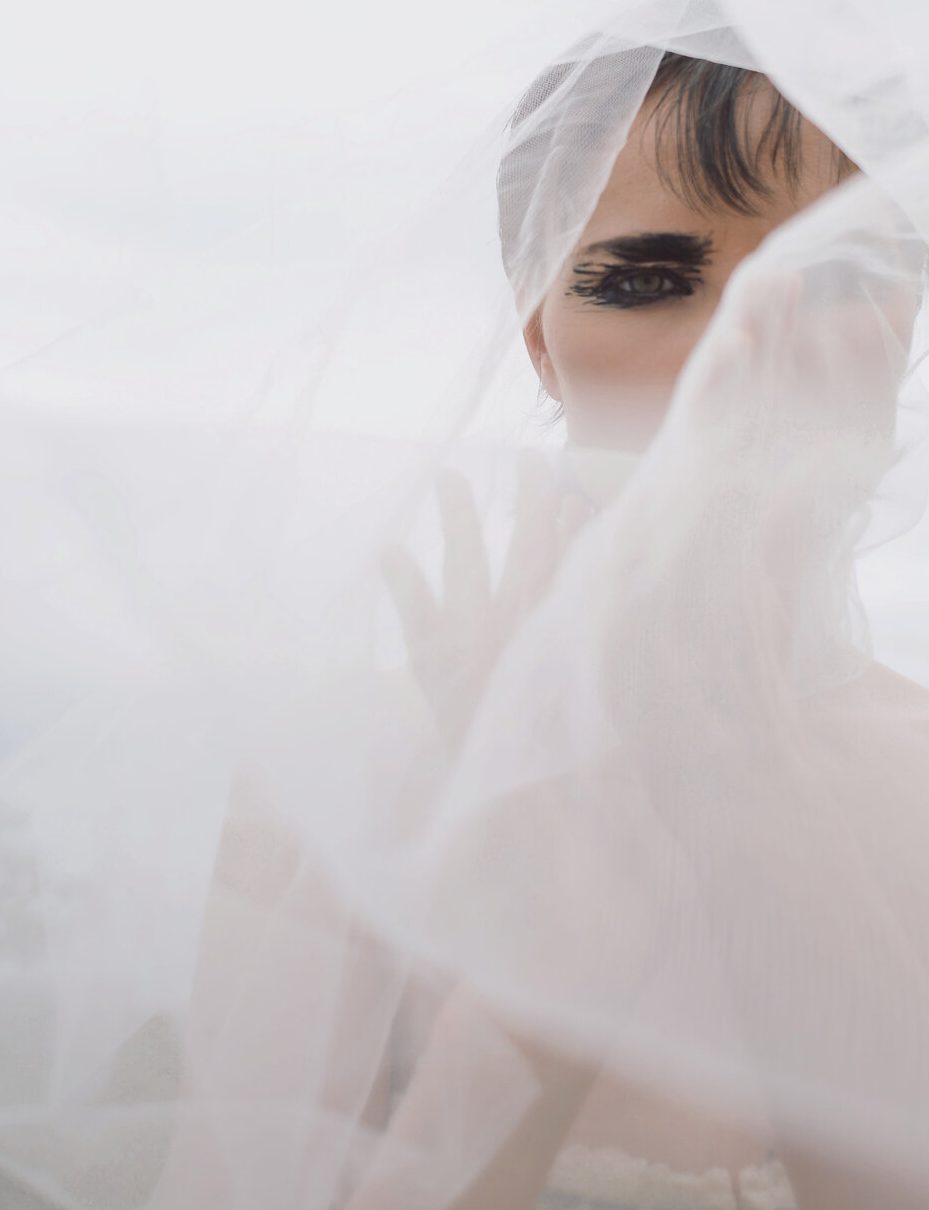 You are working on a completely new vision of the brand Giorgia Cicatello. How are you changing?
I am letting emerging what I mostly believe in. I want fashion to exalt individual and universal features of humankind. I believe beauty resides within every person, regardless their gender and their choices. I want my brand to be the means through which beauty is exalted and made free. I want to make fashion more democratic, maintaining a concept of genderless uniqueness.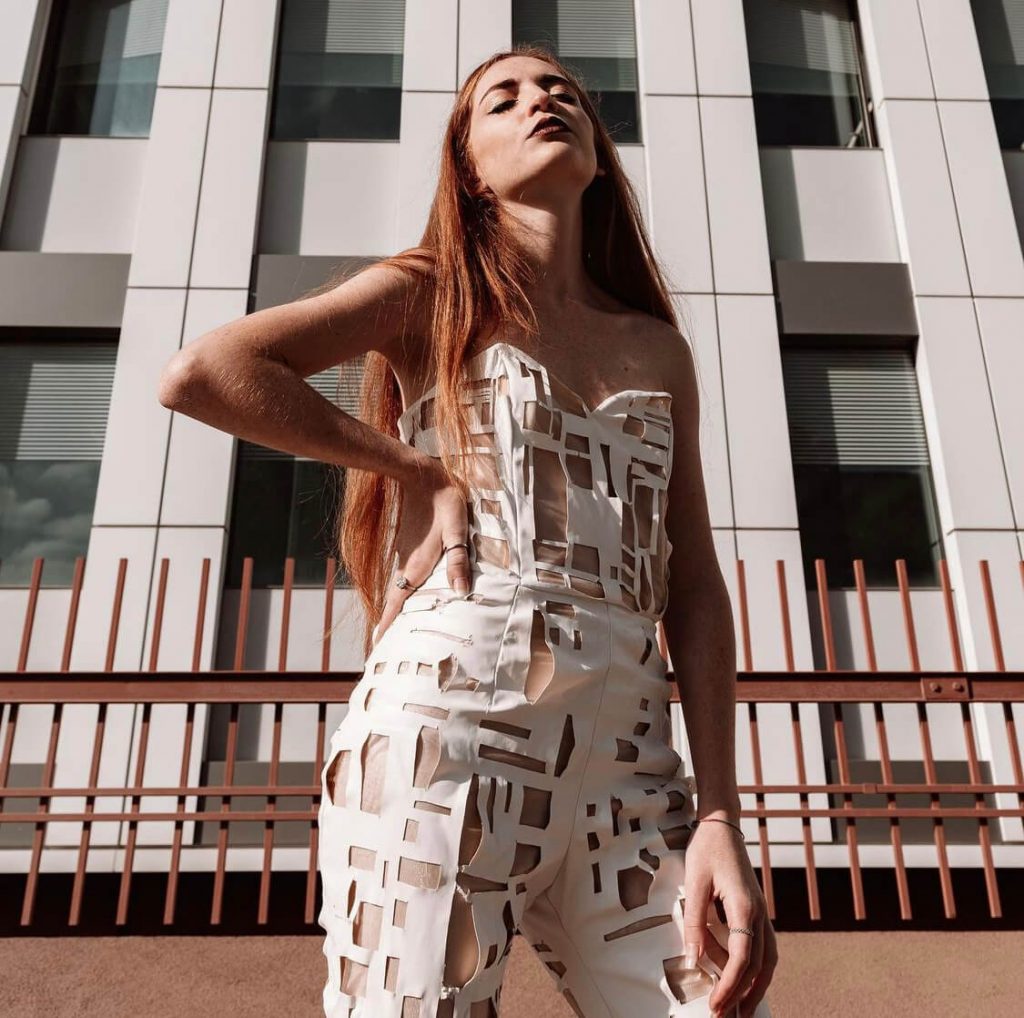 How may you define your style?
Giorgia Cicatello is a couture brand of social avant-garde. The women and men that choose my style are aware and therefore free.
Who is your inspirational muse?
I don't have one specific muse, I am influenced by strong and eclectic personalities, by things and aesthetics not taken for granted. If I have to name names, I guess I would say my muses are people like Lizzo, Cara Delevigne and Harris Reed. Each one of them emerges for their particularity and uniqueness.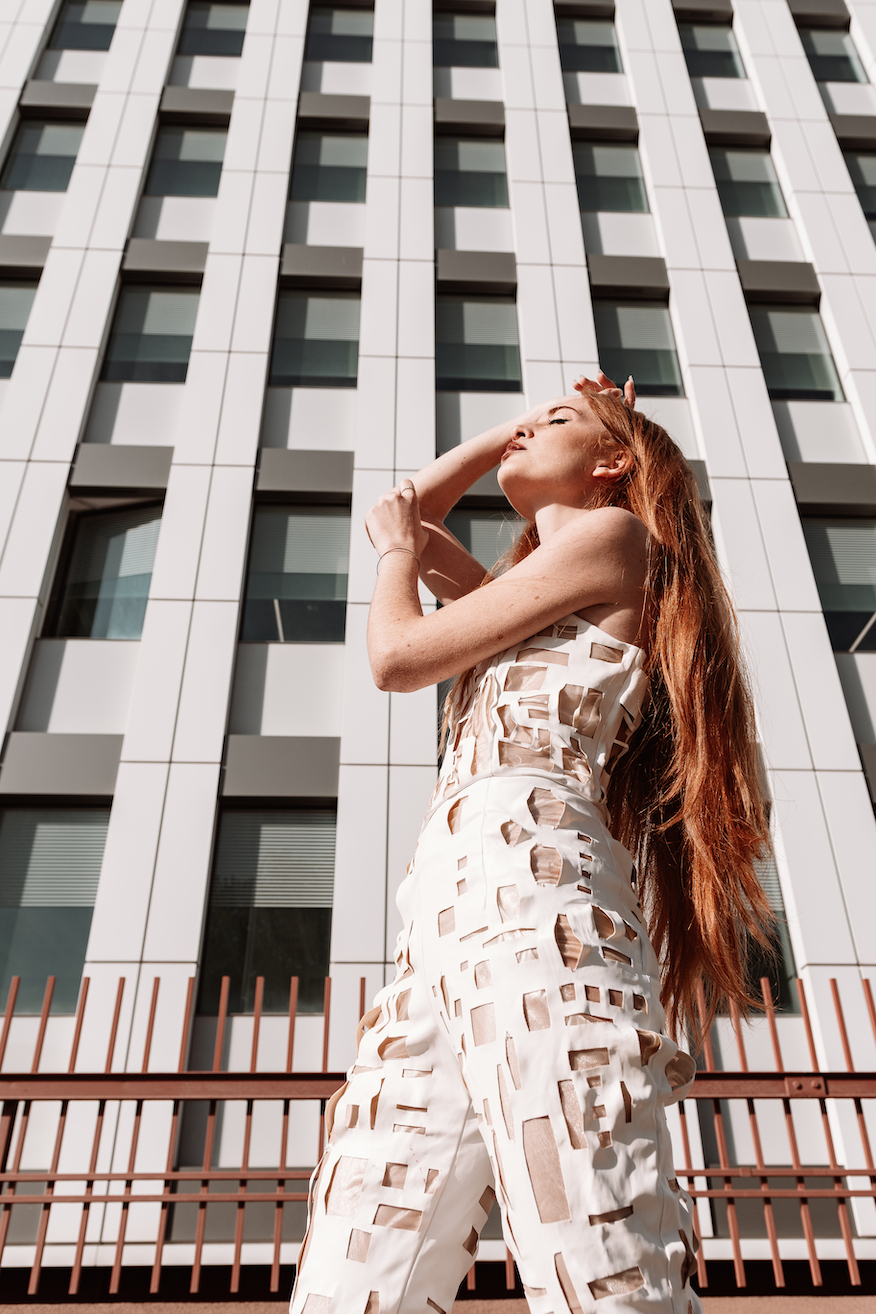 What are your plans for the future?
Continuing my journey. Definitely growing as a fashion designer, but mostly spreading my message: our awareness shapes our freedom. Every individual, be it masculine, feminine, or fluid, carries beauty with them, and the key to their uniqueness.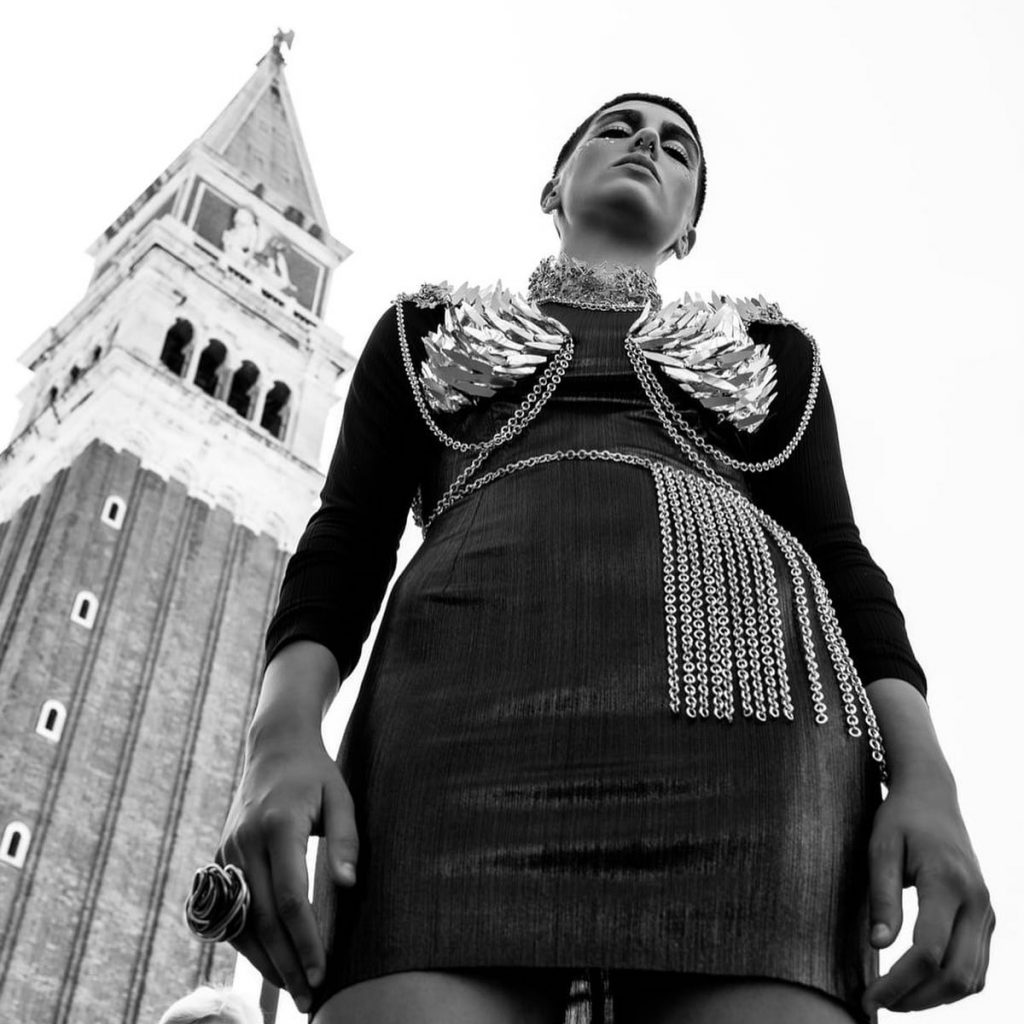 You were just selected as finalist for Ifta, presenting your capsule collection during an important event in Salerno. How was this experience?
Exciting I would say. A beautiful showcase, which opened further doors for me, which taught me so much. I love to participate in contests, I find them strong training if well done. You have the opportunity to compare yourself, to learn from others, to grow professionally and to create contacts and opportunities that are fundamental in my work.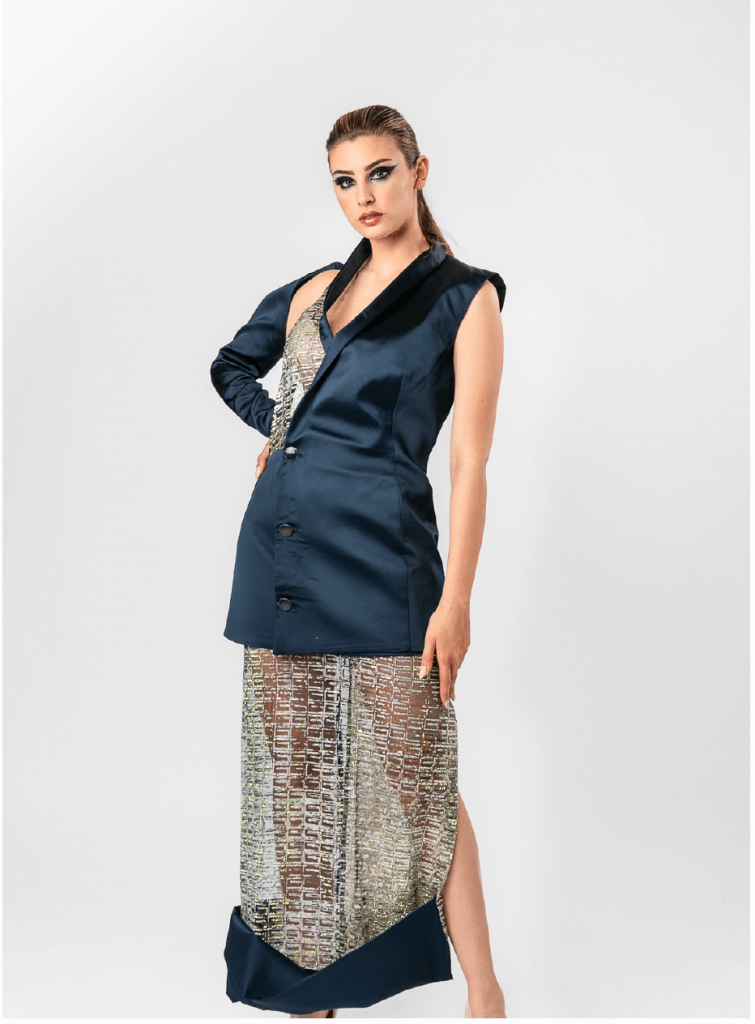 You just made a show during the last Milan Fashion Week as emerging designer. How was this experience?
Very well I have to say. I love Milan, I can't deny it, and I love the fashion perfume that you breathe in the air. Surely this kind of events help you in creating a network of contacts and in growing your brand, but above all for me they are experiences of comparison with other designers, a way to grow aristically and professionally.