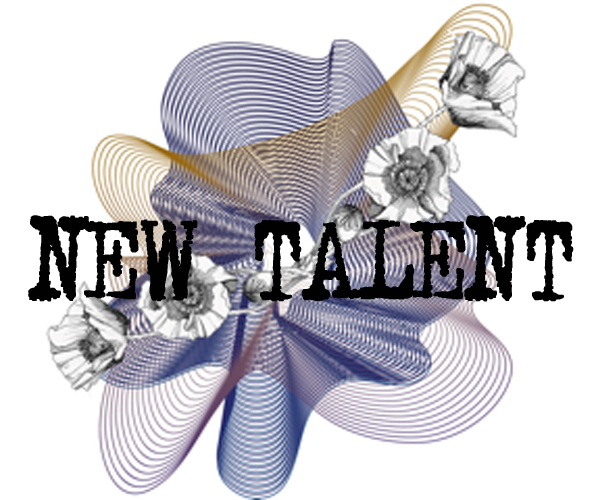 "The future of the luxury industry is dependent on the next generation of sustainable materials and processes." (Marie-Claire Daveu, Chief Sustainability Officer and Head of International Institutional Affairs, KERING)
In this 2017 edition the projects, developed in three phases of laboratories and meetings with professionals, were presented to two leading luxury brands, Gucci and Stella McCartney, both even more supporters of young talents and involved in sustainability.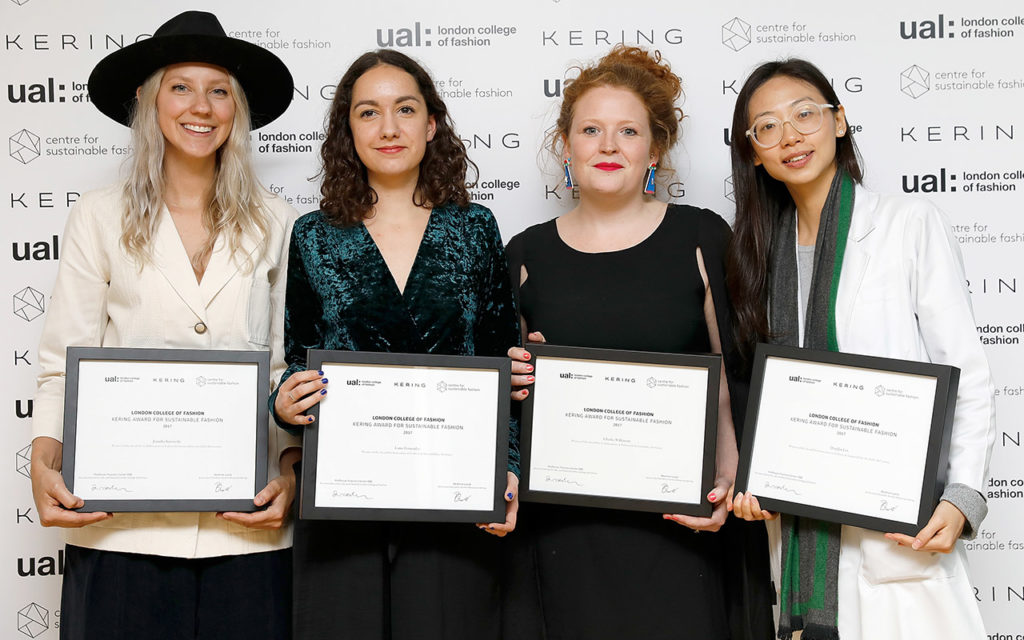 Kering Award for Sustainable Fashion winners: Jennifer Kusowski (left), Laure Fernandez (center-left), Charlie Wilkinson (center-right) and Dianjen Lin (right)
Among hundred of starting partecipants and 10 finalists were selected 4 winners, able to translate the new needs of human wellbeing and respect for Nature with innovative design processes: CHARLIE WILKINSON, who propose to substitute the inner plastic materials of Gucci's luggages with cork and bio-resin; JENNIFER KUSOWSKI, who presents a project for the first fiber shed in uk; DIANJEN LIN, who projects clothes that absorbe carbon dioxide; LAURE FERNANDEZ, who propose a new printing process, better explained in the second part of this article with an exclusive interview.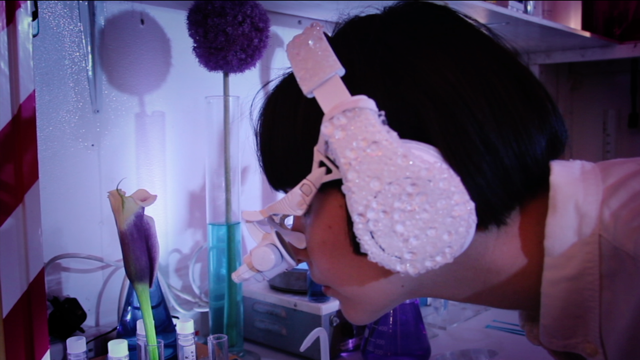 Laure Fernandez (London College of Fashion) working at new wearable technologies
The 26 years old fashion and textile designer LAURE FERNANDEZ, after a previous MA degree at the Esimode Fashion School in South of France and a 6 months stimulating working experience as Couture assistant at Iris Van Herpen in Amsterdam, decided to confirme her interest for textile and
material development studying at MA Fashion Futures course at London College of Fashion. Here she has started to explore sustainable alternatives to classic fashion production, specializing in biotechnologies, sustainable design and materials psychology.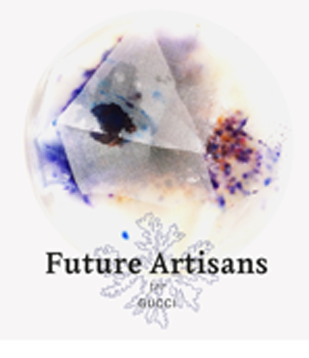 Laure Fernandez's project for Kering Award for Sustainable Fashion choosen by Gucci
Her project titled "Future Artisans" for the Kering Award, choosen by Gucci as winner of €10000 grant to continue the reasearch, is really remarkable and opens new frontiers of wearable technology.
She has developed a method of printing unique and fancy patterns on fabrics using microbial pigments. Let's make a chat with Laure, to better know her project and vision of the future fashion.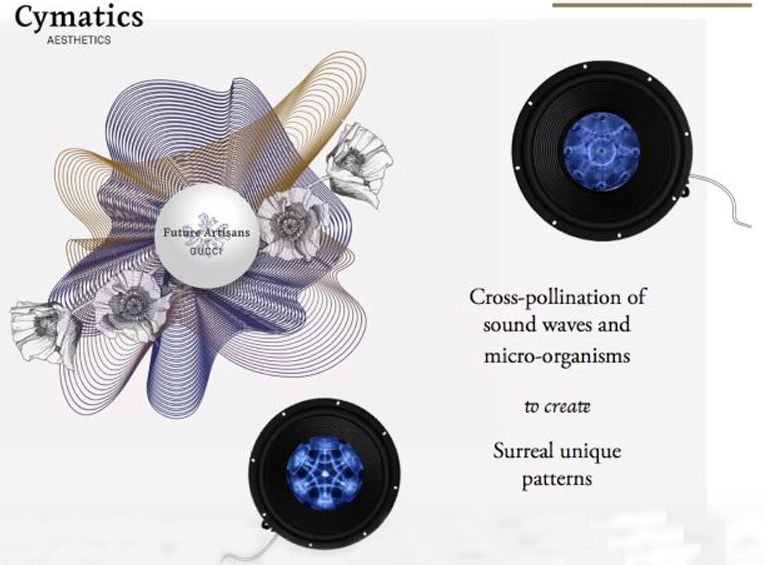 Laure Fernandez's project for Kering Award for Sustainable Fashion choosen by Gucci
Hi Laure, can you describe the project winner of the "Kering Award"?
For the "Kering Award for Sustainable Fashion" I explored dyeing and
printing processes in the fashion industry. Synthetic dyes contain a
wide range of chemicals, harmful for the environment, while natural
dyes require large quantities of water
and lack longevity and brightness in the colors.

Through the cross-pollination of technology, biology and design,
the use of micro-organisms producing pigments on textile is considered
as a promising alternative. Natsai Audrey Chieza is a design futurist
and the pioneer of that process.
"Future Artisans" explores the possibilities to create alternative
patterns by exposing the micro-organisms to a sensory experience and
influence their behavior through sound. The idea is to raise awareness
among the public around the origin of
the colors that we wear but also to share the incredible features that
nature how, in order to create in harmony with other living beings.
Gucci's culture of print was an amazing opportunity for that!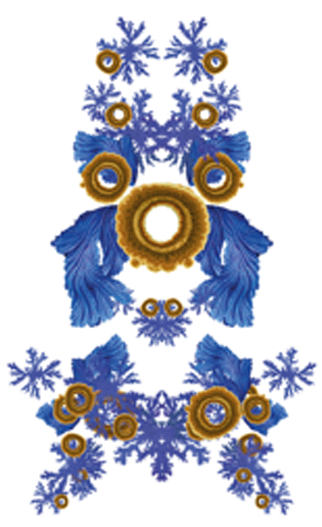 Laure Fernandez's project for Kering Award for Sustainable Fashion choosen by Gucci
Why you choose to approach to sustainable fashion?
I choose to approach fashion from a sustainable angle because I cannot
imagine it another way. We know the impact of the fashion industry on
the environment, we can not ignore it anymore and incredible
alternatives are still waiting to be discovered.
I want to tell new stories, around a symbiotic relationship between
human beings and nature through fashion, and show to the public that
living in harmony, and balance between nature and technology for a more
sustainable future, is possible.
How much are important the studies you're making at London College of Fashion and whate are the most important things you've learned about sustainability and wearable technology?
While studying fashion design, for 4 years, and then doing several
internships in different countries, I was questioning a lot the meaning
of what I was creating, its purpose, its message.
When I found out about this course, MA Fashion Futures, at London College of Fashion, I knew it was exactly what I needed in order to look
for answers. Education is the base of everything and future designers
need to be aware of the environmental
and human impacts for each choice they make.
In your opinion what will be the future of fashion afeter this period of crisis?
In my opinion, the future of fashion will provide new meaningful
experiences beyond the (too) simple fact to buy and wear a piece.
Throughout history, fashion shared its 'edgy and activist soul' by being
a voice for changes in customs and society,
and I believe that today and tomorrow, Luxury brands will one more time
show us the way.
——-
I would like to thank Laure Fernandez for her willingness to explain this amazing project.
To see more about her works, look at:


Dear Reader, what do you think about Laure's project and sustainable fashion?
See you soon with other fashion stories!