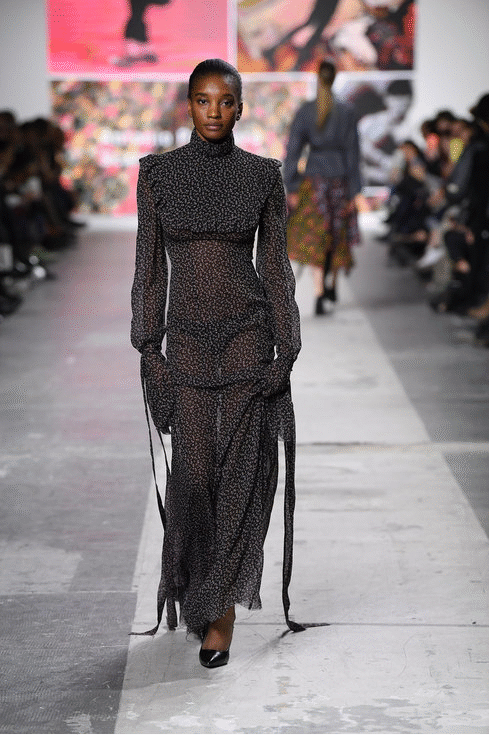 ISTITUTO SECOLI GRADUATE COLLECTIONS PRESENTED AT FASHION GRADUATE ITALIA
ANTONIO PALMIERO "Scars": in this capsule colection the recurring motifs of cracks and scars are the representation of an inner pain. The imaginary is inspired by the underground and street world with shapes and volumes that recall the 80s. A collection designed for a young, independent and hyper-feminine woman, who loves to wear dark fabrics matched to classical pinstripes, red eco-leather, fancy printed fabrics.
FEDERICA ZALETTI "Para-Normal": a collection designed for a sophisticated and contemporary woman who loves to play with transparencies and overlays. The contemporary Japanese artist Akihito
Takuma is the main inspiration for the conceptual world that the designer
wants to express, and some of his works become prints on the white, black and blue fabrics that create stratifications, are soft and enveloping, with a construction that deliberately gives the feeling of "indefinite" shapes.
FILIPPO TODISCO "Pancitopenia": a strong and impacting collecti

on

, which name comes from a rare blood disease, but that is a hymn to life despite every adversities. Pain and illness shouldn't be experienced as exclusively negative events, because they can offer the possibility to underline greater values and enhance their strength and beauty. The oversized and asymmetrical over-coats are destructured and reassembled with top-stitchings, in a clear analogy with scars on the body, or treated with bleaching, with a color palette dominated by white, nude, black and red.
GRETA MORONI "Utopia for a positive world": can an utopia be

realizable? The young designer thinks that is possible to live in a better place and spread positive messages and with her

collection, extremely versatile, she embraces a philosophy of life that is attentive to nature and invites us to think about global pollution. The color palette plays with the tones of white and black, while there's a great research on materials and attention to eco-sustainability, with the use of organic cotton, hemp, linen, and newlife yarn 100% made using recycled plastic bottles, enriched by handmade embroideries.
IRENE INCONTRI "Re-arrange": the collection is based
on a conceptual idea of enhancing cracks and wounds within a
creation, from which it's possible to re-create of a superior beauty. The main source of inspiration is the "Grande Cretto" by the informal Italian artist Alberto Burri, a Land Art work created in memory of the 1968 earthquake devastating the Sicilian city of Gibellina. White, black, beige with

some

accents of red are the predominant colors. Asymmetrical shapes, top-stitchings and transparencies along with laser cuts and technical fabrics in a basic color palette with some red touch, are part of the collection's DNA.
S

EUNGCHAE YU

"New classical disco": the Korean designer proposes a menswear collection that is a tribute to the fashion disco of the 70s and 80s, with comfy clothes and wide

jackets with pointy collars and bell-bottom pants

designed with a refined palette ranging from browns, greens and reds, for a classic style revisited with a sophisticated flavor, where

vintage coexists with a more contemporary mood.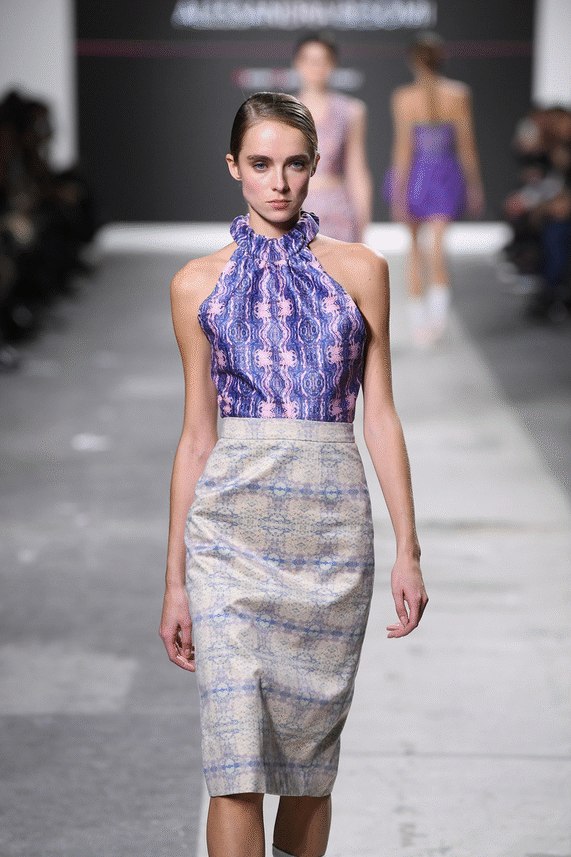 FERRARI FASHION SCHOOL AT FASHION GRADUATE ITALIA