"Subhuman Inhuman Superhuman" exhibition is more than a simple retrospective about Rick Owens' story. It's an unquiet and deep analysis of Rick's inner world seen through his own eyes. At Triennale Museum in Milan (Italy) until 25th March 2018.
Some days ago I went to Milan to finally see the exhibition dedicated to Rick Owens, one of my favorite designers. I arrived at Triennale Museum in a very cold day with really high expectations that surely were not disappointed. But I decided to wait after Christmas to speak about it and make a complete report of the exhibition. Because the argument is in some ways too rough for these peaceful days and because it impressed me a lot provoking contrasting emotions in me.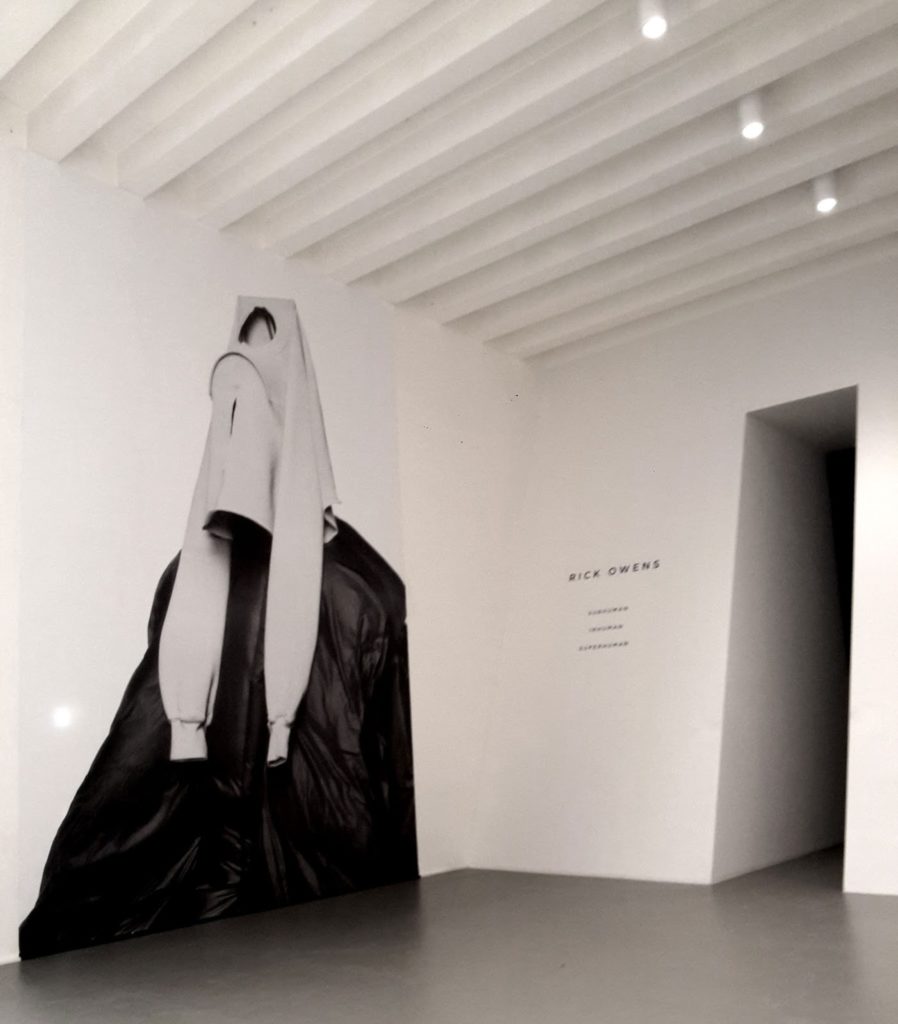 Rick Owens exhibition's entrance
Entering the exhibition a big picture and a minimal black and white setting-up welcomes visitors, while a monumental door introduces in a dark room with a wall of lights that is like a gateway for another dimension., the obscure and complicated world of Rick Owens.
The brochure was very clear about what was waiting for me.
"I would lay a black glittering turd on the white landscape of conformity" (Rick Owens)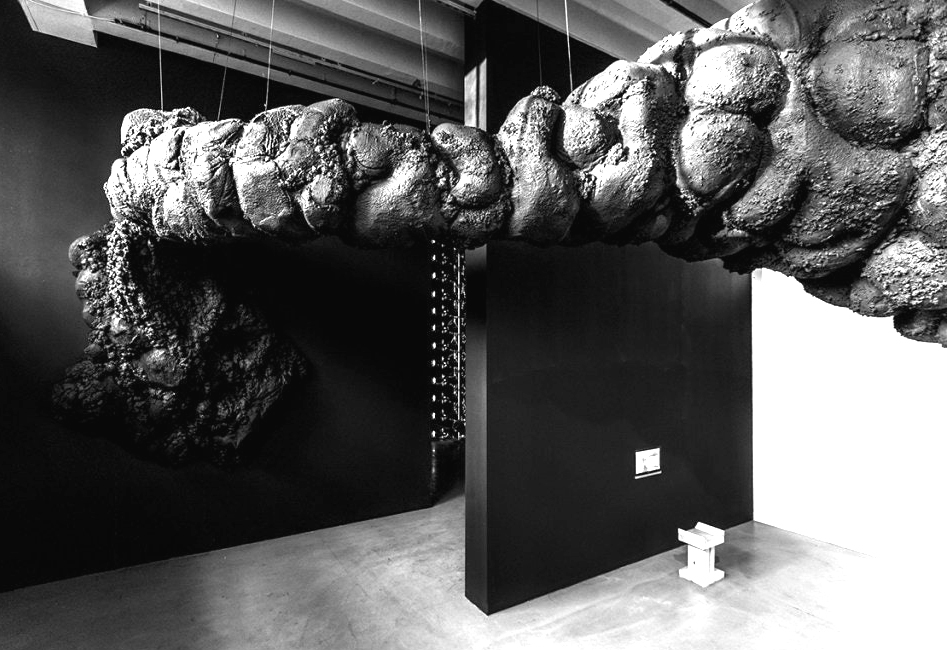 The "turd", a site specific installation by Rick Owens
Yes, the black turd waits the visitor at the beginning of the exhition path, following all the creations of the last 20 years of the designer's activity. It goes above our heads or touches the ground looking like an uncomfortable sofa. Black, raw and lumpy, the turd is a site-specific installation made by Owens himself using concrete, lilies, the heart of the seaside in Venice and his own hair (weirdly collected in these 20 years every time he combed his hair), and it represents a mix of different emotions (ego, self-doubt, love, rage and joy) and the it's the metaphor of strong impact that the designer had into the fashion landscape.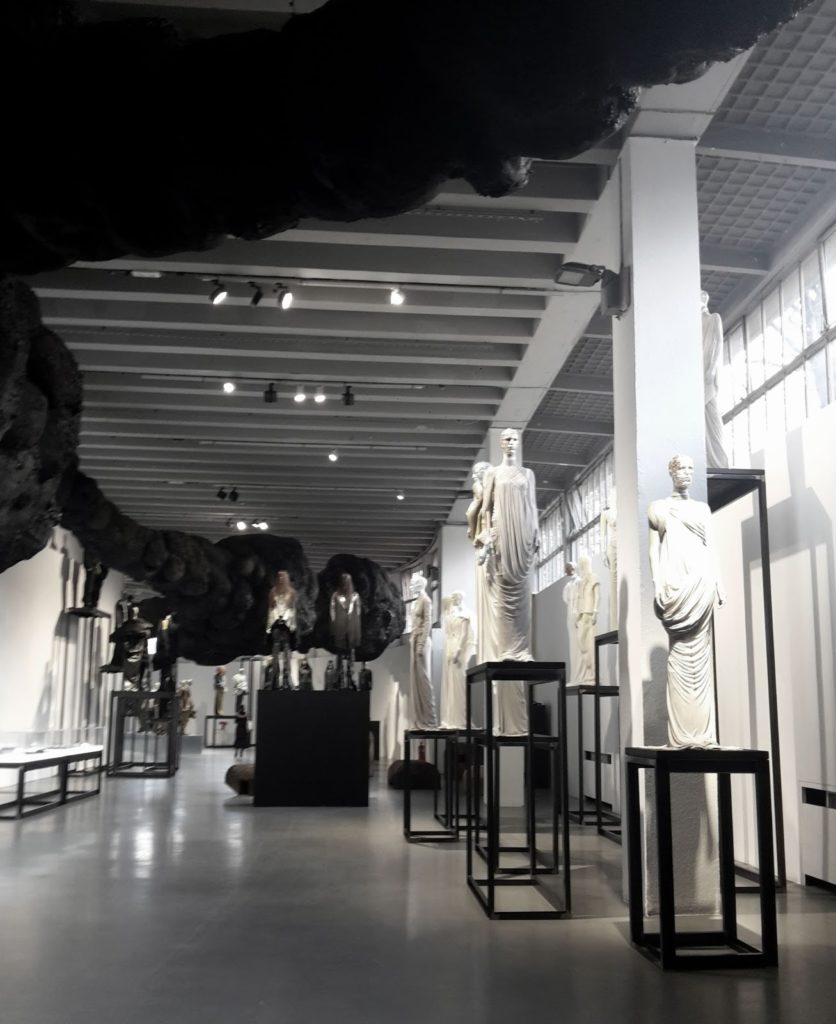 Exhibition overview
Owens has always tried to break the rigid protocol of conformity and aesthetics proposing another point of view, destroying shapes and structures, ideas and concepts, normality and wellness, morality and bigotry. The exhibition explain this fact very well.
Rick is a bad-good-guy. In many occasions he has deliberately scandalized the public opinion with a bold communication (like the homosexsual mimed acts or the naked male and female bodies on the adv campaigns), strange outfits and provocative fashion shows. Women wearing other women, pallid and skinny boys with female skirts, emphatic and screaming zulu dancers, primitive goddesses and irreverent nuns.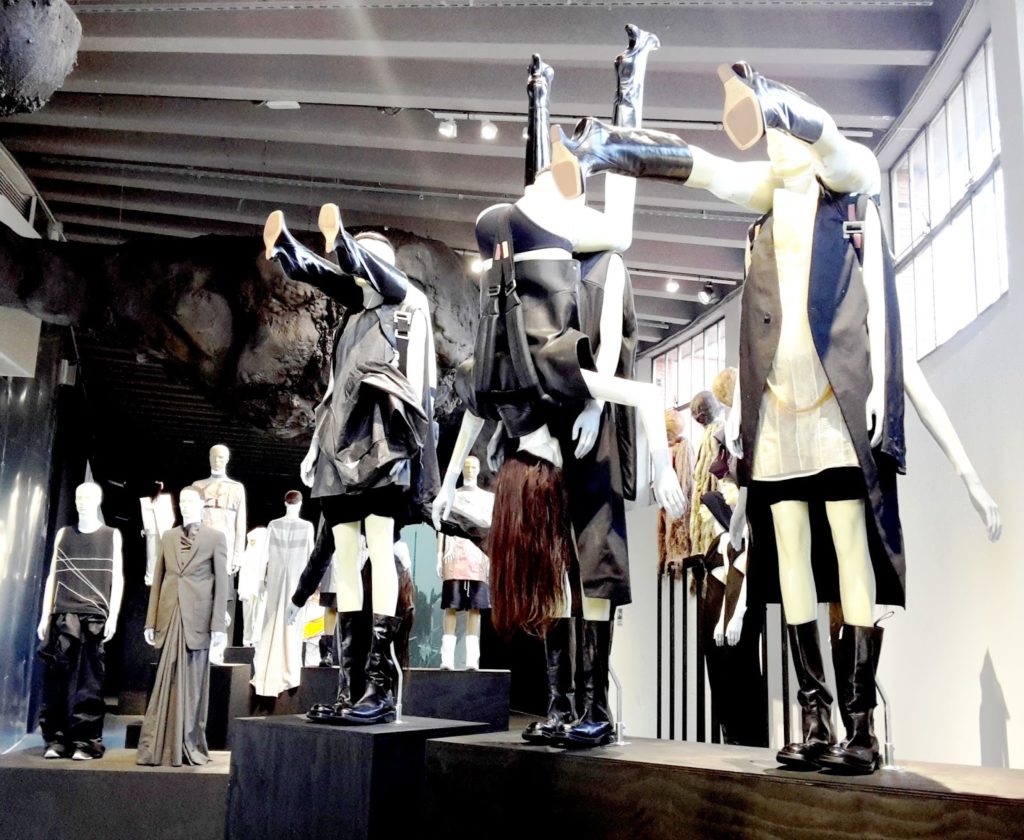 Rick Owens ss 2016
"The story I'm telling is about the balance of control and collapse and the temptation of overdo either. I like the idea of idealism, misguided or not, and its inevitable defeat. I like self-invention and even more when it goes a bit morbid" (Rick Owens)
When Rick broke into the fashion scene was soon scandal. And attraction. Born in 1962 in California but living in Paris, he was supported since the beginning by Anne Wintour and all the entourage of Vogue Us. Athletic and zen-like, married with his muse Michelle Lamy met through a common boyfriend, Owens represents the reasearch of an equilibrium over the madness, the opposition of contrasts. He blends with incredible skills streetwear and sportswear with haute-couture cuts and is able to transform the most simple and raw materials into something extraordinary. Jersey, leather and wool become precious passing by his hands.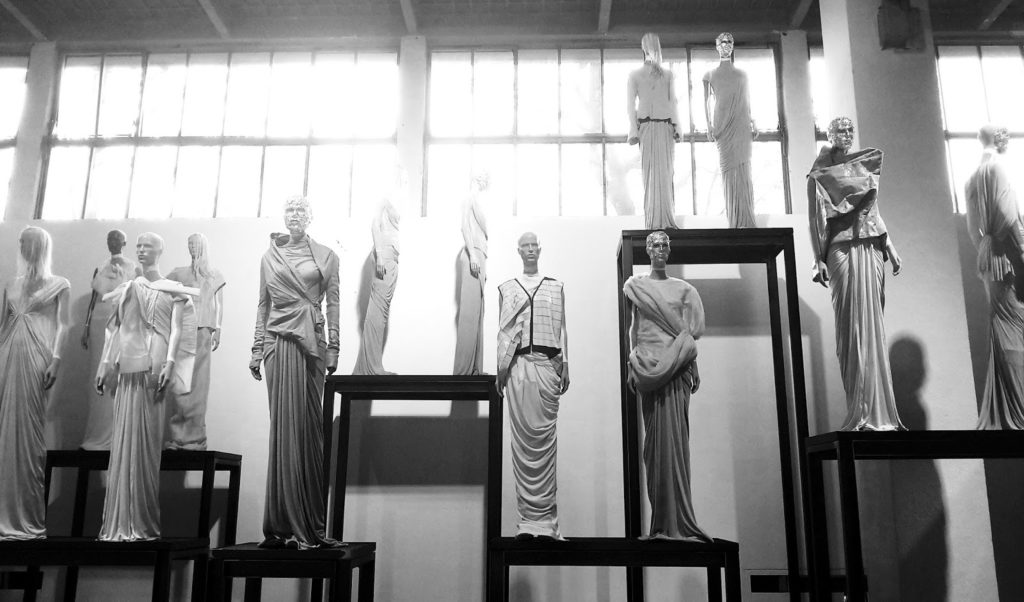 Rick Owens' white dresses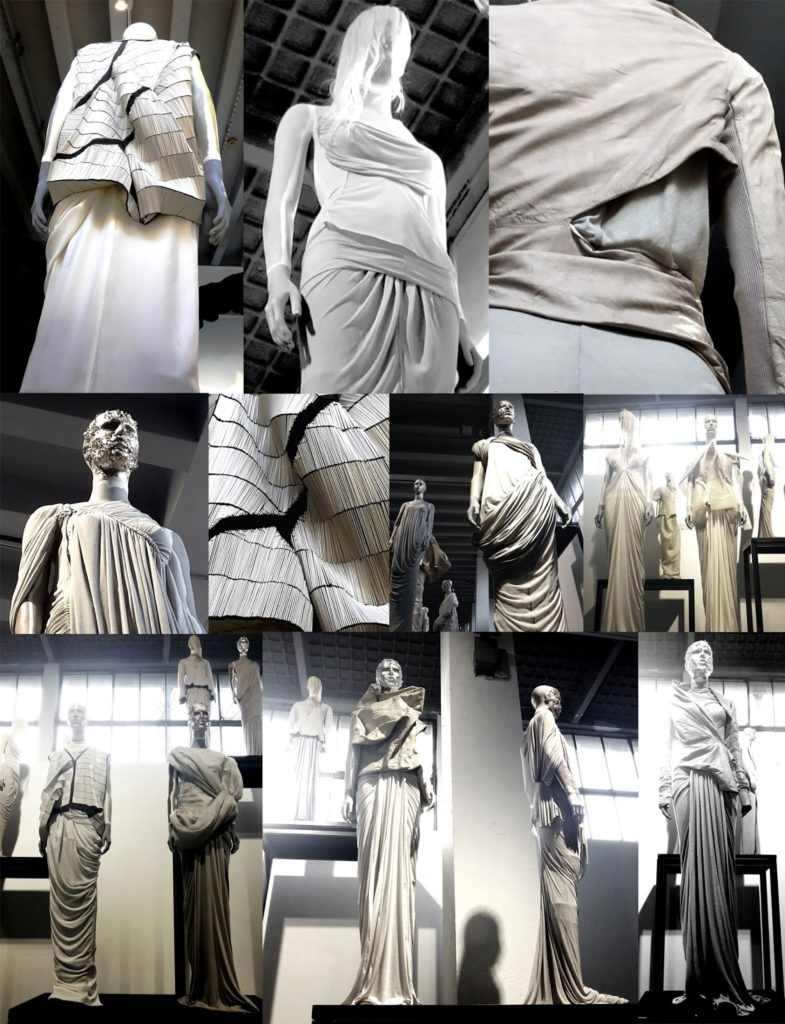 Rick Owens' white dresses
Contrasts are the main characteristic of Rick Owens' aesthetics. While the turd starts from a wall, signing the path through magnificent and terrible dresses, the first impact is given by the vision of ancestral and alien goddesses that look the visitor from high podiums wearing draped jersey and leather outfits in total white.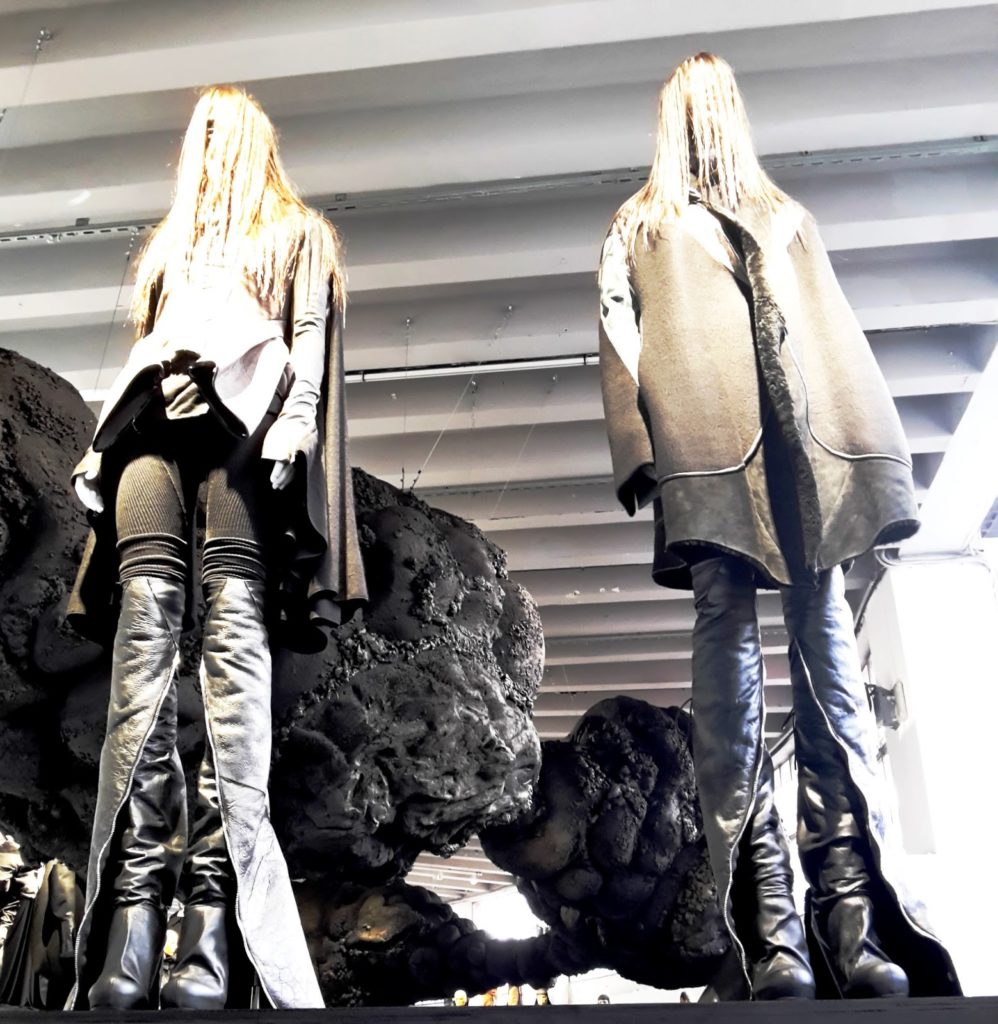 Rick Owens' black leather outfits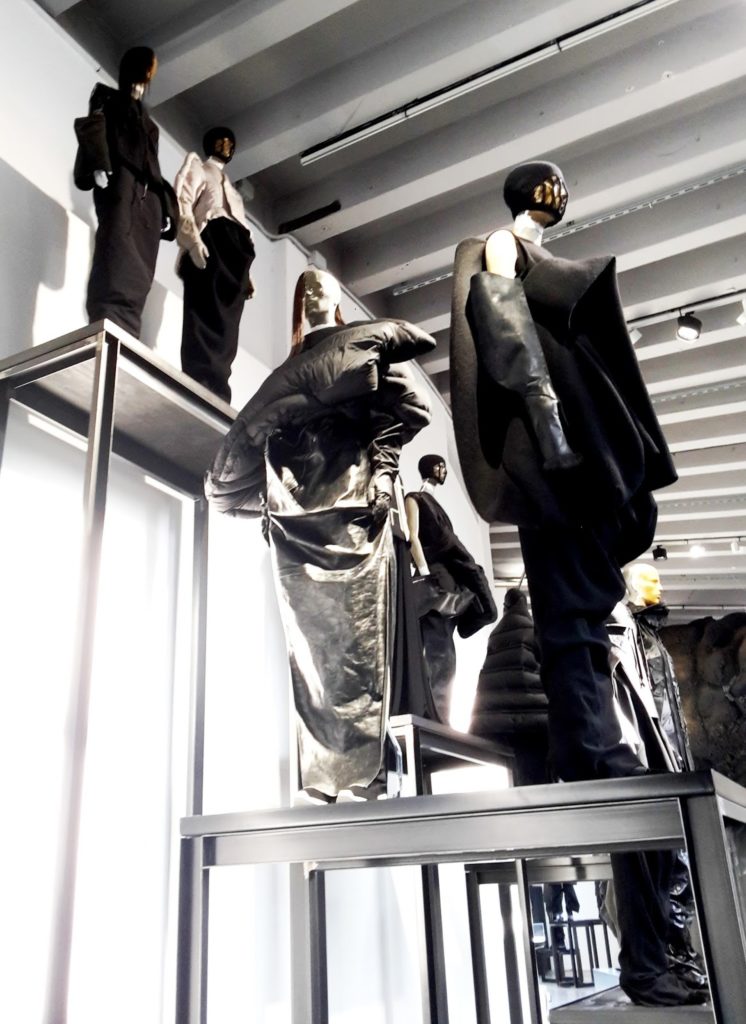 Rick Owens' black outfits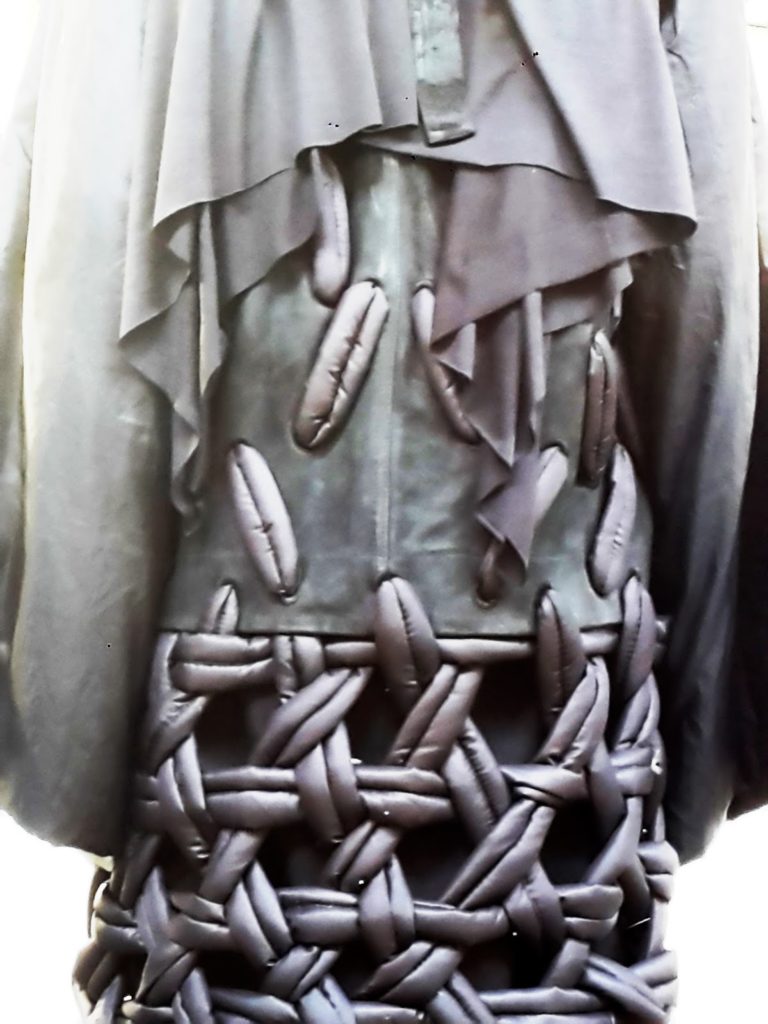 Rick Owens' black coat


Then it's the turn of black, powerfull and scratchy, used to emphasize hyperbolic volumes, padded nylon jackets, goth leather armours and diagonal cuts almost architectural. This post-apocalyptic and destructured way to interpret black color shows the connection with the japanese culture and fashion, in particular with Rei Kawakubo and Yohji Yamamoto.
Rick Owens' earth tones dresses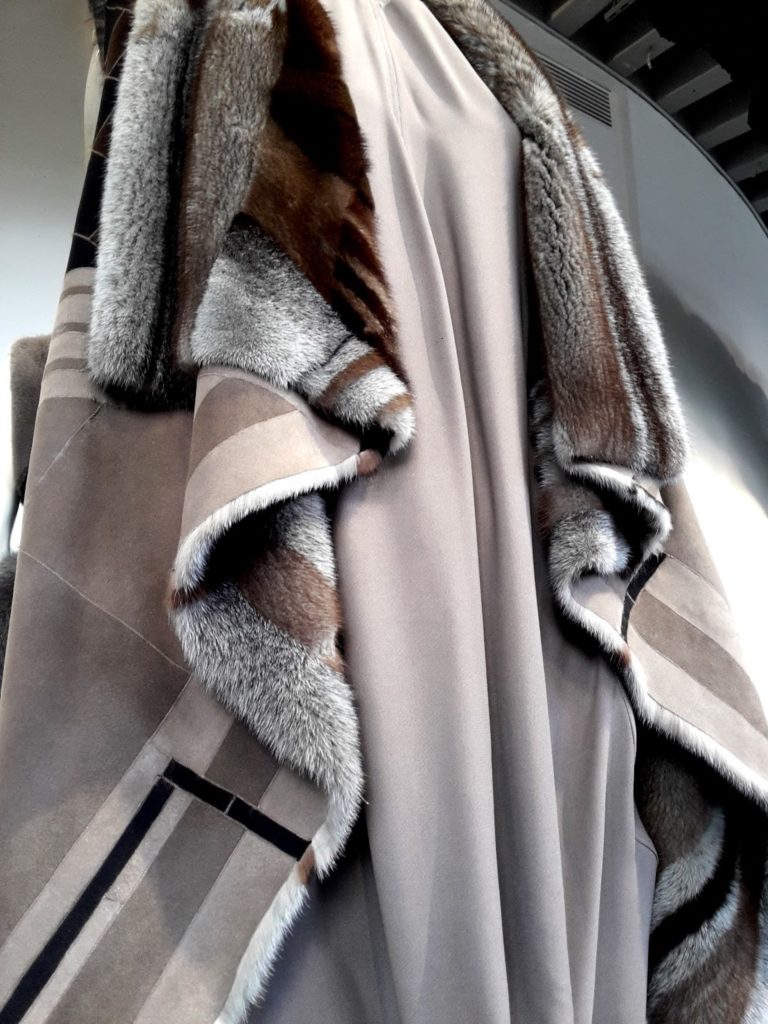 Rick Owens' patchwork furs reversible waistcoat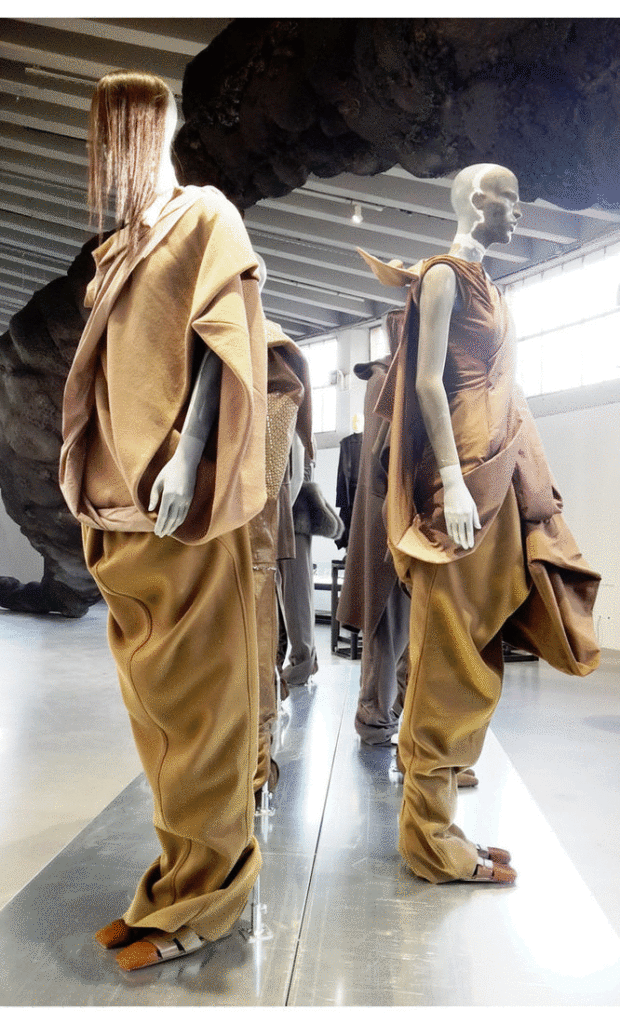 Rick Owens' earth tones outfits
The shades of the earth represent the return to a wild and primitive essence, with furs and leather interpreted in many variations, patchwork or embroidered, raw and with unfinished edges. It's an atavistic impulse that drived the designer in these creations, sculptures of an archaic future that explore the primordial insticts.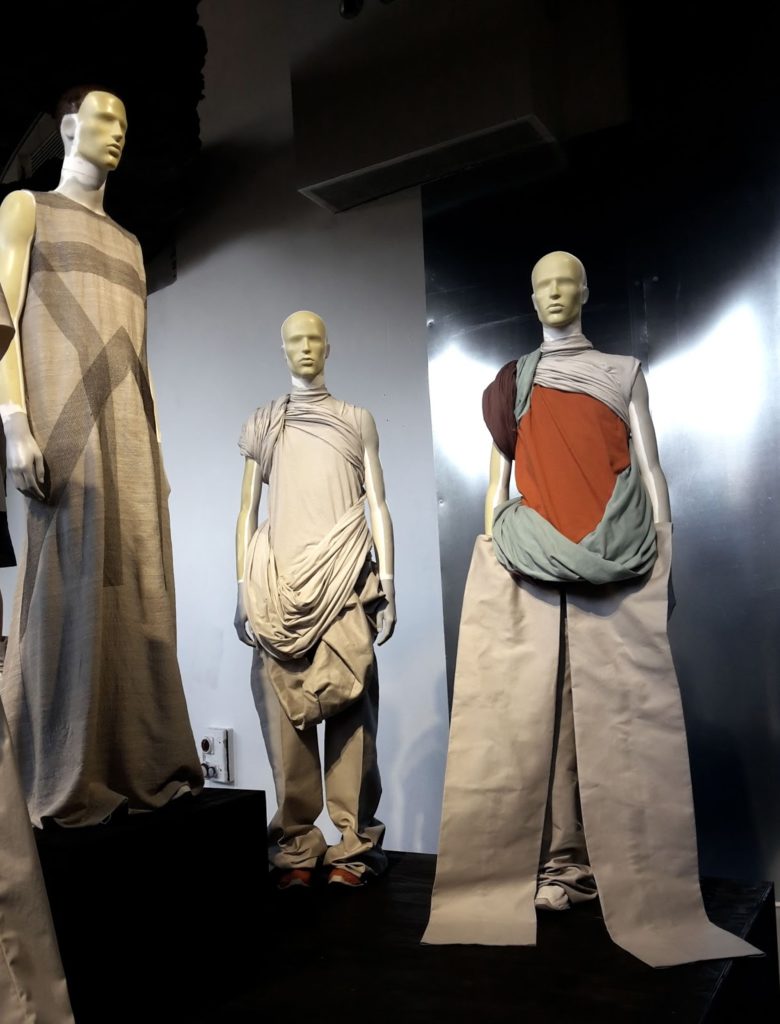 Rick Owens' menswear outfits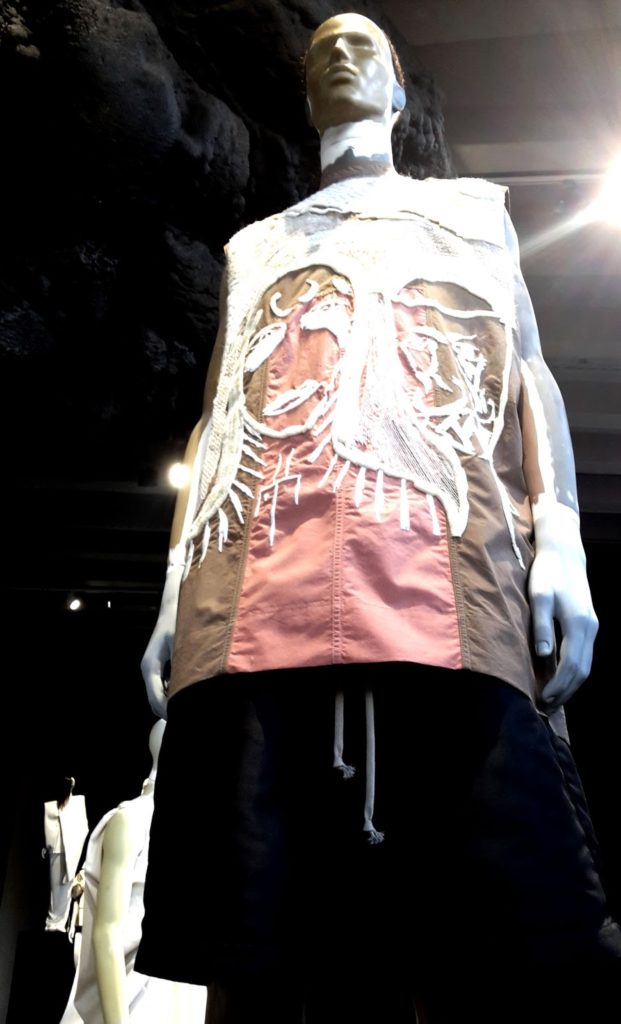 Rick Owens' menswear outfits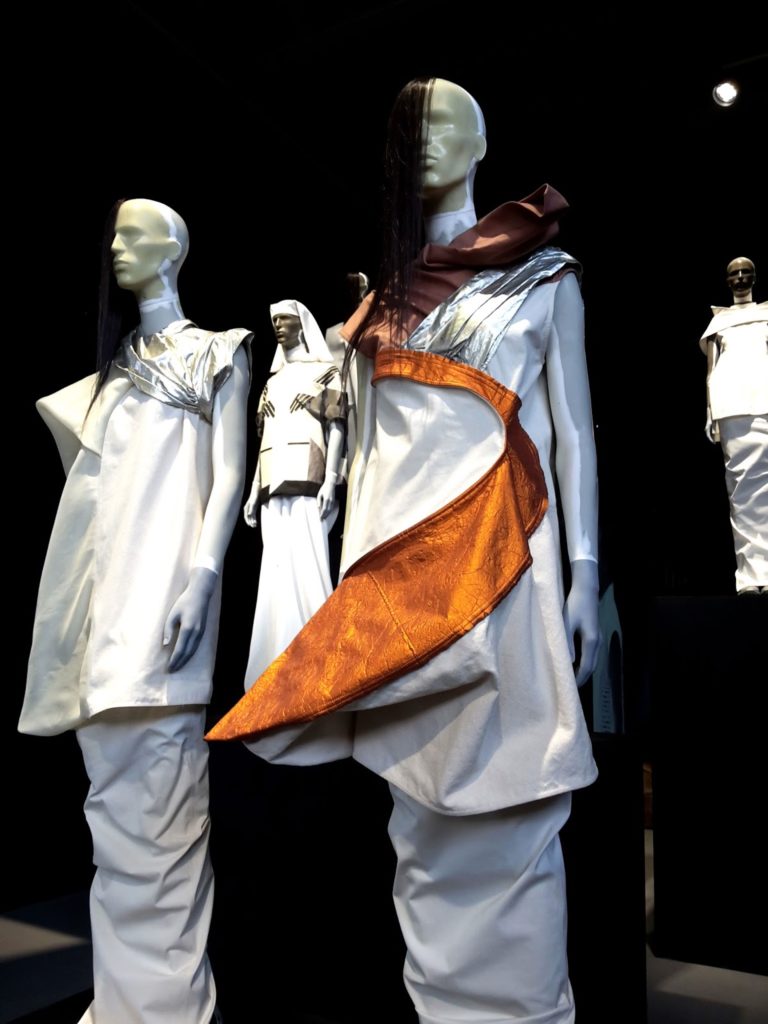 Rick Owens' menswear outfits


But because Owens doesn't like to be ordinary and to give a normal sense to things, the exhibition path return to black and white and then again to earth's tone, arriving finally to the metallic shades of grey and the only touches of colors present in his collections: a flashy point of orange, an embroidery on a pink man's top, a shining gold leather surface. All the outfits are not presented in chronological or chromatic order. There's no order in his "Dadaist" conceptual way of thinking. Probably is this thing that deliberaly disorients the visitor.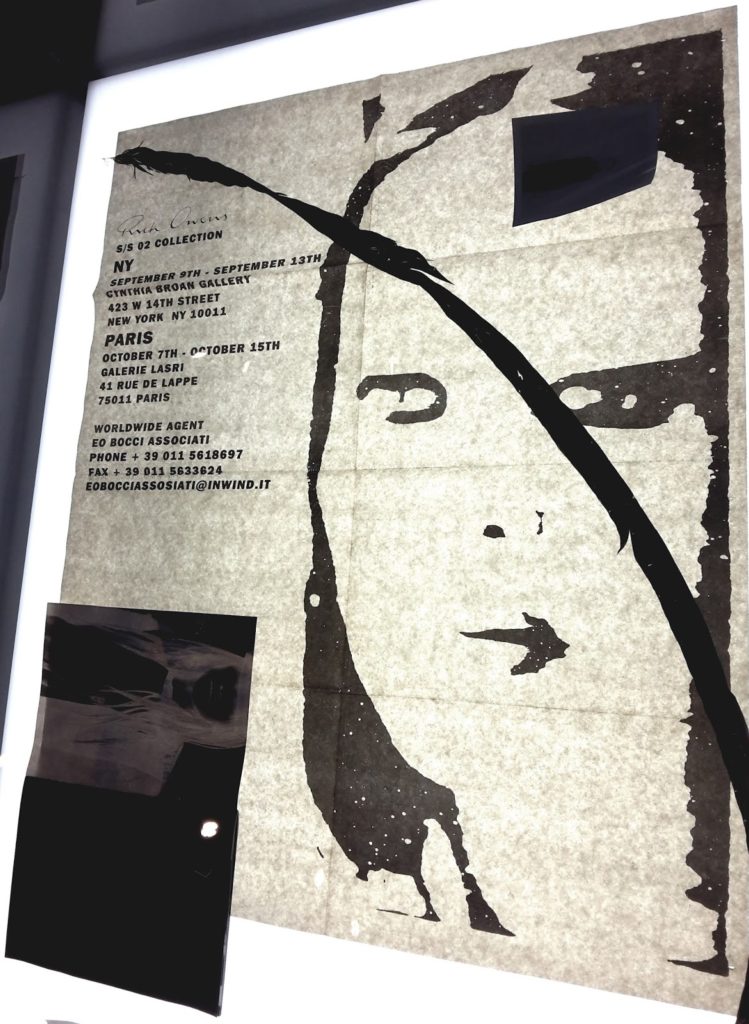 Rick Owens' first fashion show invitation card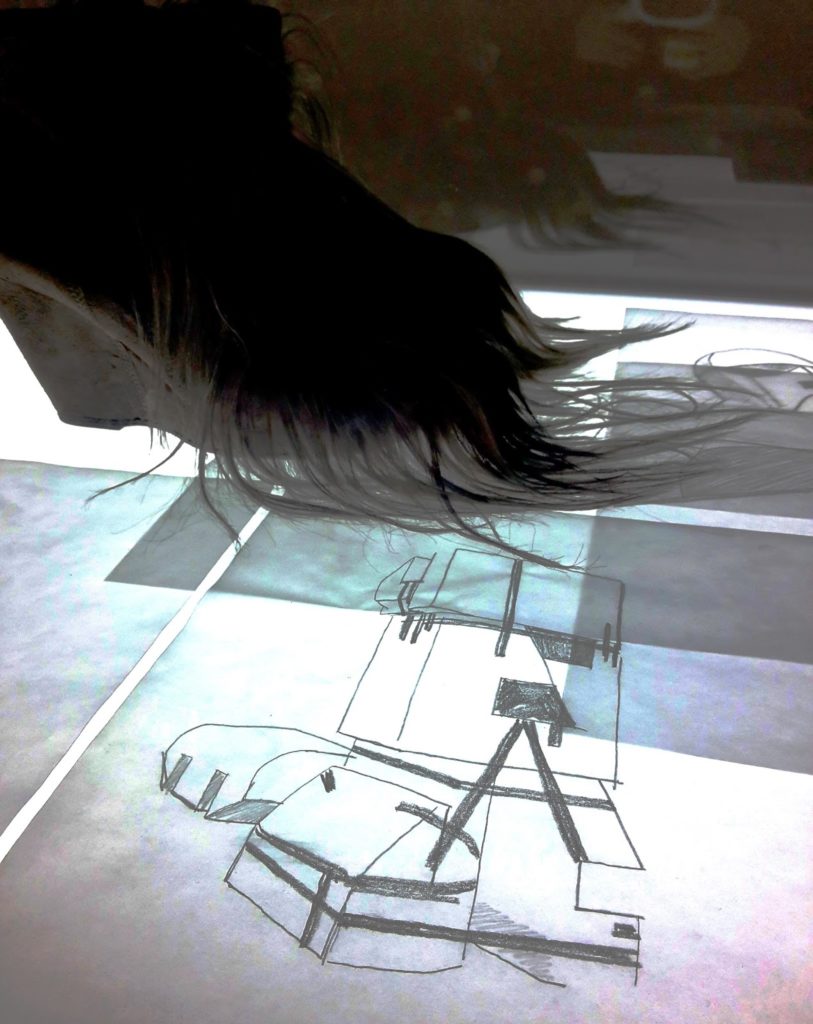 Rick Owens sketches and accessories

Among the podiums with the dresses, long display cases tell about the story of the brand through its corporate image, from the invitation cards for the fashion shows to the advertising (in many case really scandalistic and bold), the accessories and the behind the scene photos and videos.






The "grand finale" is the video installation, so disturbing, poetic and strong, with all the fashion shows seen from different points of view and projected at the same time in a huge room with Owens' furniture, for a total immersion in his world. After this we just have to return to the initial point, not without a sense of vague bewilderment.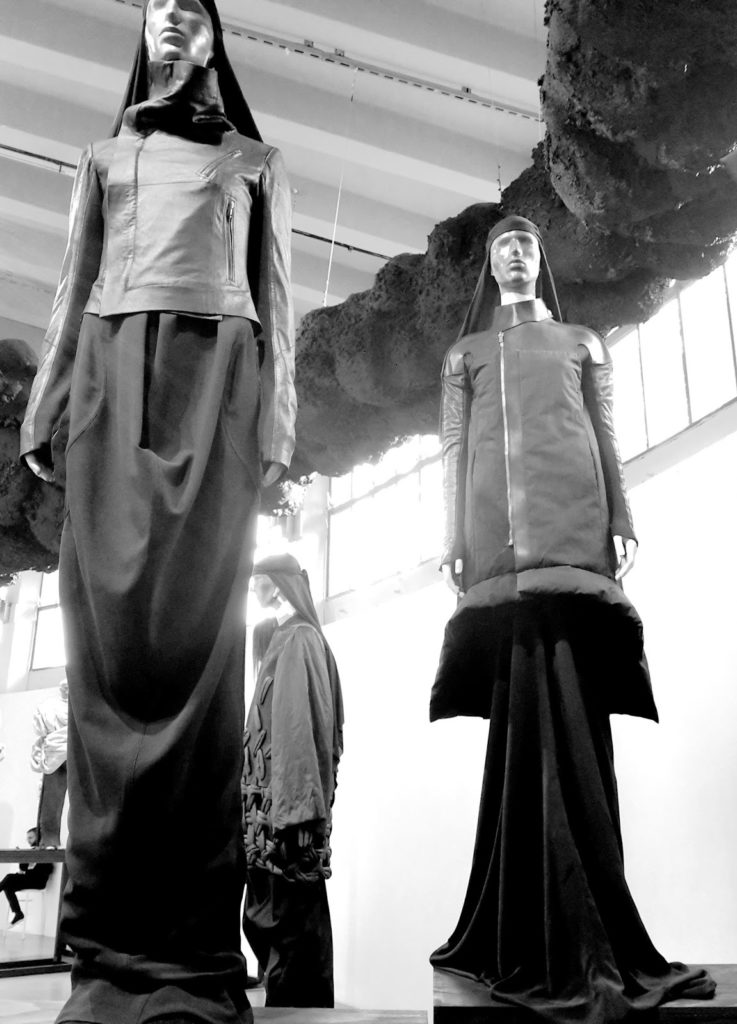 Rick Owens black outfits
Yes, the exhibition was really beautiful and yes, he is a great master of fashion. But a strange sensation is still in me, difficult to explain.
Maybe only because this event leave a certain impression not easy to forget or, most likely, because he wanted to raise questions and doubt in ourselves.
"I think it's all about the titillation of imagining the monster we could be if we just let ourselves go. We're all fascinated with corruption. And the more glamorous the better" (Rick Owens)