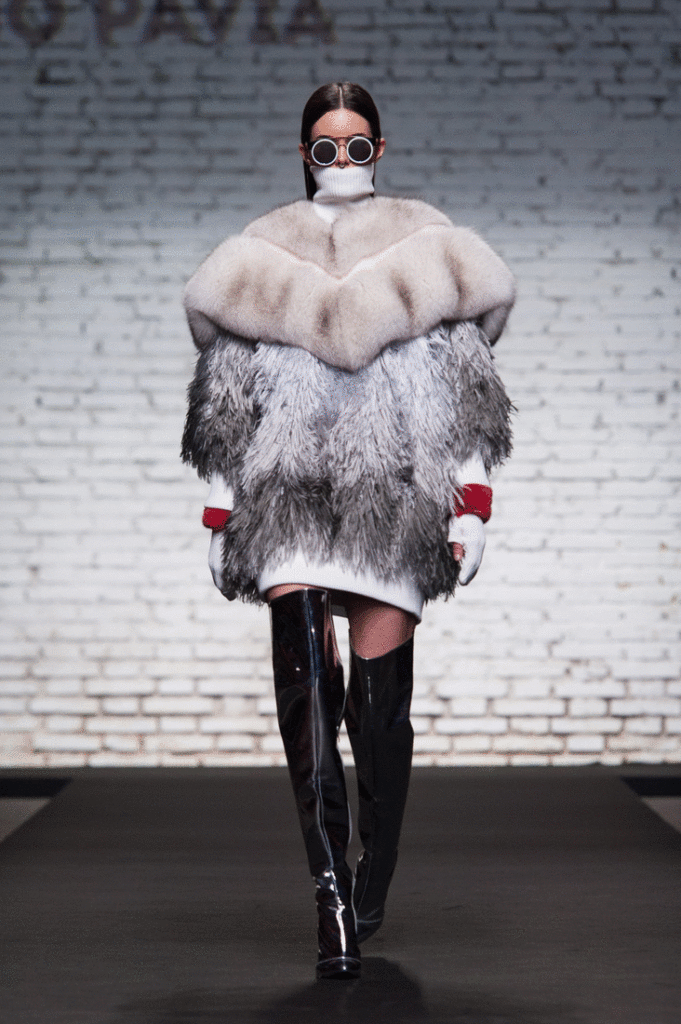 New stars shine on fashion firmament. Are the young students of Accademia di Costume e Moda, who presented their collections in the Talents 2018 Fashion Show last saturday during AltaRoma days.
Accademia di Costume e Moda is a serious thing. It demonstrated all the talent of its young students during a highly professional and spectacular fashion show, directed by Santo Costanzo and Luigi Mula Debois, in which 15 new designers presented their capsule collections of womenswear, menswear and accessories.
In a beautiful industrial-style location at Guido Reni District in Rome, last 27th January, the young undergraduate girls and guys of the three-years Degree in Costume and Fashion (officially recognized by MIUR with 180 ECTS credits) developed concepts and new ideas about Haute Couture. New blood for AltaRoma.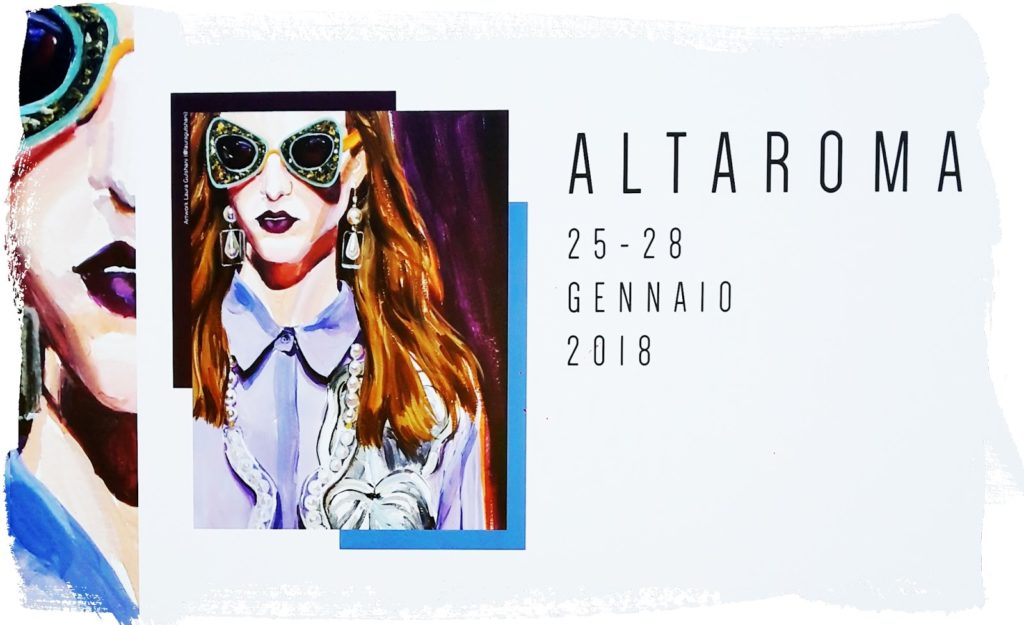 At rhythm of electronic music with some tribal and

acoustic

accent, all guests, press representatives and the jury (composed among the other by well-known names of fashion industry like Giovanna Gentile Ferragamo, Andrea Incontri, Simonetta Gianfelici, Fausto Puglisi, Francesco Scognamiglio, Sara Sozzani Maino and Silvia Venturini Fendi) have seen a very contemporary show, effective and sometime theatrical.
The jury rewarded two designers, one for each category. The winners were Mauro Muzio Medaglia (Fashion) and Livia Romoli Venturi (Accessory), while another important prize was given to Cristiana Guaglianone, who won the Pitti Tutorship Reward, with important opportunities of mentoring and orientation meetings with Riccardo Vannetti.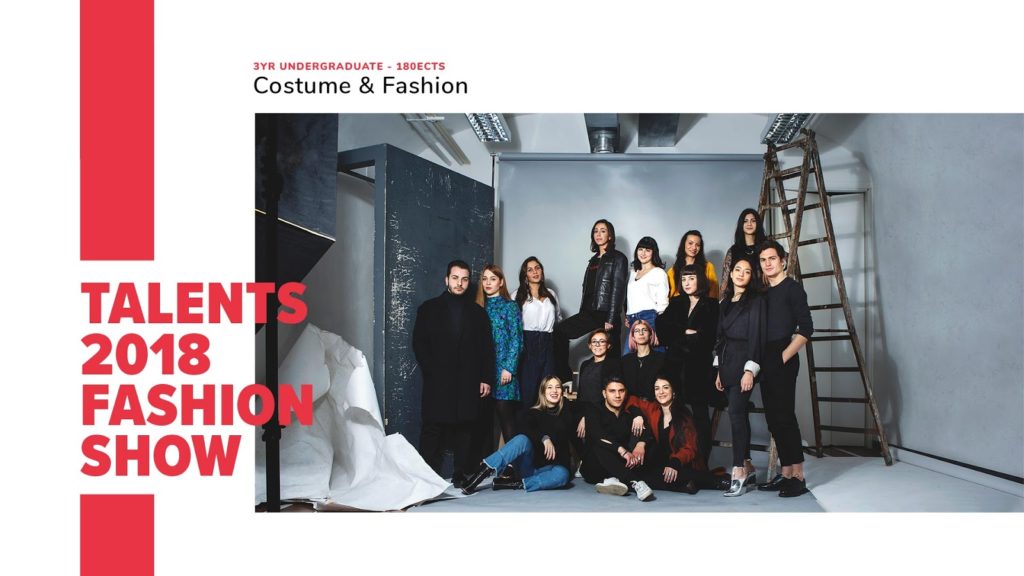 Students of the Costume and Fashion undergraduate course
The event organized by the school in collaboration with many industries and partners showcased 90 outfits, all beautiful, curated in every single detail, already professional. Someone more sophisticated, other experimental or incredibly eye-catching.
Here the complete collections of these young new talents of fashion.
"Shrimpupée" by ALESSANDRA CAPONERA is a capsule collection young, cool and extremely dressy, with an acquatic inspiration (like in the funny naive prints of shrimps and in the coral-like 3-D textures) and connected to Sixties style, revisited in the proportions of wide shoulders and eton collars, in the fresh and contrasting colors or in the unusual plastic materials and pvc for pockets and decorations.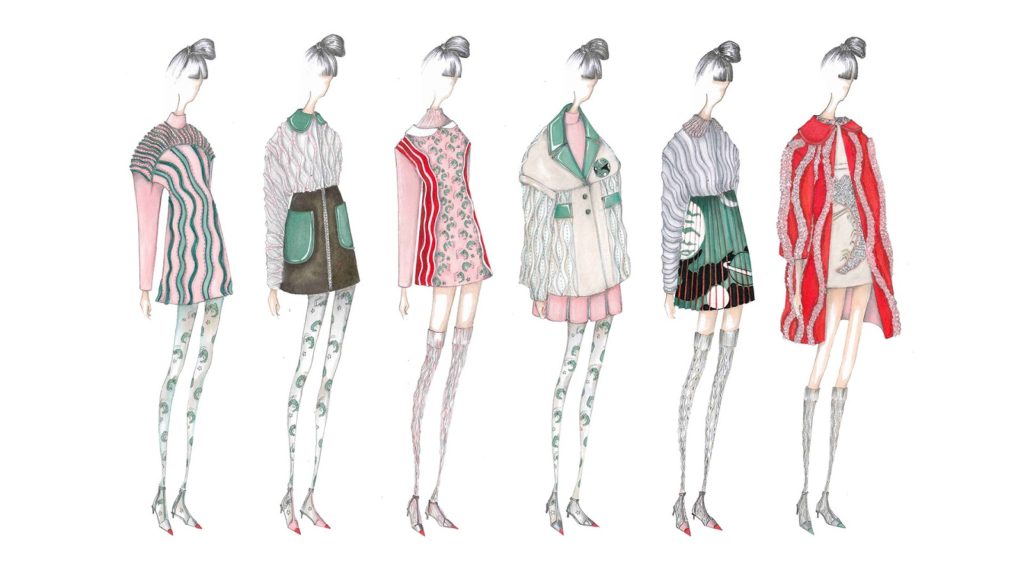 Collection line-up sketches by Alessandra Caponera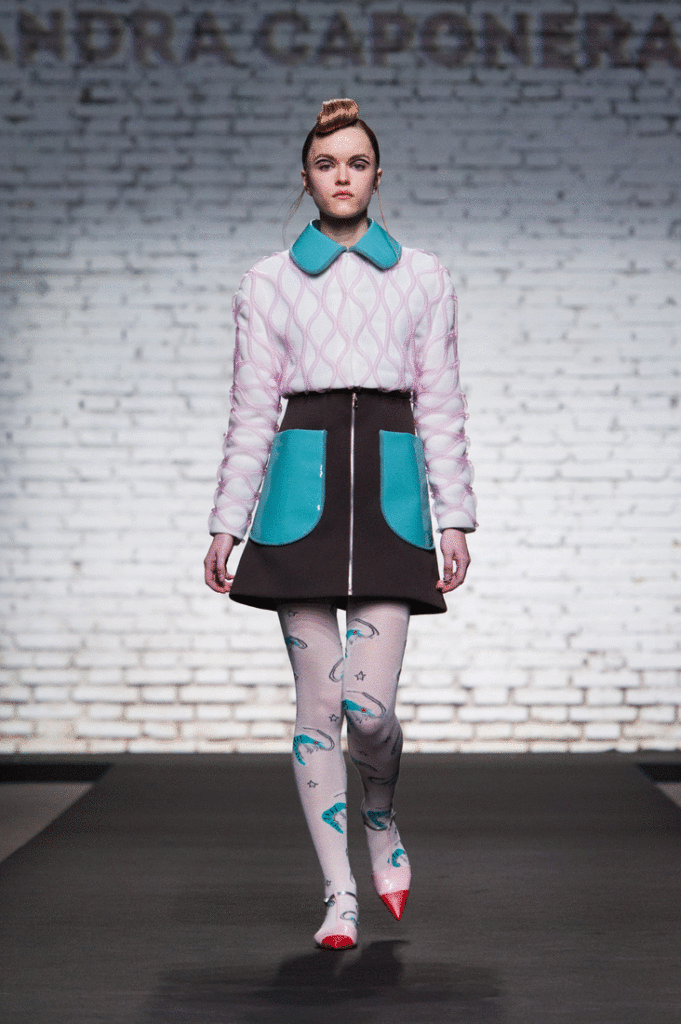 Collection by Alessandra Caponera

ALESSIA CONETTA, with her collection "Bogu-Do", found inspiration in the protective armours of the most ancient Japanese martial art, the Kendo, in a game of ethernal contrasts of elements: male and female, East and West, soft and rigid, bright and opaque. With a simple color palette of black, white and burgundy, the young designer is able to construct a solid and structured collection, incredibly variegated in textures, transparencies and textile effects.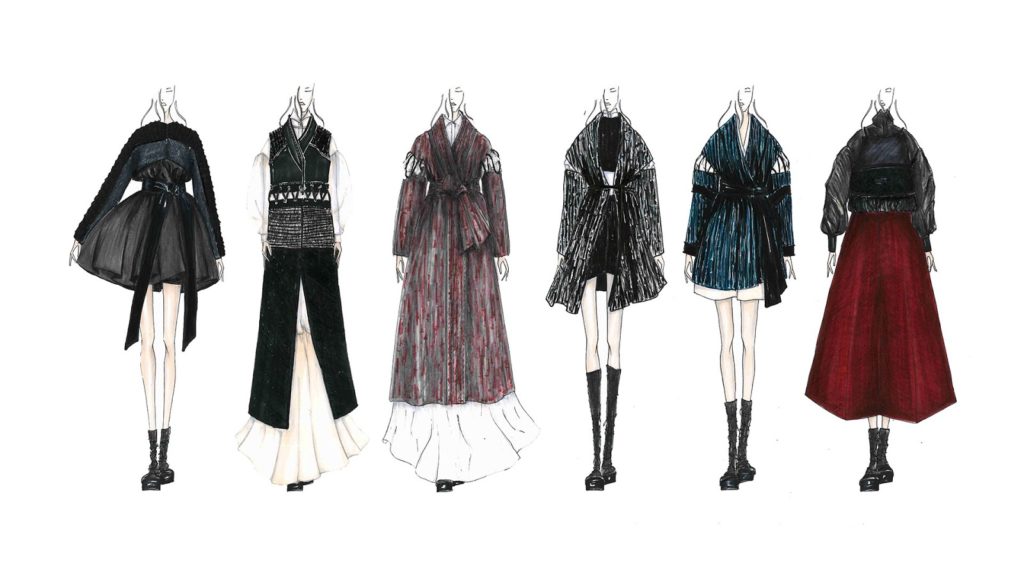 Collection line-up sketches by Alessia Conetta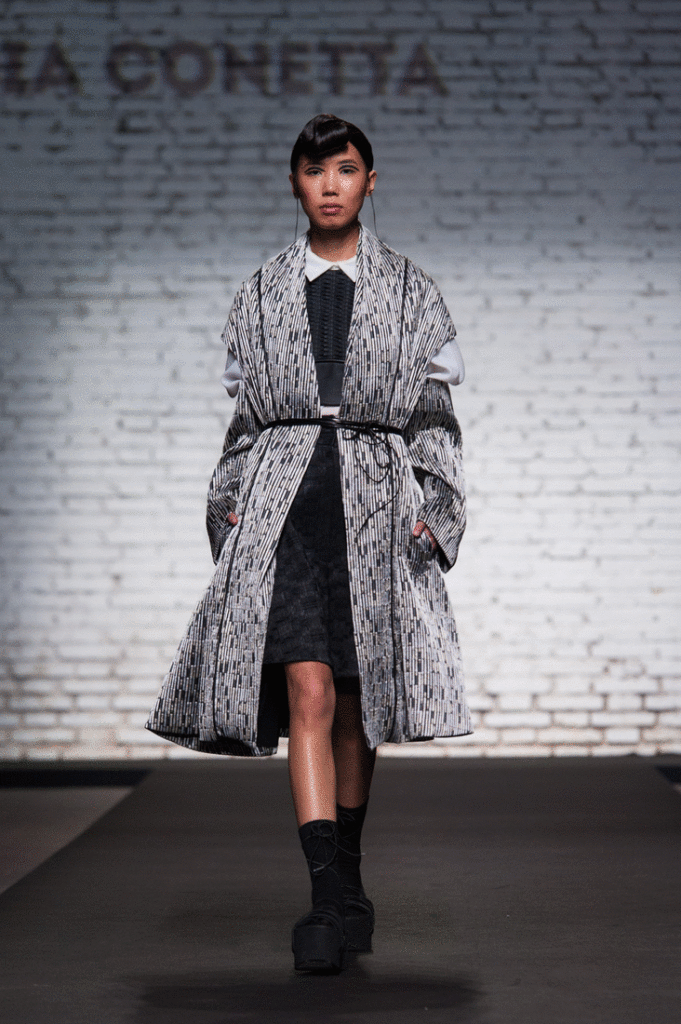 Collection by Alessia Conetta


CRISTIANA GUAGLIANONE, winner of the Pitti Tutorship Reward, presented "Nomade", an accessories collection inspired by Safari which play with geometric shapes, historical references and exotic leathers. Really beautiful are the half boots that just covered a part of the calfs, the three-dimensional circles embossed on metallic leather or the mix and match of reptile, colered leather and zebra of the handbags, perfect for contemporary globetrotter.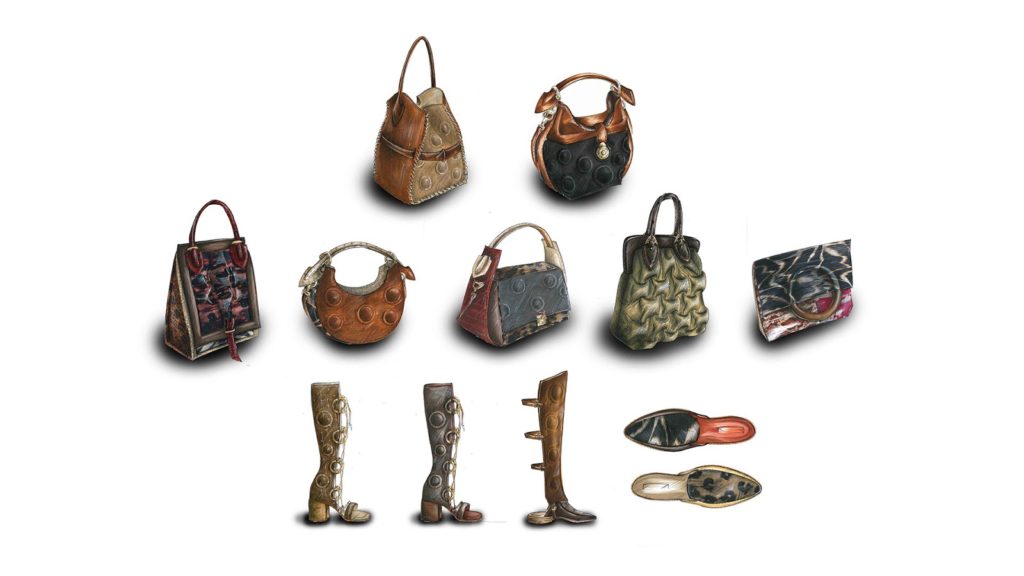 Collection line-up sketches by Cristiana Guaglianone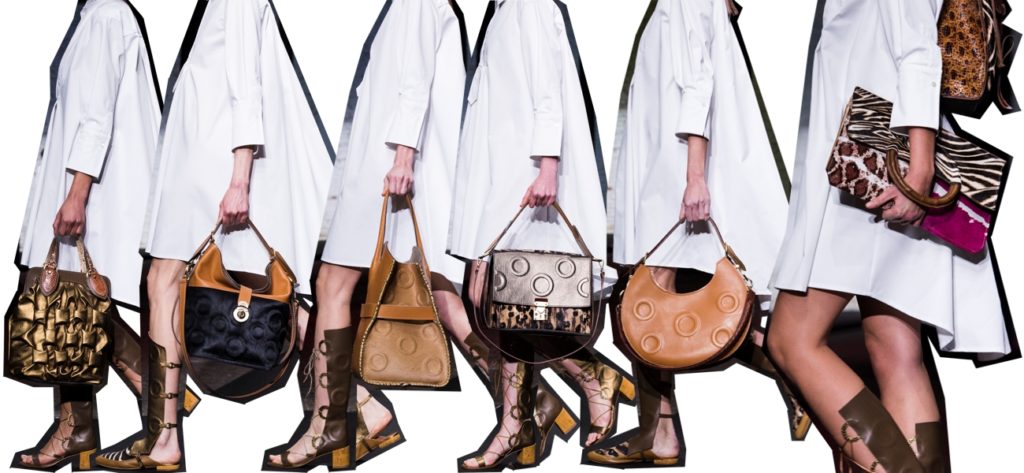 Accessories collection by Cristiana Guaglianone
"Touch the Sound" is the title of the accessory collection by CRISTIANA NAVARRA, whose creations seems fascinated by the simple geometric shapes of 90s Minimalism and by the tactile experience of Braille books, transformed into rivets, studs and holes that decorate the surfaces of multicolor satchel bags, handbags and tote bags. Interesting also the pointed shoes, that play with contrast of colors and wide heels.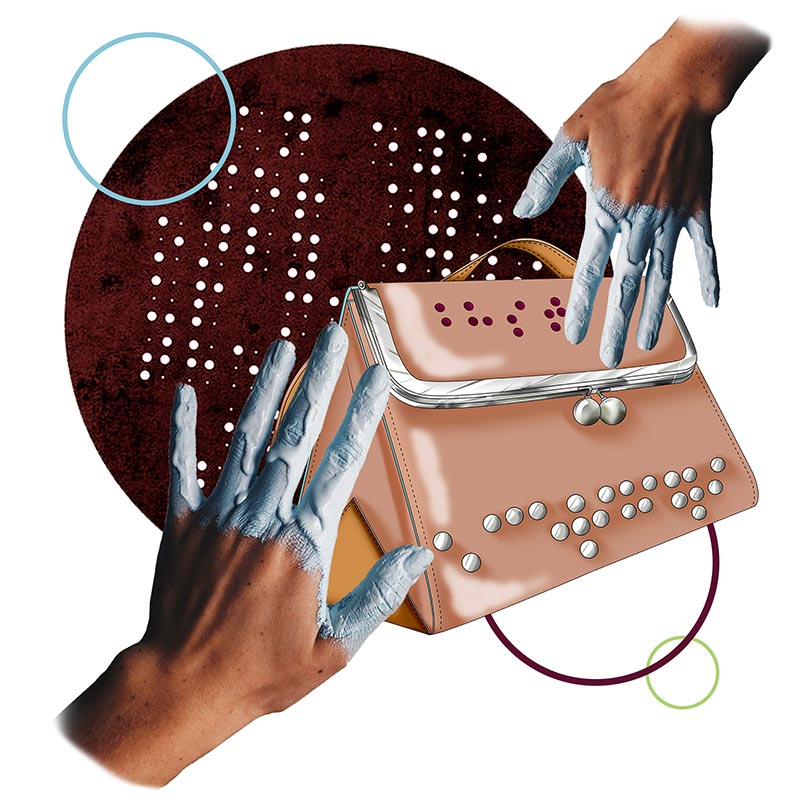 Moodboard and sketch by Cristiana Navarra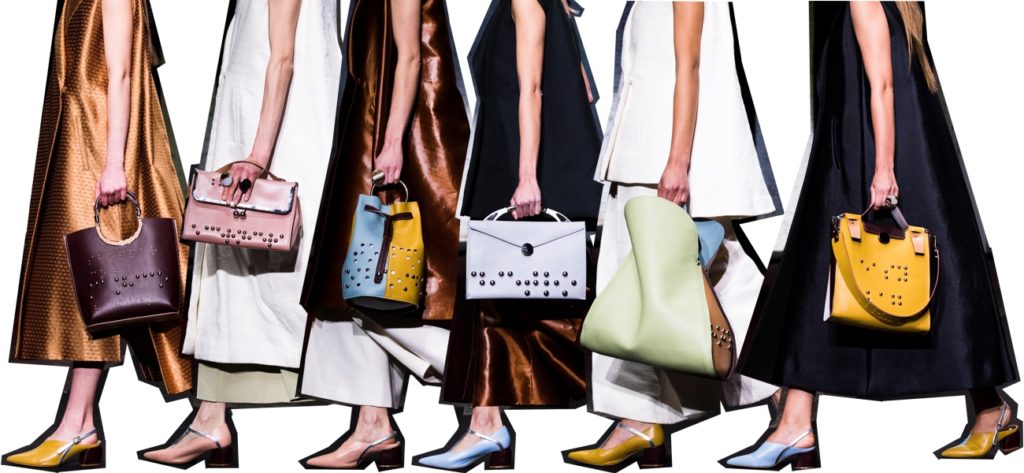 Accessories collection by Cristiana Navarra
The core element of the EMANUELA VETRANO's collection, entitled "Pixel Stone", is the hexagon, a basic geometric form that become the key to create shapes and decorations. It is turned into a pretty handbag, in a buckle of the flat or high-heeled shoes, in prints and glitter decoration on the black leather bag. This is a highly glamorous collection, perfectly presented with elegant and comfortable trench coats and high hats, that protect the body without sacrifying its seductiveness.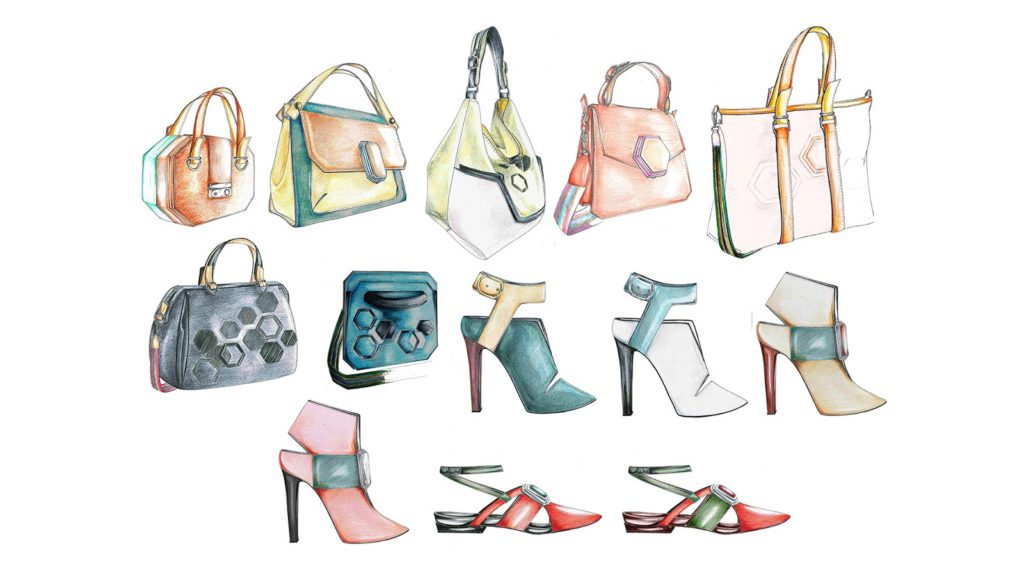 Collection line-up sketches by Emanuela Vetrano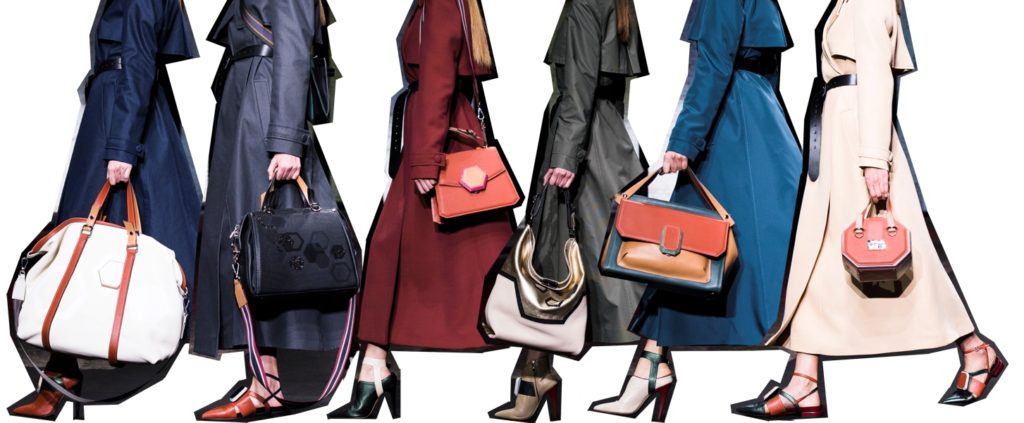 Collection by Emanuela Vetrano
The male accessories created by FEDERICA POLLI in her collection "Mirror", inspired by jazz music and American clubs, are a triumph of shining surfaces, metallic leathers and shaded prints. These creations have many points of innovation and creativity for men's fashion, like the mix of sporty elements (like the hiking cords) with the glamour effect of metallic leather and soft velvets or the unconventional slippers.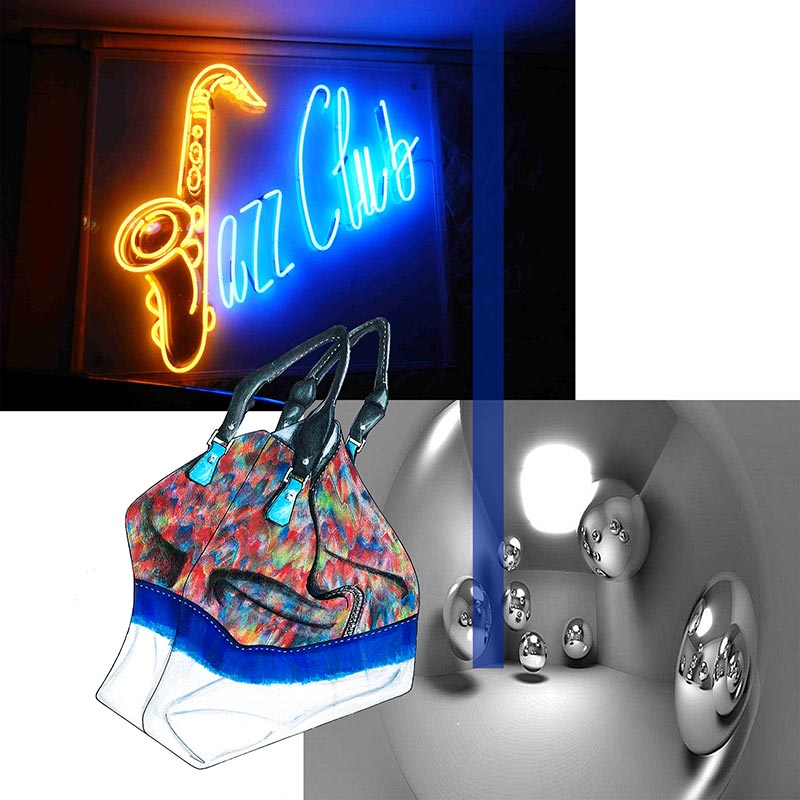 Moodboard and sketch by Federica Polli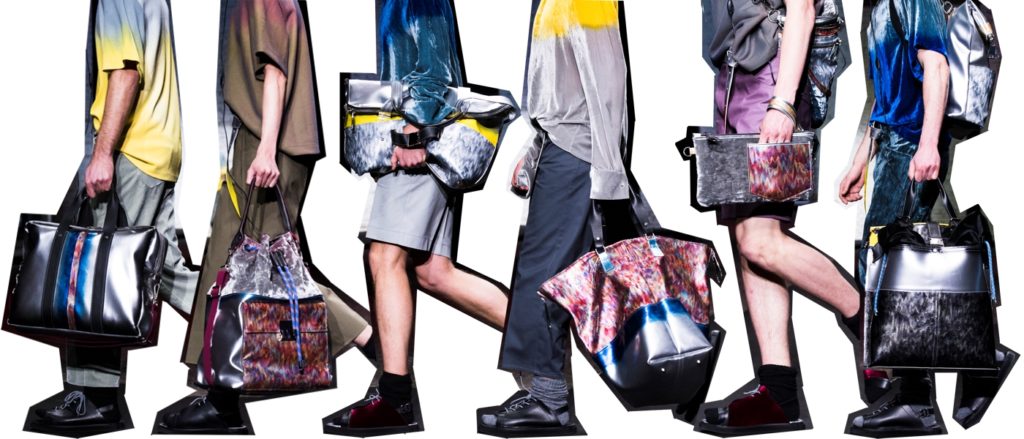 Accessories collection by Federica Polli
More wild and exotic is the atmosphere in the female collection "Maono" by the designer FLAMINIA SEBASTIANELLI, who used the color of earth and forest mixed with black and white to emphasize a femininity that is half way between primitive tribes and modern art. Lines that become graffiti, fringes that signs sinuous silhouettes, colonialism and raw plasticity of African totem.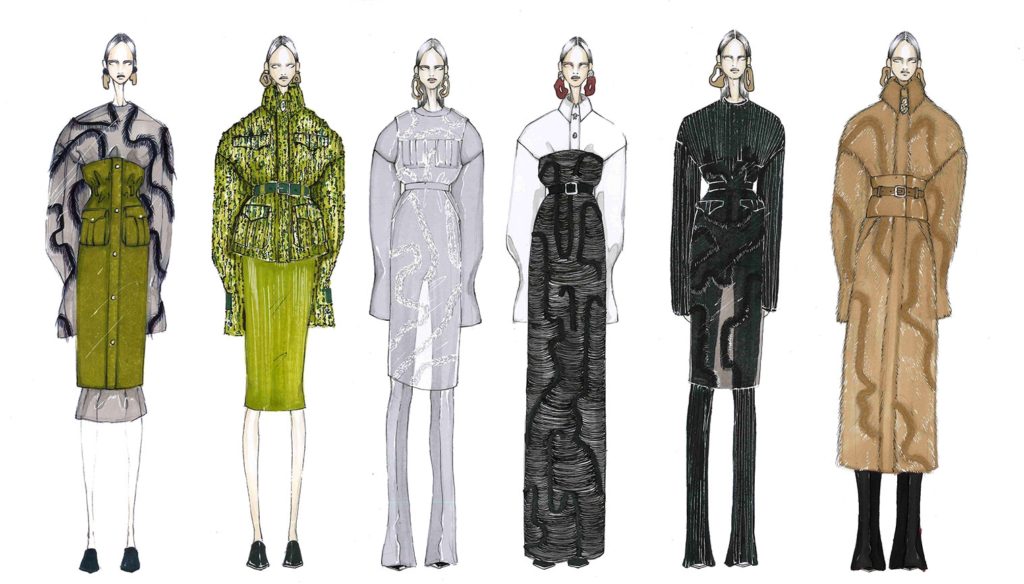 Collection line-up sketches by Flaminia Sebastianelli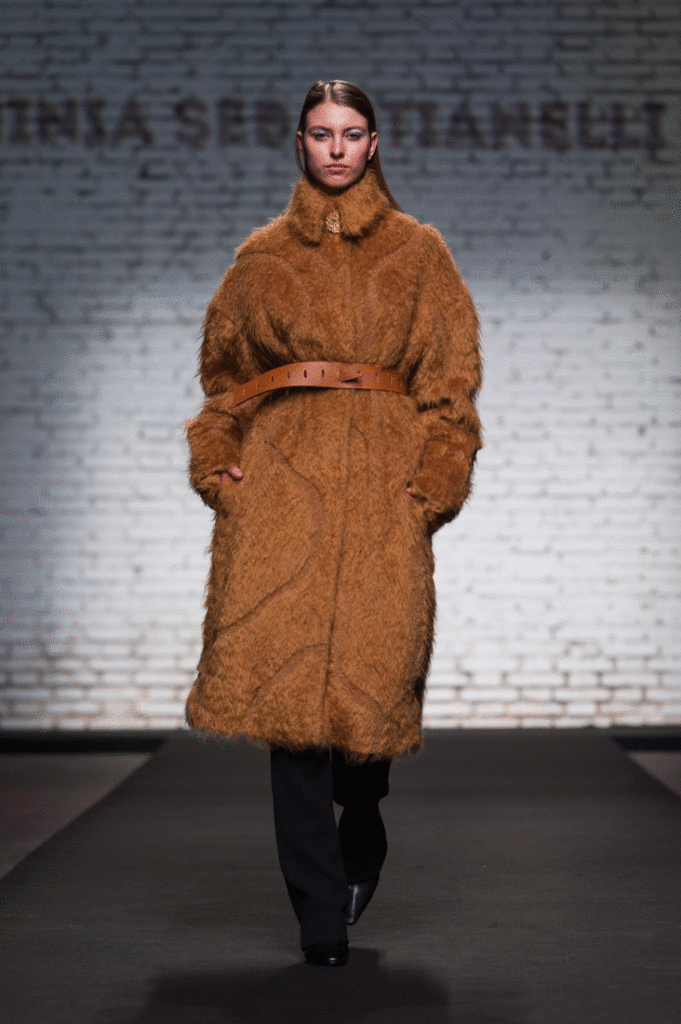 Collection line-up sketches by Flaminia Sebastianelli
Greeted by an enthusiastic audience, among squeals of pleasure and genuine applauses, the collection of GIACOMO PAVIA called "Bounce" was one of the most interesting thing I've seen in the last period. Hyper-glamour and eye-catching, the talented designer showcased a jubilation of luxorious furs which mix sportwear and dramatic effects, innovative cuts and decorative zip closures, feathers and fringes, metallic leather high-boots and theatrical hats. All enhanced by a strong use of colors, incredibly effective.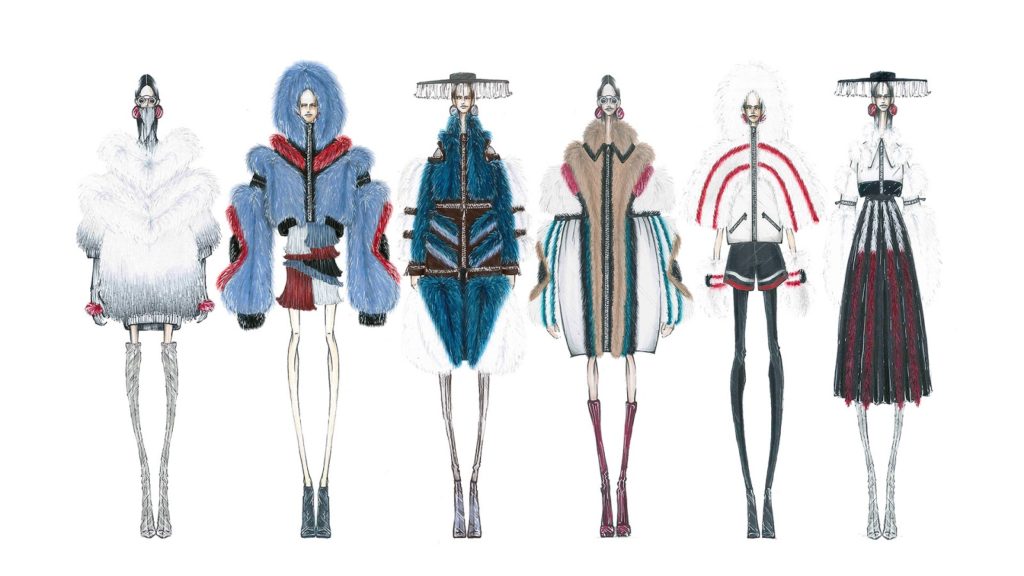 Collection line-up sketches by Giacomo Pavia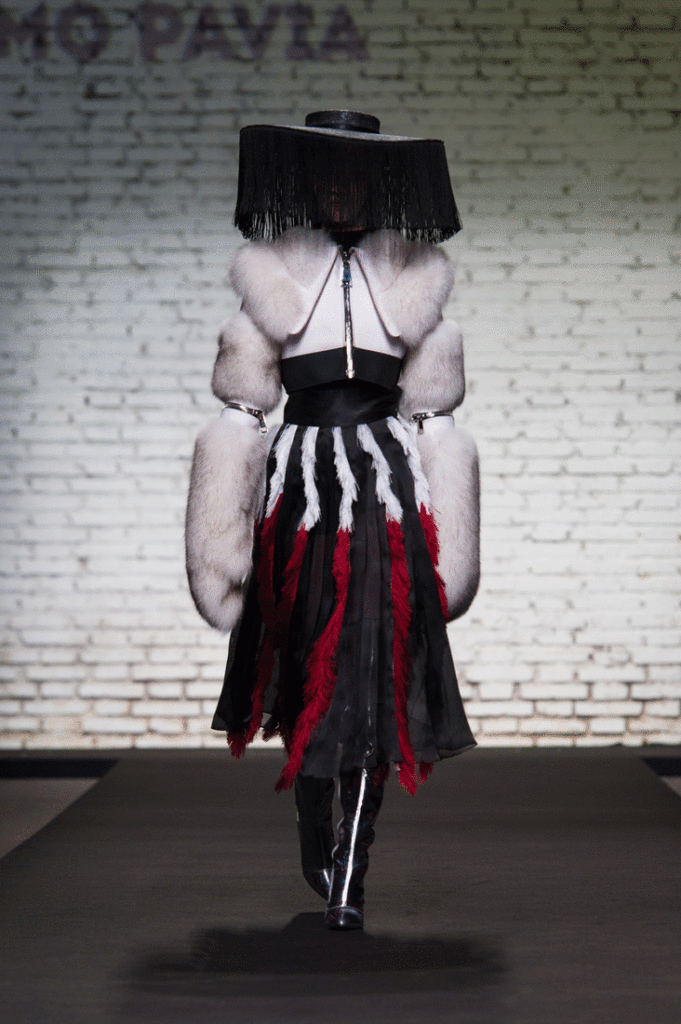 Collection by Giacomo Pavia
A new aristocratic girl is arrived in the city. She's the muse of GIULIA CONTI, the young designer who presented "Teddy", a collection of beautiful coats and dresses characterized by a dark color palette and sophisticated shapes that seems stolen from the wardrobe of Dorian Gray and Teddy Boys of the 60s, interpreted with a new taste which focus attention on fabrics: manipulated, decorated with velvet and 3-D effects, transformed from tradition to a completely brand-new concept.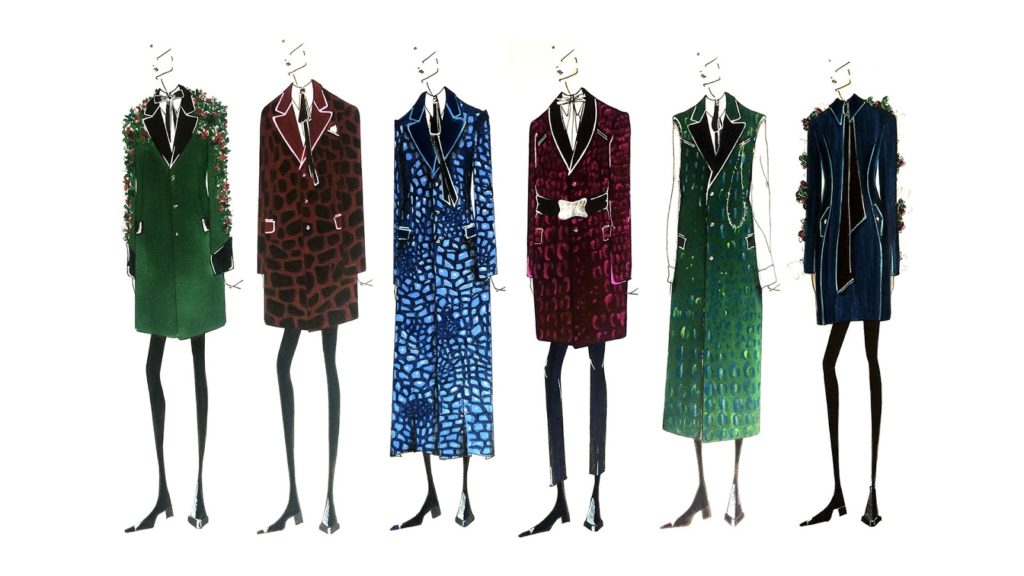 Collection line-up sketches by Giulia Conti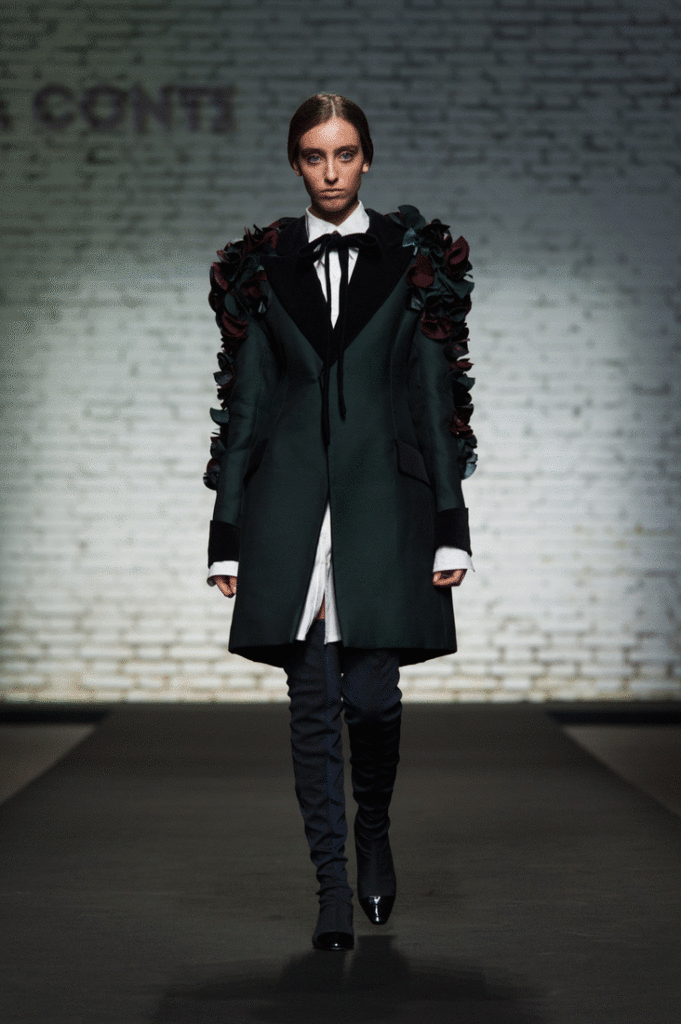 Collection by Giulia Conti
The creations of GIULIA SABA have the levity of the dawn and the majesty of great Haute Couture. "Leaves" in not only a title, but is the lyric that embrace all the creations of the designer, inpired by the wide volumes and the femininity of 50s fashion. Light and delicate, big natural prints colored with soft shades floating silks and rigid tailored structures. This collection was a poem, a real vision of ancient and vivid dreams.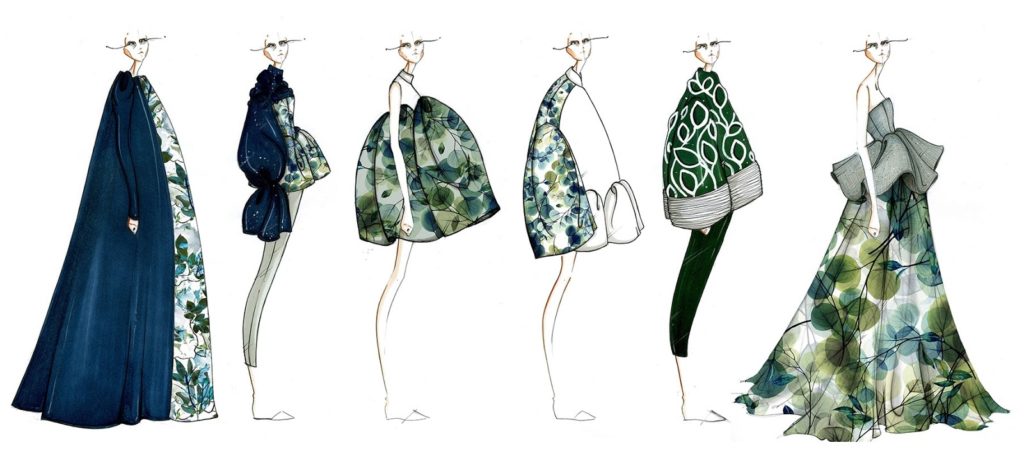 Collection line-up sketches by Giulia Saba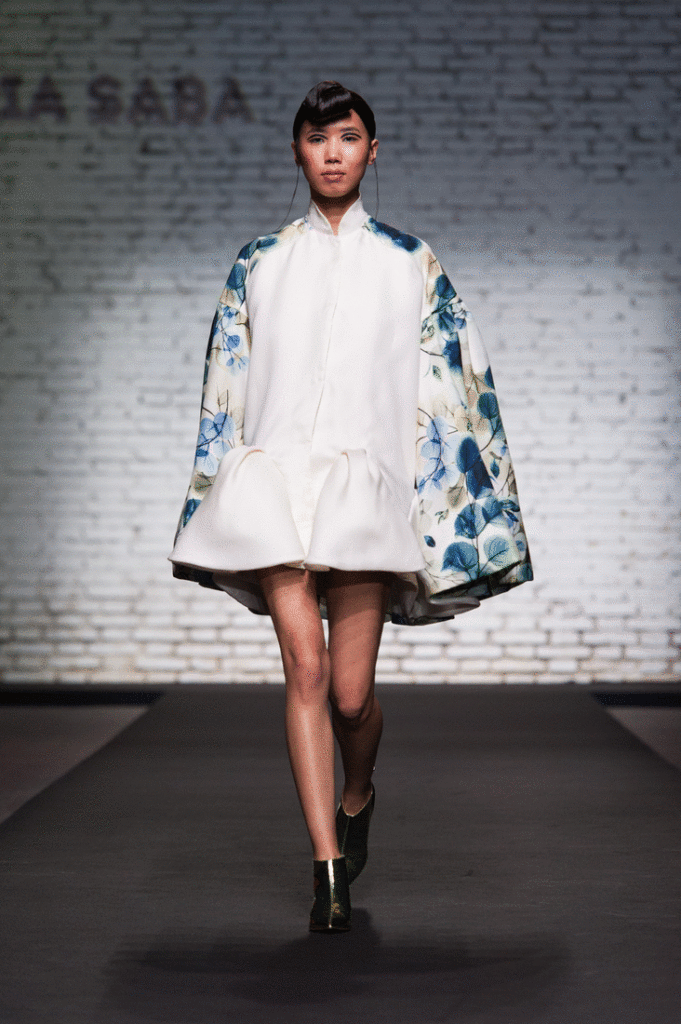 Collection by Giulia Saba
LIVIA ROMOLI VENTURI is the winner for Accessory Category, with a capsule collection entitled "Exceed" that is inpired by the world of car competitions and the iconic figure of Steve McQueen, actor and passionate of racing. This collection of modern leather bags and sporty shoes decorated with symbols and sinuous silhouettes, is dedicated to a strong and brave man, audacious sometime beyond every limits.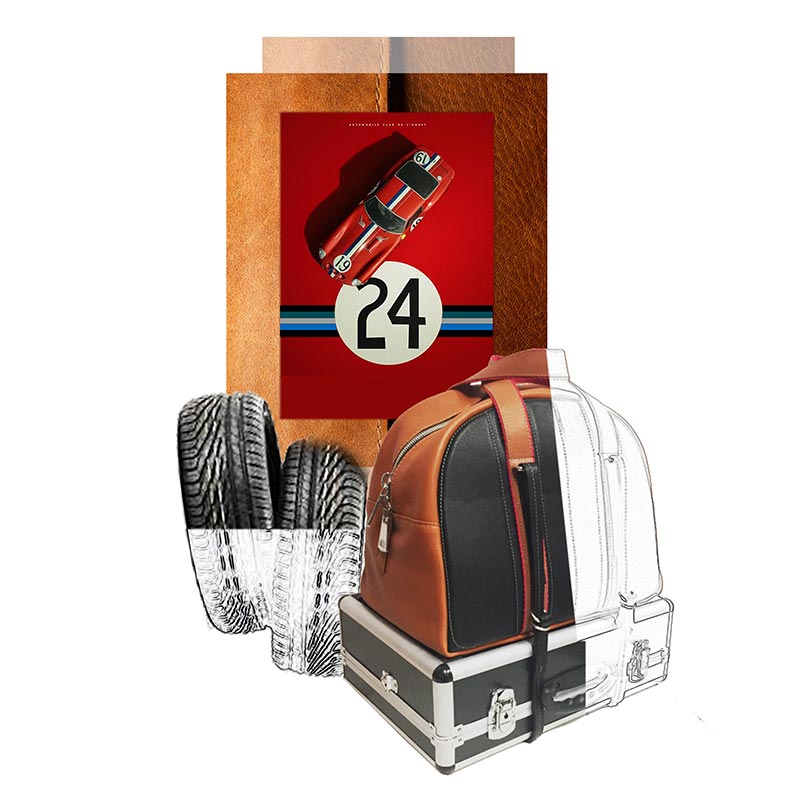 Moodboard and sketch by Livia Romoli Venturi

Collection by Livia Romoli Venturi
The winner of the Fashion Category is MAURO MUZIO MEDAGLIA, who presented a conceptual interpretation of the artwork by Nick Veasey in a collection entitled "X-Ray", in which all the constructive elements of garments are visible through multiple layers of delicate transparencies. An intricate game of outer and inner parts used upside-down, revisiting with an extravagant and avant-garde touch the female clothing of the Forties.
Collection line-up sketches by Mauro Muzio Medaglia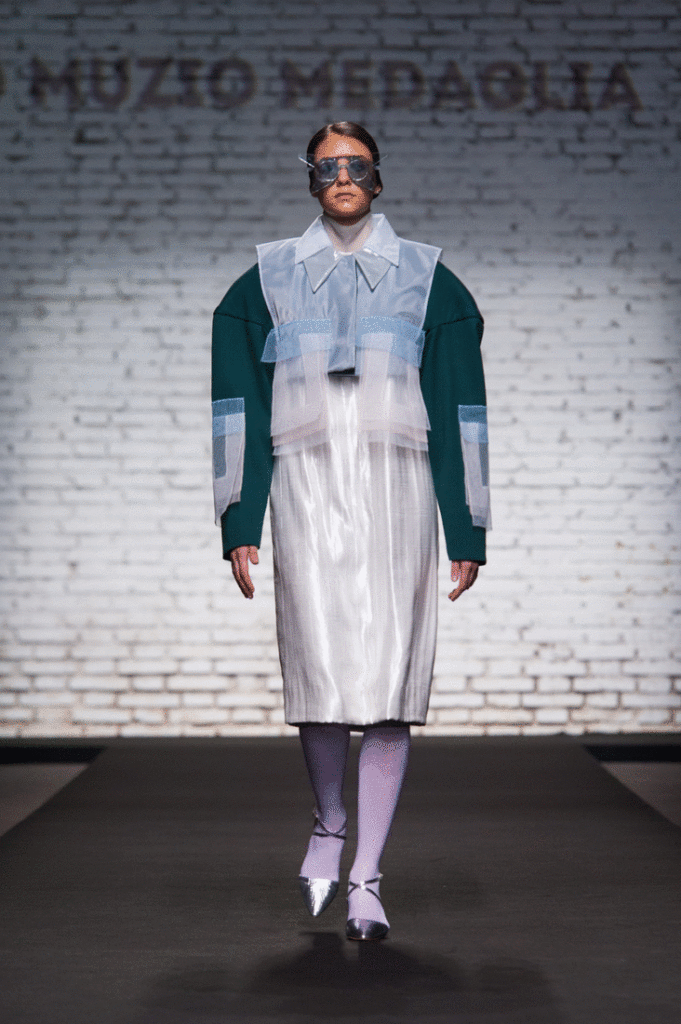 Collection by Mauro Muzio Medaglia
Strong and bright colors are the absolute protagonists of the accessories collection by ORIANA PASTORE, entitled "Panton's Vision" and inspired by the danish designer and his Pop graphics that recall the Sixties. Geometric shapes and iconic symbols decorate bright surfaces of leatehr and opaque materials, in a hyper-chromatic shower that enchated and entertain the eyes.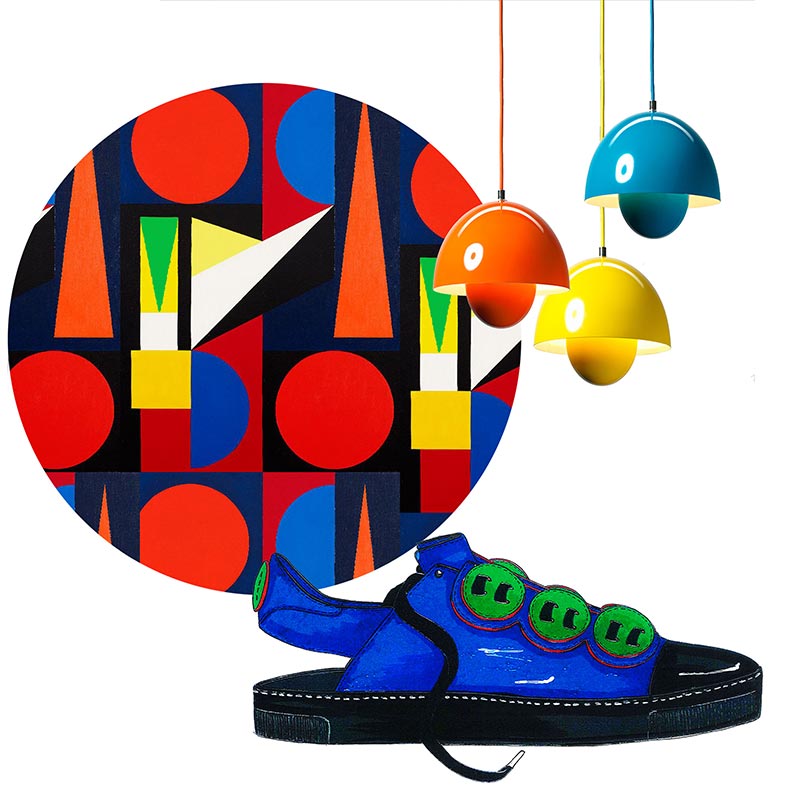 Moodboard and sketch by Oriana Pastore

Collection by Oriana Pastore
"Brown Sugar" is the funny collection designed by SARA PAVANI and inspired by the sparkling atmosphere of the Seventies. The geometrical wallpapers of the period become obsessive prints that colored with a lighthearted mood bags and shoes, realized with patches of denim, embossed surfaces and multicolored leathers.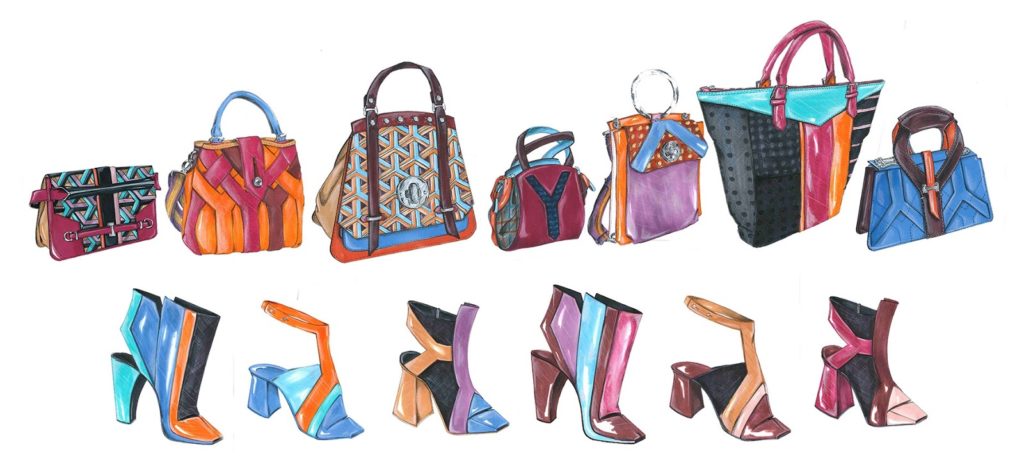 Collection line-up sketches by Sara Pavani

Collection by Sara Pavani
Equilibrium of opposites for "My Kyudo", the menswear collection by TOMMASO AMBROSCA. One one side the ascetic and hard discipline of Japanese archery, on the other side the young subcultures like skinheads. The final result is a new Dandy, contemporary, maverick and eclectic, who loves to mix oversize silhouettes and precious jacquard fabrics, high and rigid leather belts and soft wool sweaters.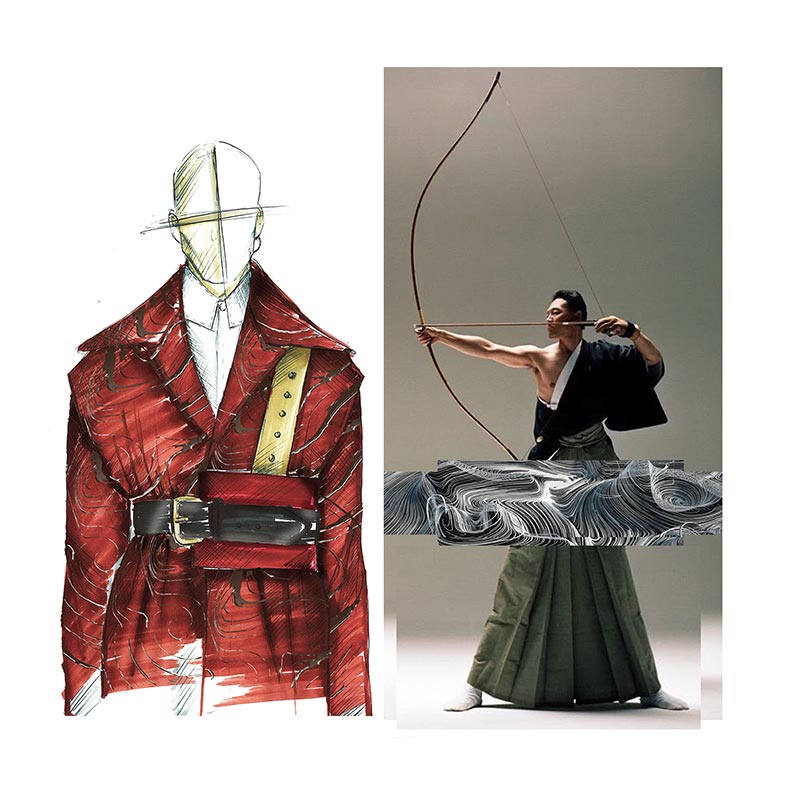 Moodboard and sketch by Tommaso Ambrosa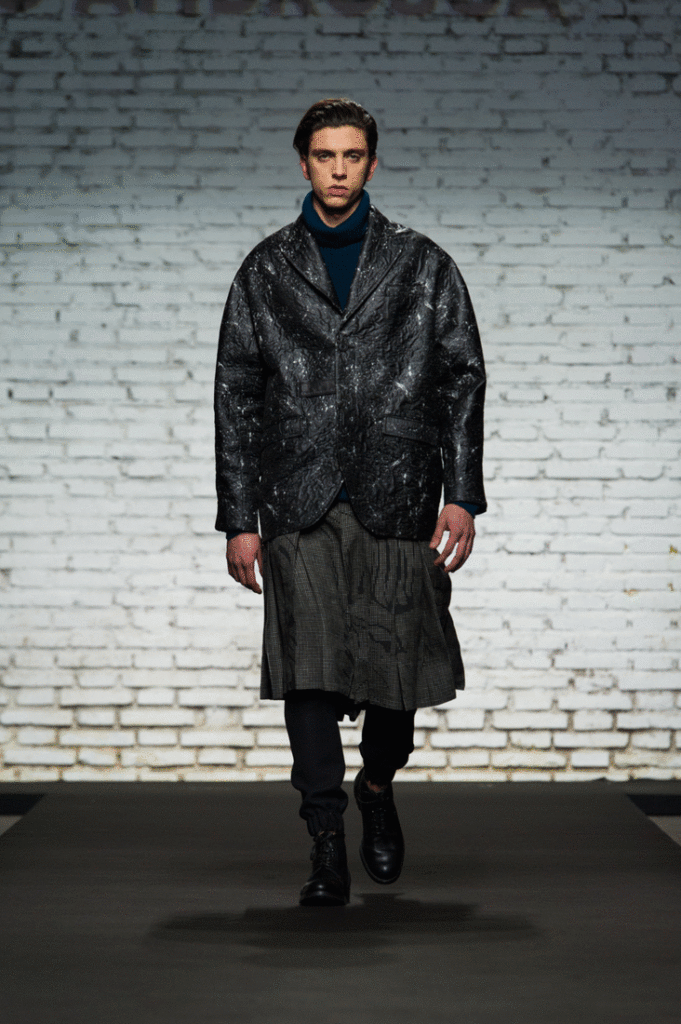 Collection by Tommaso Ambrosca
To see more about the young students of Accademia di Costume e Moda follow the blog's profile on INSTAGRAM, our FACEBOOK PAGE and the video chanel on YOUTUBE.
See you soon with other fashion stories from AltaRoma!