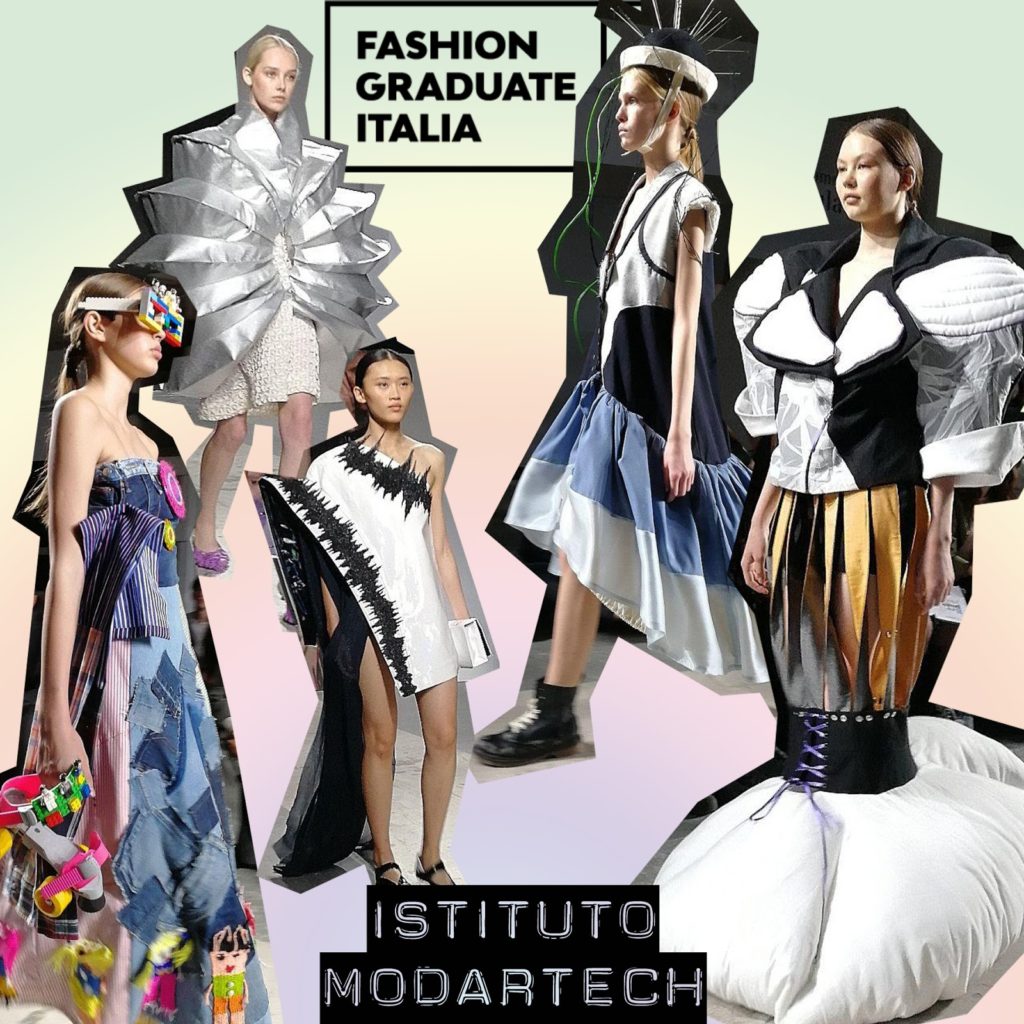 Sustainability and innovation for the students of ISTITUTO MODARTECH who showcased their collections at Fashion Graduate Italia 2018, the great event just finished at Base Milano, point of contact between public and 17 fashion schools among the best Italian educational realities.
Once again Fashion Graduate Italia demonstrated to keep up with the times and the fast changes that involves fashion system, giving support to fashion schools and spotlighting the inventions of their students focusing in particular on the climatic changes and the new necessity of being more responsable and respectful of environment. Sustainability was a very used words during the 4-days event, with a dedicated panel with the major experts of the sector, and addressed by many young designers on catwalk.
ISTITUTO MODARTECH
ISTITUTO MODARTECH plays with the word "ResponsAbility" to explain the work made by its students to present their graduate collections, which look to a judicious use of sustainability, innovation and tradition. On catwalk two collective projects and the individual collections of 10 talented designers.
Fabio Pucci revels the secret inner of tailoring's
world
, showing what usually is hidden or is part of the work in progress of a garment construction, with patterns and interlinings in plain sight, half-disassembled jackets and a pin cushion that becomes a padded hat.
Arianna Barone made a reflection about the waste of cars in cinema industry and turn the catwalk into the garage of a motor mechanic who wears fashionable coveralls, repairs and recycles car tires converting into bags, uses mufflers as a backpack and tranforms safety belts into dystopian high collars.
In the collection of Mirgena Koci the beautiful and evergreen contrast between black and white is enriched by the presence of seismograph-trace-like decorations and especially of vibrant holographic reflections and pearlized effects.
Margherita Giovanelli returns us to a pre-historical past when Earth was growing thanks to the work of volacnic lava or maybe better to an unpredictable future in which the future of humanity will be connected to the survival against to forthcoming falling meteorites.
Cerebral connections, nerves and brain corrugated patterns are exposed outside the model's body. For Chiara Andromedi, intelligence can be worn as a dress and our brain is the most beautiful and complex creature of this world.
Attracted by some strong magnetic force, the clothes designed by Dalila Lazzari are subjected to displacement, sudden enlongation, asymmetries and distortion. Thanks to the refined color palette, the final effect is elegant despite of the undeniable tendence to futuristic shapes.
Bright light blue perfect exagons or more chaotic patchworks with an almost camouflage effect, interwined leather tapes and transparent organza are used by Martina Belluomini to explain the evolution of humans into even more digital creatures.
A very difficul topic like music is successfully solved by Costanza Grassini with her "Behind the scene" collection. The risk to make costumes was high, but she transforms the iconic elements of music, like guitar pics, sheet music and violin shapes into a funny and smart collection using irony and elegance.
Francesca Guidozzi brings us into a colorful and messy children playroom, allowing us to find again the indomitable and limitless courage of a child to mix and match colors and prints, with rag dolls as cloth's decorations or sunglasses made with Lego bricks. Funny and incredibly rich of interesting details.
The most scenic collection was that by Sara Piangatelli, who creates two levels of suggestions. Outside giant silver geometric and three-dimensional structures that reveal the inner more raffinate and almost romantic garments made working on texture and light effects.