A far future or an introspective trip, a sophisticated new romanticism or the energy of bright color? All that and more in the fashion show organized by Accademia della Moda to showcase the talent of its students at Fashion Graduate Italia 2018.
A great audience of people waited the beginning of the show, with in the front row Hilary Alexander OBE, ex Fashion Director of Daily Telegraph and support of the Graduate Fashion Week in London, there to partecipate at talks and fashion shows. Beside her the English model Daniel Lismore, one of the most eccentric personality of fashion system, wearing a long tartan stole, sparkling taffetas and Berber jewels, who soon will be in Italy for an exhibition in collaboration with Accademia della Moda.
Some extravagance, some nostalgia of the past or of a sci-fi future, some reflections about serious mental illnesses, but especially a lot of well-calibrated creativity and artisanal skills. The students of ACCADEMIA DELLA MODA have a great manual ability and are able to use it to create highly-wearable pieces, fashionable and imaginative at the same time, giving the best of themself with knitwear and fabric manipulations.
Mariacristina Capo and Camilla Nardiello give life to a collection with a pleasant vintage taste, which expresses the designer's intimate passion for fashion through a recall to handmade crochet grandmother's doilies applied as decoration or to make trousers, sleeves and hoods.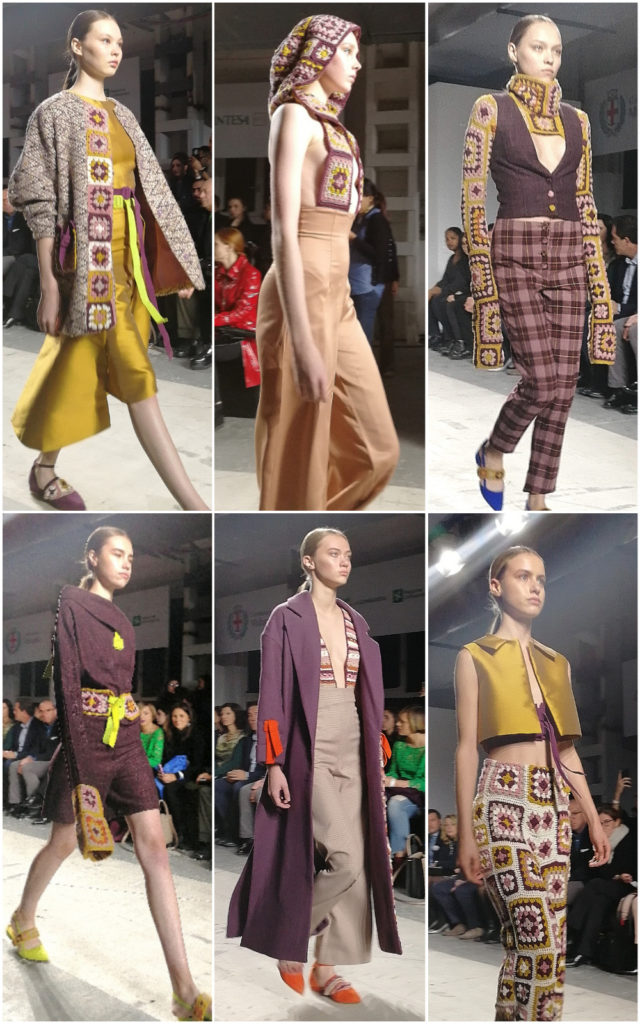 Mariacristina Capo and Camilla Nardiello

Luxurious revolutionaries, the young boys presented by Veronica Berto and Maria Bruna Navarra mix with disenchanted nonchalance rich furs, precious leathers and casual sweaters, in continuous search of a balancing point between functionality, rebellion and conformism.
Veronia Berto and Maria Bruna Navarra

Michela Cavaliere explored the sea abyss and its hidden secrets as mirror of the woman's phobias through a beautiful, sophisticated collection in which knitwear, mixing mohair and 3D textures, is the absolute protagonist and is emphasized by the delicacy of soft floating silk chiffon.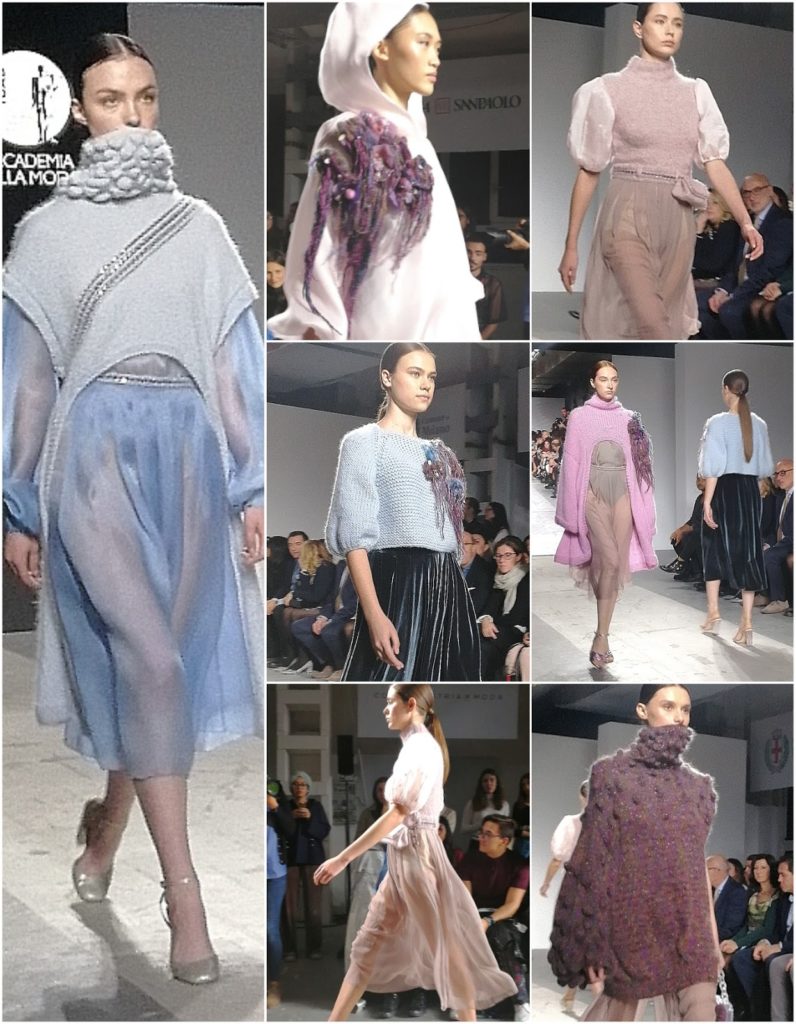 Michela Cavaliere

If fashion is always in search of perfection, Salvatore Pezzella made the opposite mental process, creating a very interesting and well-constructed collection, with big hand-stitches, asymmetrical decors, application of colored fur tufts and striped cotton ruffles.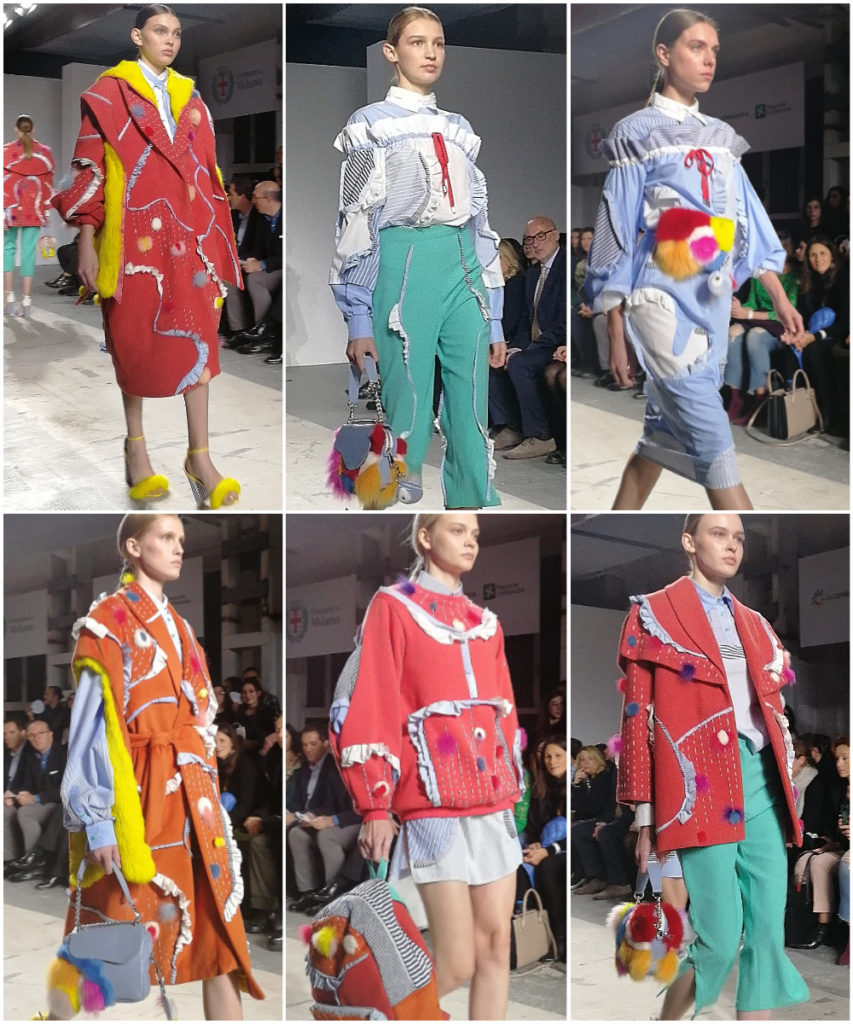 Salvatore Pezzella
The memory of the whimsical Ninenties fascinated the fantasy of Valentina Grasso, who blended two different worlds, the imaginary of Japanese cartoon with the bling-bling aesthetic of that times, emphasizing youth or femininity
with lingerie dresses
and glamourous suits.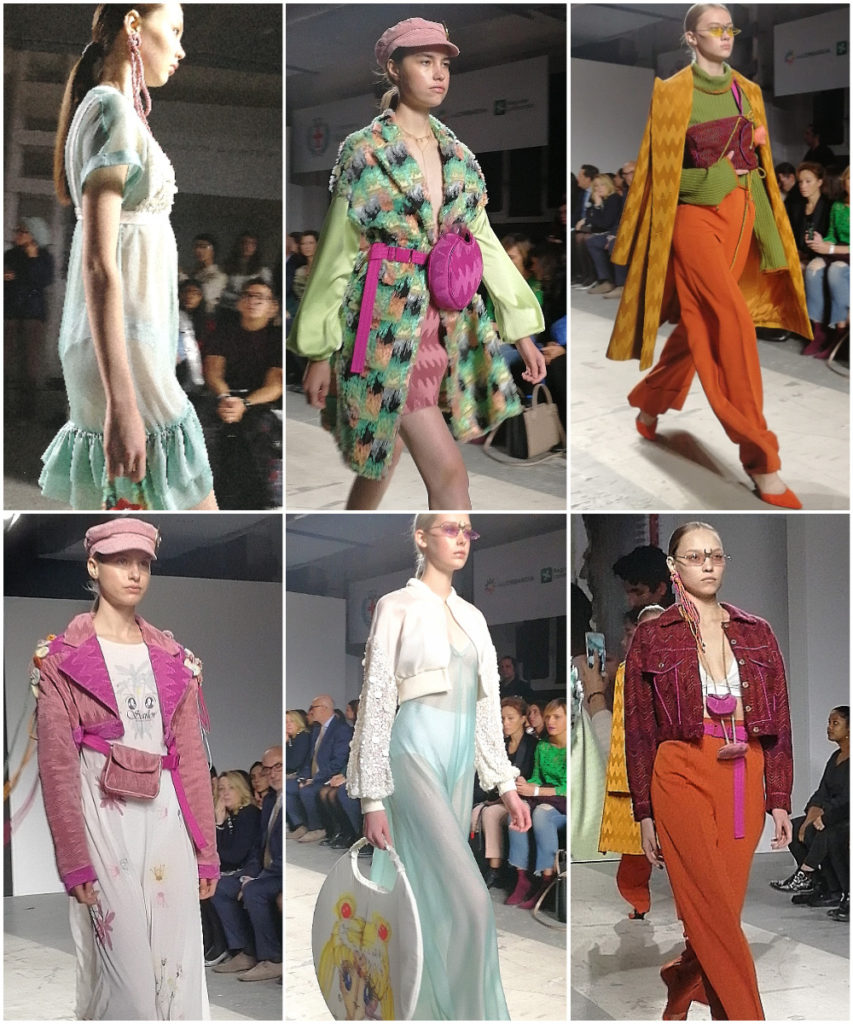 Valentina Grasso
The year was 1977, when
"Star Wars"
appeared for
the first time
on screens, but its charme is still present with all the iconic visual elements like the clone warrior helmet or the simple color chart. Saverio Ventura made this inspiration more contemporary mixing it with the relaxed mood of basket uniforms.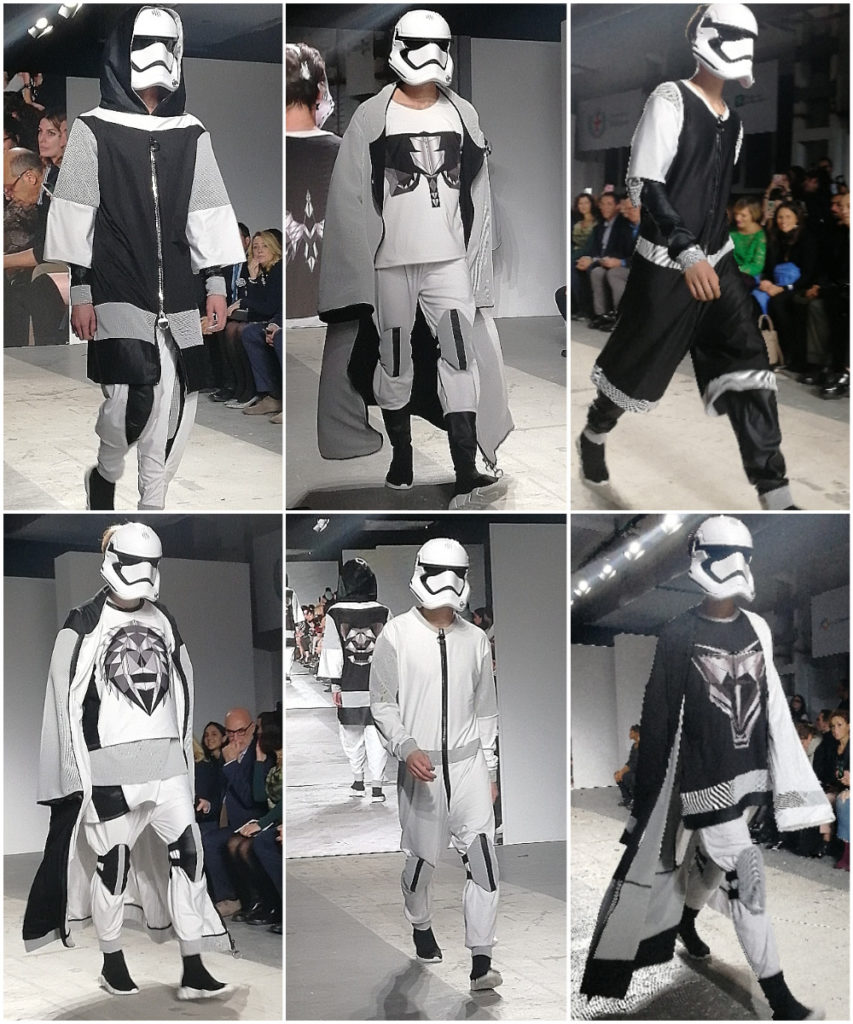 Saverio Ventura

Lidia Lucilla Caldarelli made one of the most mature and sophisticated collections of the entire event, perfect combination between classic and innovation, theatricality and modernity. Beautiful the combination of sky blue, ivory and grey, beautiful also the incredible quantity of details like macrame inserts, leather patchworks and encrusted effects on knitwear.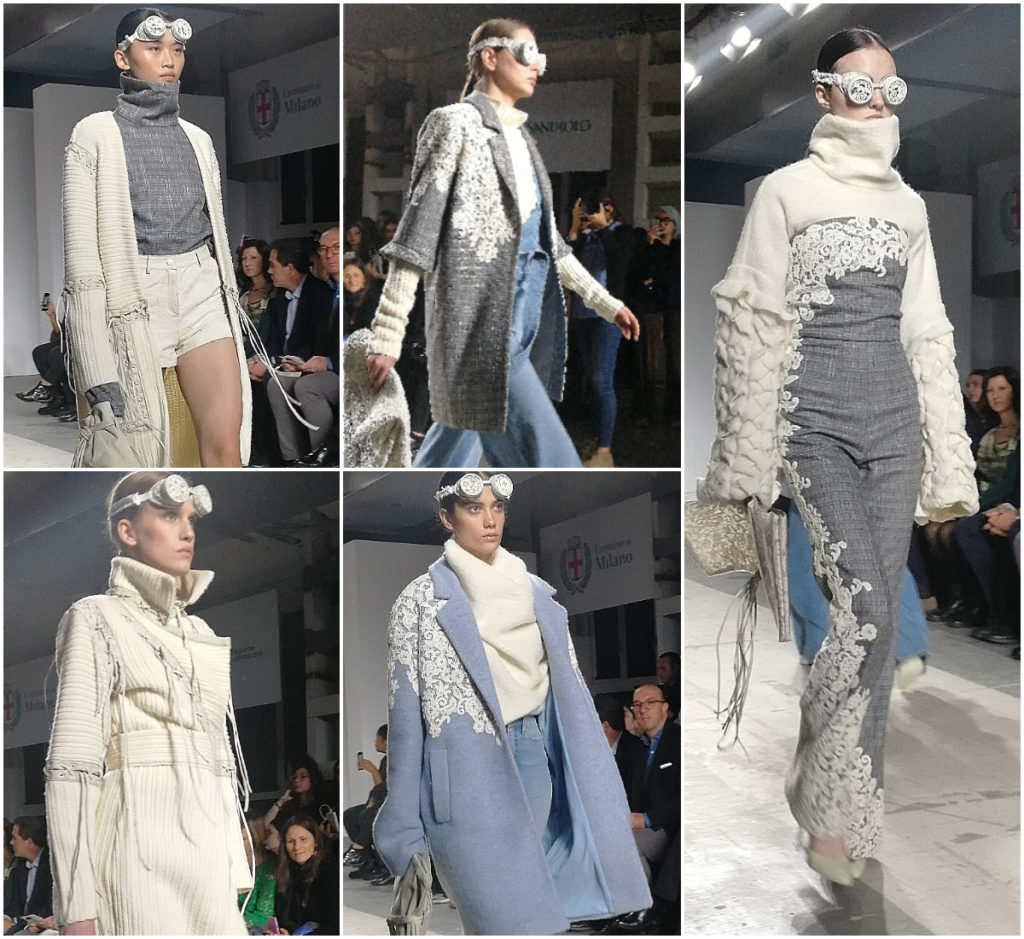 Lidia Lucilla Caldarelli
Fabrizia Cacace gets the idea of the oceans using
a detailed handwork
with small squares of frayed denim that recreated the
waves
shades on long coats, asymmetrical jackets or really very tight long skirts, combined with white and flash of colors.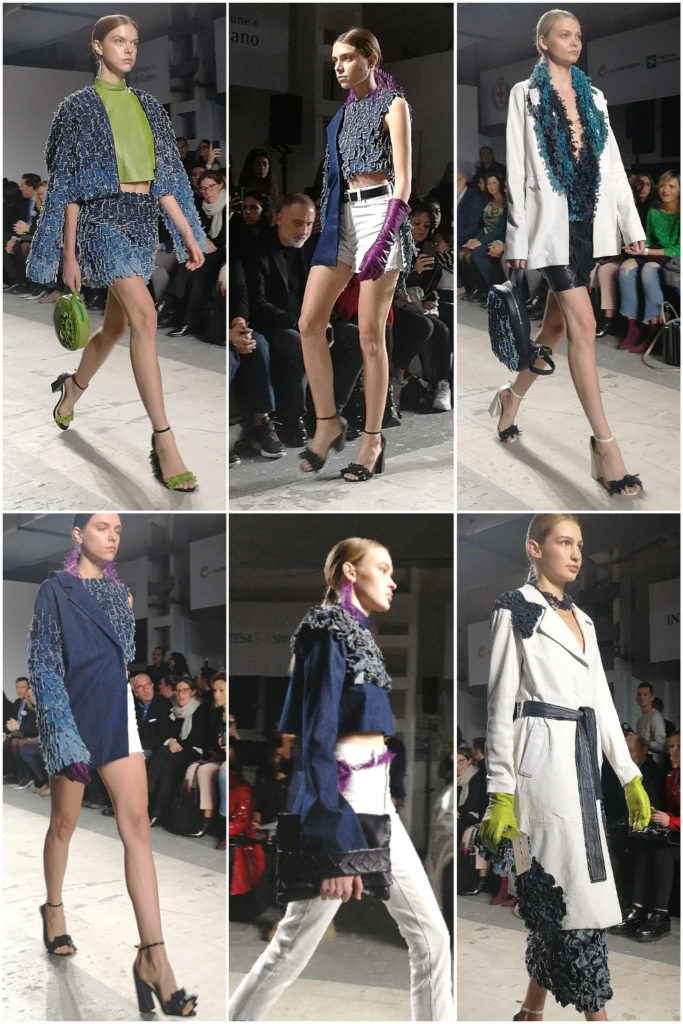 Fabrizia Cacace

How to translate a mental illness into a fashion concept? Daniele Colasante analyzed the inner world of psychiatric Alzhaimer patients who live without rules, distorting the perception of normality to create apparently wrong combinations of shapes and lines, assembling jagged surfaces to layers of transparencies or solid color panels.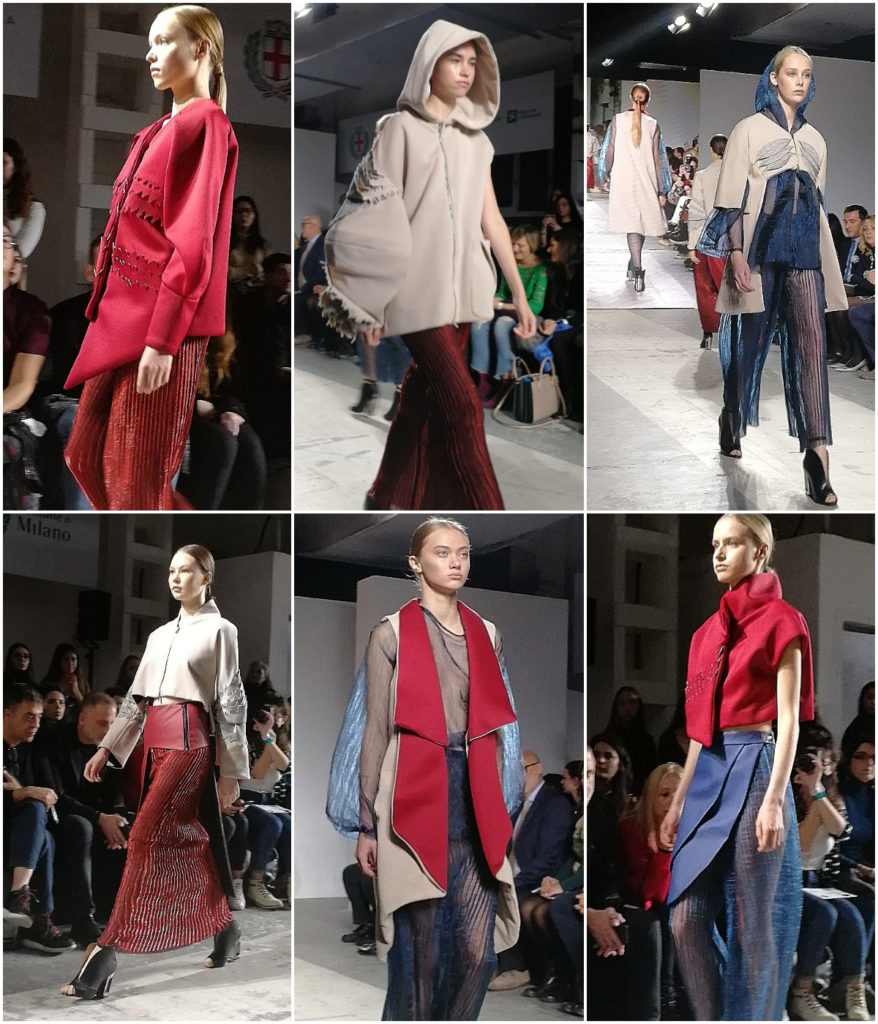 Daniele Colasante
Orange, red and emerald green. For Selene Campanella right colors are a sight for sore eyes and manage in making
an energetic dive into a simple femininity, with a
collection initially inspired by the Islamic culture.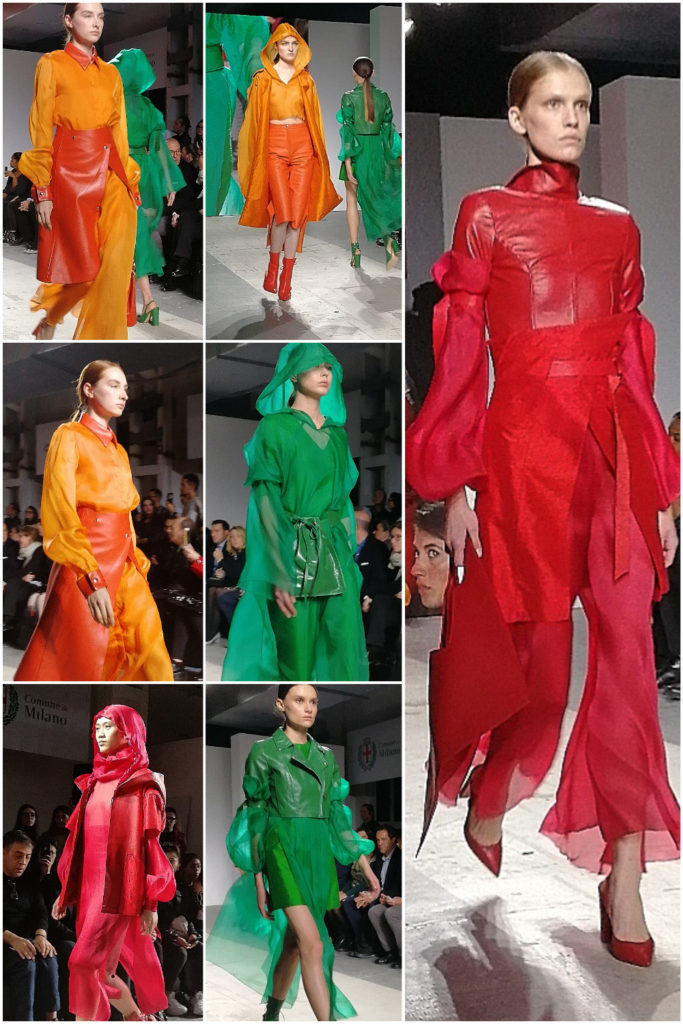 Selene Campanella