Modernism, simplicity and feminity are the keywords to describe the collection showcased by the students of HARIM ACCADEMIA EUROMEDITERRANEA at latest edition of Fashion Graduate Italia, the 4-days event in Milan dedicated to the best Italian fashion schools.
What's great about FASHION GRADUATE ITALIAù is that every single school present at the event can express its own directions and attitudes, enhancing the natural predisponition of students throught a serious educational method without forcing them.
Anyway it's true that each academy has its recognizable distinctive mark and the force of an event like this is the possibility to compare the school's proposals not only in terms of educational path, programs or, more banally, of price. For a young aspiring student of fashion design is also important to take a look to the school's style, to have an idea of what could be her/his future.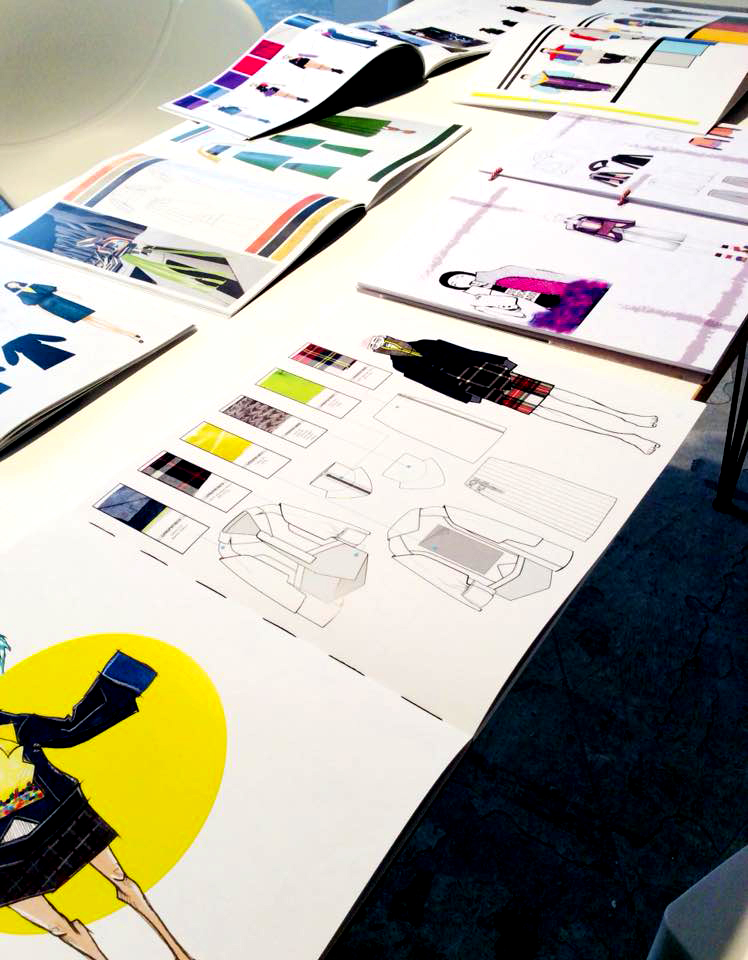 Presentation of the students portfolios by Harim Accademia Euromediterranea at FASHION GRADUATE ITALIA 2018
HARIM ACCADEMIA EUROMEDITERRANEA
Once again HARIM ACCADEMIA EUROMEDITERRANEA comfirms its attitude for a solid, pragmatic and effective preparation of its students, going right down toward the essence of fashion. That is making beautiful products, well-done and desirable. Without forgetting a pinch of sane creativity, these guys were able to make a pleasant and elegant fashion show, with many pieces easy-to-love.
Rossella Leanza with her menswear collection "La plastica nell'umido" played with the most traditional male fabrics in an unusual way, using decontruction and asymmetries to create movement and assembing different patterns of tartan on quilted wool and technical fabrics.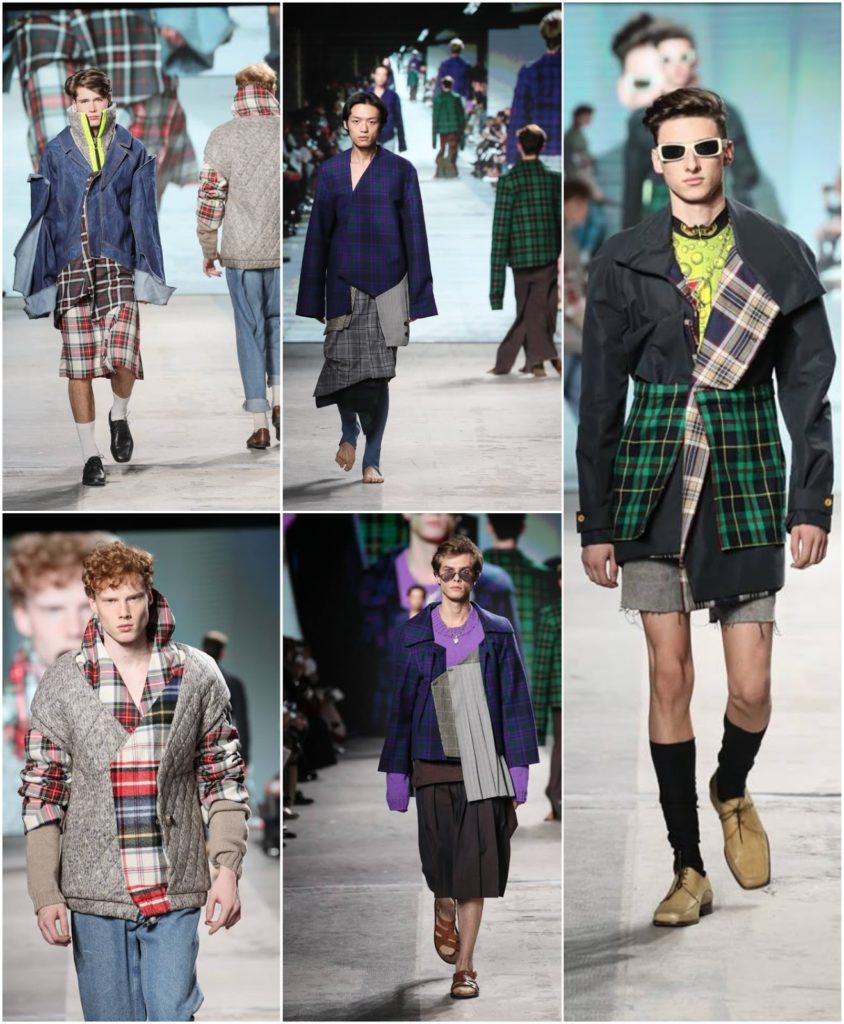 Rossella Leanza
Minimal and futuristic, the female graduate collection "Interwined" by Fiorenza Sciuto combined three different souls: the research of extreme simplicity, the dystopian vision of a technological future and the light femininity of drapes and interwined effects.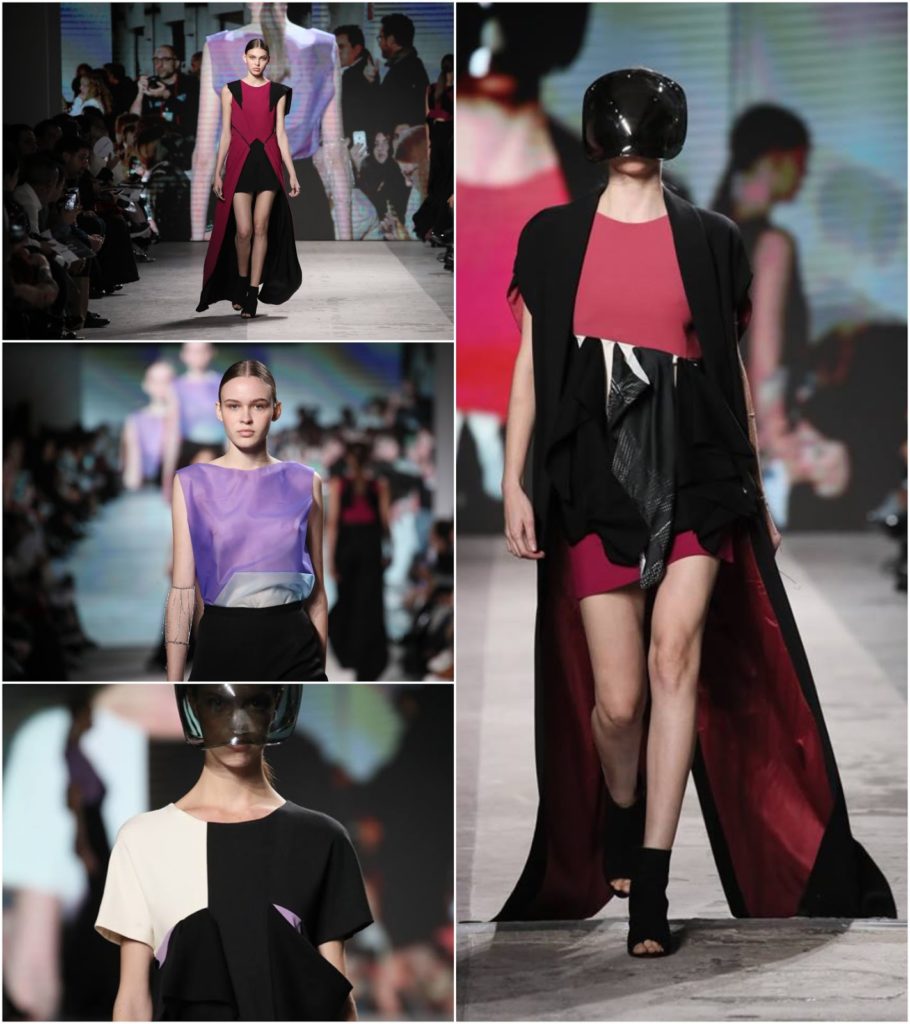 Fiorenza Sciuto
Maria Randazzo with her appealing collection "Les Femmes" interpreted the most sentimental side of Minimalism, mixing silk bourette fabrics with juicy colored pvc panels, a bright teal blue to tobacco and glazed pink.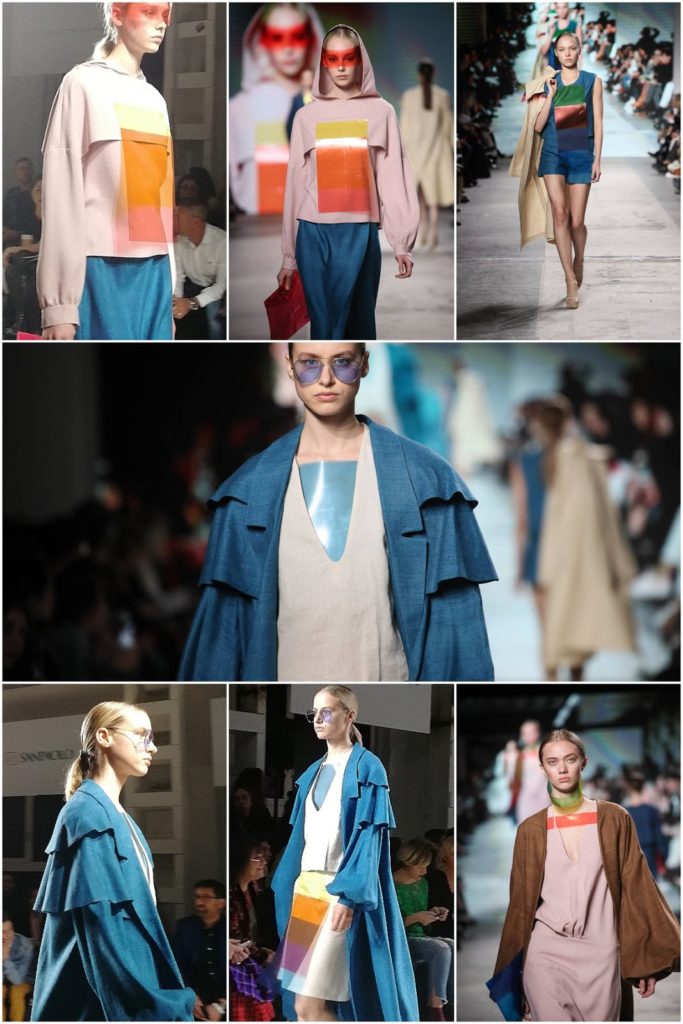 Maria Randazzo
Antonio Attisano with his "Sinfonia N°7" created a very feminine fashion proposal, finding inspiration in classic music and 19th century romantic silhouettes, transforming the Victorian blouses into sophisticated outfits, thanks to the very refined color palette.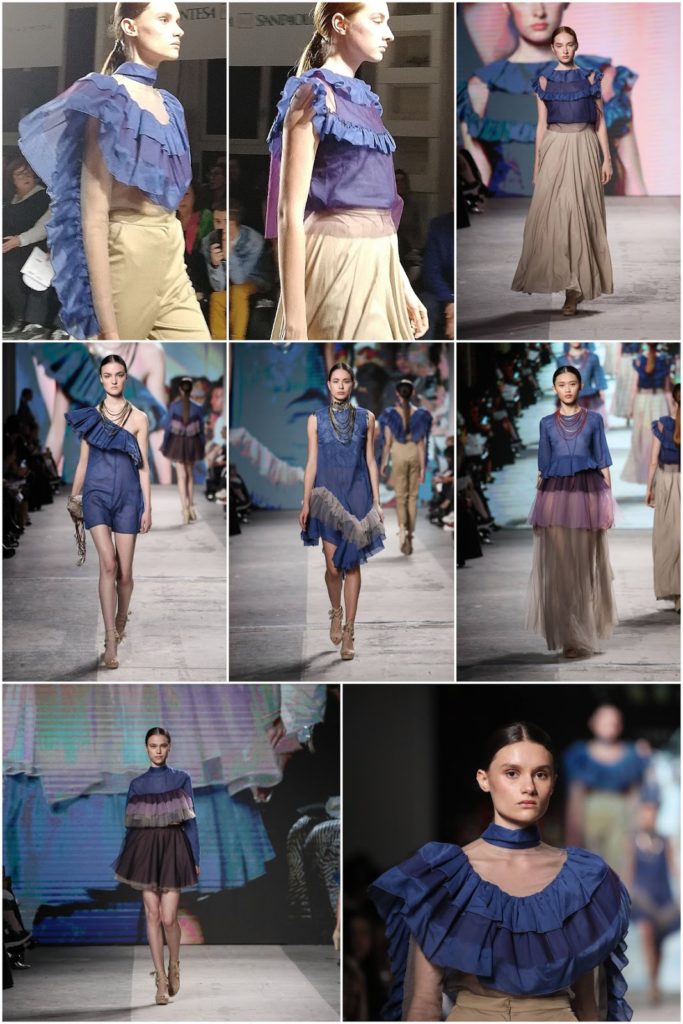 Antonio Attisano
Gaucho-girls who love to live "En plein air" for Valeria Amara, who showcased an interesting collection which blends the femininity of silk to the grit of handmade felt and leather, inserting the fabric surfaces with color blocks and stylished western-style details.
Valeria Amara
Delicious and attractive, the lighthearted collection "Messy life" designed by Francesca Messina is decidedly effective and ready for the market. Beautiful the color-changing effect of fabrics, the unusual and fashionable combination of handmade knitwear and opalescent sequins.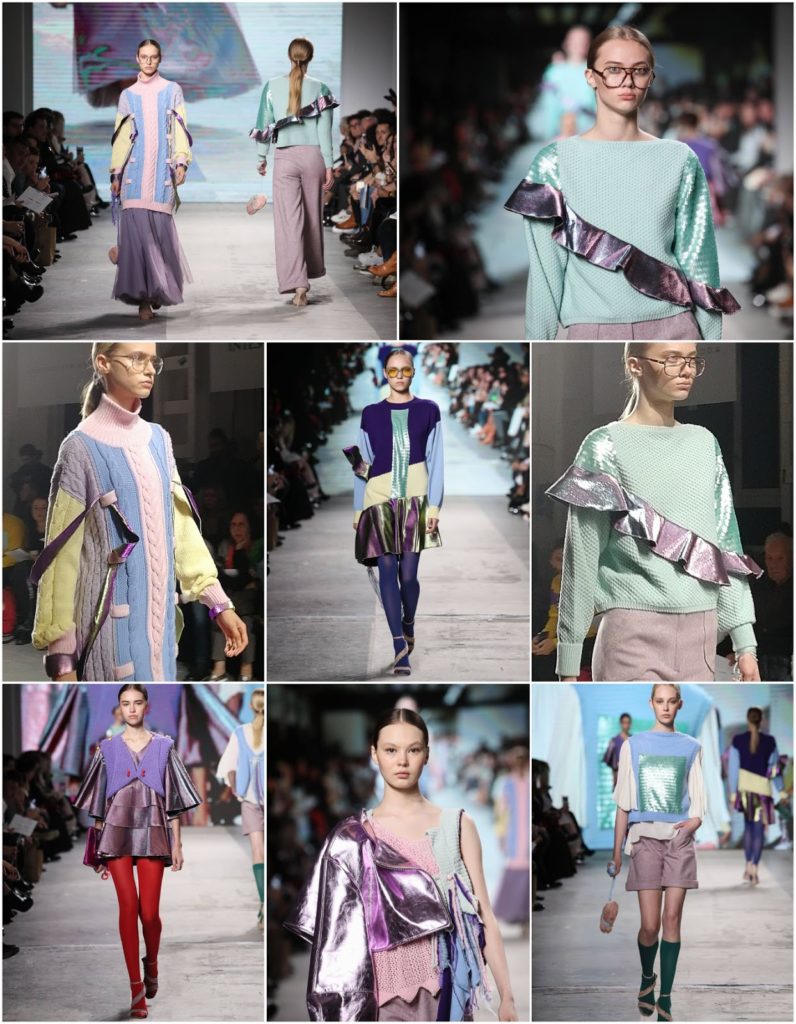 Francesca Messina
Back to Eighties with the menswear collection "S.O.S." designed by Rossana Lupica and inspired by the ski suits of that years, with very bright color-blocks for light padded jackets and very tight leggings.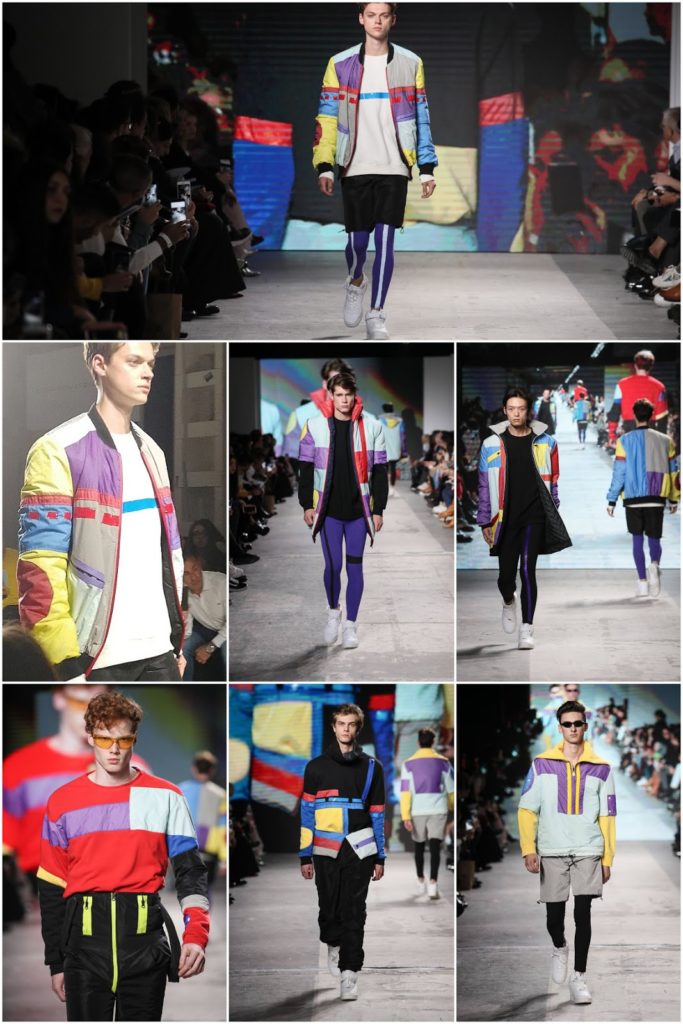 Rossana Lupica
Mix and match of emotions for Karine Ivanova who, with her "Daily life poetry", mixed intimate portraits on prints, refined pleated panels of silk, tartan, knitwear and suede leather using inserts and asymmetrical combinations of colors.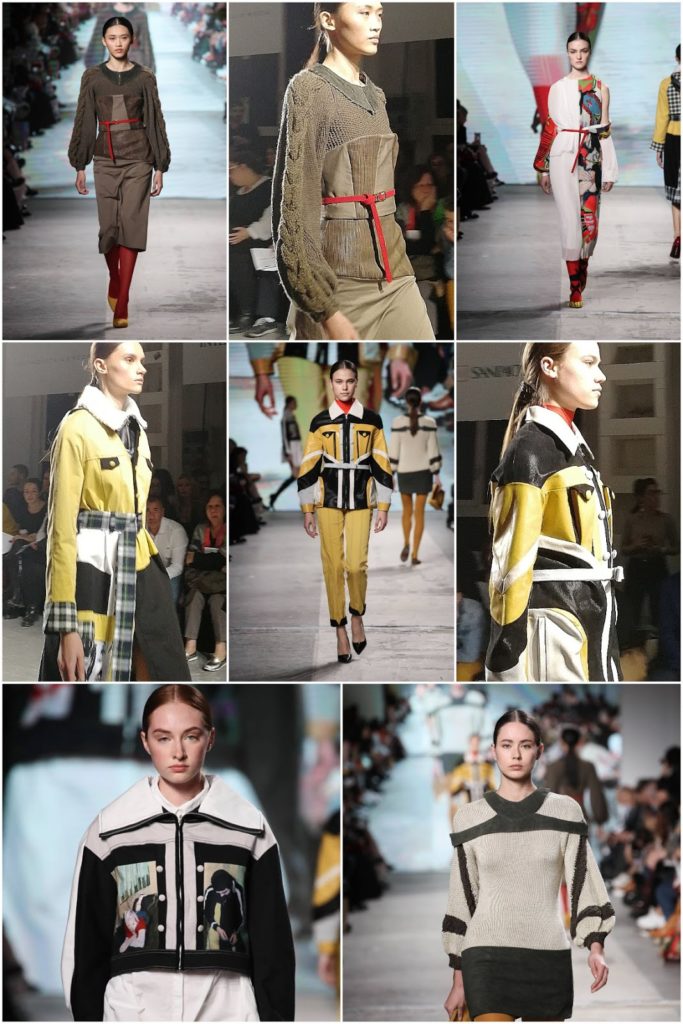 Karine Ivanova