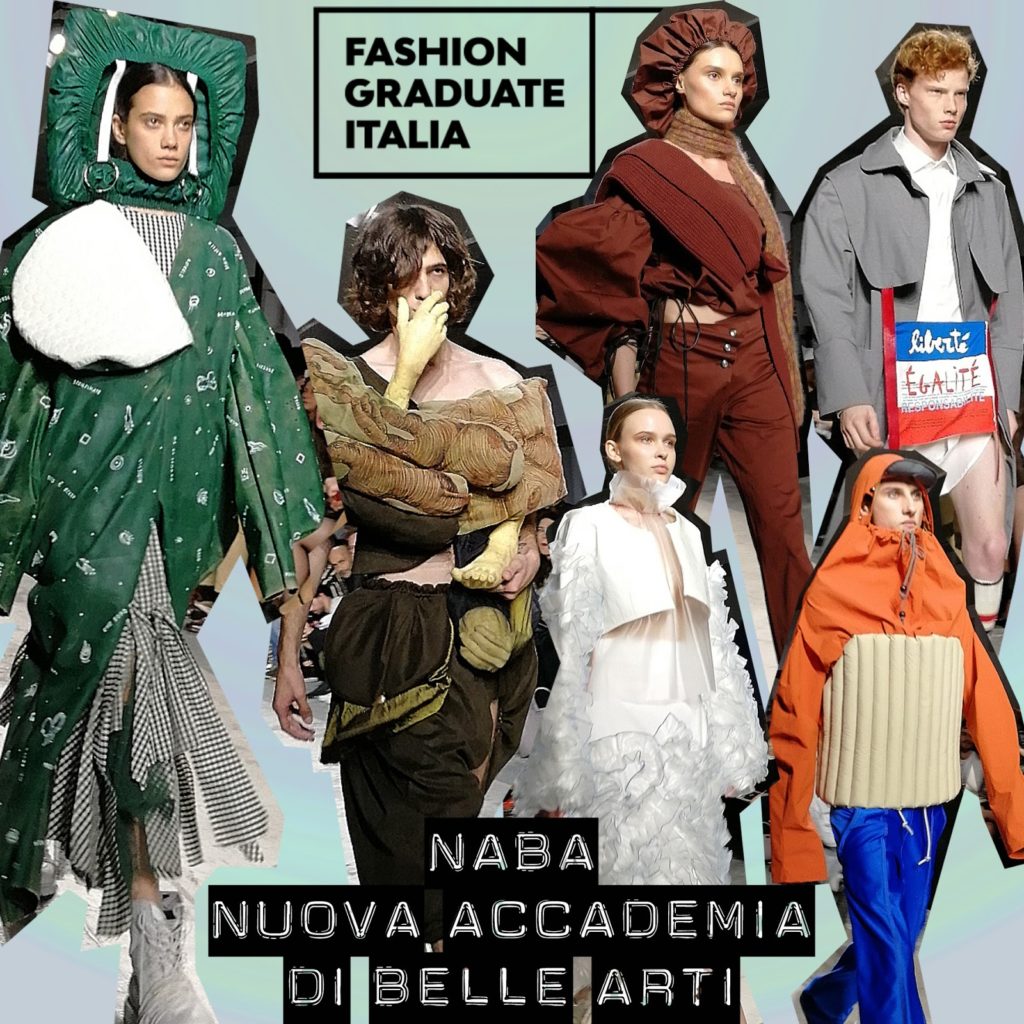 Modernism and revival, deconstruction and experimentation, technology and poetry, but also deep concepts and responsabilities. At Fashion Graduate Italia, NABA Nuova Accademia di Belle Arti brings on runway the many souls of fashion.
Everything and its opposite. Jumping from one fashion show to another, in the four days of Fashion Graduate Italia just finished at Base Milano, I've seen almost every possible style, from the Haute Couture grandeur to minimal shapes.
Male and female, simple and complex, in the mad whirl of ideas that I ha the occasion to see, at one moment I was completely struck by the unbridled fantasy connected to a serious research and in-depth approach of a school in particular.
NABA NUOVA ACCADEMIA DI BELLE ARTI
NABA impressed me. Intensely beautiful and rich of meanings was the installation by Giuseppe Casafina, also if probably the research of beauty was not the real intent of the visual artist and designer, but rather a reasoning about the ethernal dichotomy between appearance and reality in a world in which "seeming is being".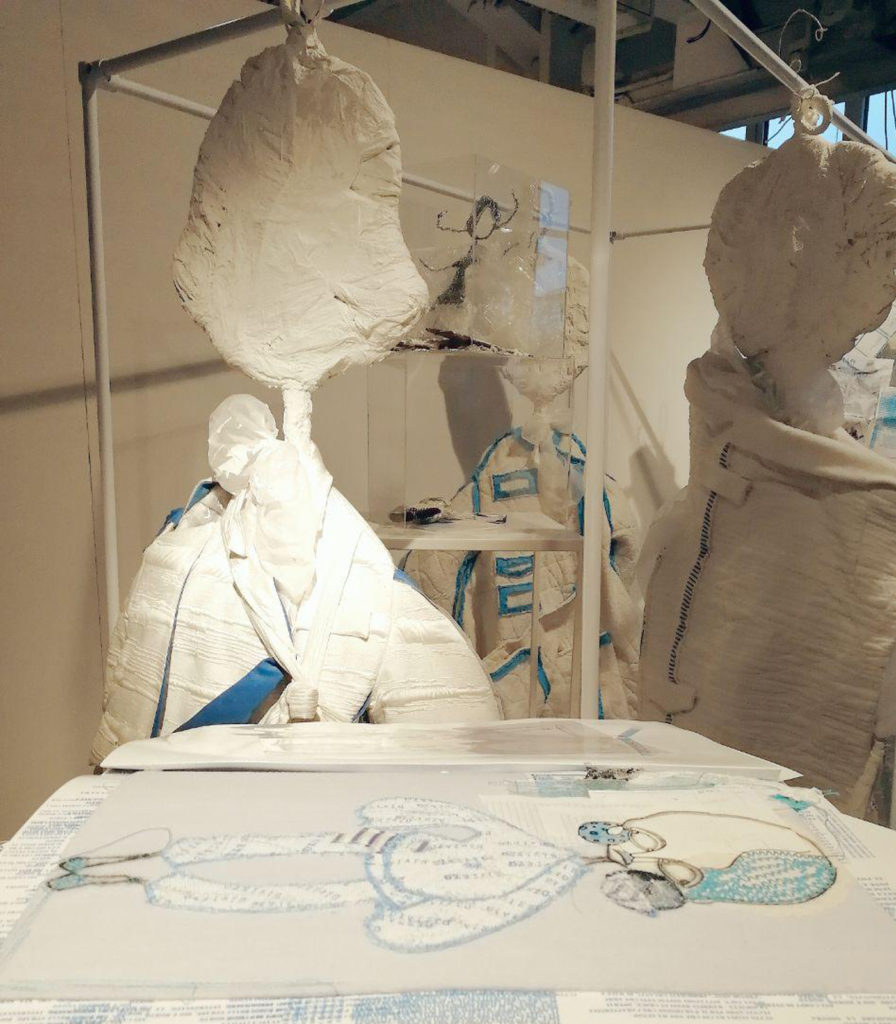 Installation by Giuseppe Casafina
On catwalk NABA revealed the two souls of fashion design. On one side the extreme functionality, on the opposite the extreme conceptual, going through passages of contemporaneousness, poetry and excess. 8 graduate collections realized by the students of Fashion Design Bachelor of Arts course and 3 collections designed by the students of the Fashion and Textile Design Master of Arts.
See Also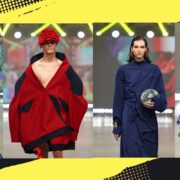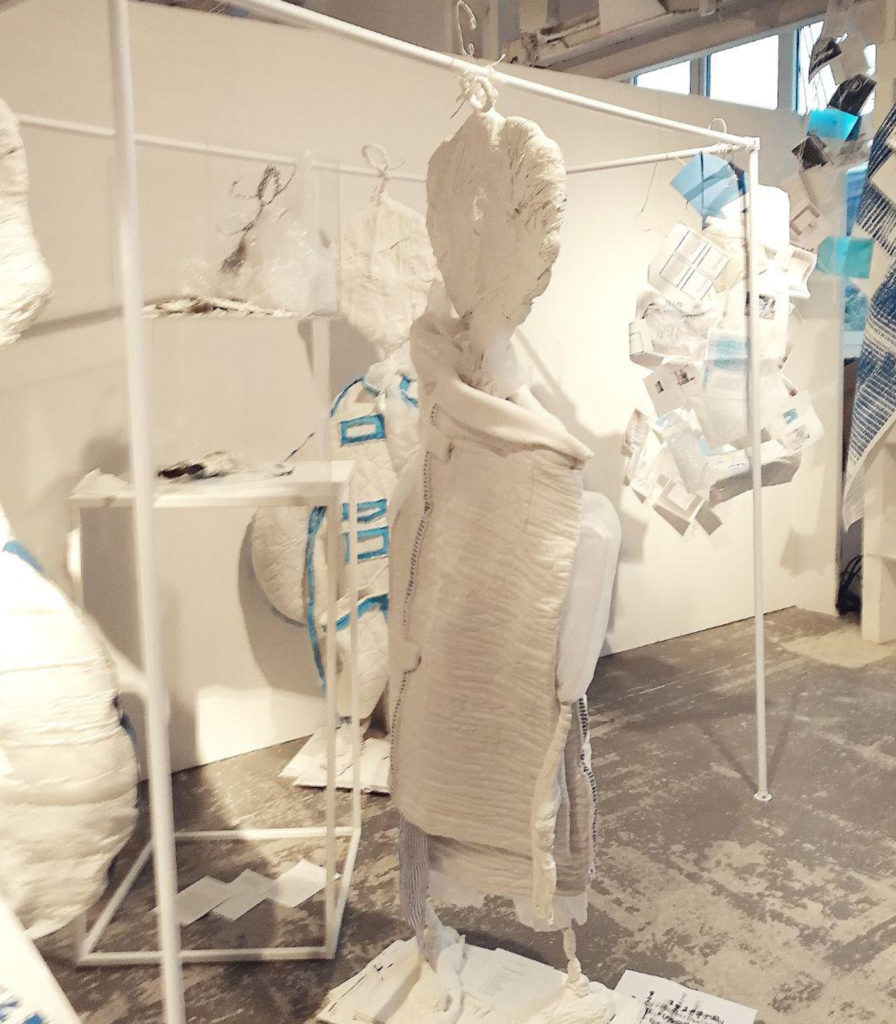 Installation by Giuseppe Casafina
Lifejackets, parachute tapes, hoods with visors, hyper-padded technical fabrics to resist also to the worst Antartic weather conditions. It could seems a sporty collection that by Nicola Spinelli, already seen at Altaroma, instead he used shapes and materials of extreme sports to design a protective street-style for urban survivors.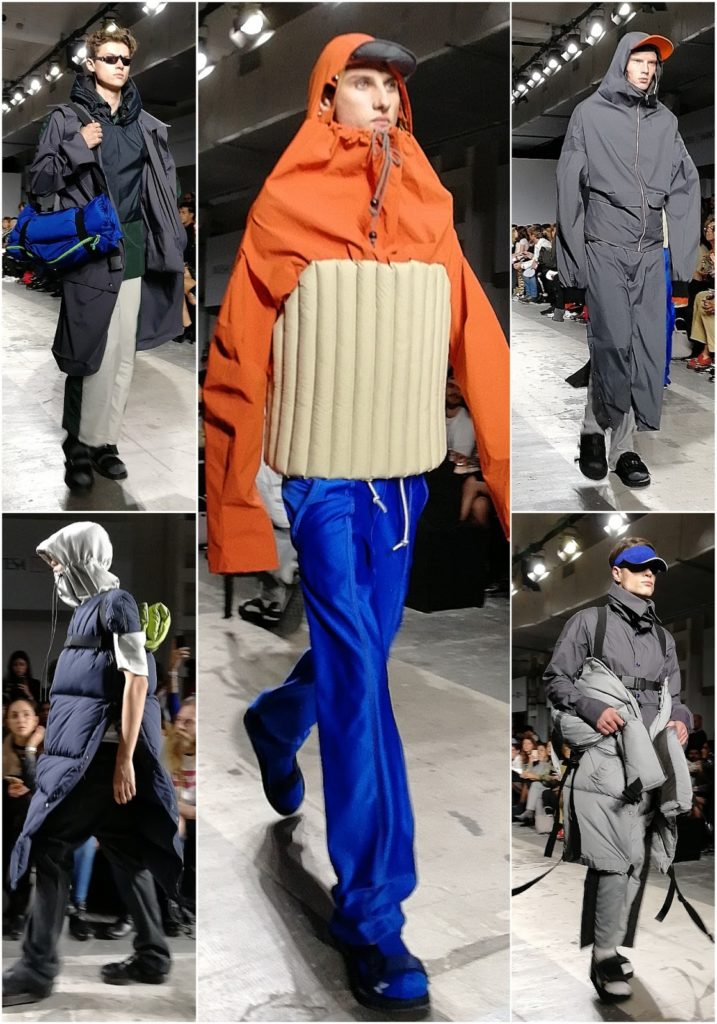 Nicola Spinelli
Rebecca Zauli, already winner of the prize for knitwear at the last edition of "Concorso Nazionale Professione Moda Giovani Stilisti", gave a touch of eclectism to her graduate collection mixing feminine typologies jumping from a Renaissance Titian's portrait to a woman on the frontlines or to a catty 90s girl, unifying all with the subtle yarn thread of a renewed knitwear.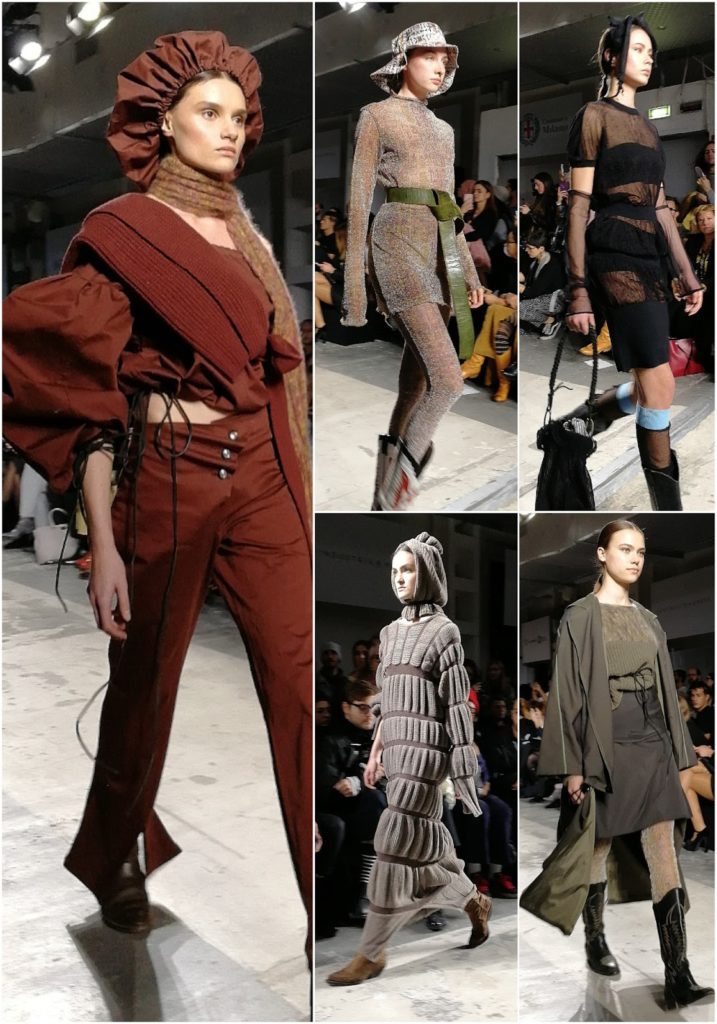 Rebecca Zauli
Hi-tech nylon and superstretch lycra for Naomi Oke, who created a very interesting collection making glam a sporty inspiration. A real love at first sight was for me the incredibly bright shade of violet of a beautiful waterproof coat.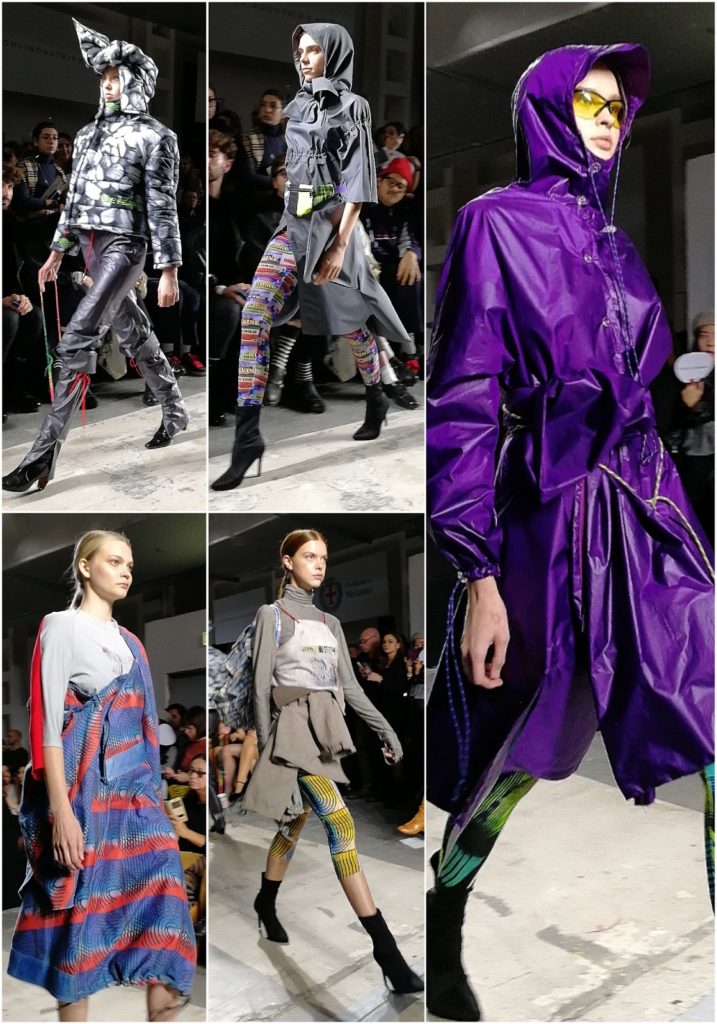 Naomi Oke
Maria Capellaro deconstructed the classic shapes of male wardrobe starting from the concept of jackets, changing the position and the way of use of collars, lapels and sleeves, using enlarged proportions to create oversize sweaters that may also host up to two models, twinned in a sisterly embrace.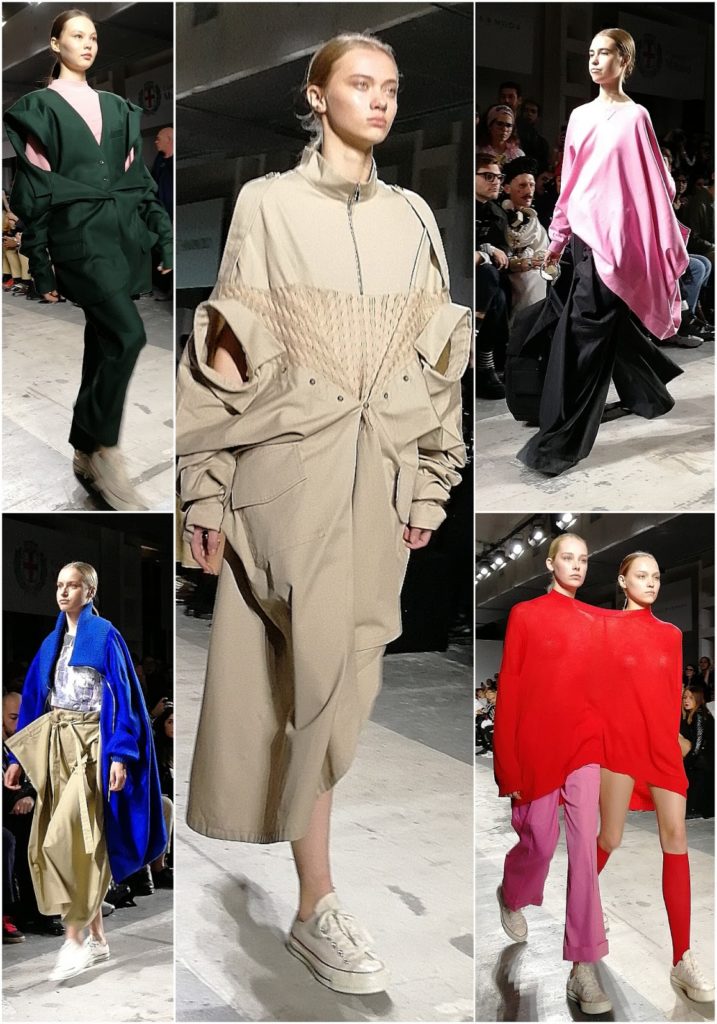 Maria Capellaro
Liberté, Egalité and…No, we can't use the usual Fraternité to finish the so famous French motto. To discuss the radical changes in policy and society to which we are assisting, Marco Bynichakis preferred to speak of Responsability. The modern revolutionary man has always the same blue-white-red colors and the same fierce protesting spirit of his predecessors, the designer had the courage to stand up for it. Anyway, please, don't forget the power of human brotherhood!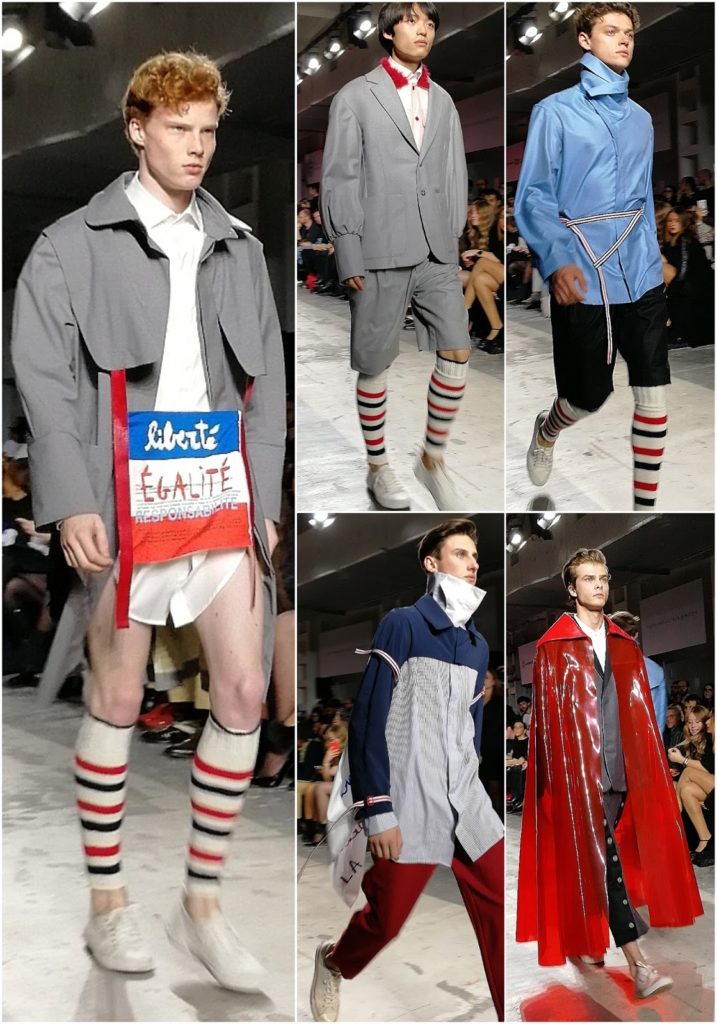 Marco Bynichakis
The collection designed by Rita Prisco was probably one of the most contemporary seen at FGI 2018. Enveloping hoods almost totally hide the model's faces, while leather suits and padded fabrics protect their bodies recalling the ski-wear of 60s and 70s. Very interesting were the giant bags used as disproportionate pouches or the rigid high collars which give a sense of firm static to silhouettes.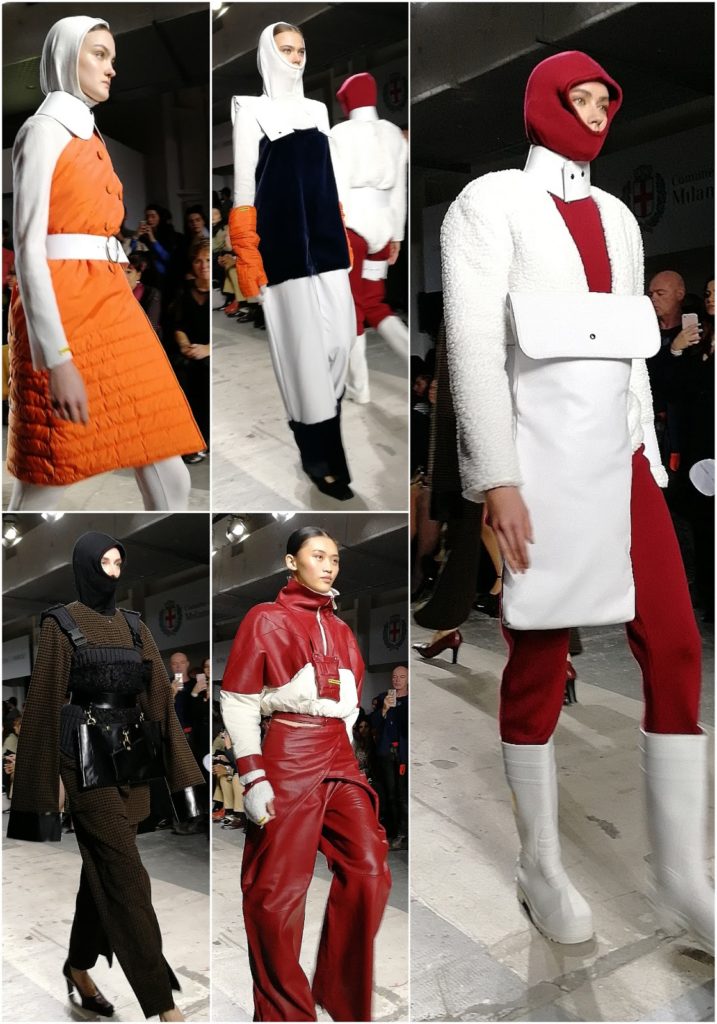 Rita Prisco
Transforming the fishing technical protective clothes, like the tarp one-piece suits or the multi-pockets vests and the nets turned into bags, Chiara De Nigris makes us fall madly in love for the world of fishermen, who have never been so fashionable, thanks to the really spot-on choice of colors like the ultra bright orange mixed to navy and holographic gold.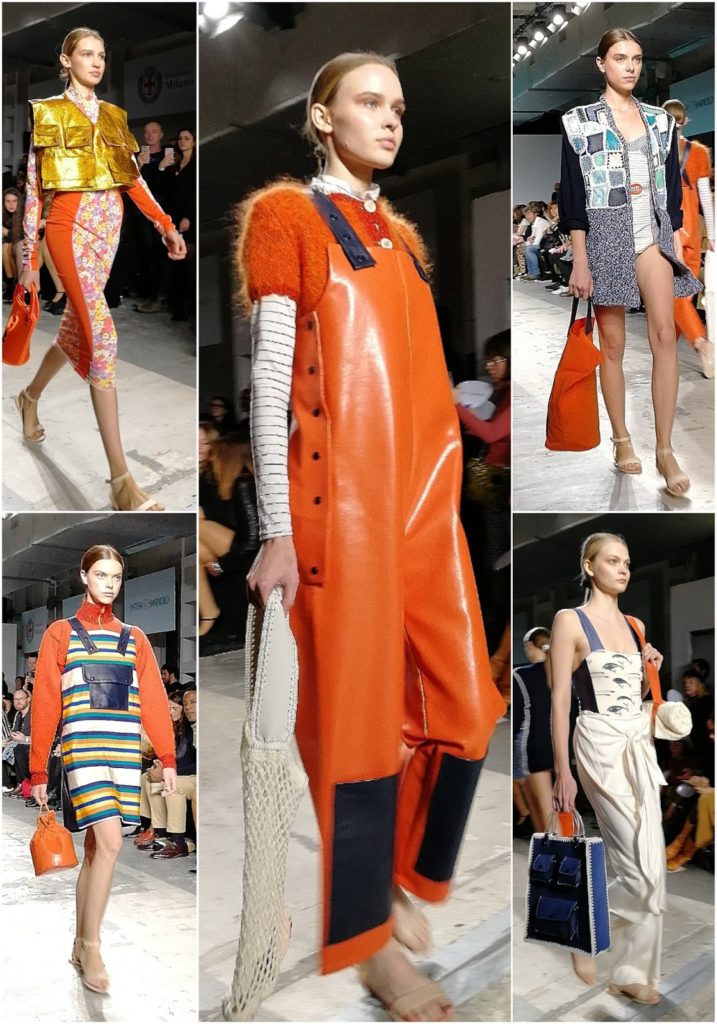 Chiara De Nigris
Camilla Marchi presented a bipolar woman, who is halfway between a powerful femininity and a strong masculinity. The designer mixed different accents and suggestions like psychedelic prints, satin blouses and revisited biker leather suits, patworkss and unusual color combinations.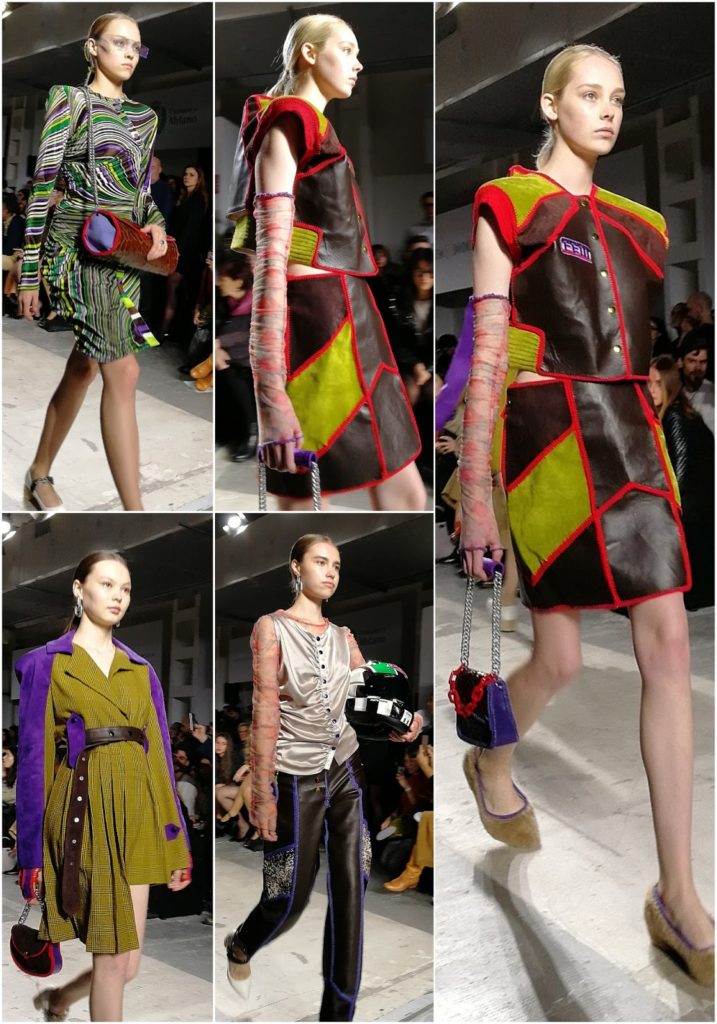 Camilla Marchi
With the 3 collections made by the students of the Fashion and Textile Design Master of Arts, the atmosphere completely changed, making a dive into a the most experimental and avant-garde design.
Francesca Bucciarelli has chosen a very complicated, but suggestive title for her collection: "Queen Victoria, an Electric Sheep, and Alfre Jarry meet for a Potlatch in Flatland". In fact her collection is interpreted with the ironic non-sense of "Ubu-Roi" and the eccentric eclectism of late 19th century: framed faces and travel bags carried on heads, circular shapes and ancient corsets, extravagant prints and brushstrokes of color, drapings and handmade oversize knitwear. A little bit of everything deliciously absurd.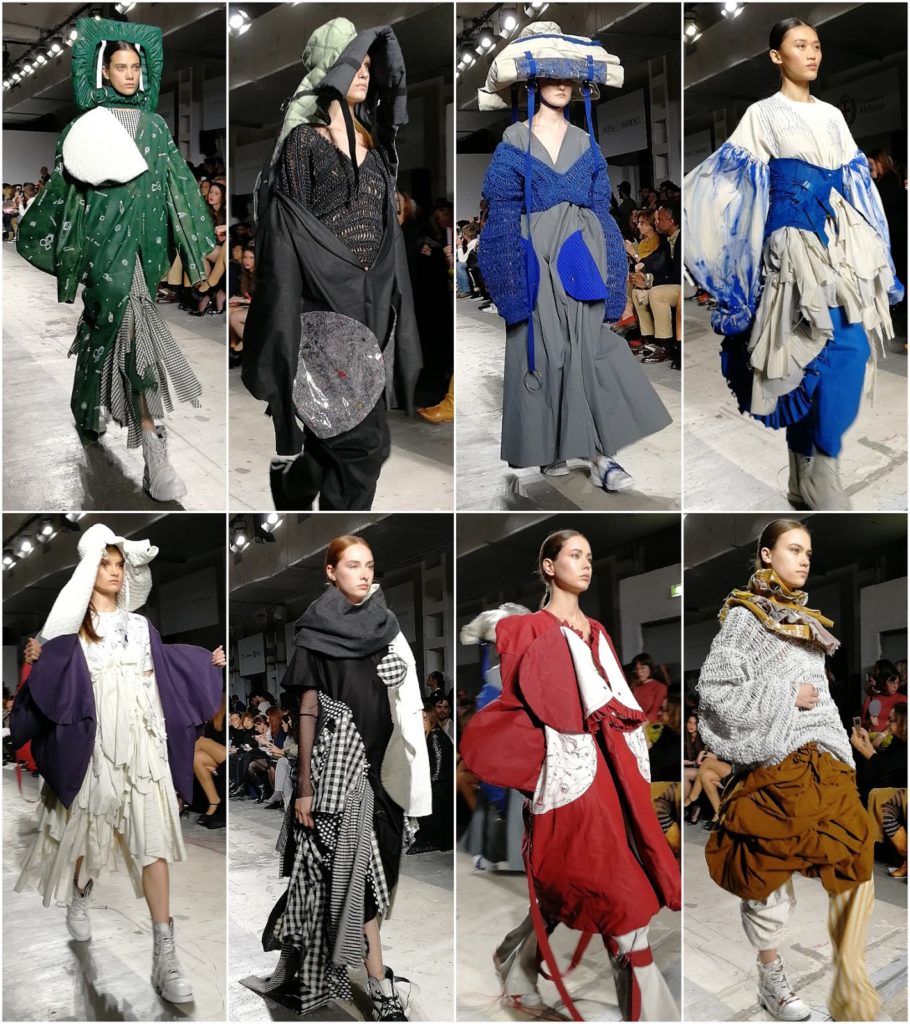 Francesca Bucciarelli
For Gaoming Chen, a nursing and almost sterilized white and red combination that seems made of paper and chalk powder, become gradually more softened by plastic transparencies and hectic ruffles that try to make something apparently impossible, namely to give a shape to a so changeable and mutable thing like water.
Gaoming Chen
Narjes Ghorbani showcased the most conceptual and eccentric collection of the entire event. Clothes created draping around the bodies shining taffetas and cotton, insinuating snakes or intestine, painting anatomical prints on padded collars, but especially with feet, hands and heads accompanying as alter-ego women and men, visually showing the hidden secrets that are not expresses through words, but only with the unaware body language.