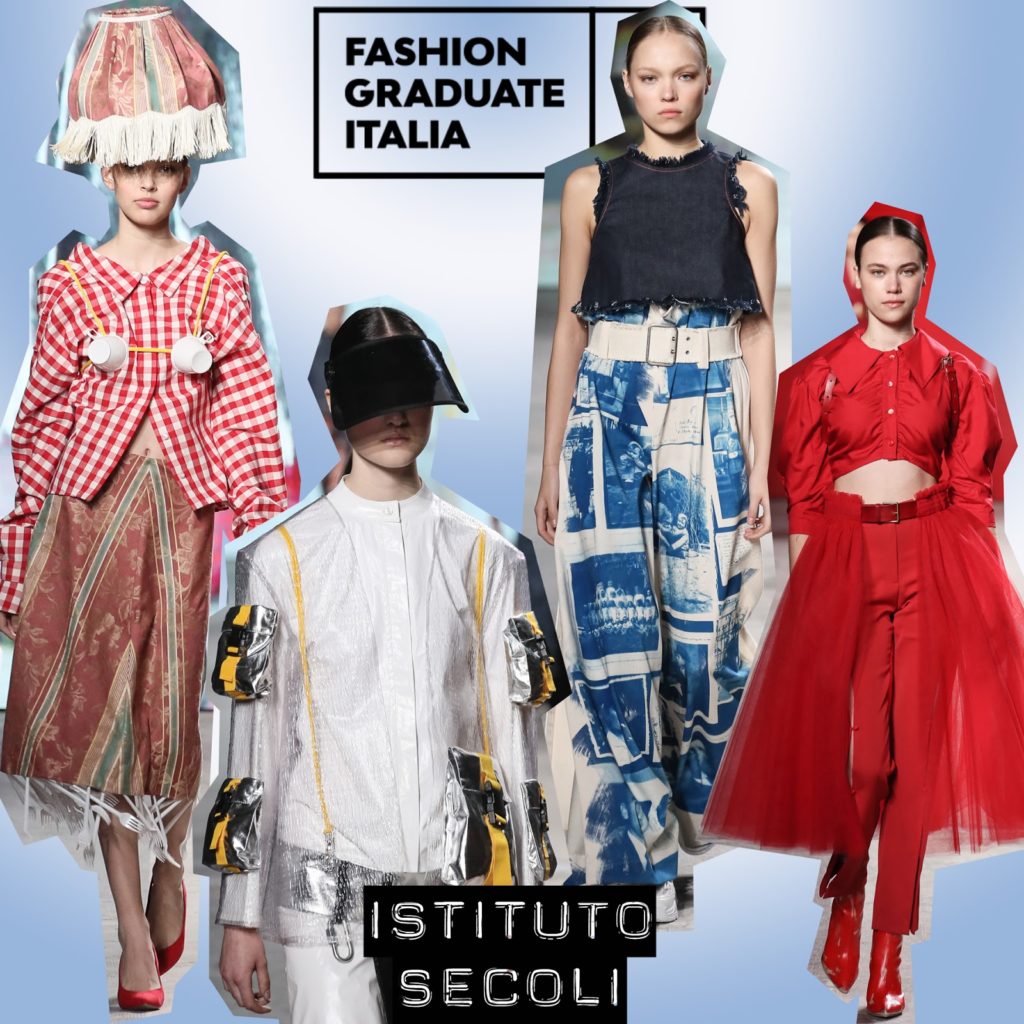 7 girls, 7 designers to watch. At Fashion Graduate Italia, the young students of ISTITUTO SECOLI, divided between fantasy and reality, showcased all their skills demonstrating that the future is in the hands of who knows how to make fashion.
The talks and panels organized by Fashion Graduate Italia during the 4 days of event, gave the opportunity to take stock of the situation about fashion industry, reflecting on the current state of the art and about the future possibiliites.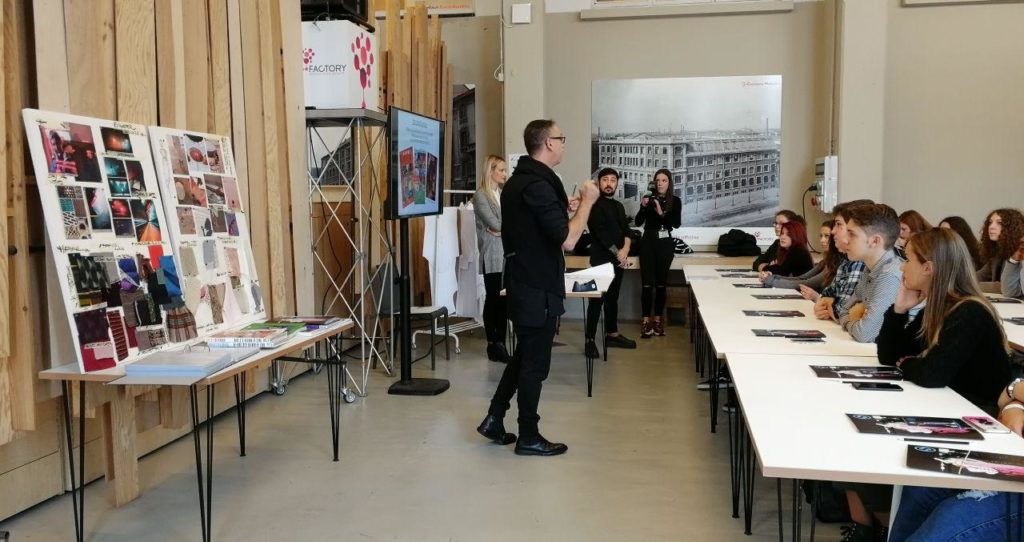 The workshop of "Processes of Fashion Design" held by the teachers of Istituto Secoli (Emanuela Poma, Agostino Polano and Domenico Civita) at FASHION GRADUATE ITALIA 2018
In the talk about the Made in Italy system emerged clearly the necessity of a certain pragmatism that should be conjugate to creativity. In a even faster market, with sudden accelerations caused by technology innovations, one of the thing most required by industry is the ability to combine the design expertise with high manual and technical performances. In one word, the art of making fashion.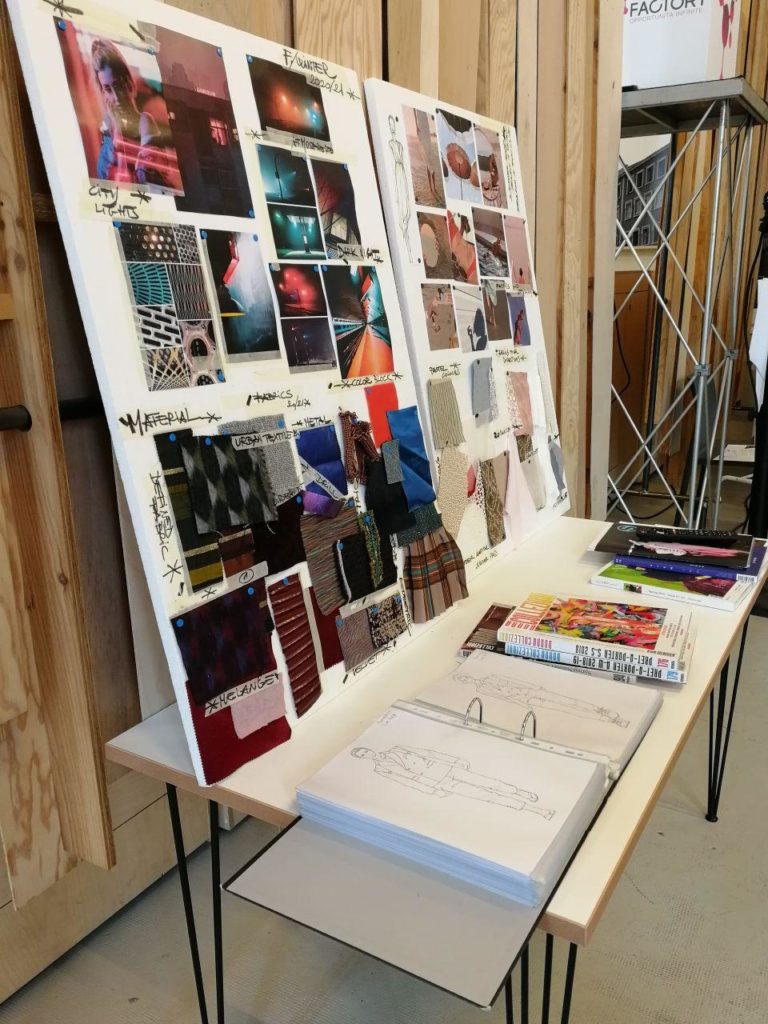 The workshop of "Processes of Fashion Design" held by the teachers of
Istituto Secoli (Emanuela Poma, Agostino Polano and Domenico Civita)
Not for nothing, this is the motto of ISTITUTO SECOLI, since 1934 one of the most important Italian fashion schools, famous for the great professionalism of its students. In the "Secoli Fashion Show" held last June at Alcatraz Milano, we discovered 3 young designers (Federica Zaletti, Greta Moroni and Filippo Todisco) in a project called "Designer to Watch", which continued at FGI with the show of other new talents, all girls.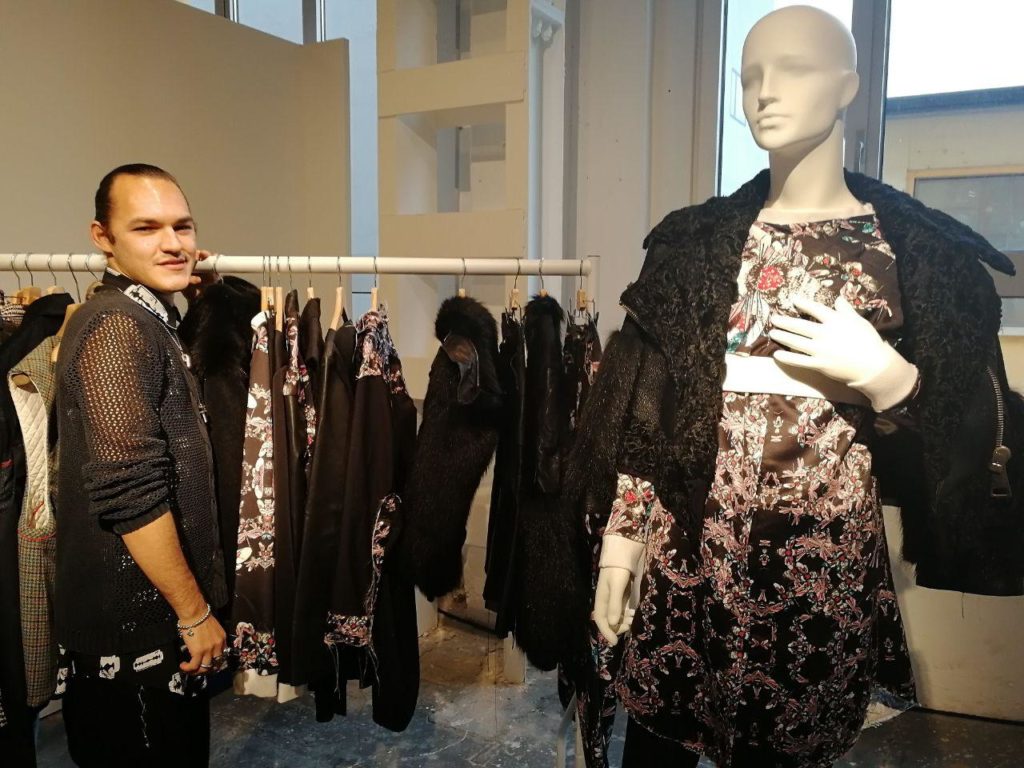 Filippo Todisco is one of the "Designer to Watch" who showcased his menswear collection in the exhibition of Istituto Secoli at FASHION GRADUATE ITALIA 2018
For Giulia Martera change and transformation are intended as research of something new starting from what is degraded and has lost its value. "Gentrification loading" is inspired by the concept of "work in progress" and depicted a chaotic industrial era in which working garments become futurible uniforms decorated with messy interwined electric cables, signally equipments, draped surfaces and thermal blanket turned into practical patch pockets.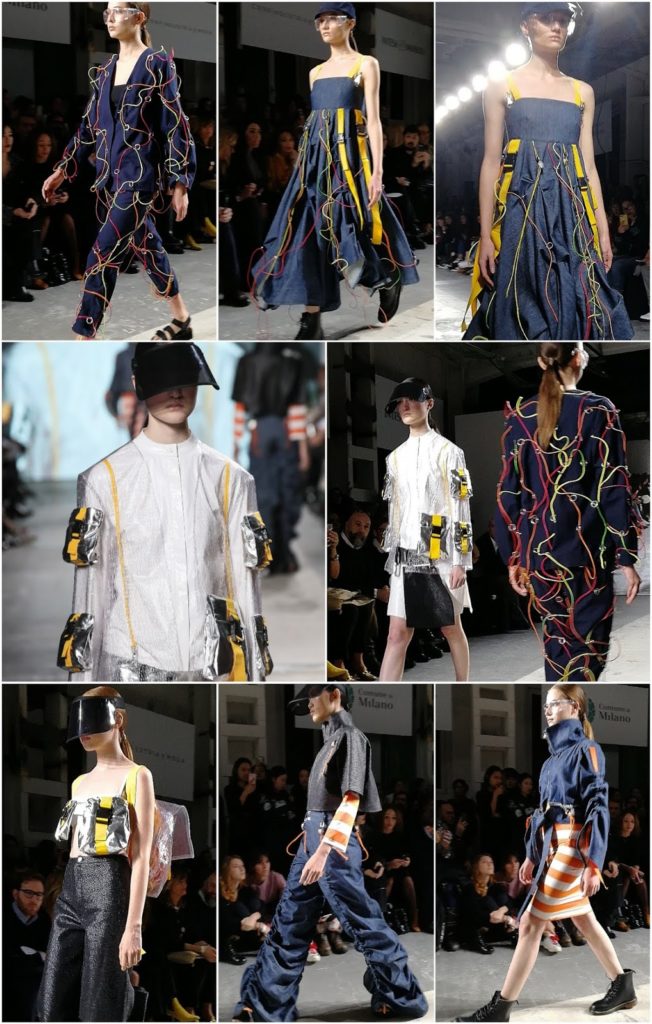 Giulia Martera
All the poetry of a kid's story becomes the intriguing excuse to design a creative and unconventional collection. "The Elephant and the Snake" by Benedetta Tenan, already winner of the Jury Special Mention at last edition of Mittelmoda contest, tells about the fantasy without boundaries typical of children, who can transform the everyday objects into new extraordinary realities. So a lampshape becomes a fancy hat, pillows and curtains are turned into a evening dress, plastic cups and forks or toys are the ornaments of an eccentric style.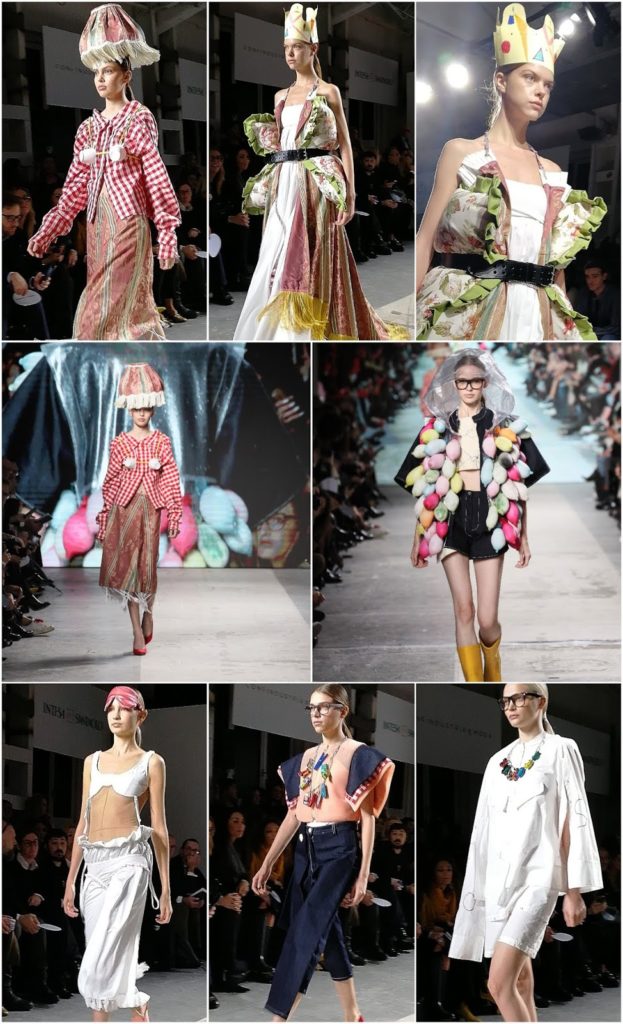 Benedetta Tenan
If fashion is probably the most widespread visual means of communication, it's also true that it connects us with our past and lets us open a window on the future. Sara Mattelloni, with her "Memento", gives voice to the echoes from the past, rediscovering old family photos and printing them on silks, canvas and denim, building an emotive mood board that gives a touch of sentimentalism to a very contemporary collection.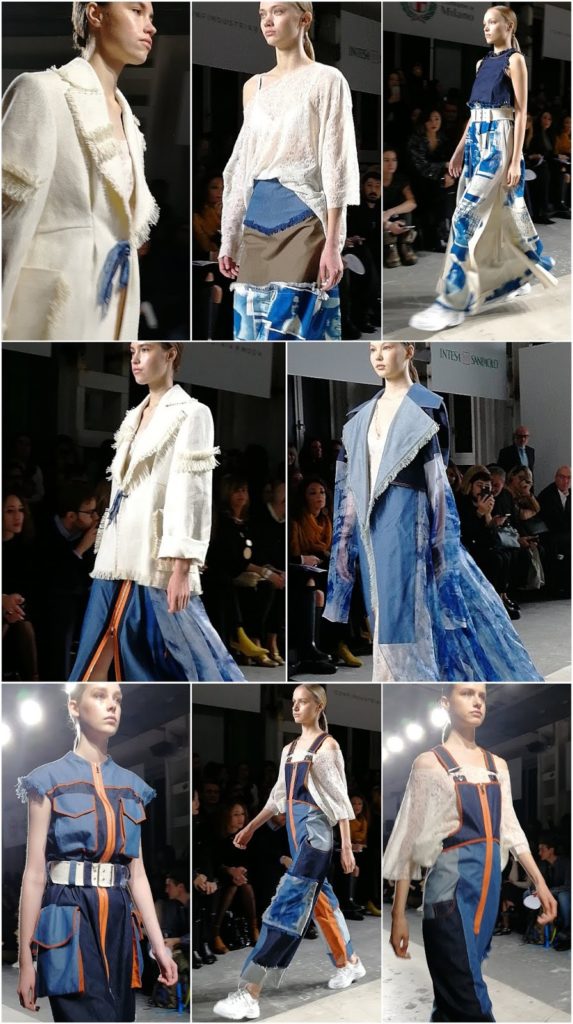 Sara Mattelloni
"What is fashion for you?" is asking Sofia Confortola. To find an answer she made a speculation about the meaning of beauty using revival and contemporaneousness. Small floral prints, sweaters with vintage-style jacquard tricot, ruffles and knit coverage for sleeves, assemblage of technical and male fabrics, in a mix of Seventies and Nineties.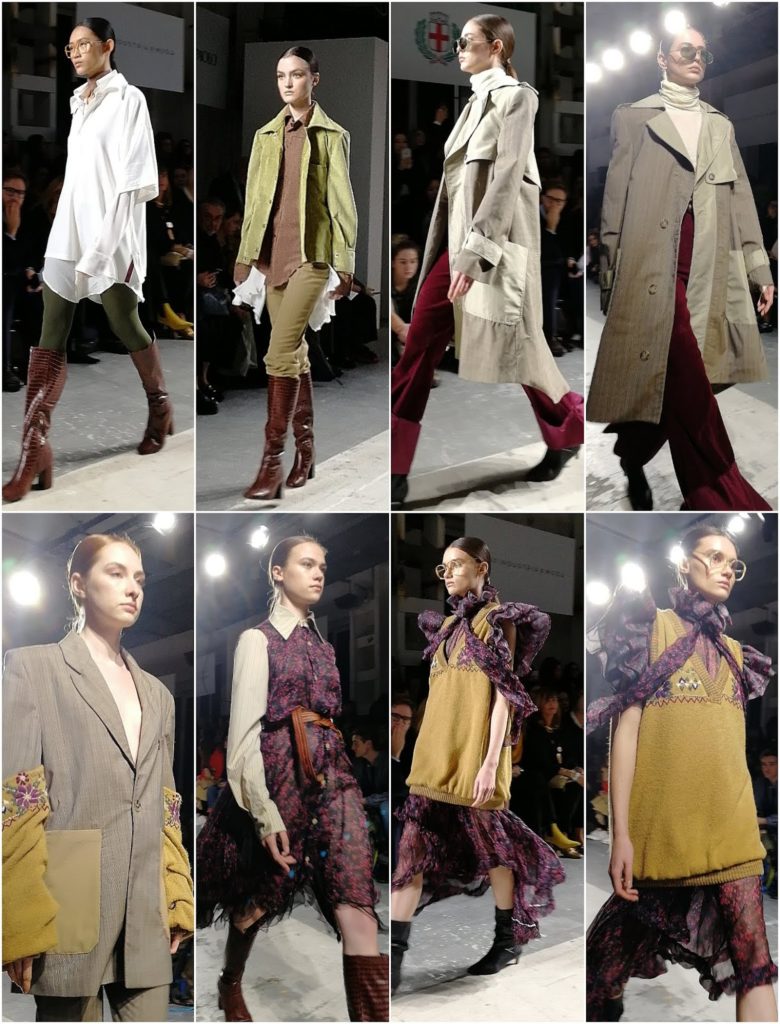 Sofia Confortola
How we perceive reality? For Elena Pasqualin it's a very personal experience and our clothes should express our identity fitting with this free interpretation of what surrounding us. In the collection "Perception" she made it building abstract volumes draped around the bodies, creating sinuous movements and overlapping of perforated fabrics and a trembling mix of optical prints in black and white.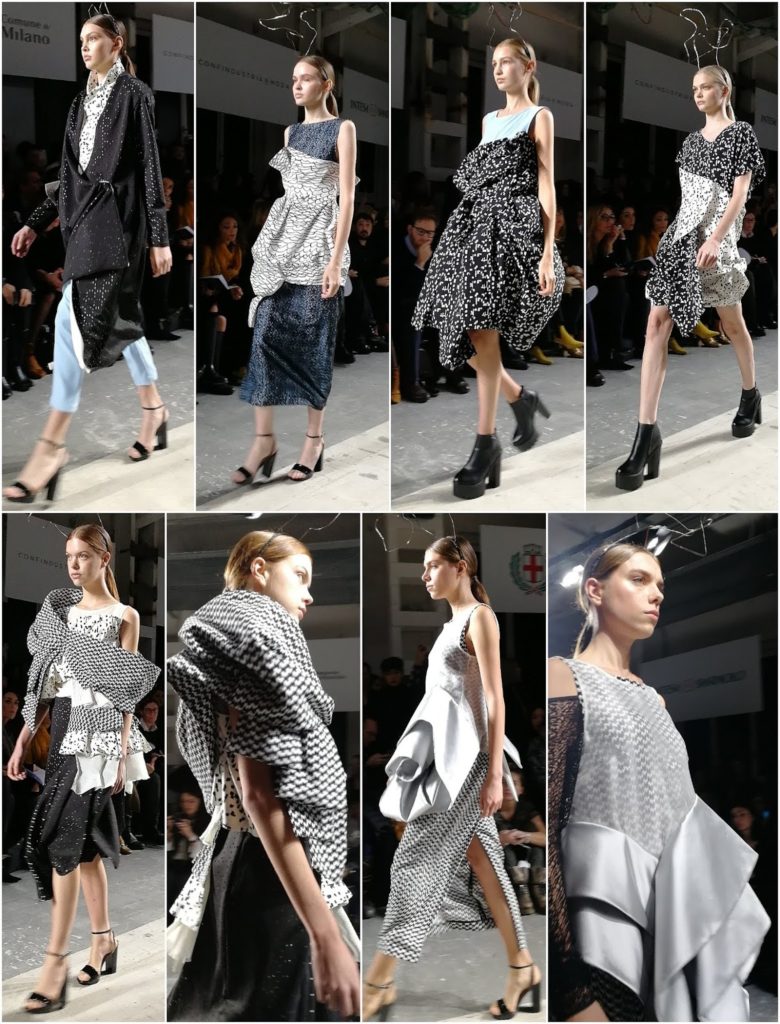 Elena Pasqualin
The manifestation of a disturbed subconscious is translated in shapes, colors and volumes by Enrica De Santis. "Perturbatio delirae mentis" is a complicated trip into a schizophrenic mind, a collection that assembles layers and textures, with knitwear panels insinuing like tentacles around the oversize volumes and with giant houndstooth patterns that gradually become messy and almost camouflage prints.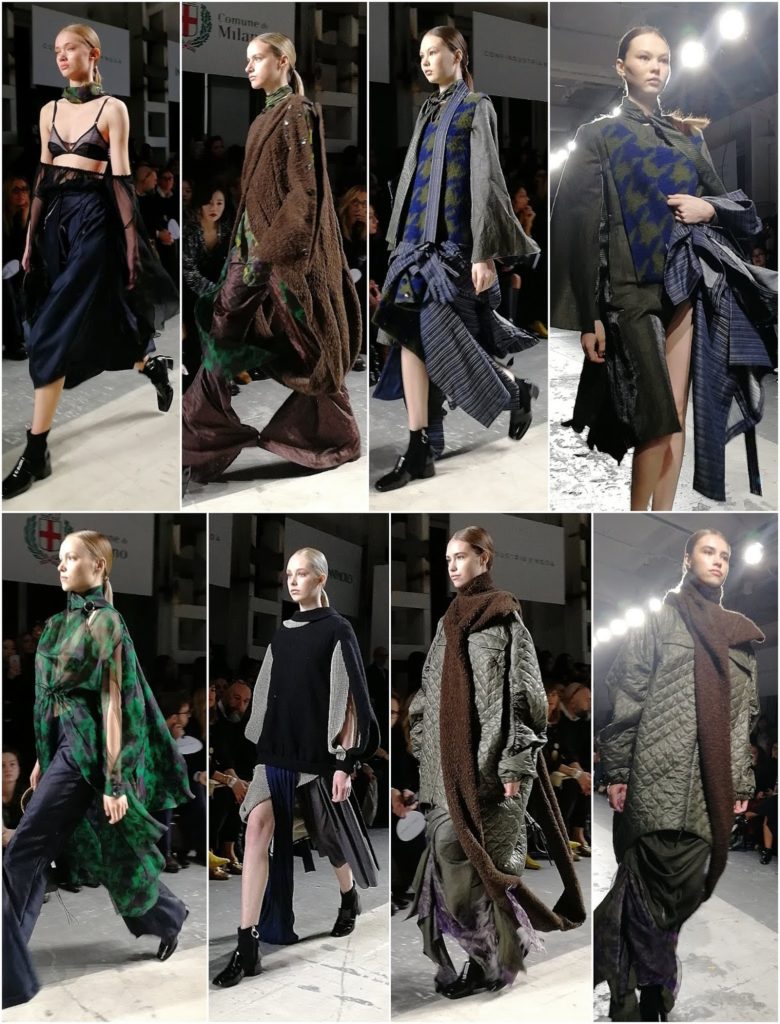 Enrica De Santis
"I'm Red". One single color, declined in thousands slight nuances and brightness, buids a powerful collection inspired by the basic shapes of nature. Wen Deng made a loving conversation with a difficult color like red, too often accused of vulgarity or with already nobles examples by most famous designers, and she made succesfully through fluffy volumes that recall the historical shapes of fashion in the wide sleeves and rich tulle skirts, but giving a decisive push toward modernity with the leather details.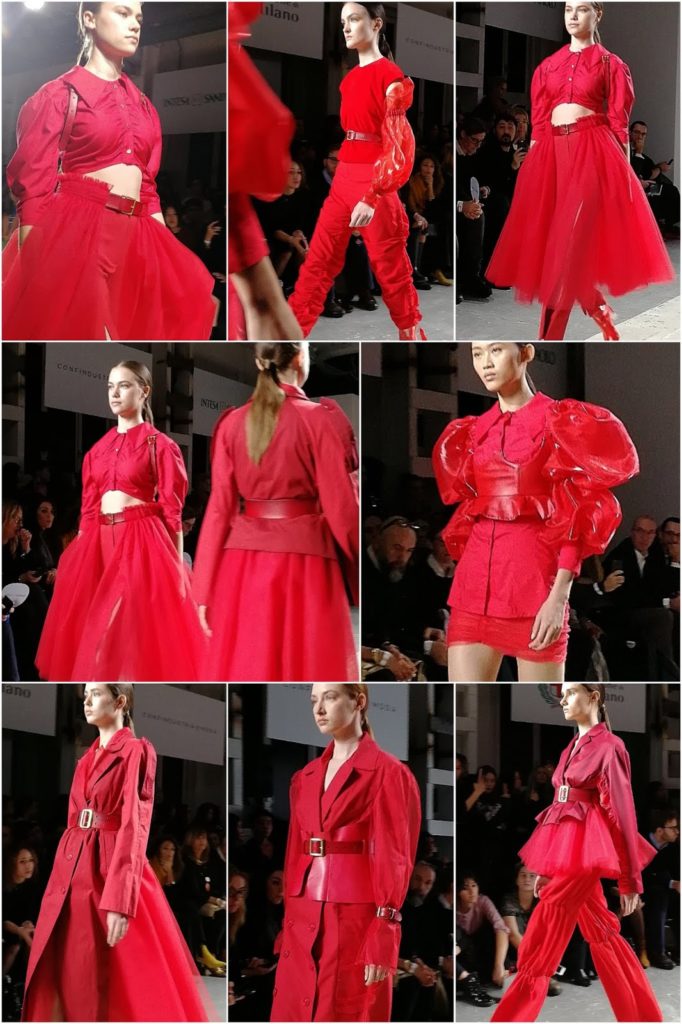 Wen Deng