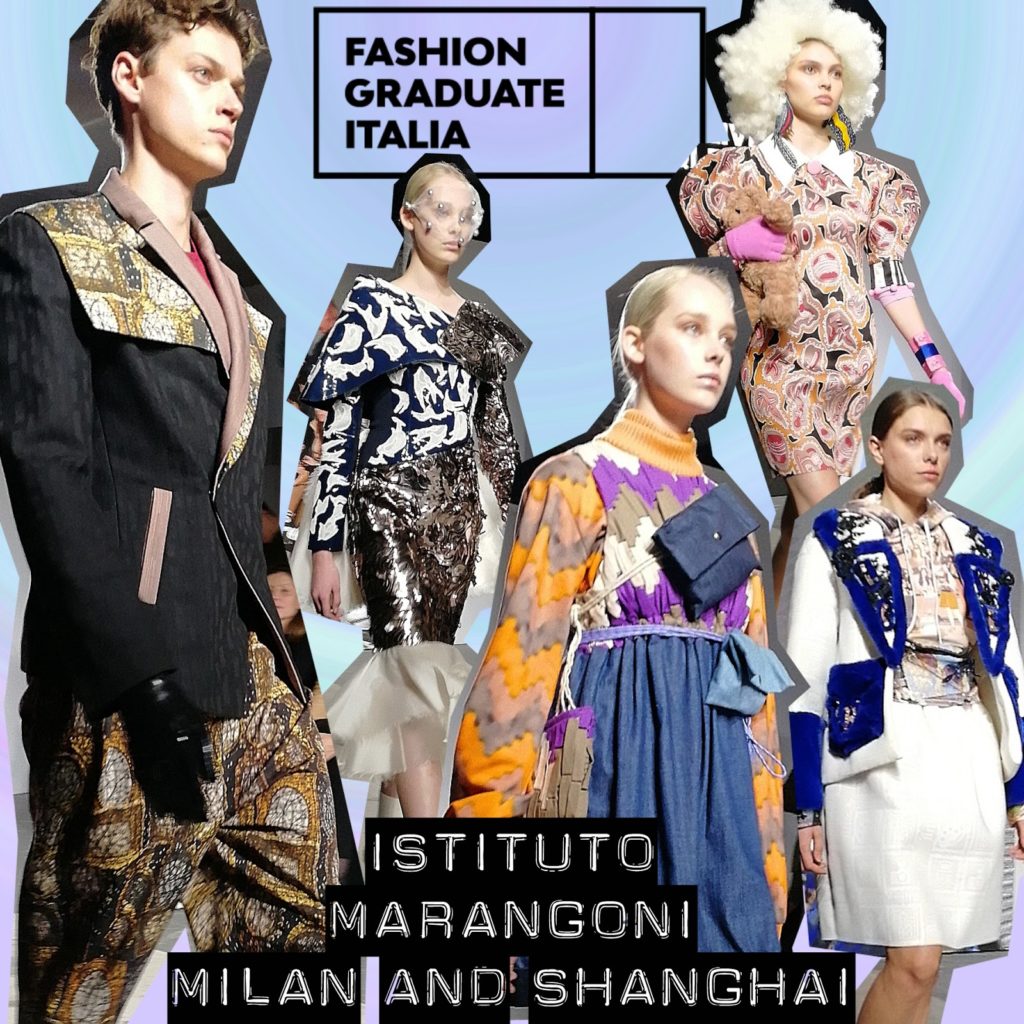 With a double fashion show ISTITUTO MARANGONI showcased at Fashion Graduate Italia the talent of its best students coming from the schools of Milan and Shanghai. Two worlds, one unique target, the success.
The last day of Fashion Graduate Italia was full of important appointments on catwalk, right conclusion of a very exciting and interesting event which brought under the spotlight of mass media and close to public the talent of hundreds new up-and-comer designers of the future fashion landscape.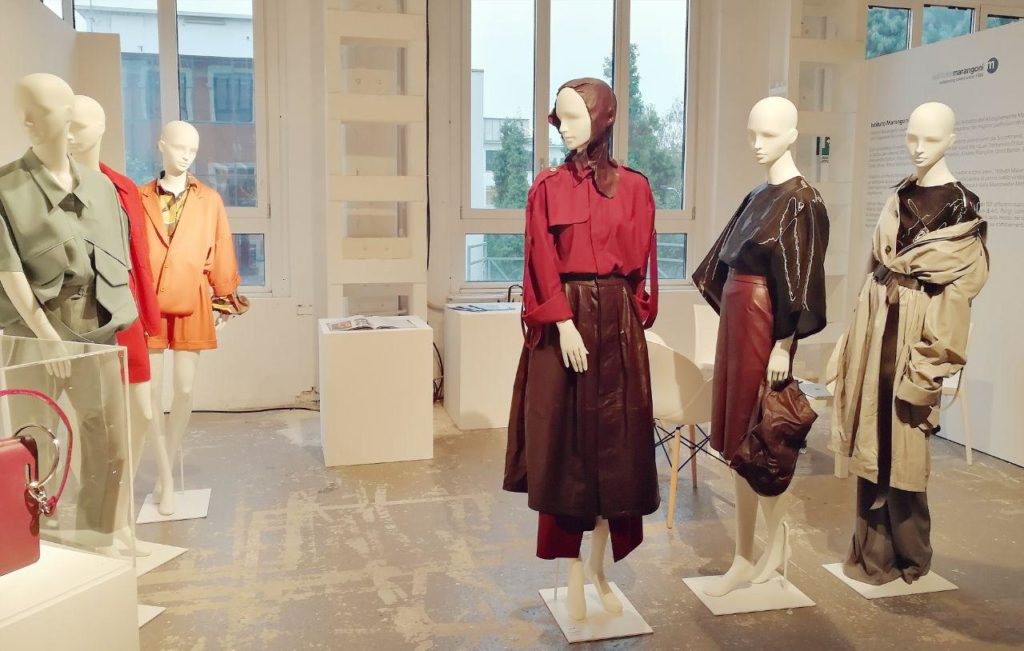 Istituto Marangoni exhibition at FASHION GRADUATE ITALIA 2018
According to an old latin proverb, "dulcis in fundo", the most awaited things arrive always at the end. Effectively I admit that I was very curious to see for the first time in person the graduate show of Istituto Marangoni, which organized a double event presenting the works of 10 students coming from the Milan headquarter and 13 from the school in Shanghai, to underline its international profile guarantee of sure success.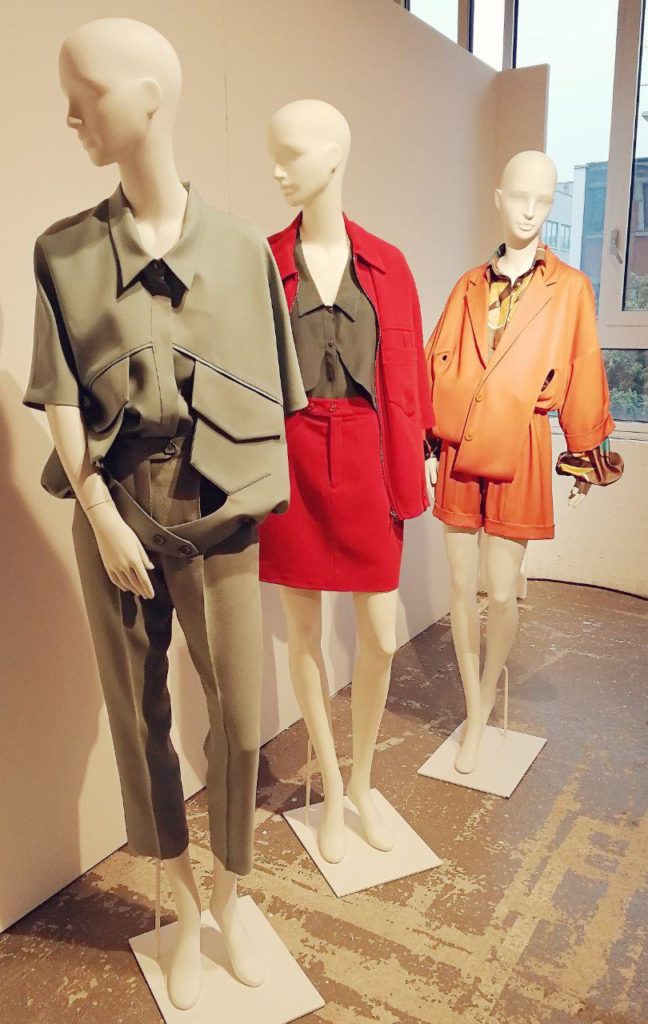 Outfits by Aida Vardanyan from Istituto Marangoni at FASHION GRADUATE ITALIA 2018
Effective and easily wearable, the creative idea proposed by the students of ISTITUTO MARANGONI MILAN are perfectly tailored and ready for the market.
The modern man proposed by Lorenzo Vagnozzi likes to travel in-and-outside the limits of the metropolitan area in which he lives, moving toward the extreme edges of the planet with moon-like textures on stiffed jackets and handbags, oversize volumes to feel comfortable and vintage-style leather suitcases.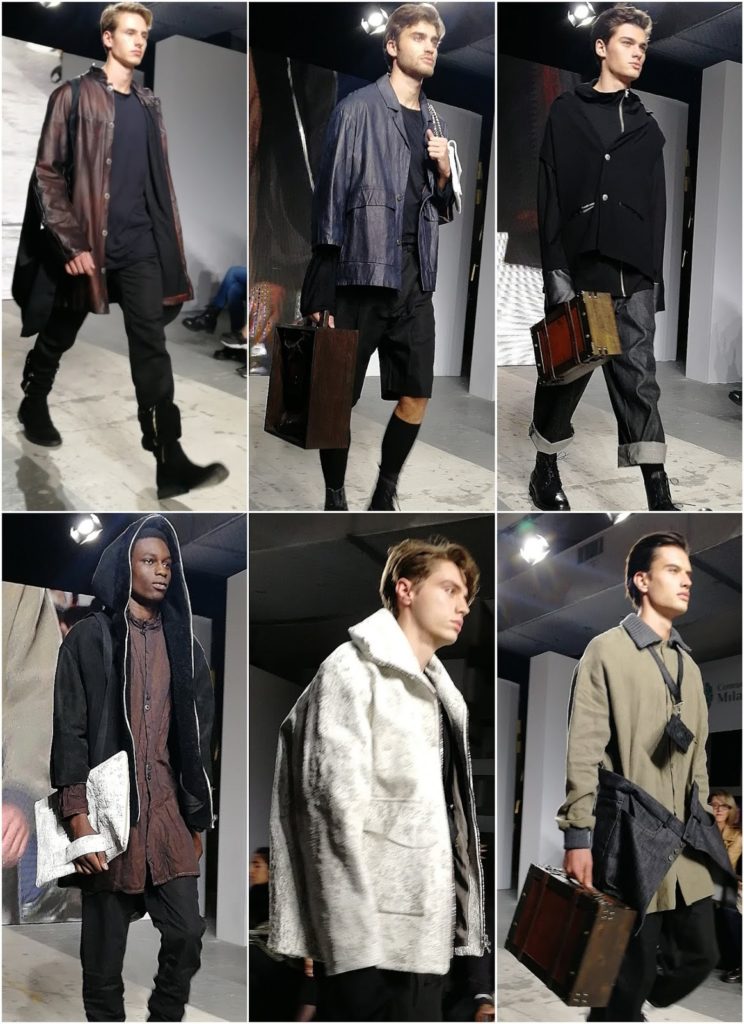 Lorenzo Vagnozzi
A Brit-girl on vacation in New York. Luca Daniele mixed two worlds apparently similar for the common original heritage and culture, but in reality very different: sophisticated and nonchalante the elegance of suits and shirt-dresses from the Big Apple, with a bit of snobbish irony the traditional tartan and the trench coats perfect for the London fog.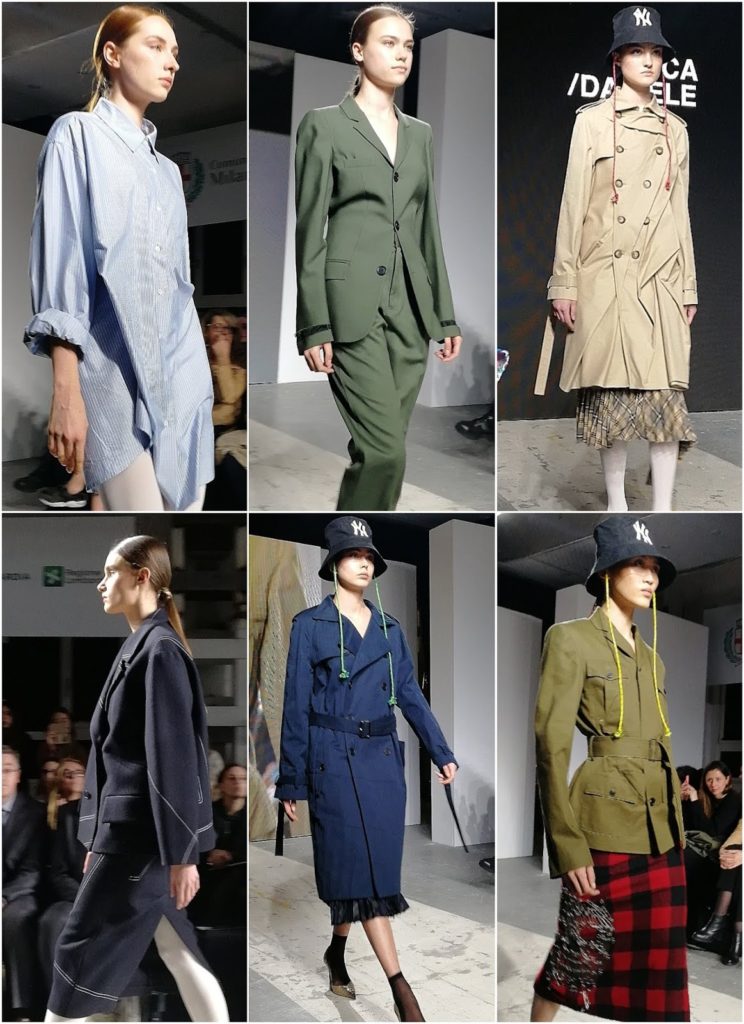 Luca Daniele
Mixing rock, strett-style and glam Luca Alessio carried on catwalk a menswear collection in which the tonal passage from black to white is given by the interesting work on optical prints, perforated textures and geometric metallic embroideries.
Luca Alessio
Good morning Little Miss. In her good-girl outfits the young woman imagined by Fabio Refosco walks confident wearing classic pieces wihich seem stolen from the wardrobe of mom and dad, but that are interpreted with the irreverence of an active little girl in the disjointed combination of colors and fabrics or in the mix of male, female and infantile accents.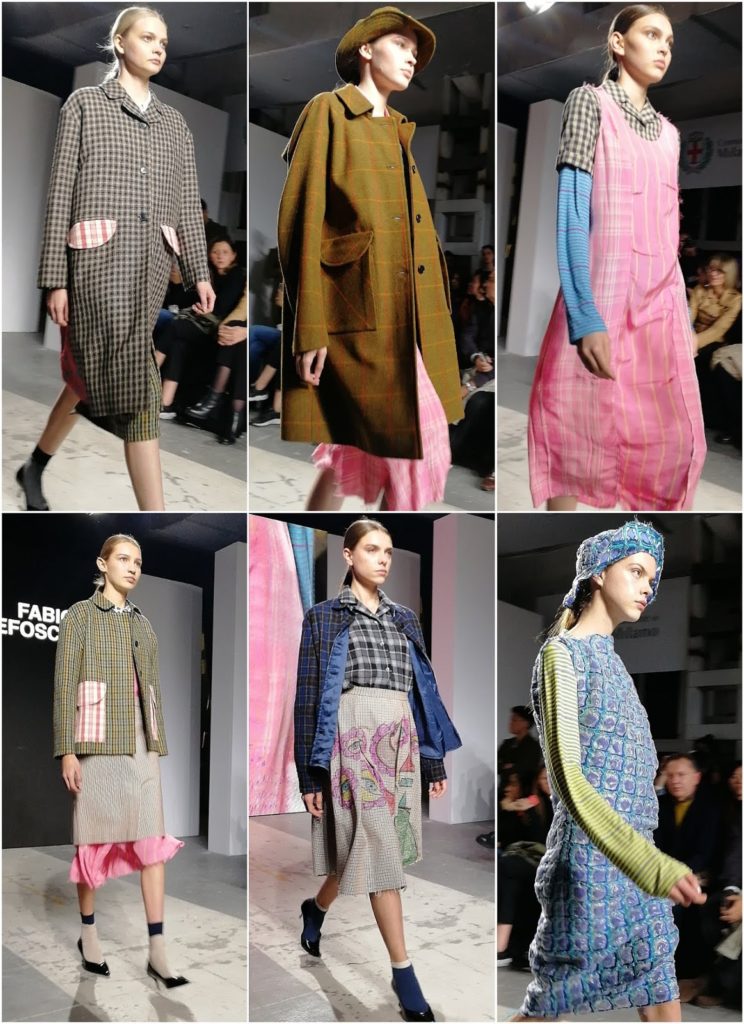 Fabio Refosco
Alessandro Marchetto gives a touch of irony and eccentricity to the contemporary male wardrobe, mixing roosters and chikens printed on cotton, different size of stripes and jacquard knitwear with an unusual miscellany of colors.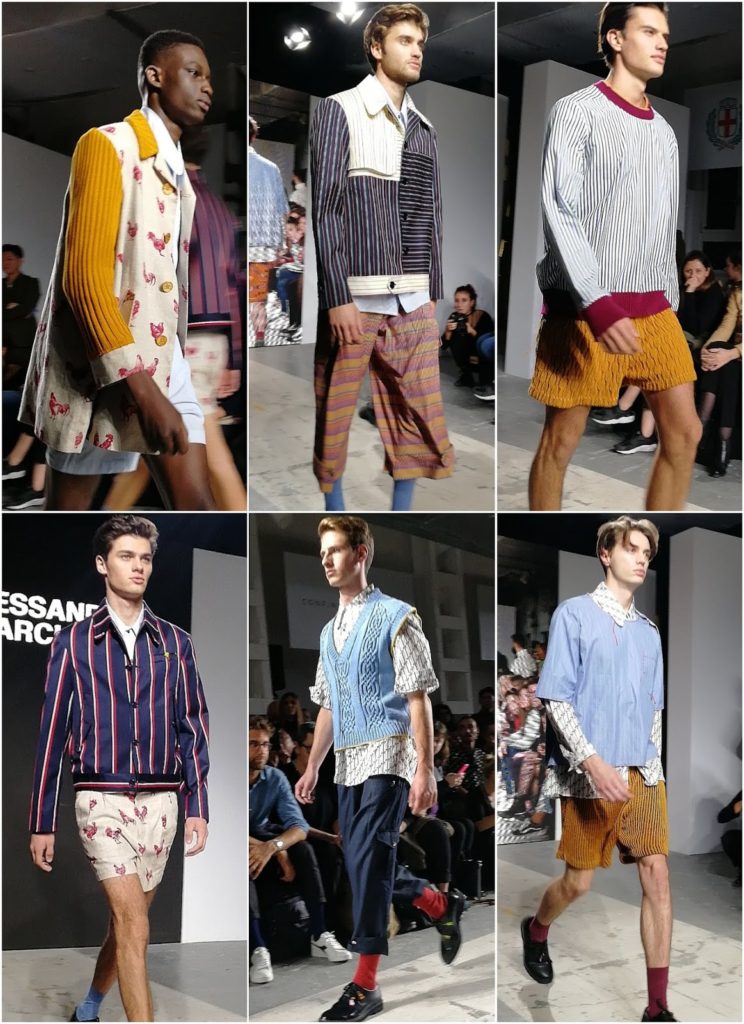 Alessio Marchetto
For her very captivating womenswear collection Martina Trezzi played with contrasts, interweaving ribbons and stripes of fabric to create vibrant zig-zag textures, embroidering small crosses on raw linen, overlapping lenghts and colors, underlining the final effect with contrasting pouches.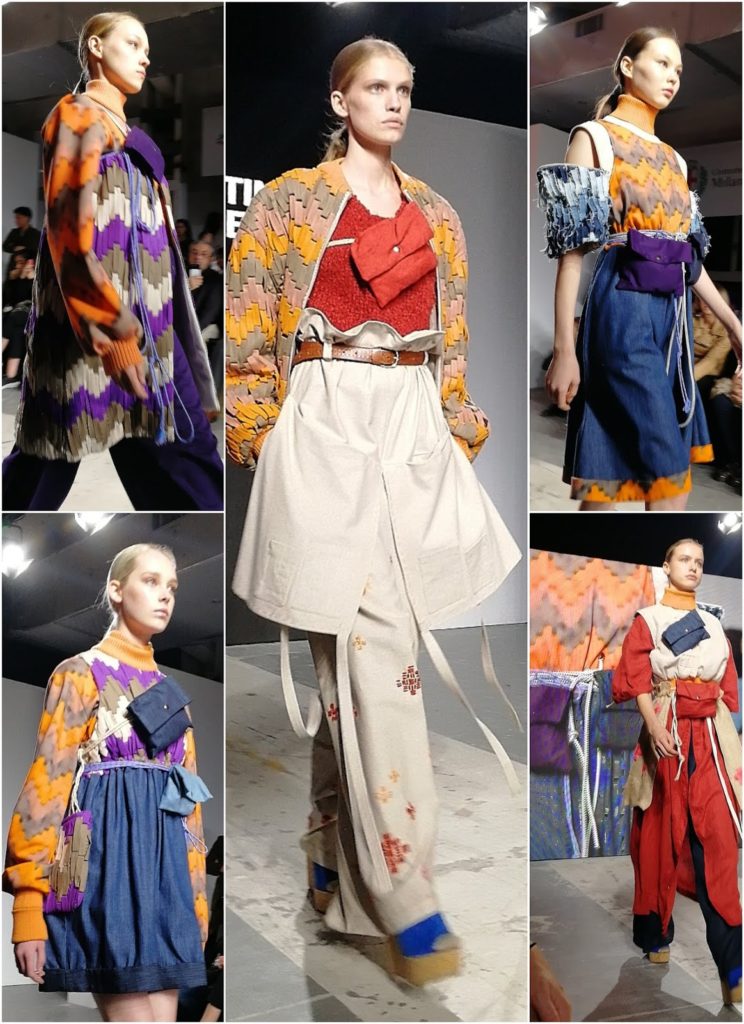 Martina Trezzi
In her menswear collection Bianca Beltramello brings back to life an ideal aristocratic man, an eccentric new dandy who takes inspiration from the past mixing suggestions from different periods. Like in the "wunderkammer" we can find prints of lover's eye, rarities under glass, batik and precious silks, the whole thing recalling the exaggeration of the Eighties.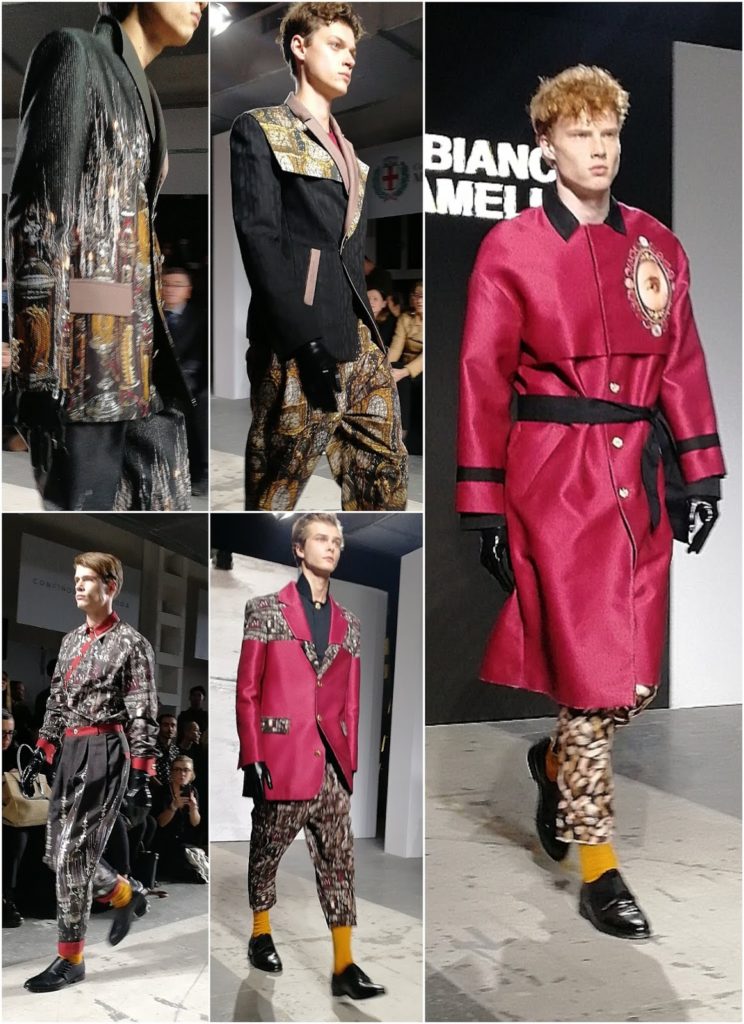 Bianca Beltramello
Tennis and Queen Victoria. Maybe because this sport was officially invented in 1874 of because it's always heritage of a certain elitarian "applomb", these two worlds were associated by Giulia Zenucchi in a leisure-chic collection through fluent Victorian blouses and skirts combined with bomebr jackets softened by frills and roses.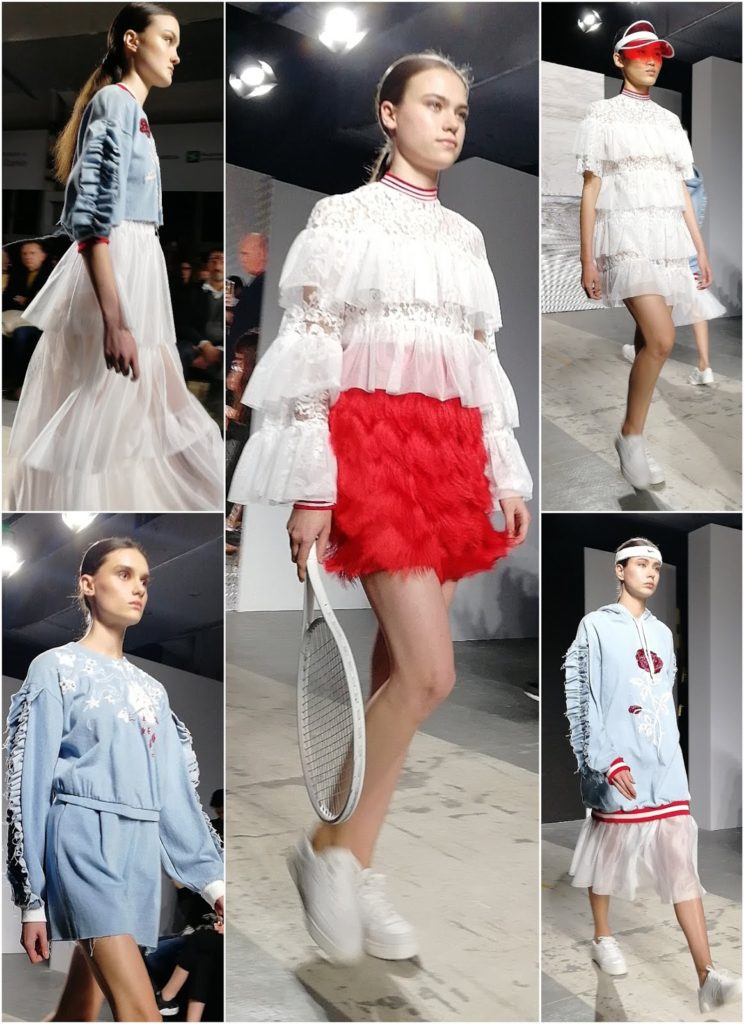 Giulia Zenucchi
Fabio D'Agostino dusts off the original smoking jackets made in tartan and wool giving them a new freshness thanks to eclectic combinations with the digital jacquard patterns of sweaters and the patchwork denim.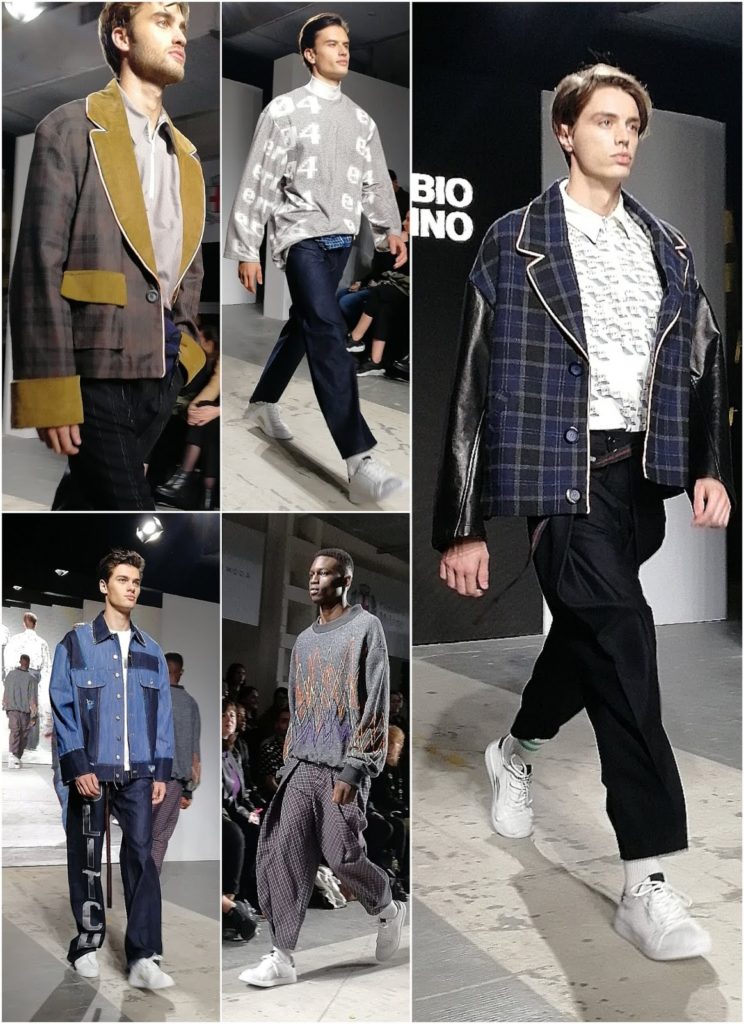 Fabio D'Agostino
If perfection is in detail, Anzhelika Zodina was able to give a great personality and strenght to a collection which mixes the modernity of sporty lines to the hyper-decorativism and the structure of more elegant dresses and jackets. Very beautiful were the prints, decidedly wonderful the ultra-bright shade of blue chosen to emphasize and underline the outfits.
Anzhelika Zodina
ISTITUTO MARANGONI SHANGHAI
East and West history find the perfect conjunction in the incredibly rich collection designed by Yvonne Li Wenjing, who mixed the pomps of Rococo aristocracy to the blue lack of Chinese art, applying embroidered flowers on vinyl jackets, assembling gold and bronze sequins with frayed ruffles and pearlized accessories.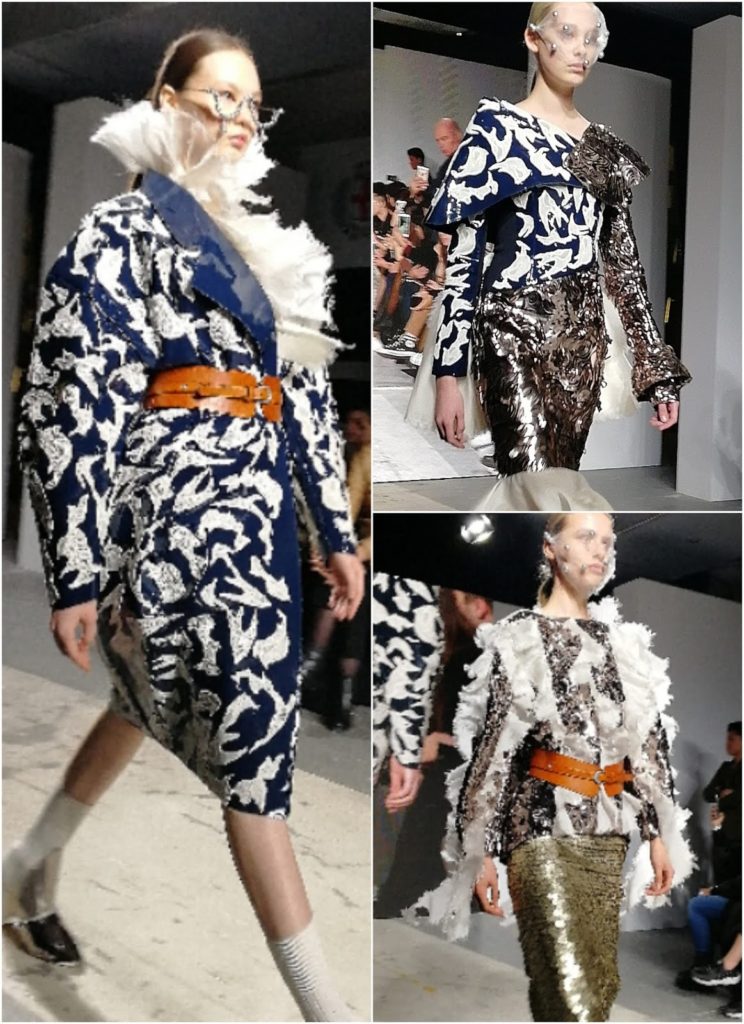 Yvonne Li Wenjing
For the informal male collection designed by Zili Ding, signalling tapes crossing in a game of contrast color-block surfaces, recall the eye-catching uniforms of soccer players or the safety jackets of some rescue workers.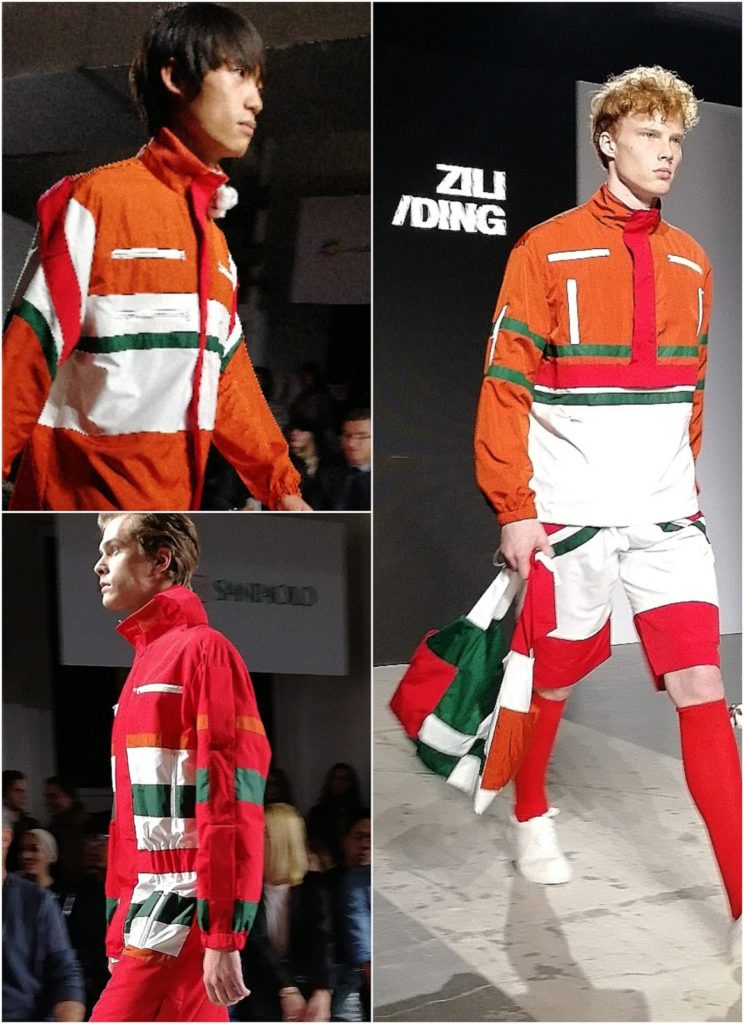 Zili Ding
The most classic dresses of the Chinese tradition asnd Japanese art are reinterpreted by Lucia Wang Ziqi through the geometrical cuts of silk fabrics, obi belts and bright contrasting colors that look to contemporay times.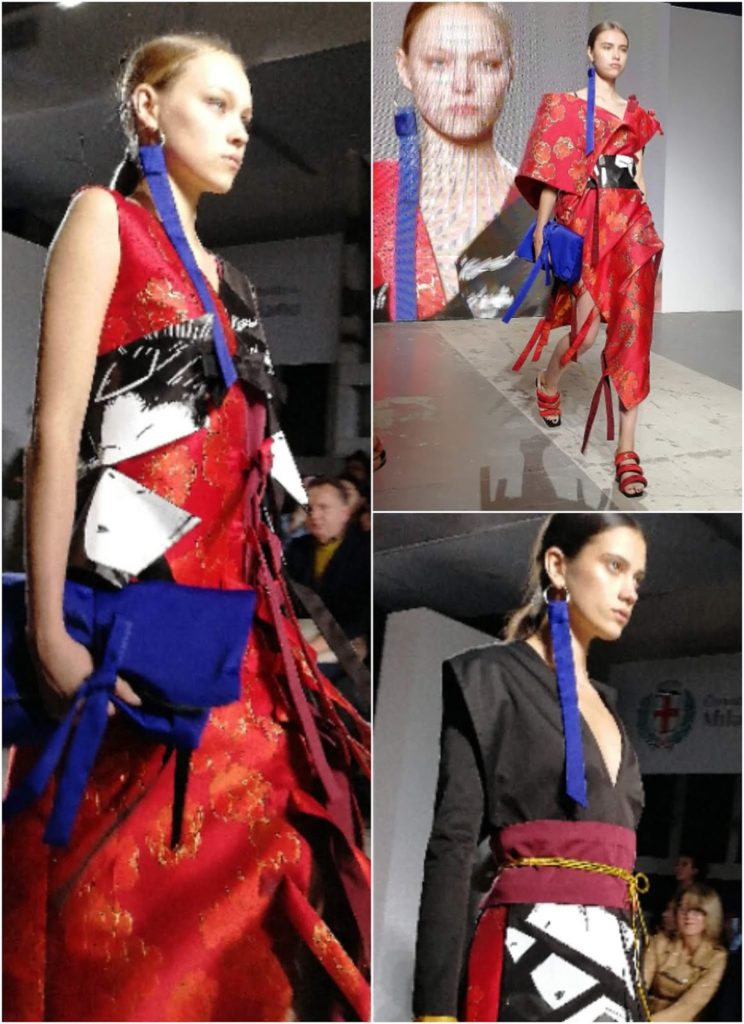 Lucia Wang Ziqi
The crinkle textures of silk fabrics seem immobilized by the power of an invisible wind that flows between the mountains in a picturesque country somewhere in China. Cecilia Xie Sisi reviews the steps of her ancestors giving a decisive touch of modernity to the peasant-style traditional clothes of her native country.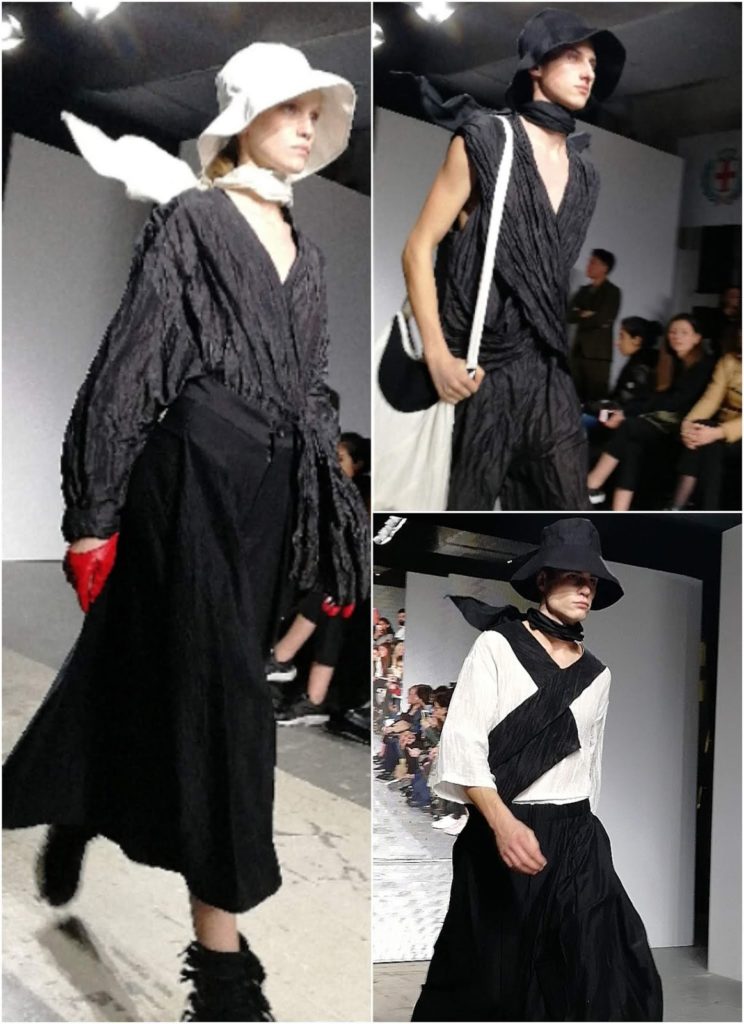 Cecilia Xie Sisi
Michelle Wu Yichun was fascinated by the perverse protagonist odf Stanley Kubrick's "Clockwork Orange", deciding to create a menswear collection simple in the shapes, but original and ironic for the prints and the cropped proportions.
Michelle Wu Yichun
Flora Wu Ye chosen the shades of green and some touches of lemon yellow to underline the asimmetry of her very feminine creations through intersecting stripes to give dynamism to the straight silhouettes.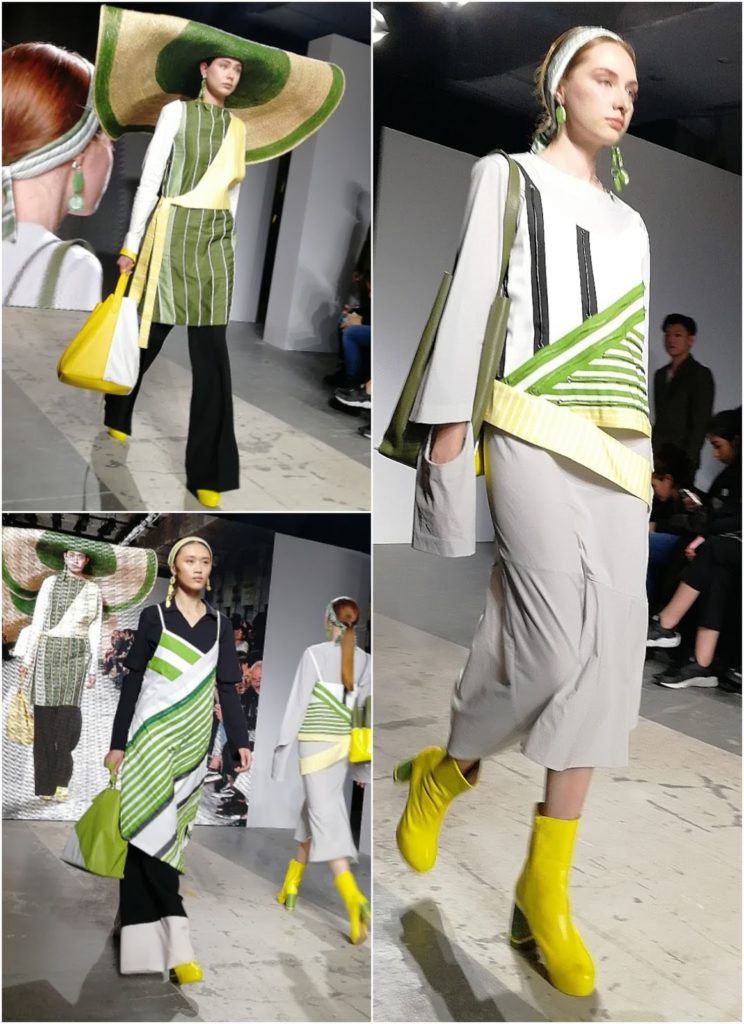 Flora Wu Ye
Gabriel Liu Jie recalled the late 90s streetstyle with a menswear capsule collection really contemporary, made of oversize and asymmetrical sweatshirts, fake dreadlock hairstyles and flashy tapes that emphasize the movement.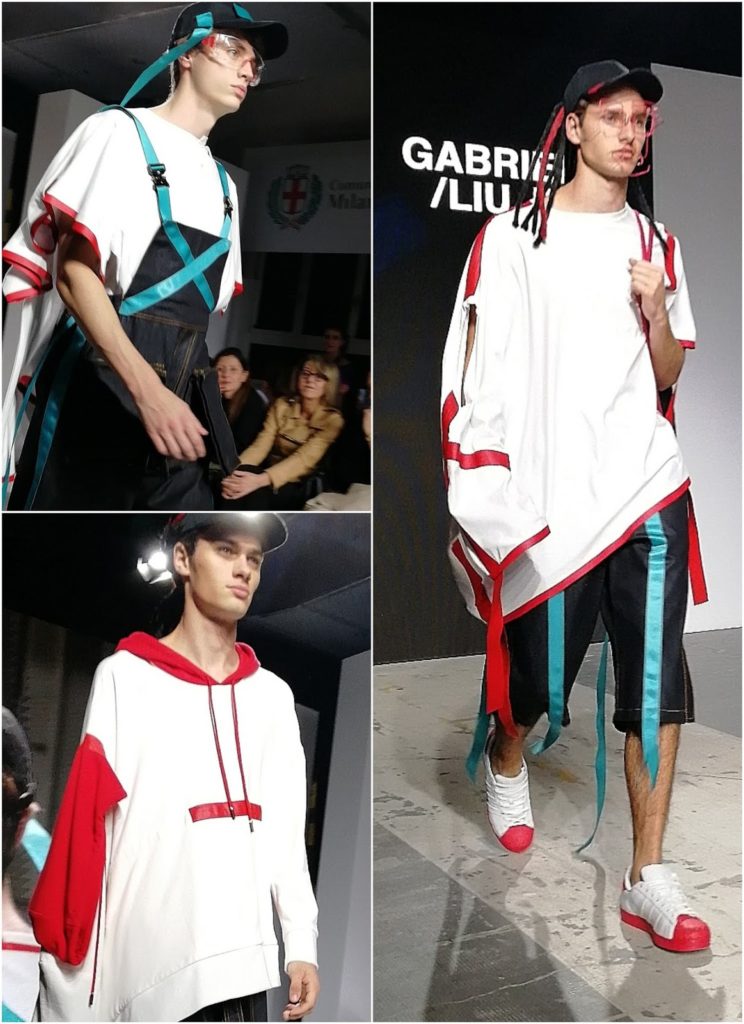 Gabriel Liu Jie
Solitary and mystic traveller, the man proposed by Yijing Chen requires confortable lines and a great dose of spirituality that seemed lost in our frenetic world. Orange, used to liven up the natural color palette, has also a symbolic meaning of ascethism and purification.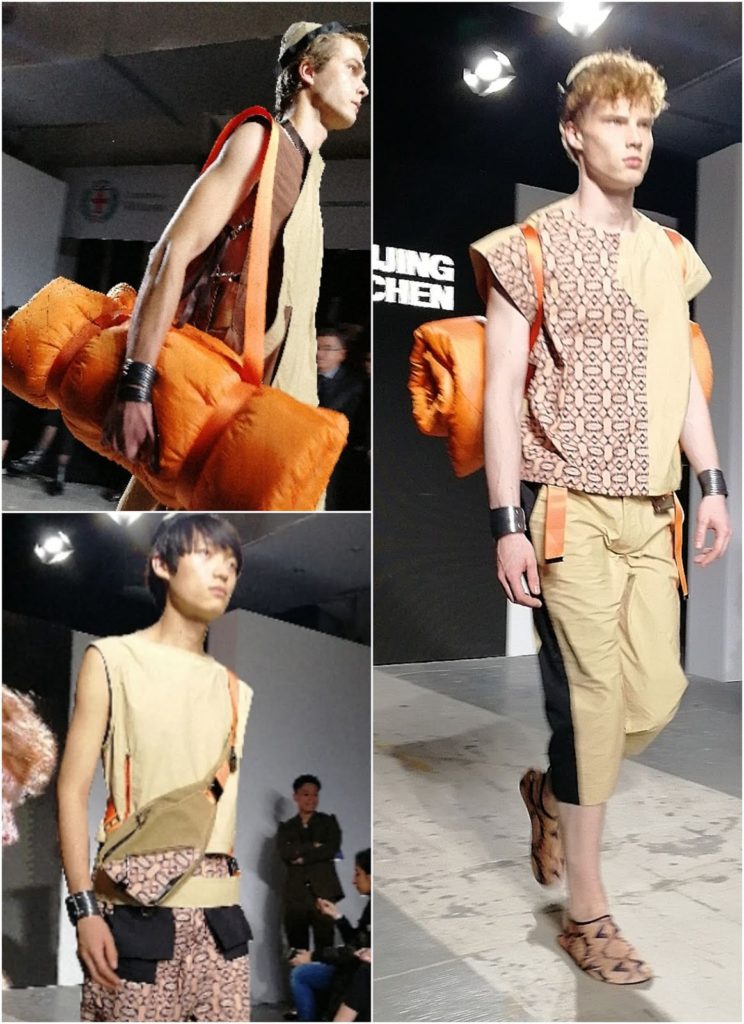 Yijing Chen
Season Zhao Bobo drawn like a child nice pictures of airplanes on cotton and used the safety belts as decorative tapes on oversize coveralls of airport workers, recalling the giant proportions of the Eighties.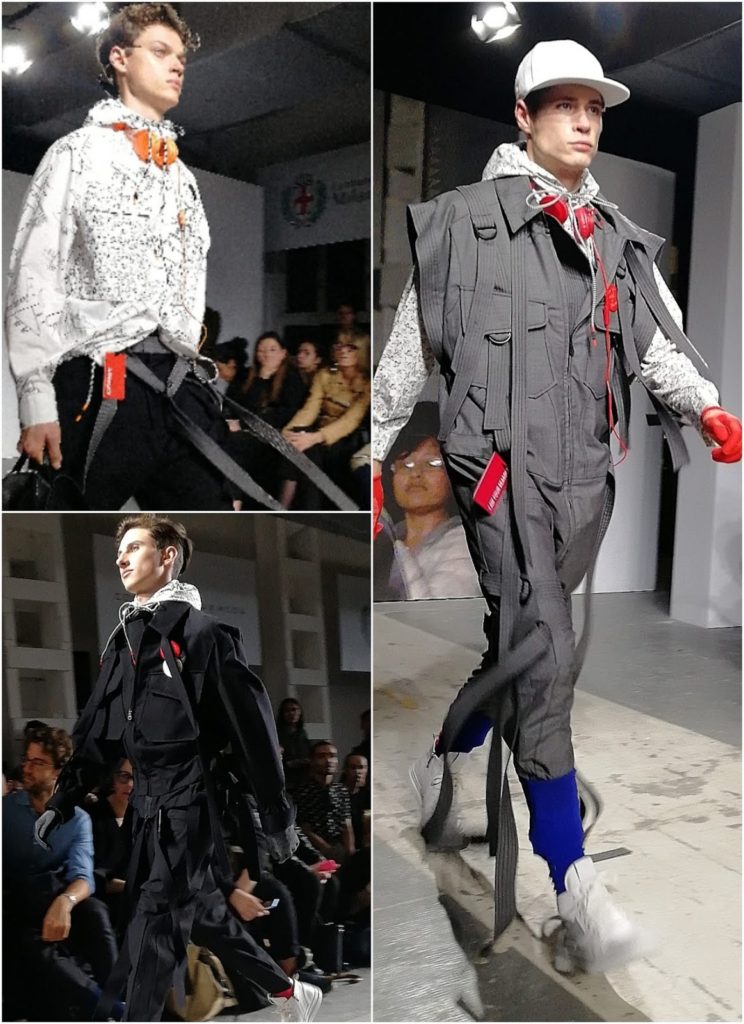 Season Zhao Bobo
Sophie Wang Suiyuan mixed cultures and visual elements like the optical effect of interwined satin ribbons, the traditional oriental patterns, the oversize sleeves of western 19th century and the contemporaneousness of sporty style.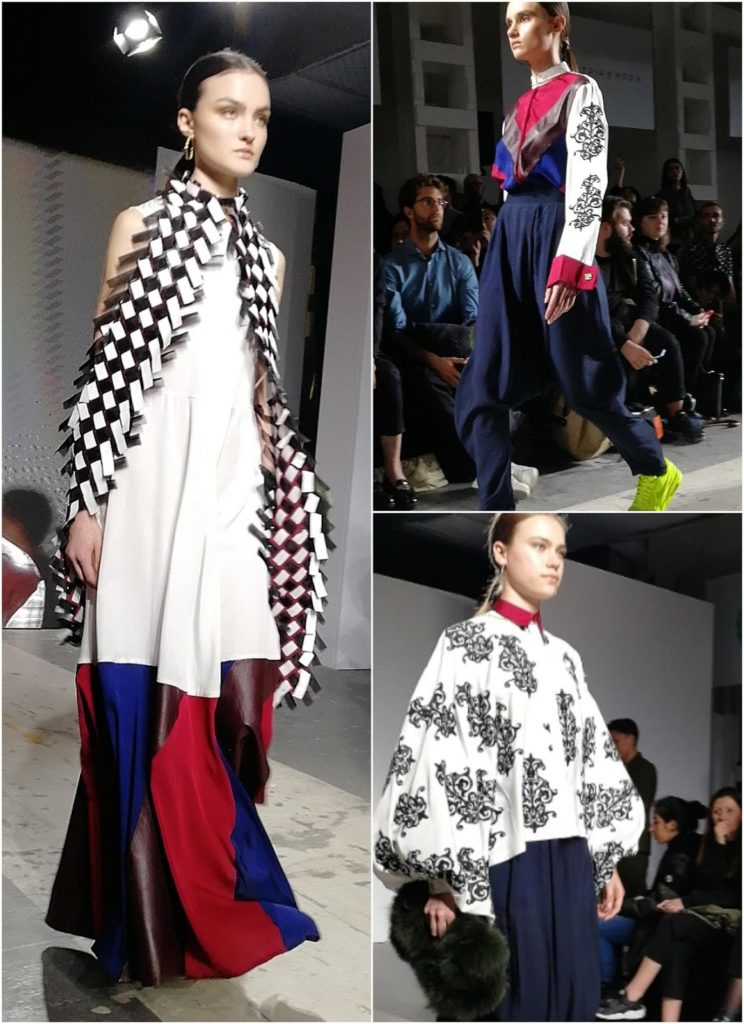 Sophie Wang Suiyuan
Tuvia Xiao Wenjia designed a genderless collection in search of spirituality, bringing on catwalk ascetic men and women like sciamans or Greek philosophers, with ritual object, long draped tunics and peplos, made more glamour by the delicate embroideries and the slightly shine fabrics.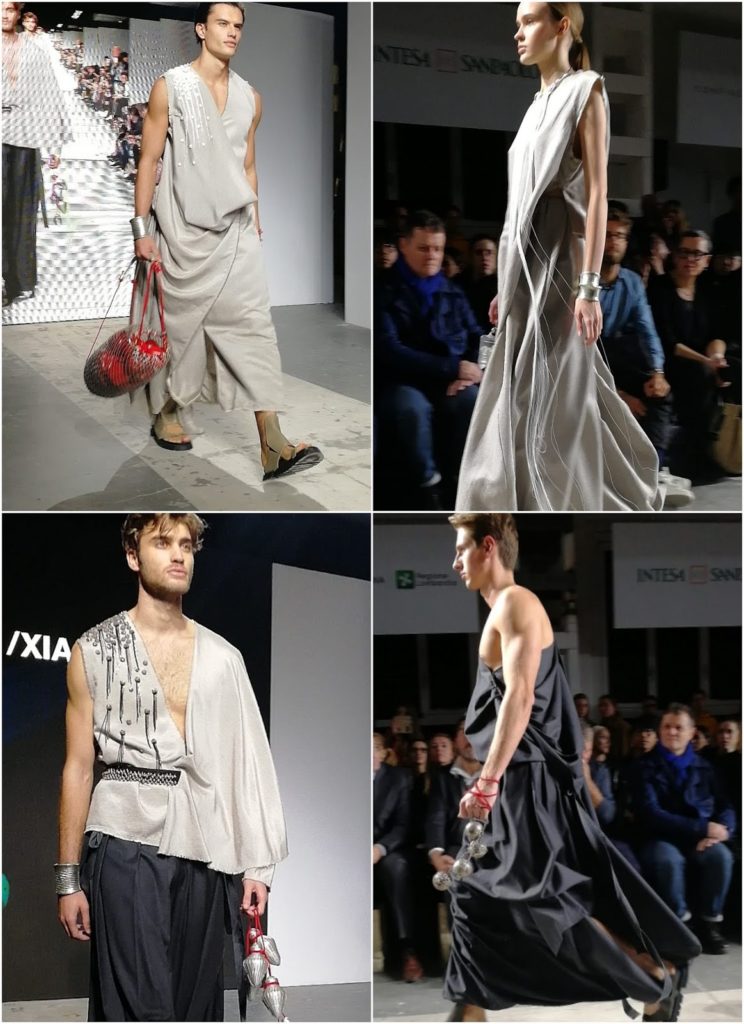 Tuvia Xiao Wenjia
The collection designed by Bella Qi Ziwen plays with the match of black and white, transforming workwear pieces into modern suits for the metropolitan casual man.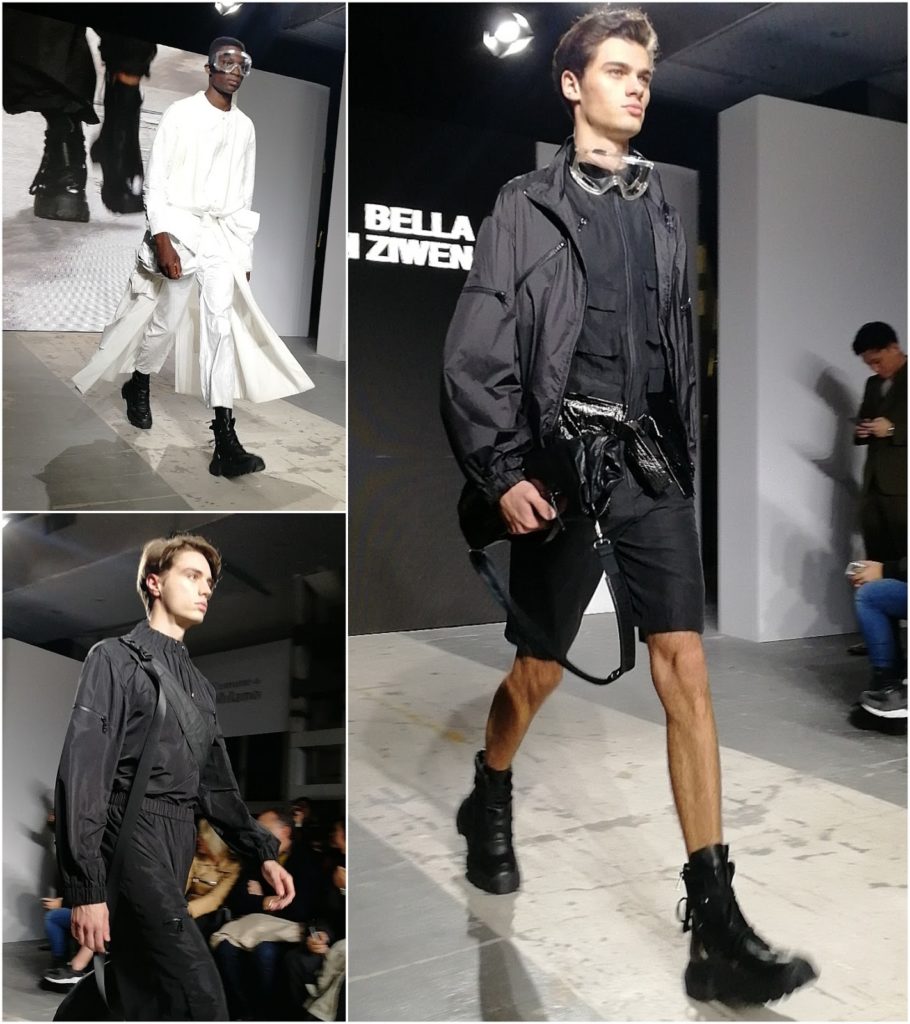 Bella Qi Ziwen
A spoiled aristocratic girl who still plays with plush toys, but who don't want to renounce to the glam of Rococo ruffles and leg of mutton sleeves, is interpreted by Olivia Qi Ruyi with a pinch of eccentricity by the strange prints and the pop colors.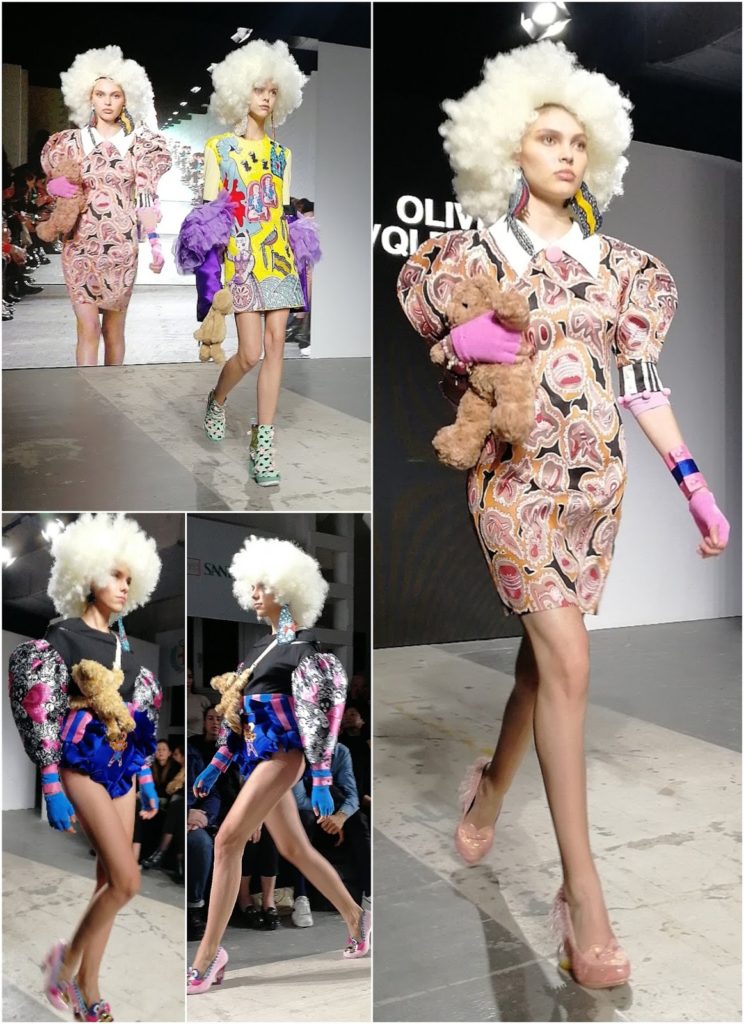 Olivia Qi Ruyi