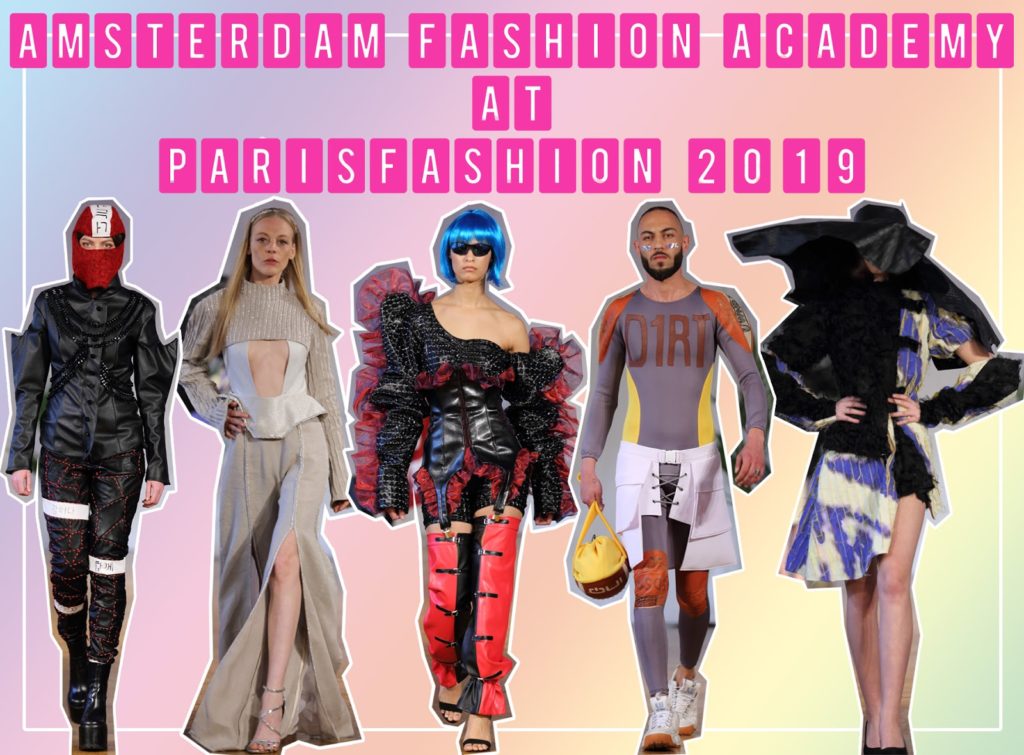 Every young designer dreams to make a fashion show in Paris during the fashion week. The five students of Amsterdam Fashion Academy did it, presenting their graduate collections in the enchanted atmosphere of Le Salon des Miroirs in occasion of ParisFashion 2019.
For the young students of a fashion school there's nothing more exciting than presenting their final collections as concrete result of their dreams, end point of a long path of hard work. That is what happened to five students of the final year of the Fashion with Textiles Design (Hons) BA course by Amsterdam Fashion Academy, who presented their graduate collection last 5th March during the fashion week in Paris. 
The great occasion for them was ParisFashion 2019, a special event organized by Mystyle-Event in the prestigious set of Le Salon des Miroirs, nearby Montmartre Boulevard, in the exclusive context of one of the most beautiful part of the capital of fashion. Together with other emerging brands coming from all over Europe, the school's students had the opportunity to demonstrate all their talent in a collective fashion show, finally being under the spotlight of mass media's interest. Finally, after more than one year of hard work, doubts and results, fear and desire for success, sleepless nights and trembling moments.
"Youth and fashion mixed together always give the best and least unexpected results" Mystyle-Event team, organizers of ParisFahion 2019
The five students, all girls, arrived at this event at the end of the educational path developed by Amsterdam Fashion Academy, a 3-years University-awarded bachelor degree program whose strong point is an experimental and cool apporach to fashion design, focused on conceptual and trend research, theoretical and practical skills.
The 21-years-old designer Myrthe Van Der Leden, from The Netherlands, was inspired for her graduate collection by the totalitarism of North Korea's dictatorship contrasting to the modern language of the South Korea, embodied by the music video of the rapper G-Dragon. The result is a dominating contrast of white, red and black, which give rhythm to the 3 bold outfits featuring eccentric details, like the hanging chains, showy top stitches on patchwork-effect leather pieces and unusual shapes on sleeves and accessories.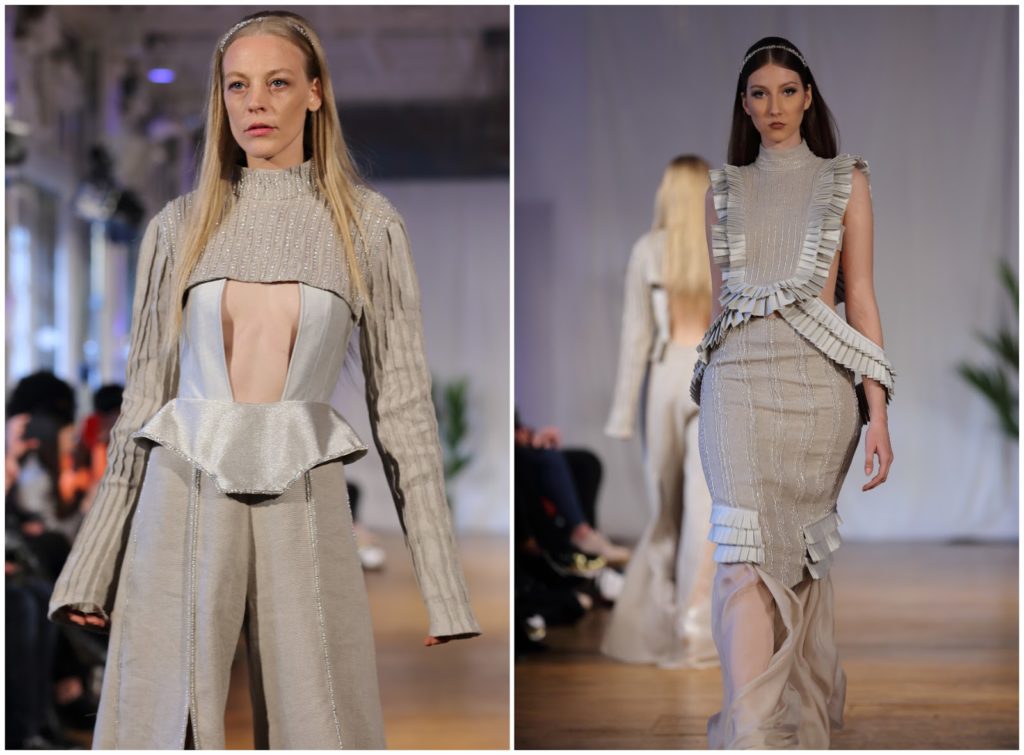 Evelina Anglickaite, student of Amesterdam Fashion Academy, at ParisFashion 2019
The Lithuanian designer Evelina Anglickaite, 21-years-old, found a balanced point between the Western and Eastern aesthetics, between the great sumptuousness of Rococo court and the extreme simplicity and research of purity of Japanese architecture. She invented two outfits in which the occidental corsets and pleated frills play with unexpected cuts revealing the female bodies and elegant shades of neutral grey, enlighted by the different effect of transparencies and brightness given by fabrics.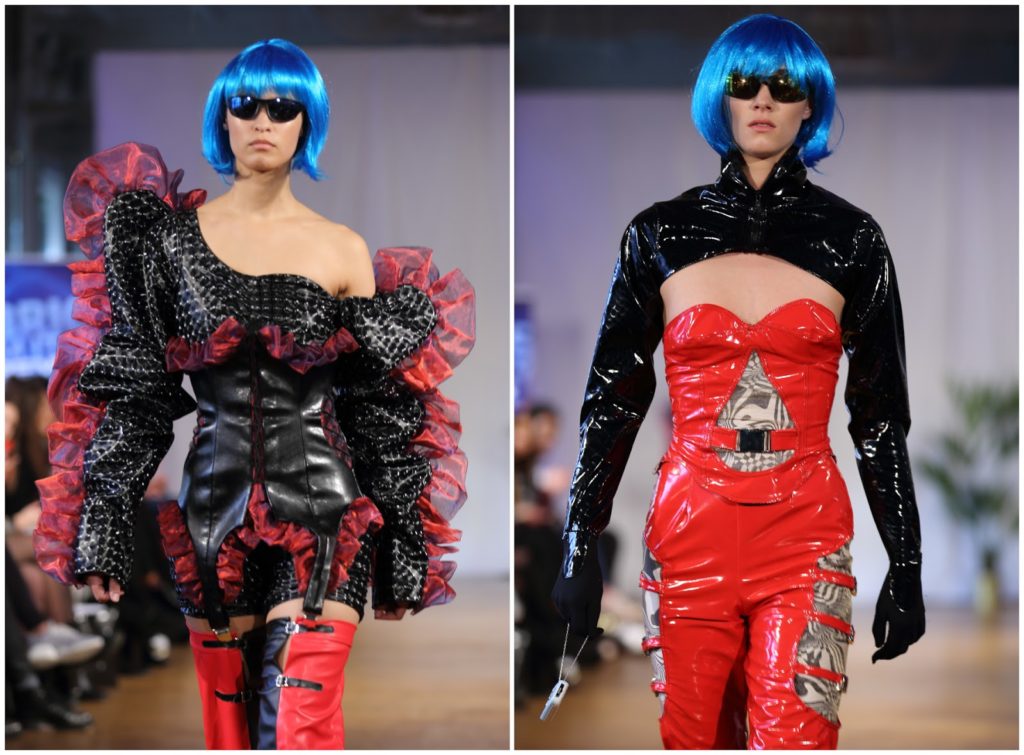 Zara Kanaan, student of Amesterdam Fashion Academy, at ParisFashion 2019
The creative talent of Zara Kanaan, a 22-years-old designer coming from United Kingdom, depicted a futurible present day in which women are strong and bold creatures wearing vinyl and black leather. Self-confident muses of a sexual and personal freedom, who find inspiration from cyber-punk aesthetic in which humans and technologies go hand-in-hand. So the 80s-style giant sleeves are decorated by studs and organdie frills, the skin is covered by tribal tattoos just appearing from the cuts on vinyl jumpsuit and the model's legs have sadomasochistic leather coverages.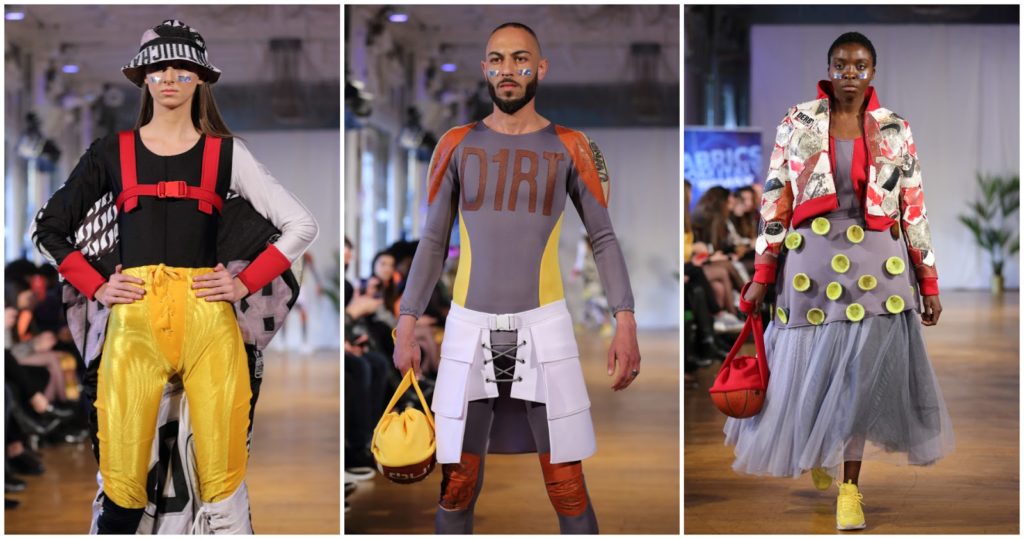 Isabelle Wildenburg, student of Amesterdam Fashion Academy, at ParisFashion 2019
Isabelle Wildenburg, a 21-years-old girl from The Netherlands, thought about future in a sustainable way, creating a very interesting sporty collection that expressed a strong protesting message against the pollution of our planet, too often carried on by fashion industry. She created 3 outfits clearly inspired by the most famous sport activities, but using their visual and iconic elements, like color-block effects, clothes' shapes like the wingsuit and technical fabrics in a completely new way. The central point of the collection are the tennis, soccer and basket balls, that become embroidered applications, patchwork effects and even beautiful bags.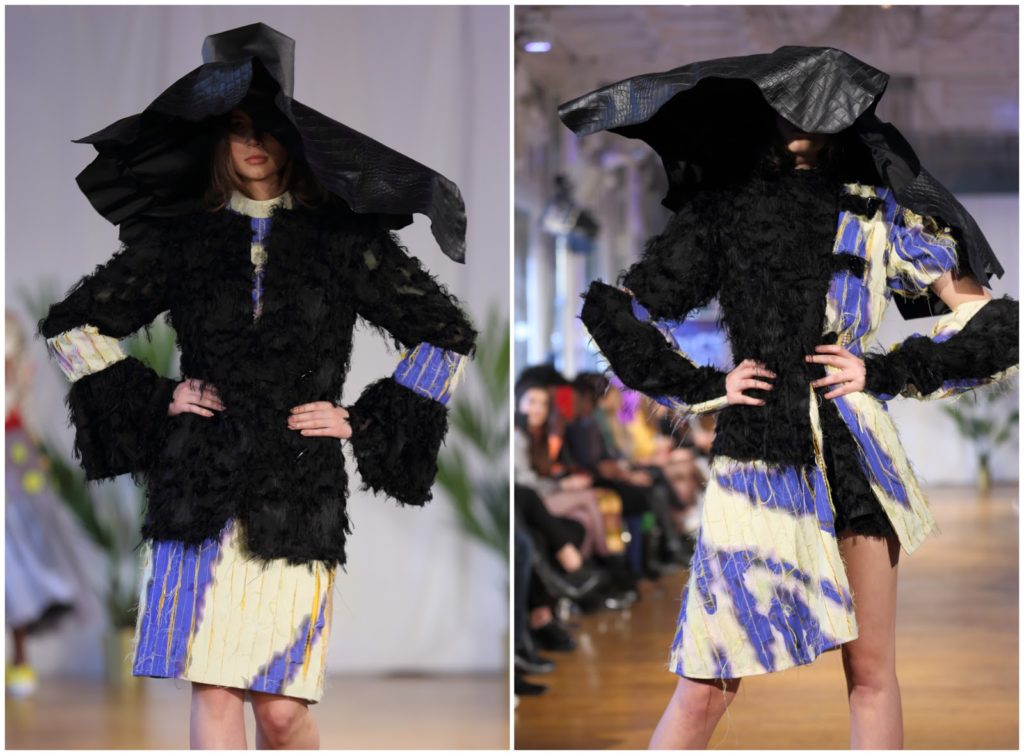 Joanna Grice, student of Amesterdam Fashion Academy, at ParisFashion 2019
From United Kingdom comes Joanna Grice, 21-years old, who presented 2 outfits inspired by the Issey Miyake's Zero Waste movement, but interpreted in a very dramatic and strong way. Sustainability is the core of her final project and the designer tried to create her personal vision of fashion and future using waisted fabrics, reinvented through a beautiful work of manipulation that give life to impressive fur-effect textures and making natural dyes without wasting water, for having a low impact on environment.