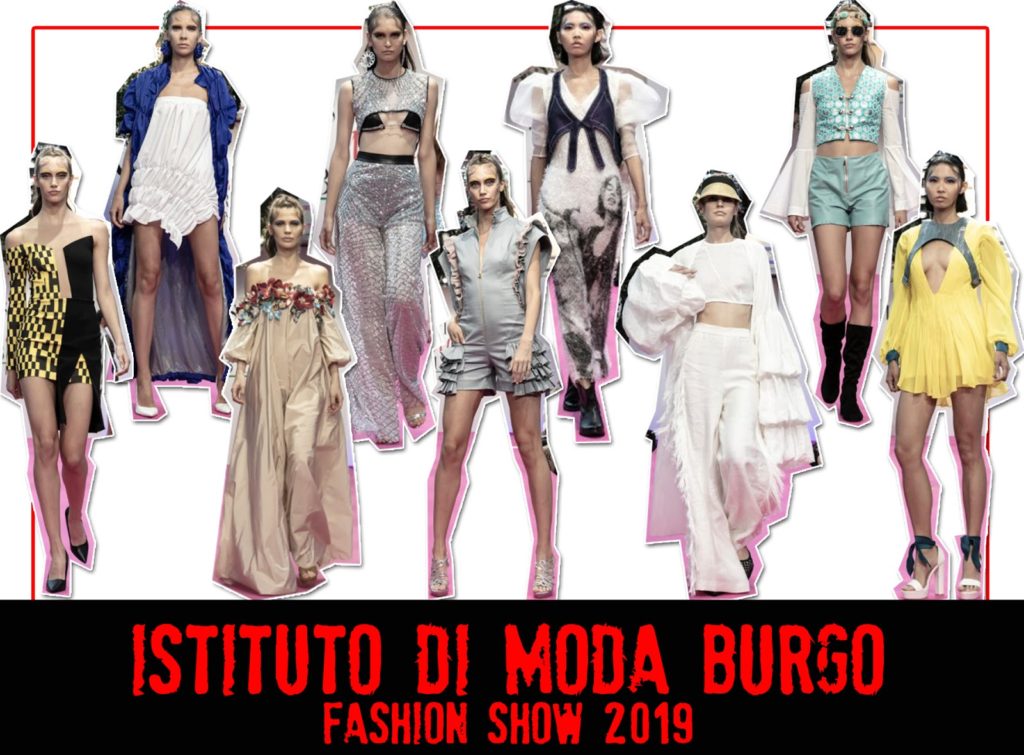 In the 50th anniversary of the great concert of Woodstock, the students of Istituto di Moda Burgo, coming from all over the world, for their 2019 graduate fashion show take inspiration from the fabulous 70s, from the freedom of hippie style to the flashy Glam Rock, winking also to the Coachella's boho-chic fashion icons.
There's a desire for freedom in the air. So the young students of ISTITUTO DI MODA BURGO captured the spirit of rebellion against any constrictions typical of the Seventies and transformed it into a sophisticated mood, creating a very multi-faceted fashion show able to bring us back in the past and at the same time by staying well-anchored to modernity.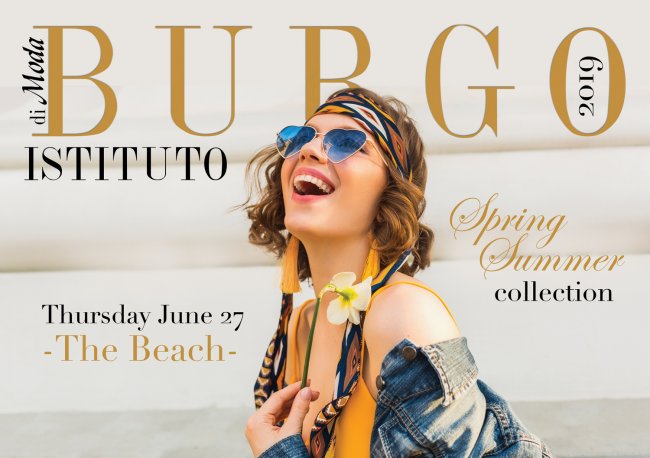 Istituto di Moda Burgo Graduate Fashion Show 2019
The spring/summer graduate collection "That 70's sound" presented by the famous fashion school last 27th June was an hymn to freedom, but also the perfect excuse to bring on catwalk the elegant outfits created by the 31 students of the fashion design and tailoring courses from the various headquarters widespread all over the world. 
So on catwalk we've seen the creations of students from the fashion schools of Italy (Milan, Rome, Lecce, Reggio Calabria, Verona, Ragusa, Pescara and Nuoro), but also from Switzerland, Brazil, Armenia, Qatar, Malaysia and Indonesia.
The 70s, so rich of inspirative sources, were interepreted with three micro trends, through which the students had the possibility to better explain their concepts and develop their creativity: Woodstock Revival, Music Festival and 70s Icons.
Woodstock Revival
50 years are passed from those magic days during which the young generation of rebels and rock musicians gave appointment on the fields of Woodstock, drastically changing forever the destiny of music, fashion and society. More than a concert, it was a real phenomenon, that the IMB's students celebrates interpreting the rebellion of those young people with a pinch of sophistication.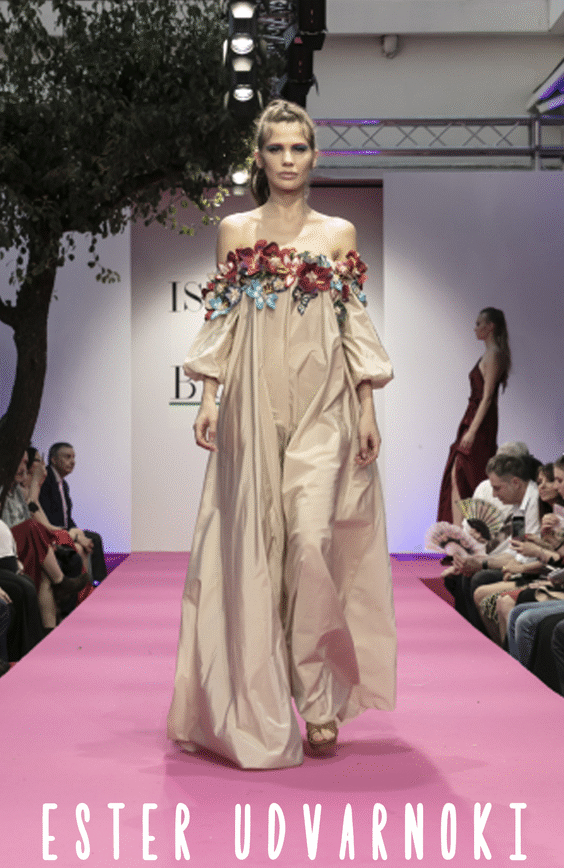 Istituto di Moda Burgo Graduate Fashion Show 2019
So the flowers, symbols of hippie movement, become decorations for the nude color evening dress by Ester Udvarnoki, while Francesca Sironi prefers the rock style of a printed t-shirt. Lelwalage Samadhi creates a capsule collection mixing floral and graphic prints with silk satin, denim and PVC, flounces and fringes. 
Marina Lysiuk chooses the romantic side of hippie style, playing with lace and frills to build volumetric shapes. Stefania Ripamonti transforms every hippie iconic element into a very contemporary capsule collection, mixing prints of Woodstock people, bell-bottom trousers, eyelet lace and silver sequins.
Music Festival
Starting from Woodstock, in the years many important music festivals were organized worldwide. One of them, and probably the most important in terms of style, is surely the Coachella Valley Music & Arts Festival, born in 1999, that every June gather the most important music bands and singers, but especially the trendiest fashion icons and influencers, so much that we can speak about a real Coachella Style.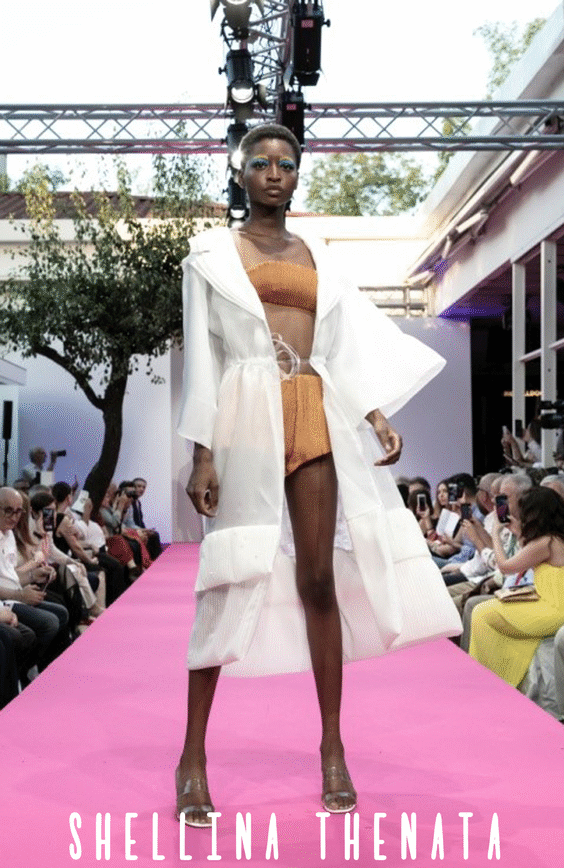 Istituto di Moda Burgo Graduate Fashion Show 2019
Taking inspiration from this kind of events, Andrea De Ciantis creates a glamour color-block jacket matched to a eyelet lace miniskirt, Carla Camelo mixes the trumpet sleeves to the typical 70s prints and floral headbands, Giulia De Chigi fills with flowers a sexy trikini and a cover-ups and Martina Zaghini plays with the asymmetries of the trousers giving an ethnic touch to her outift. 
The capsule collection by Erica Navone alternates rusty colors to white and plays with pleats and big belt bags, Sabrina Bearzotti builds her very interesting collection using shaped details, soft drapes and a sophisticated color combination of canary yellow, white and stone grey, while Shellina Thenata chooses white semi-transparent fabrics matched to rusty orange pleats.
70s Icons
How much are the beautiful fashion icons of the Seventies? And how many current celebrities are often inspired by the glamourous style of that period? From Cher to Mick and Bianca Jagger, to the modern icons like Alexa Chung, their elegance is easily recognizable and becomes source of inspiration for the IMB's students.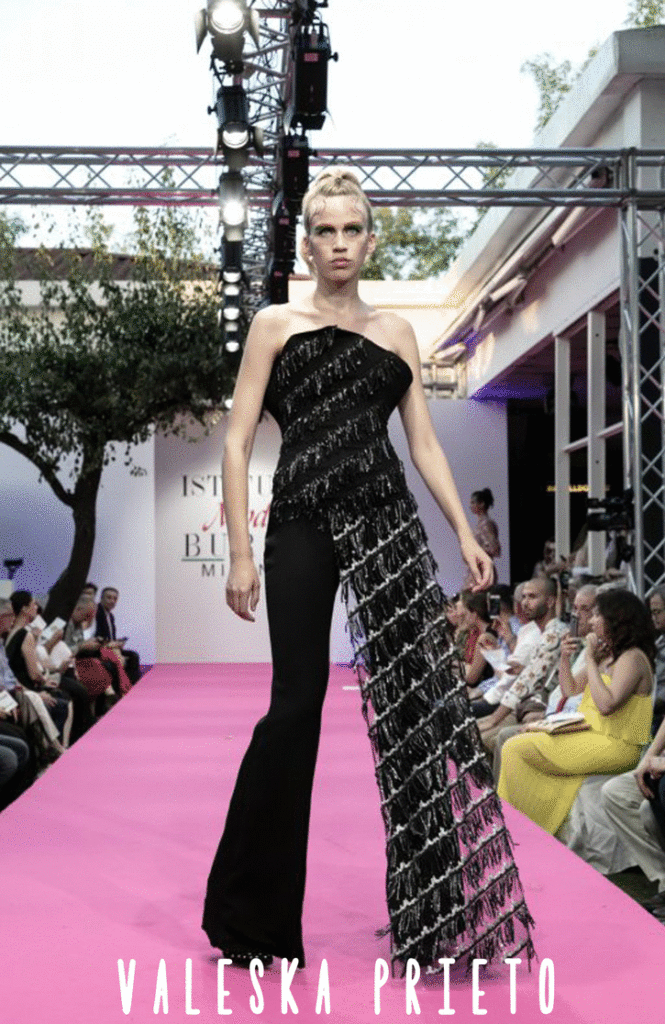 Istituto di Moda Burgo Graduate Fashion Show 2019
On catwalk we've seen the sophisticated lady wearing soft silks imagined by Annabel Okwilague, the sensuality of the jumpsuit designed by Bessy, the glam of the draped satin evening gown by Siti Sulistyani. The ethernal elegance of black was chosen by Giulia Solaro for her evening corset-dress in tulle and lace, but also for the asymmetrical evening suit by Francesca Hanny or the sparkling and sensual jumpsuit created by Valeska Prieto. 
For a shining night style there are also the creations by Leila Azhdarpoor, who's inspired by Glam-Rock and brings on catwalk precious armours and sexy contrasts. Black becomes really modern with the bomber jacket and the asymmetrical skirt designed by Federica Ghilardi.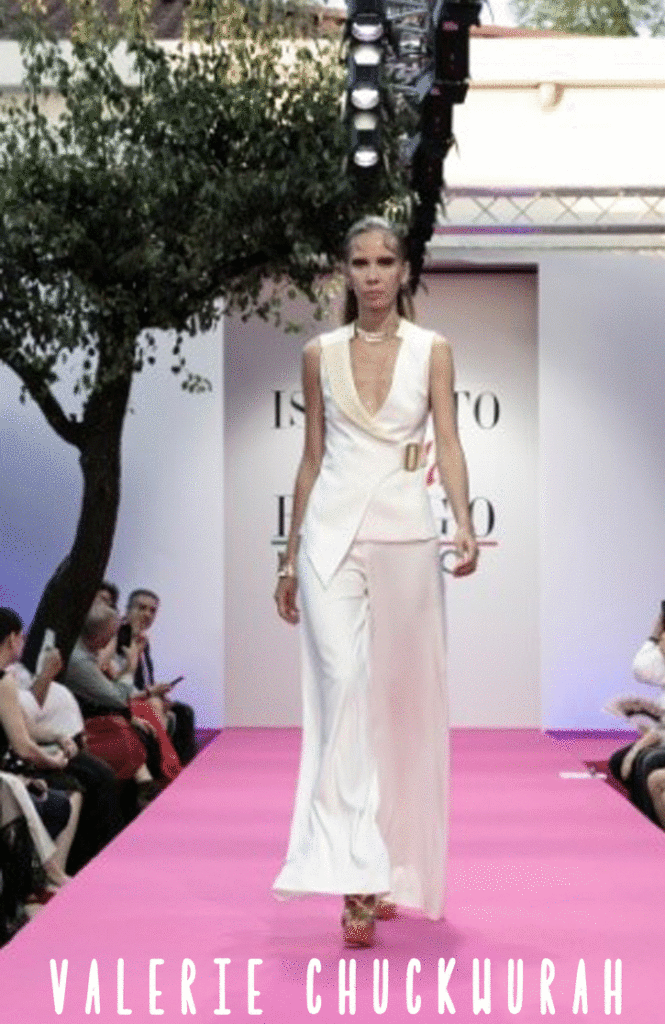 Istituto di Moda Burgo Graduate Fashion Show 2019
On the opposite side of chromatic wheel, we find a lot of white. Samira Samantha uses it for a classic suit with three-dimensional details, Naomie Esiema Enetomhe creates romantic and bucolic outfits and Sofia Marchetti gives life to very modern capsule collection in total-white playing with puffed or enlongated sleeves and oversize proportions. For an elegant effect white is mixed to golden touches for the embroidered outfits by Feliciana Then, and the asymmetric creations by Valerie Chuckwurah.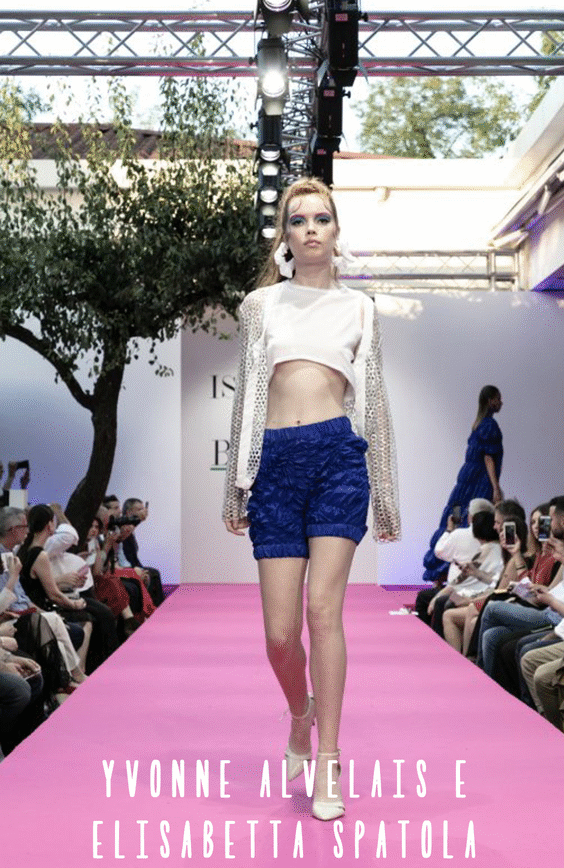 Istituto di Moda Burgo Graduate Fashion Show 2019
Cristiana De Pietro mixes black and white in an elegant capsule collection that mixes the luxury of Haute Couture to the instances of Seventies style. As well as for Leoncio Portia Red,  who combines a sporty corset to elegant frills. White plus bright colors are the choices made by the design duo formed by Yvonne Alvelais and Elisabetta Spatola, who creates a very bold capsule collections playing with draped and ruched fabrics. 
Very romantic is the nude pink mini dress in silk chiffon presented by Maria Melisa, while Vaerell Budiman prefers to opt for a shaded print on chiffon. A twist of vitality is given by the beautiful capsule collection created by Marcella Caiazzo, who mixes graffiti prints to traditional fabrics and unexpected cuts.