"Please Feed Fat People" is the title of his graduate collection showcased last month at Altaroma, which aroused great interest and long applauses. He is Pietro Migliucci, one of the most talented young designers just graduated at Accademia di Belle Arti Napoli. Here his interview.
Sat in the front row, I was waiting the beginning of the graduate fashion show of ACCADEMIA DI BELLE ARTI DI NAPOLI. I was early and so I decided to use my time taking some notes for the articles about Altaroma. The models walked up and down on the runway for the rehearsal of the fashion show and then a music struck me. "Bella Ciao", an old Italian partisan song.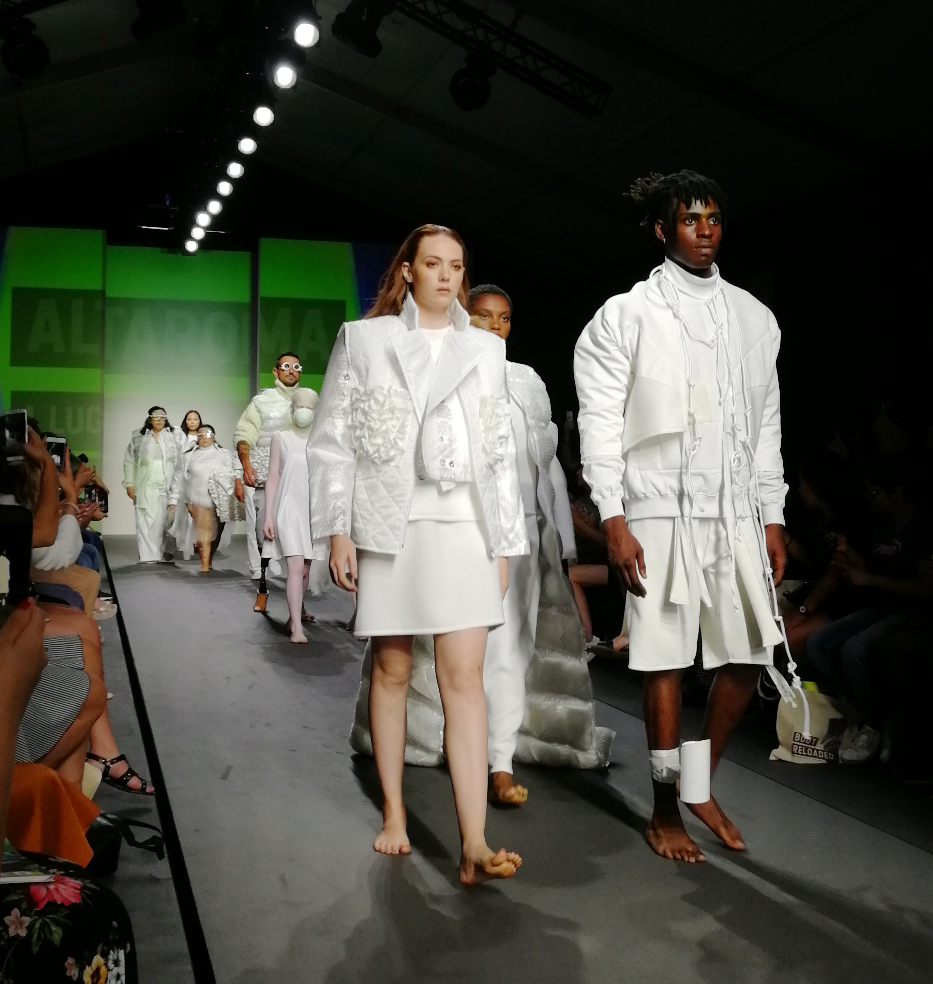 The "gran finale" of the graduate fashion show by Pietro Migliucci with Accademia di Belle Arti Napoli at Altaroma July 2019
With a bit of suspence I waited for the school's fashion show, very interesting actually. Then the music started again. The song chosen by PIETRO MIGLIUCCI as soundtrack for his graduate show. At the rhythm of a remixed "Bella Ciao", I have seen one of the most bold, emotional and beautiful fashion show of the whole Rome Fashion Week.
On catwalk 11 very particular people, who posed a white rose in front of the photographers. White, black, Oriental, young, old, skinny or fat, an hymn to diversity. An image so impactful and strong that, after the show, I immediately decided to contact the creator of this important social and creative message.
Here the interview in which he explained his collection and his vision.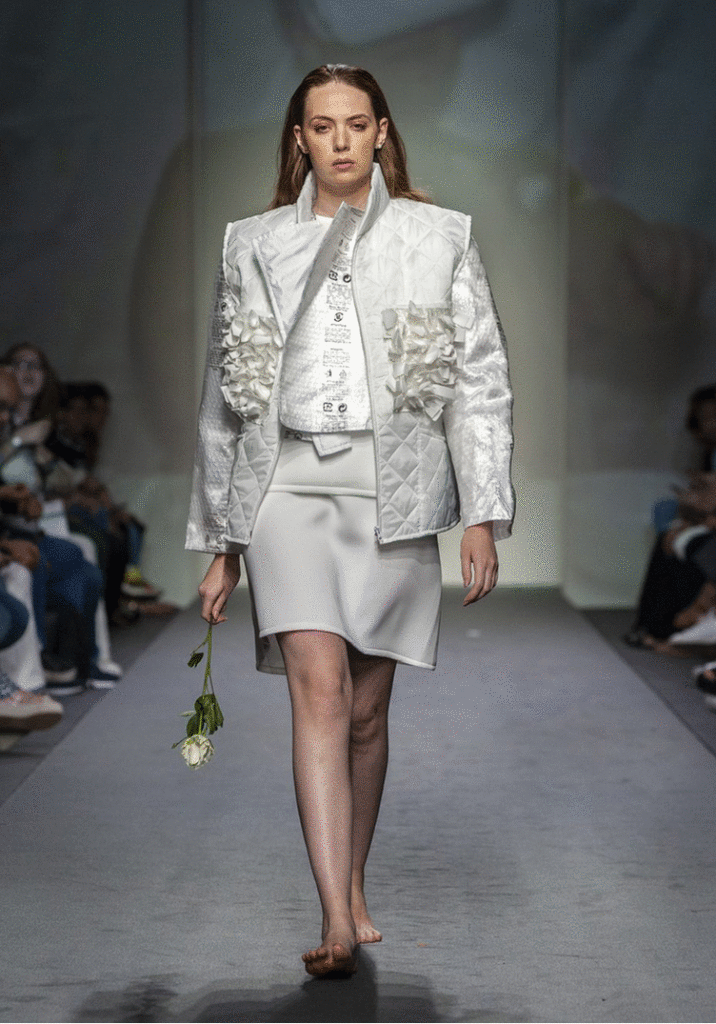 "Please Feed Fat People", graduate fashion show by Pietro Migliucci with Accademia di Belle Arti Napoli at Altaroma July 2019
Your is a very particular collection. How was born the inspirative concept?
It started from a thesis project that I carried on in time. From a study I made about the body, starting from its various parts. Because the body is the fulcrum of everything, in all the many shapes it could have. Before I analyzed the bones, then the skin and now the fat. Today is very difficult to have a relationship with ourselves and the body has become the only way to interact, to trust in ourselves. We're born with this body and through it we must connect, also is often it caused discomfort and we'd like to hidden it.
Is your a criticism of fashion system?
We live in a homologated society and
in reality
the people who can be fashionable are a few. Self-acceptance and to learn to enjoy of our physical nature, of our fat, is the only way to enter in this world.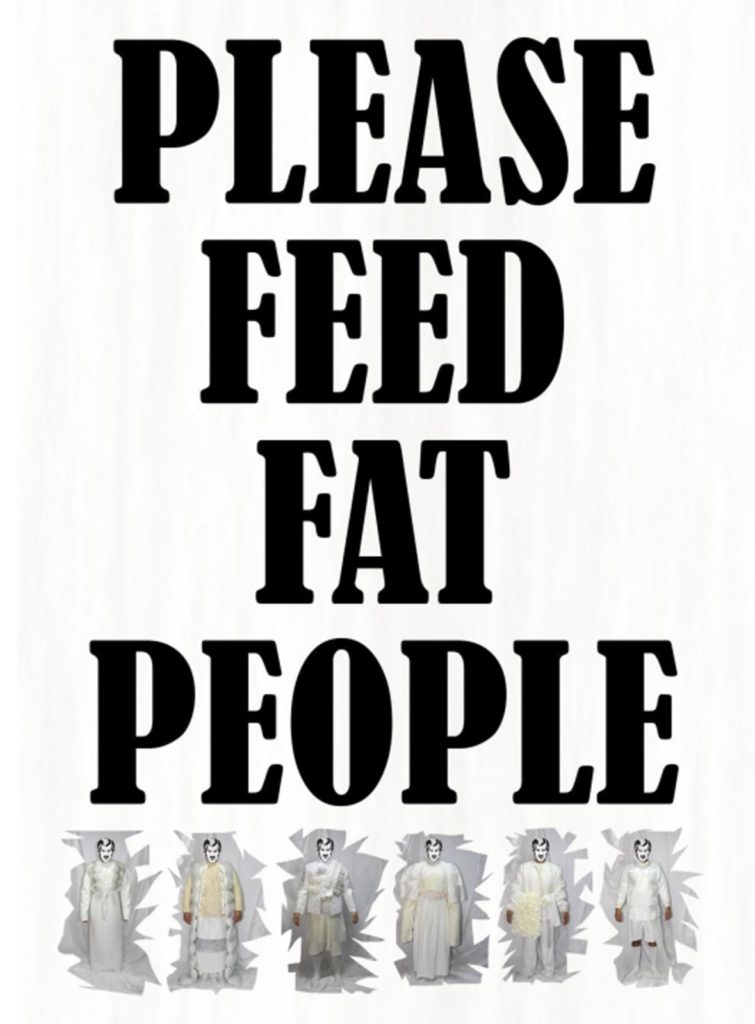 "Please Feed Fat People", thesis project by Pietro Migliucci
The title of your collection is particular too. Can you explain us what means "Please Feed Fat People"?
"Fat" is an acronym. It's referred to the fat in itself, but also to all that kind of people who don't belong to the elite to whom is usually dedicated the fashion product. As acronym it especially means "futuristic and technologic", because technology is fundamental for me and my concept of a new body. "Feed" is intended also as to give food, in the sense that we should give culture and creativity as foods for people. The body is a tool I use to break down the wall of stereotyped aesthetic canons and of the myth of unreachable beauty.
It seems something that goes beyond a fashion collection, of simply creating garments.
I care that mine could be also a cultural operation. Not a real movement, but a kind of cultural platform in which people could feel comfortable and rediscover the beauty of their bodies.
Starting from your collection, would you like to create a cultural and sociological speech to get closer to people? But phisically or virtually?
Both the ways. I use technology to approach to a futurible and technologic world that is very huge and interesting. Phisically I want to get closer to people from a human point of view. In versatile ways. The great thing about a project like this is that you can wander in an incredible way when people trust you and this gives life to a wonderful collaboration. To overcome stereotypes and conventions.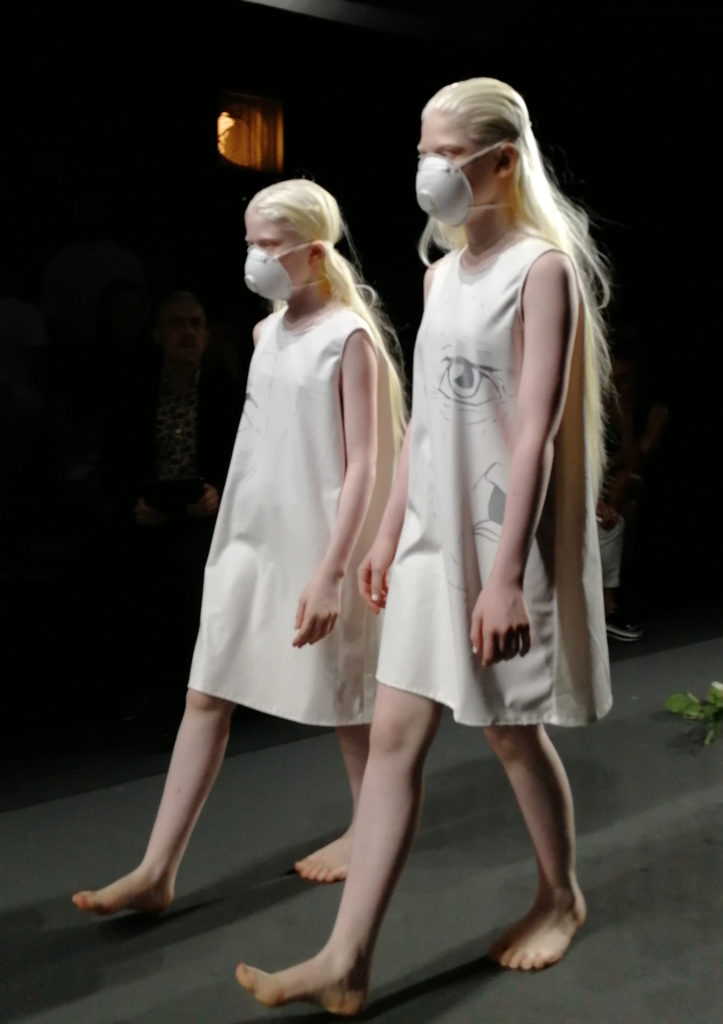 Matilde and Angelica, the two albin little models chosen by Pietro Migliucci for his graduate fashion show
In you fashion show we've seen on catalk not conventional models. Among them also two beautiful albin girls. Why this choice?
There were not pre-established canons. The choice was made just togo out of the usual aesthetic rules. There were oversize models, a man with the prosthesis. The girls are really stunning and I loved them since the beginning. Matilde and Angelica are already famous. I know them a long time and now I decided to collaborate with them because they have a something extra, a particular beauty that other people don't have.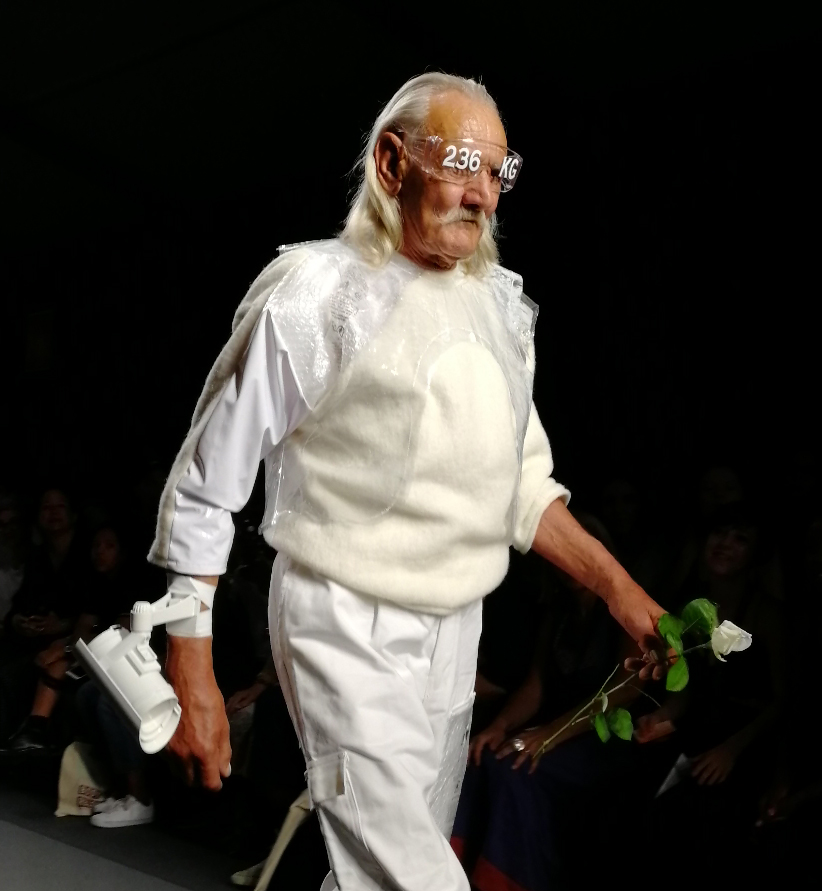 The 80-years-old model chosen by Pietro Migliucci for his graduate fashion show
So can we say that in addiction of being a collection that doesn't care about the gender or the physical shapes of the wearer, it
also
doesn't pay attention to the age?
Exactly! The minimum age was that of Angelica, 10 years old only, but there was also a old man who will be soon 80 years old. A transversal type of fashion.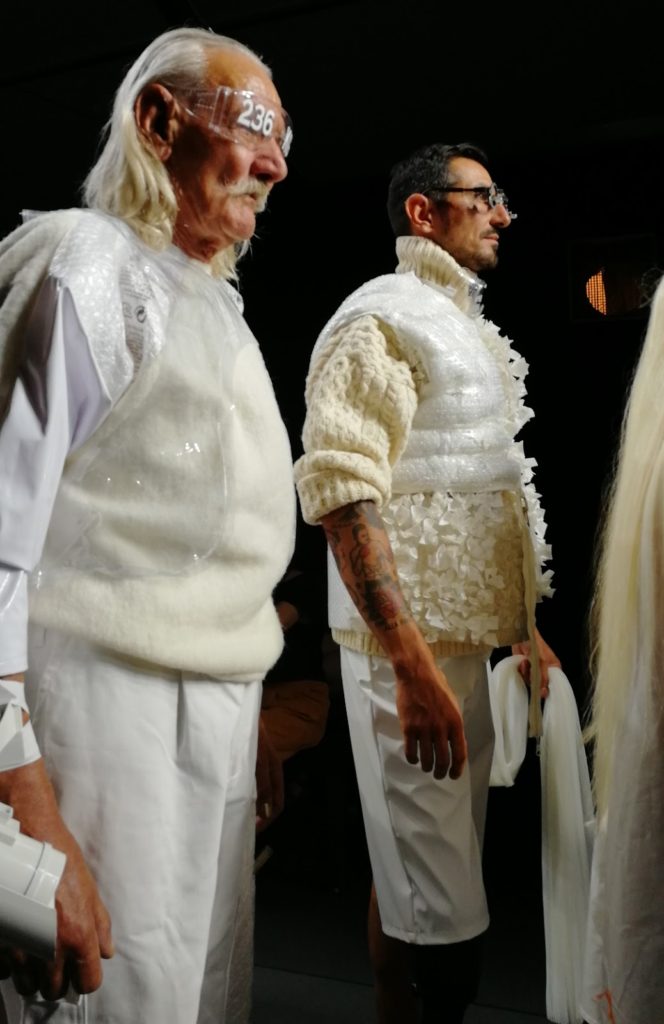 Two unconventional models in the "gran finale" of the graduate fashion show by Pietro Migliucci at Altaroma
One particularity of your graduate fashion show was also the choice of the soundtrack, the partisan song "Bella Ciao". Why did you make this decidedly impactful choice?
Well, we can say that in the time TV series and many DJs made it just a bit less important than now. Surely the fact of have used it in this way, together with the choice of particular and important characters as models, make it an hymn to resistance and courage. That my models had too. Because most of them are people I found on Instagram, with whom I became before a friend. Not professionals models, but very normal people who since the beginning supported my project. At the end we created a very beautiful group and my thanks and the compliments go to them.
A sort of resistance of the individual?
Yes, the song, the collection, the show are a hymn to the resistance, to which I truly take care. Together we create a sort of resistance in a world that wants aesthetic canons completely different from the reality.
For your project you analyzed the body also under the point of view of the art, is it true?
Yes, I tried to create something new starting from art. In my thesis project, in the many different researches and studies I did, there's the analysis of the evolution of the fat. I started with the Venus of Willendorf, passing through some paintings by Rubens and Botero to arrive to Mu Boyan and other Chinese and Japanese artists. In history, since not too long ago, the fat was well considered and now this vision is completely transformed, going to the opposite. I analyzed everything was in the art about fat, taking it inside fashion.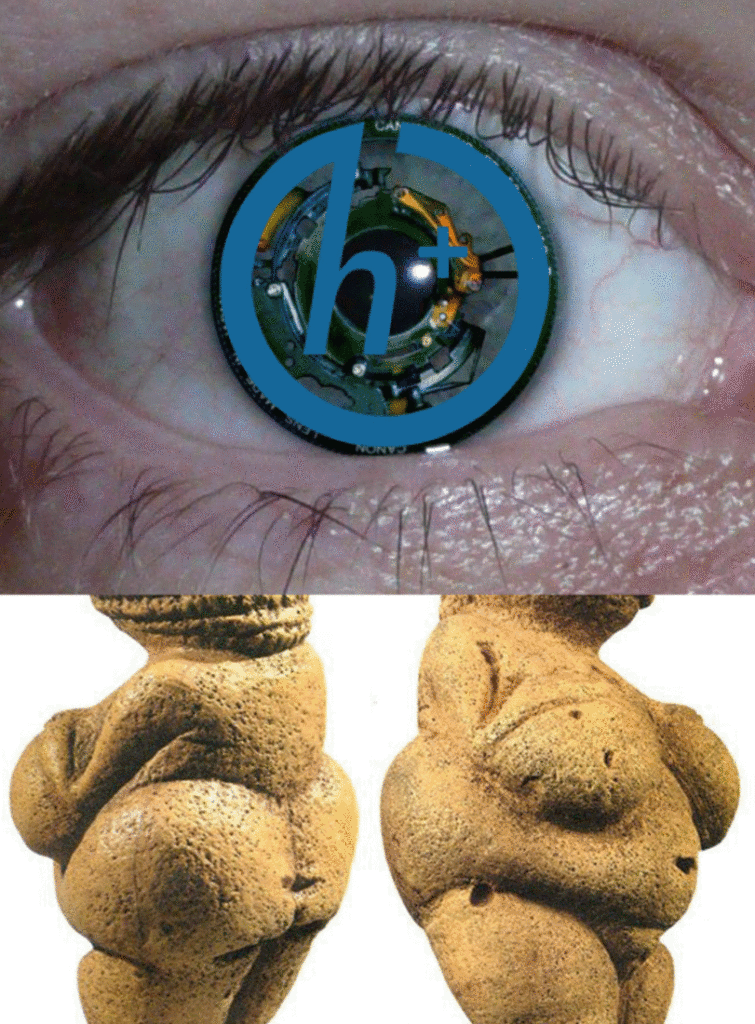 Inspirative concept of "Please Feed Fat People" by Pietro Migliucci
Is the body a kind of medium to express the person's identity?
Absolutely! In my research I arrived to the artists of the 50s, 60s and 70s, who used their bodies as a canvas, a frame or a brush to express their opinions, their political and social vision. The body is the focus of all this story.
In the relationship with the others, how is seen this body? Because fashion is often a mask and I've seen that you've included masks in your collection.
Yes, because fashion since its beginning plays with the twins game, has a double face. That should be the strong point of my collection. You should see the wall of appearance and the mask that wants to hidden it.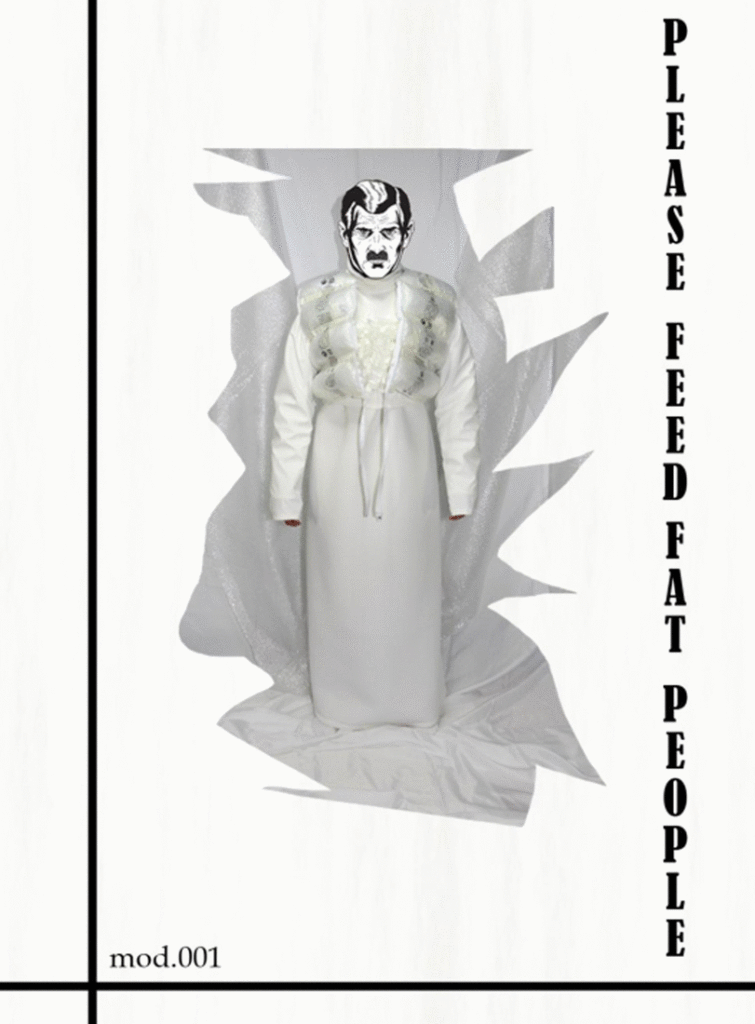 Outfits of the graduate collection "Please Feed Fat People" by Pietro Migliucci
Speaking about design process, what's your approach?
I really love to create by hand. I've a very manual approach. I've studied for many months in Latvia for the Erasmus project, and there the imprint was decidedly more manual and less on theory. I still have this approach. I like also the research phase, the concept development, the making of mood boards. Less the technical part of design process. Also if I usually take great care of it, I prefer always to focus on concepts and materials, because I think they are more important than other aspects.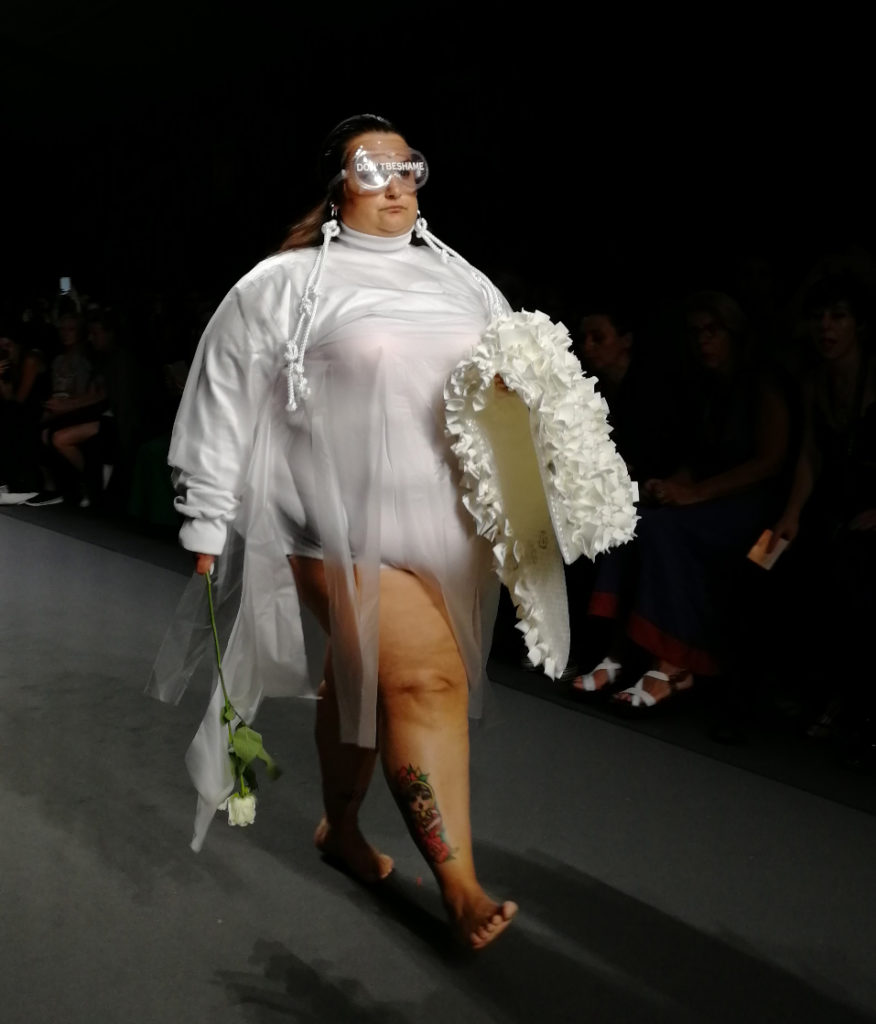 Outfit of the graduate collection "Please Feed Fat People" by Pietro Migliucci at Altaroma
Compared to you classmates, at Altaroma you presented a bigger collection. Why?
We had freedom of choice. I love so much this job, I don't mind working hard because I make it with all my passion. Often I spend all the day cutting and sewing.
Is the collection born spontaneously?
Practically yes. It's a collection more inspired by the study of volumes and lines than of technical studies. The garments have very simple shapes, but regarding modelling techniques there are some modifies to make a kind of adjustable size. They wear from 42 to 60 (Italian sizes), are versatile and genderless. The modelling technique is simplified. Then the stratification of layers and the personality of the wearer make my garments different from the usual clothing.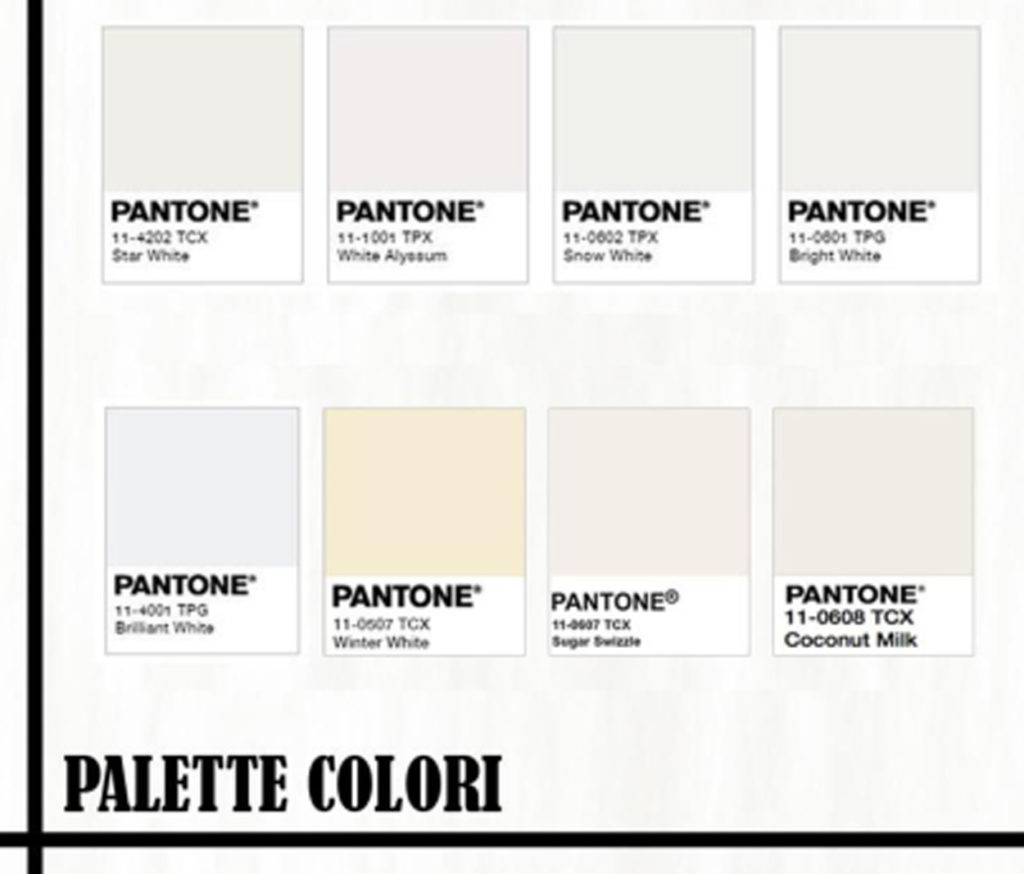 Color chart of the collection "Please Feed Fat People" by Pietro Migliucci
Why you choose the total-white?
White for many people means the presence of all the colors, others see in it the absence of color. I used it simply to enhance the volumes. I needed a soft tone instead of a bright color to give life to my emotions. Matching different types of white is more exciting than combining fabrics variously colored. I made
particular
the white throught many fabric manipulations, different aspects and textures.
So, is the white a kind of basis on which shapes, silhouettes and volumes stand out without being distracted by color?
Shapes should live without being distracted by interferences, like could be using a color or a too different fabric. Also if I used all the shades of white, in many tones from optical white to cream and butter, the candid effect of the complete outfit was eye-catching.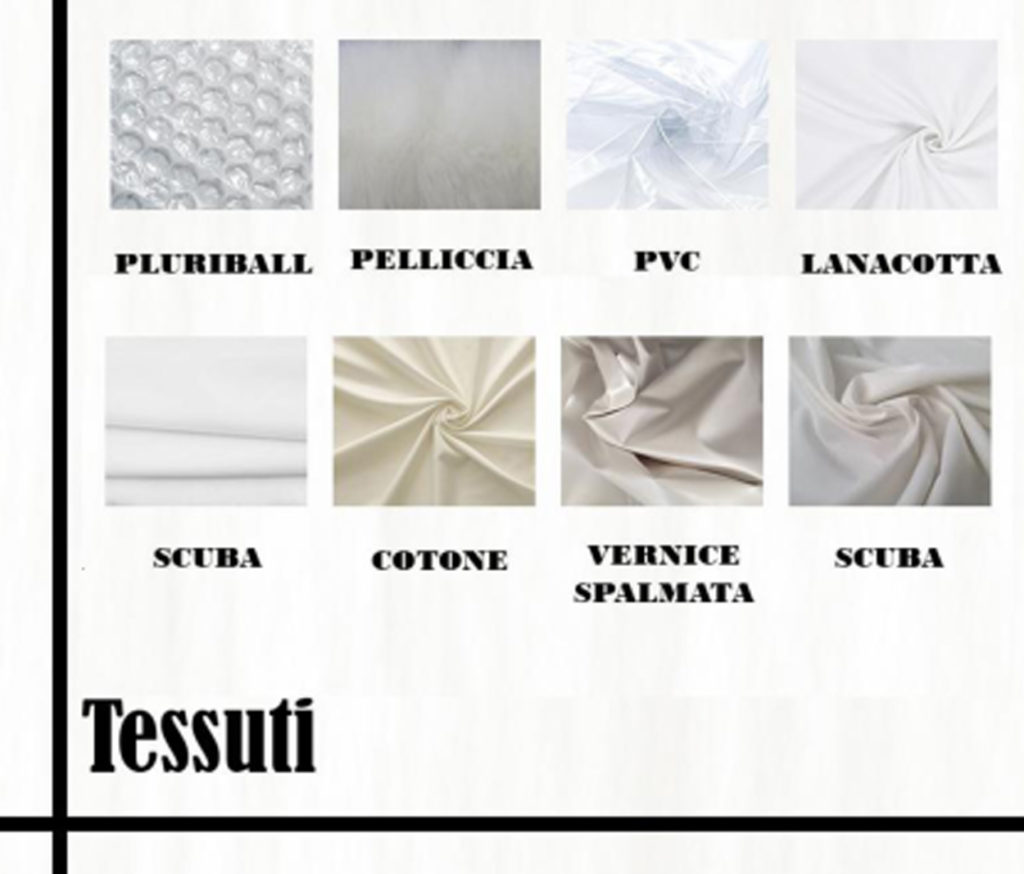 Textile chart of the collection "Please Feed Fat People" by Pietro Migliucci
Speaking about fabrics, I've seen you used natural textile like cotton, but also the bubble wrap…
There were bubble wrap, cotton, pvc, boiled wool, technical fabrics, coated vinyl. I choose these fabrics because they come from other my collections or I recovered them thanks to a friend who's an architect and works as interior designer. Because for me the important is that, indifferently from the theme, the concept or the modelling, everything must be sustainable.
Detail of the outfit of the graduate collection "Please Feed Fat People" by Pietro Migliucci at Altaroma
The fabrics can come also form other sectors, not necessarely from fashion. Is it right?
Absolutely yes, because I'm in favor of recycle. In my private I never use plastic. In my collection I can use cruelty-free wool, because I take great care about the animals health. So all the fabrics are sustainable or recycled. The padding of the bomber jackets is made with the waste of tailoring cuts.
A sustainability that goes together with the philosophical approach you have to the body, intended as an element that lives inside an environment and must be in harmony with the world.
Yes, of course. Sustainability now is imperative for every designer.
Regarding shapes and proportions, before you spoke about a simplified modelling technique. Is it something that goes beyond the traditional tailoring and looks more to a Japanese style?
My approach is decidedly more oriental. Japanese yes, but especially more Chinese. I was in China for a long time and whenever I can East is my escape way.
Do you find more inspiration there?
Yes, is a cultural matter. For how they care of their bodies, for the care of the soul that is very different for our. I feel very close to this type of vision.
About your biography, can you tell us something more about your story?
I'm 30 years old and I come from a small town in the province of Caserta. I've studied before at the Agricultural Technical Institute.
Really? And when started your passion for fashion design?
Since the time of my secondary school. I remember I had some friends who want to make a fashion professional school, but they continuously asked me to draw some sketches and make some clothes to help them. In the next year I didn't considerate this fact. But after the high school I found myself to face the entry tests at the Accademia di Belle Arti in Naples, to pass them and finally to study in a fabulous environment. Because I felt very well there, both in Naples and Riga in Latvia.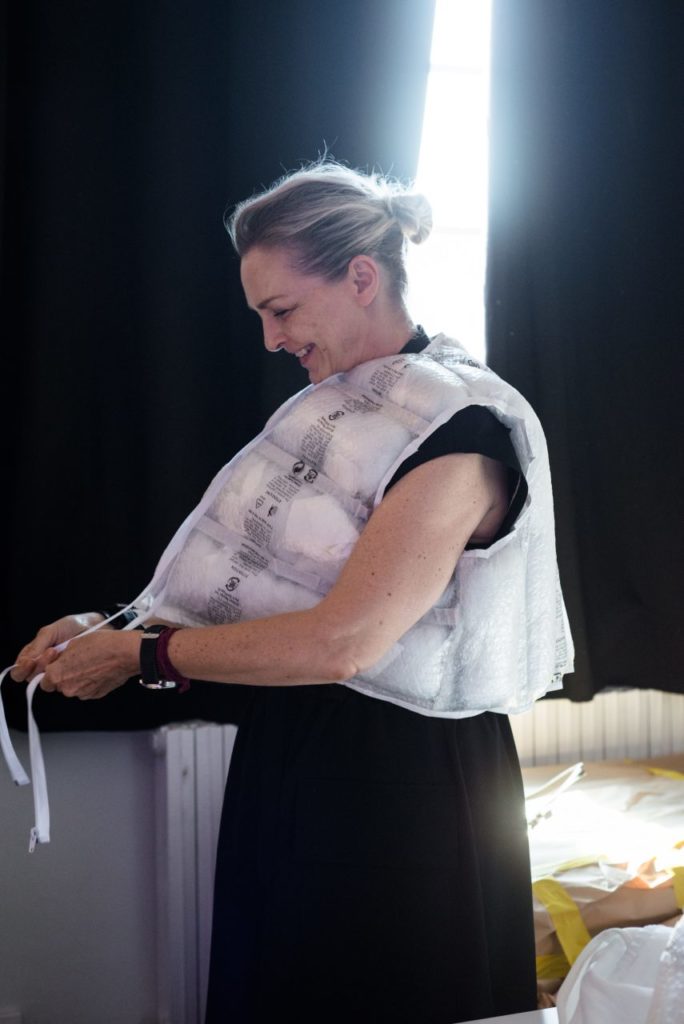 Simonetta Gianfelici wearing a piece of the Pietro Migliucci's collection during "Portfolio Review" at Altaroma July 2019
Yes. Differently from some of my friends who attended the courses of scenography or painting, I soon decided to make the triennial course of fashion design, to then deepen my knowledge with the biennial course. In the period of the school I've been travelling a lot. I was in Belgium and London. I lived there for a while to deepen the English language and to know other cultures. I was also in Latvia for many months winning a scholarship for the Erasmus Project. And now again, I won another scholarship and I'm waiting to know where to go next time.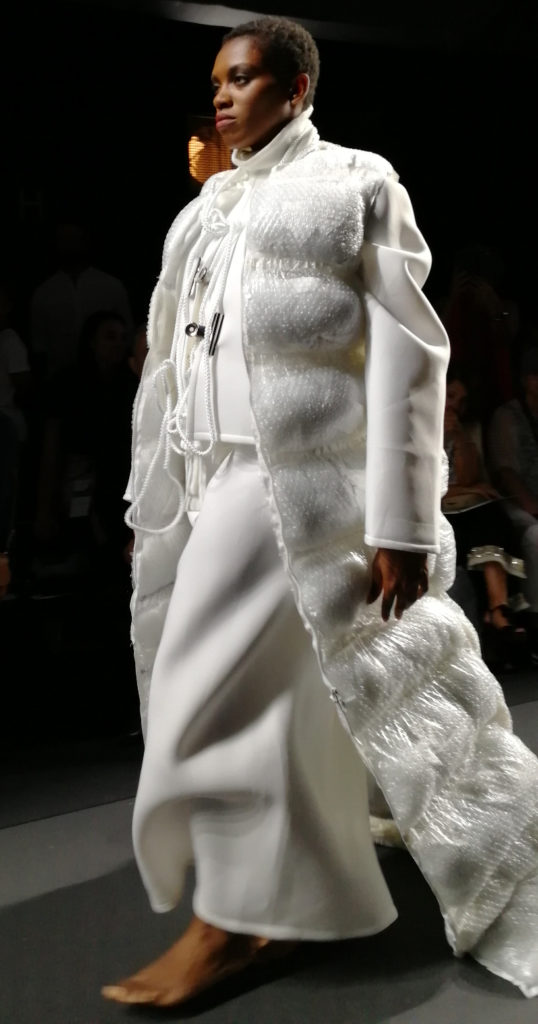 Outfit of the graduate collection "Please Feed Fat People" by Pietro Migliucci at Altaroma
In the academy your educational path regarded both subjects more inherent with the technique of fashion design process ad subjects strictly cultural. Has this thing enriched you?
Yes, a lot. The fashion school prepared me to be a all-around professional, a 360° designer. In Naples there are many professionals who, before of being professors, are friends. Passing with them so many whole days, we create a friendly relationship, a wonderful experience. Then, besides of the training path made in the Academy, I've always thought that the knowledge of history of art and of fashion, sociology and marketing are at the basis of everything.
You are waiting to know your next destination with Erasmus, so we can say that the immediate future is not certain. But I imagine you have some plans…
Some time ago I made a request for a scholarship at Polimoda, because they make a very interesting course of sustainable fashion that prepares fashion designers to a green future. I'm waiting to know if I'll be part of this course. Then in October or November I'll be in Erasums and then I don't really know.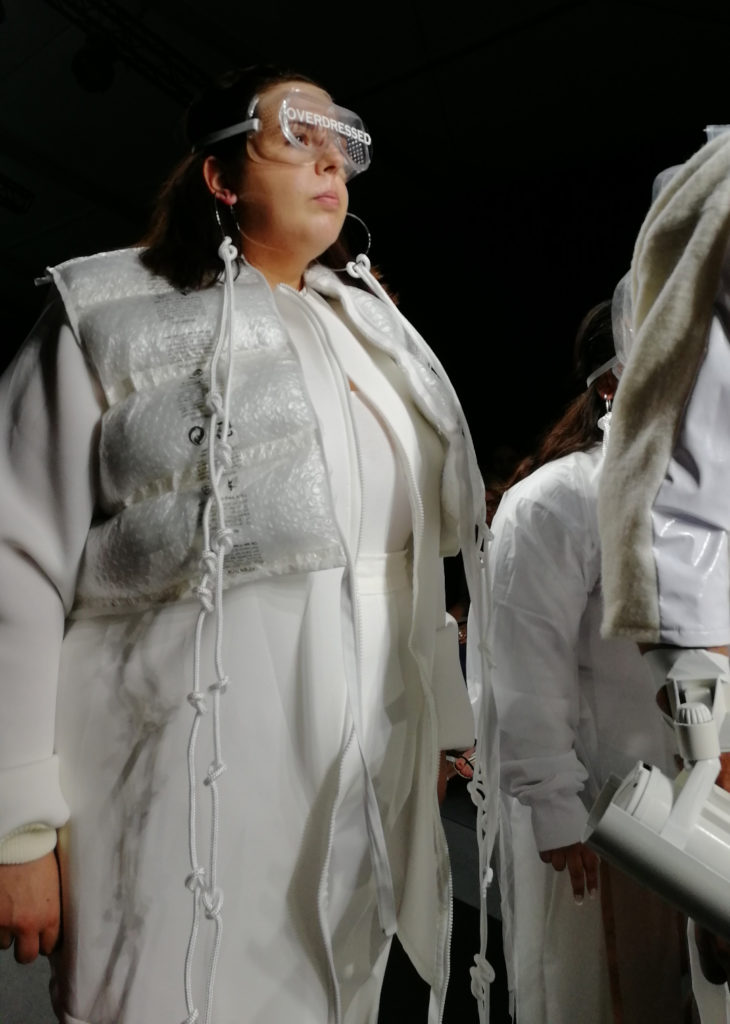 Outfit of the graduate collection "Please Feed Fat People" by Pietro Migliucci at Altaroma
Are you interested to a role as fashion designer in some company or do you see a future as self-entrepreneur designer with your own label?
I have the idea of working on my brand, because I'd like to continue this project. Not only a single collection, but maybe a kind of lifestyle, not only for me, but also for other people. Anyway surely working for someone is a precious resource, because I could learn many things working for a designer who has an already famous brand.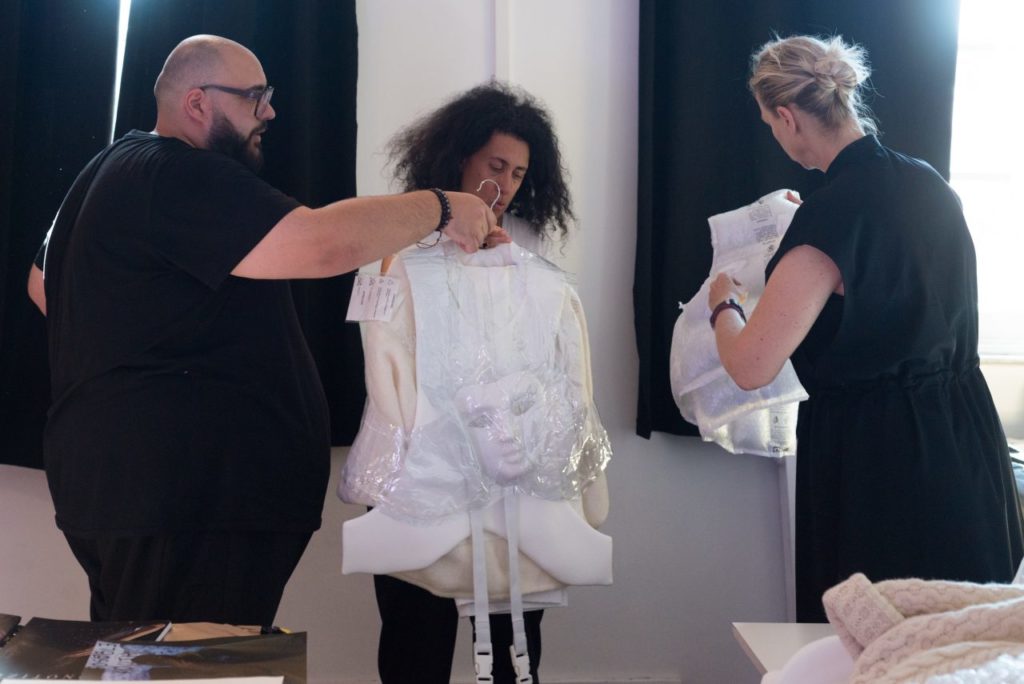 Pietro Migliucci shows his creations to Sara Sozzani Maino and Simonetta Gianfelici during "Portfolio Review" at Altaroma
Had you a positive feedback
from Altaroma
?
The same collection that partecipated to the collective graduate fashion show "Body Reloaded" at Altaroma was viewed two days after by Simonetta Gianfelici and Sara Sozzani Maino during the "Portfolio Review". I was incredulous, because I usually take this things easily, but they really appreciated my collection. I'll send them my portfolio and then we will see. But anyway I'm very happy because they were enthusiasts of all the work I did, of the concept, the research and this kind of cultural movement I cared to present at Altaroma.
Thanks for your answers Pietro. Keep in touch and let me know your future plans. I'm surely they'll be interesting also for my readers.
Thanks to you! Fingers crossed!