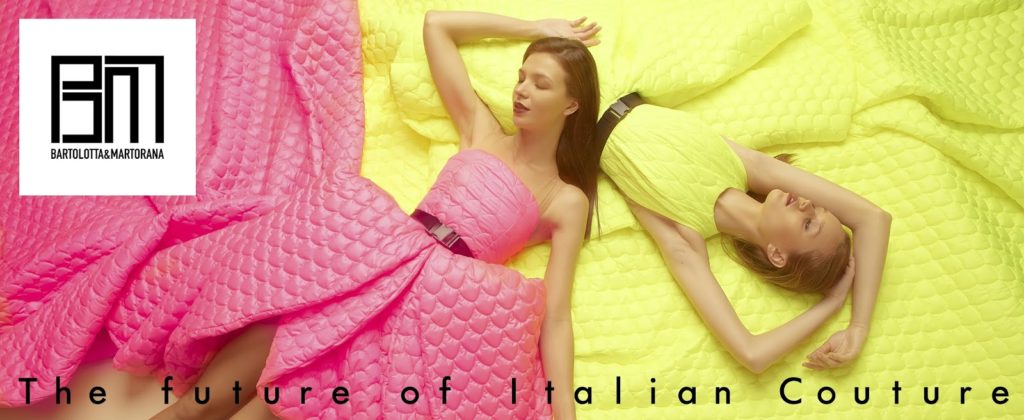 Two young designers are becoming the rising stars of Italian fashion design. Bartolotta & Martona talk about themselves and the evolution of their style and vision through a short interview and the beautiful images of their last collection.
Working as talent scout and supporter I learned a thing. When you find the genuine talent, you must follow it.

I met Simone Bartolotta and Salvatore Martora, of the brand BARTOLOTTA & MARTORANA, two years ago during the Fashion Graduate Italia, where they presented their final collection as students of Accademia di Belle Arti di Brera. Then some months later for their first solo fashion show, when I had the occasion to have a little chat with them and discover their creative world. And again last February, when they presented their fall/winter 2019-20 collection.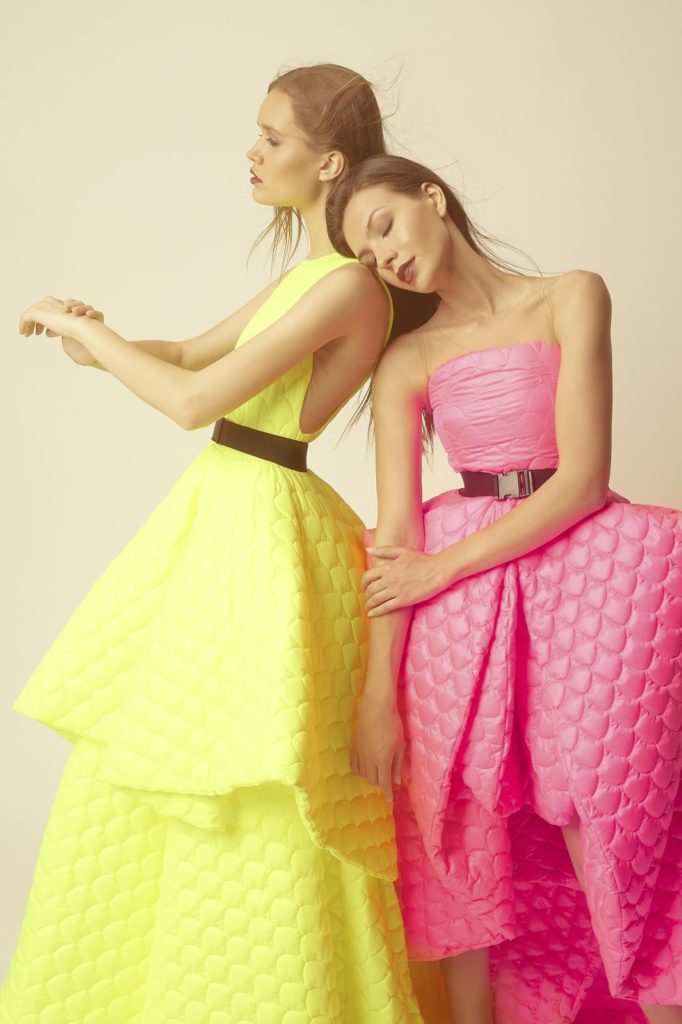 In two years only, thanks to the great support of A Coded World, they passed from being young students to be one of the most interesting emerging fashion brands, real promises of Italian Couture. Waiting for their next fashion show, to understand their evolution in terms of style and relevance, I decided to make them another interview and especially to show their last amazing photo shoot.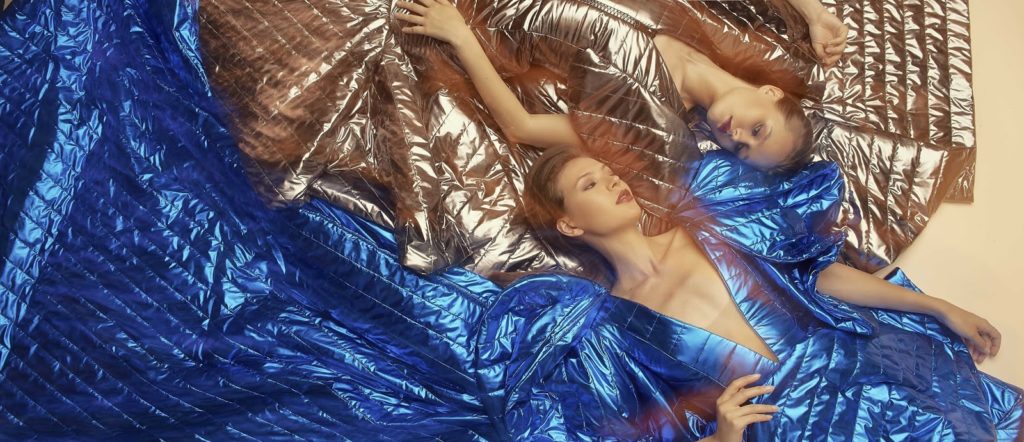 Salvatore and Simone, now you are effectively counted among the up-and-coming young talents of Italian fashion design. How do you feel about that?
Be ranked among the young promises of Italian design is a point of pride for us, because make room and be noticed in an almost totally saturated sector is very difficult. But it's also a great motivation for pushing the limits and continuing to make our best. Reaching this goal hasn't exactly being easy, we invested every single second for fashion. Today we can say we're collecting great results.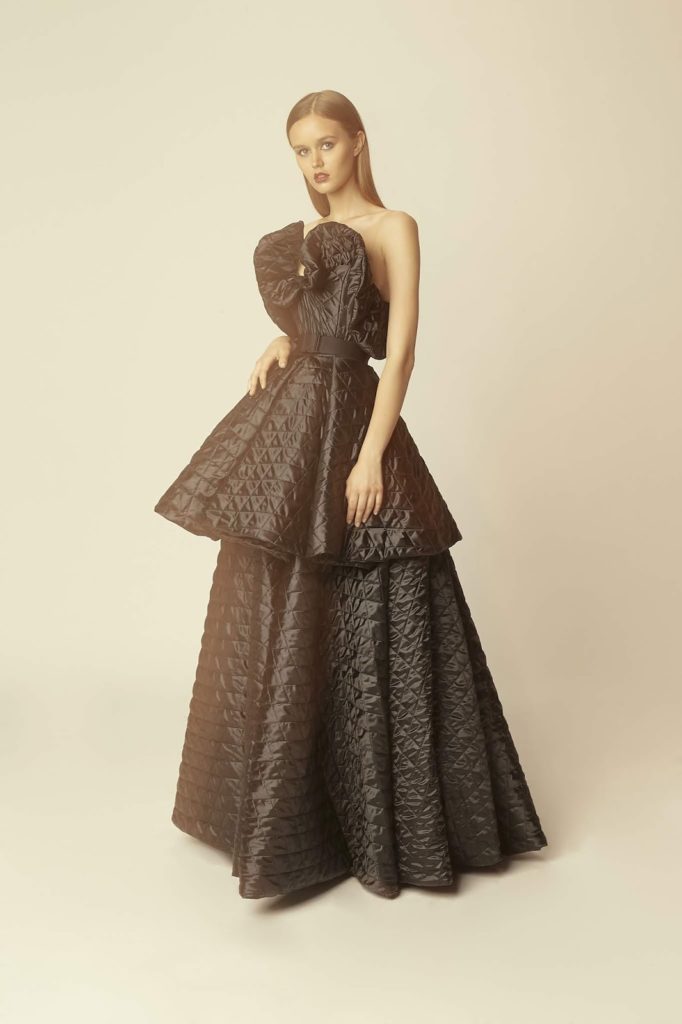 From our first interview with TFP are passed two years. What changed for you brand in all this time?
From the last interview many things has changed. We have matured and also our product did. We've started to design every piece of a collection projecting it toward the final client, then simplifying the shapes while mainteining always a poetic touch. Obviously we love to play during the fashion show, integrating with outfits that recall Haute Couture. Another great change regards the company structure. After our last fashion show of fall/winter 2019-20, we were noticed by some important entrepreneurs and personalities close to fashion world, who decided to follow our project and support our growth. Today our garments are not only beautiful to see, but also to wear. Today our clients can buy our creations in prestigious boutiques.
Your collection is a very sophisticated ready-to-wear. Have you ever thought to Paris Haute Couture as possible arrival point?
We have a particular attraction for Haute Couture, that calls us to look to Paris fashion shows as a secret wish. Surely is one of our future ambition. In our creations we always try to give an extra value.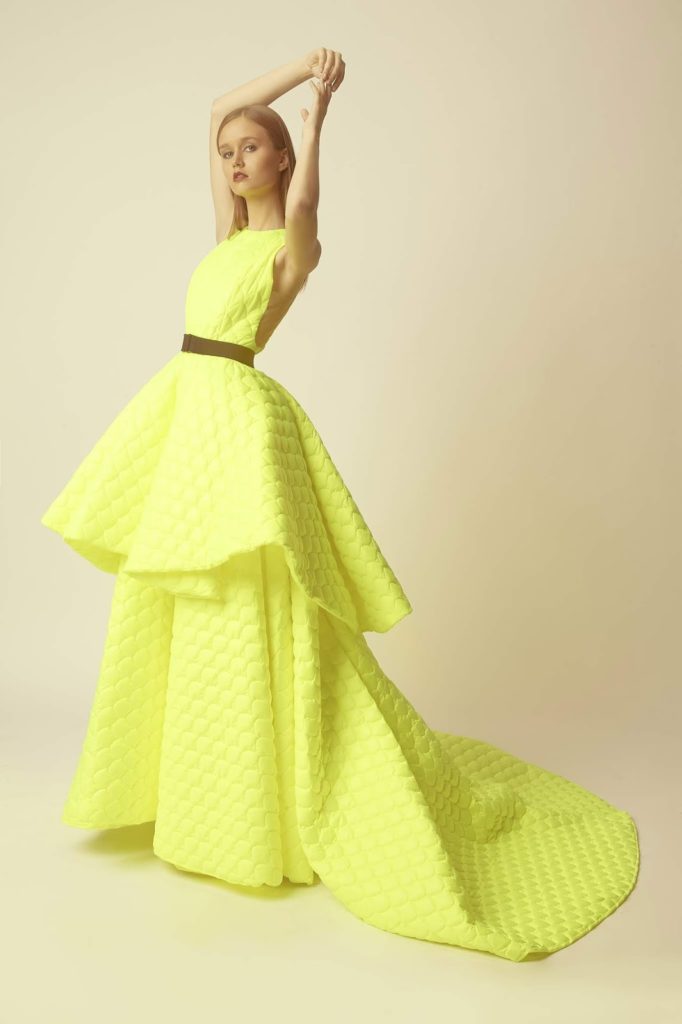 In the fall/winter 2019-20 colletion there are sweatshirts, fabrics printed with your logo, neon colors and padded volumes. Where does the inspiration come from?
The inspiration of our last collection is born from a gaze to the space, toward enchanted sceneries. A surreal world, sinuously romantic and futuristic, both alien and angelic at the same time. The creativity is inspired by the colors of multimedia screens, creating chromatic contrasts of bright colors, fluorescent and iridescent shades. Dresses with a neoclassic and romantic taste proposed with technical fabrics that give a look to the fitness world. The prints inspire fancy visions that bring us to unreachable worlds. Organic Neoclassicism, precious sparkles, plastic-like finishings, three-dimensional embroideries, abstract visions, rarefied atmospheres. The mood scuplts the shapes of a timeless beautififul aura, creating an iconic aesthetic, precious and impalpable.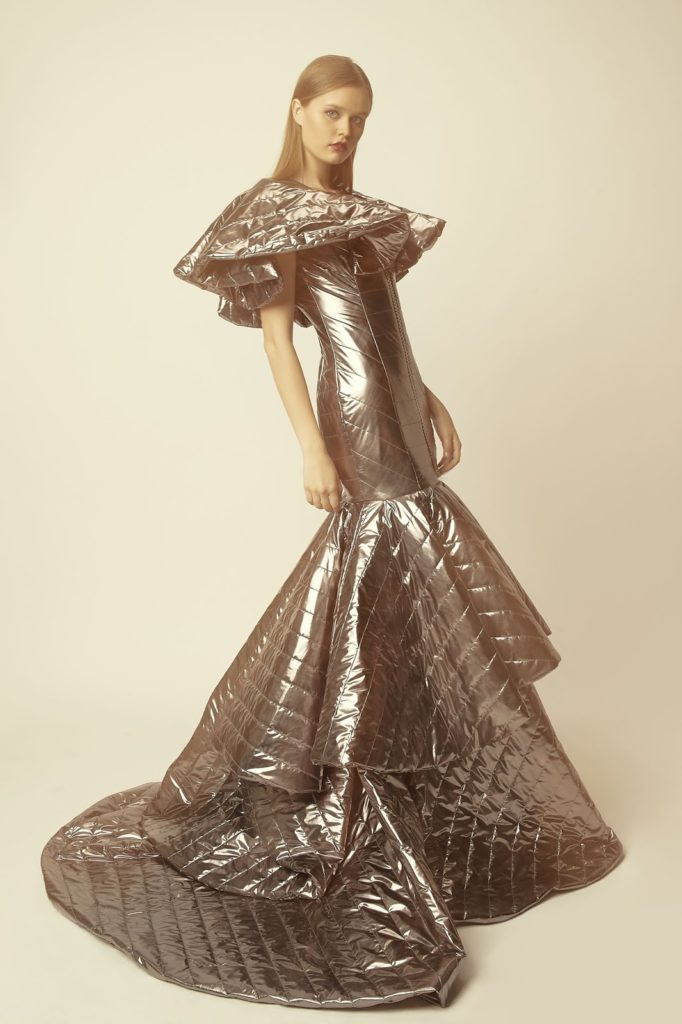 Fabrics become shining and shimmering as far galaxies, with a triumph of sequins on geometric lines and hyper-feminine silhouettes with color-blocks inspired by space suits. Another new-entry is our logo on some piece like the sweatshirts made in technical fabrics and enriched by sequin fringes, or in the all-over logo prints that totally cover the day dresses with more simple lines. Of course we didn't renounced to our techno-couture, with important ball gowns realized with herringbone padded fabrics and neon colors made more precious by belts with big plastic buckles that wink to street-style.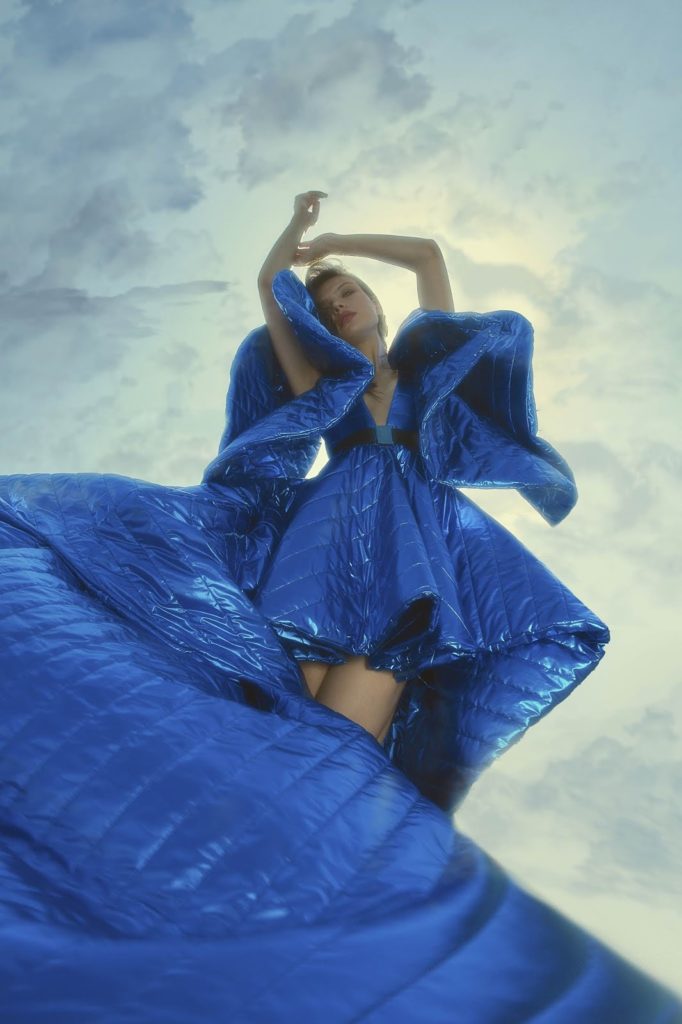 Many beautiful and famous women are now starting to wear your dresses. Who is your ideal Muse?
When a woman or a celebrity chooses one our dress for some special occasion, of course for us is a great honor. We don't have a particular inspiring Muse, but the woman in all her shapes. We imagine and concept her like an enchanted creature. It's interesting to see a dress coming to life in contexts different from a fashion show. The dress is transported from the catwalk to a new dimension.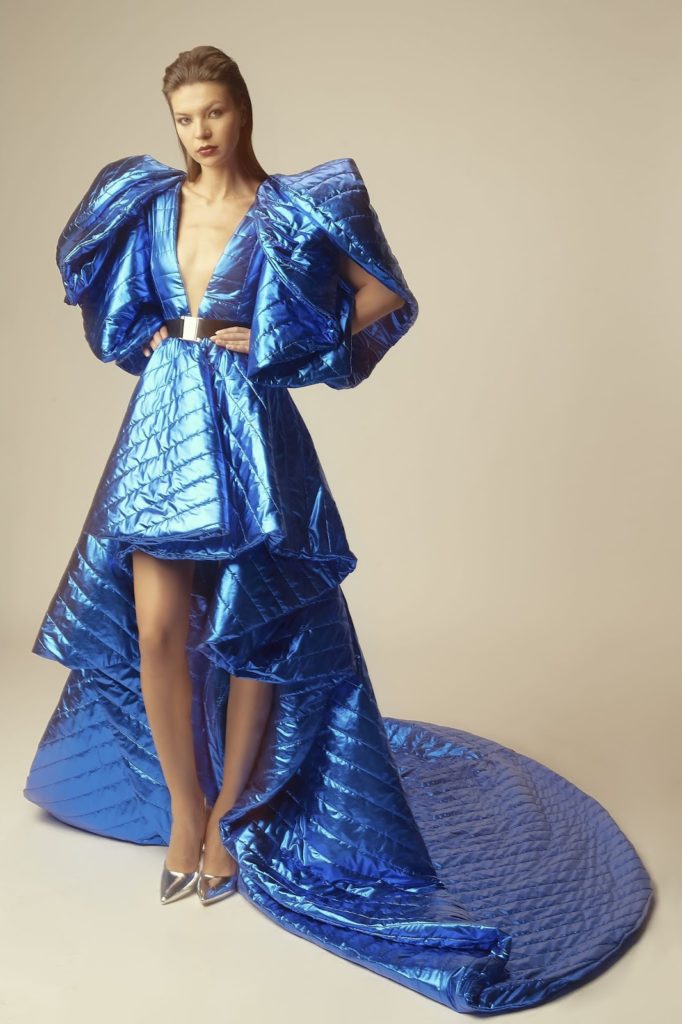 What are you plans for the future?
We have a lot of projects that will engage us in the next months, important collaborations and many news, but we cannot reveal anything for the moment. We can just give you appointment to the next fashion show during the Milan Fashion Week, when we'll present the new spring/summer 2020 collection.
An I can't wait to see it! Thanks Simone and Salvatore!