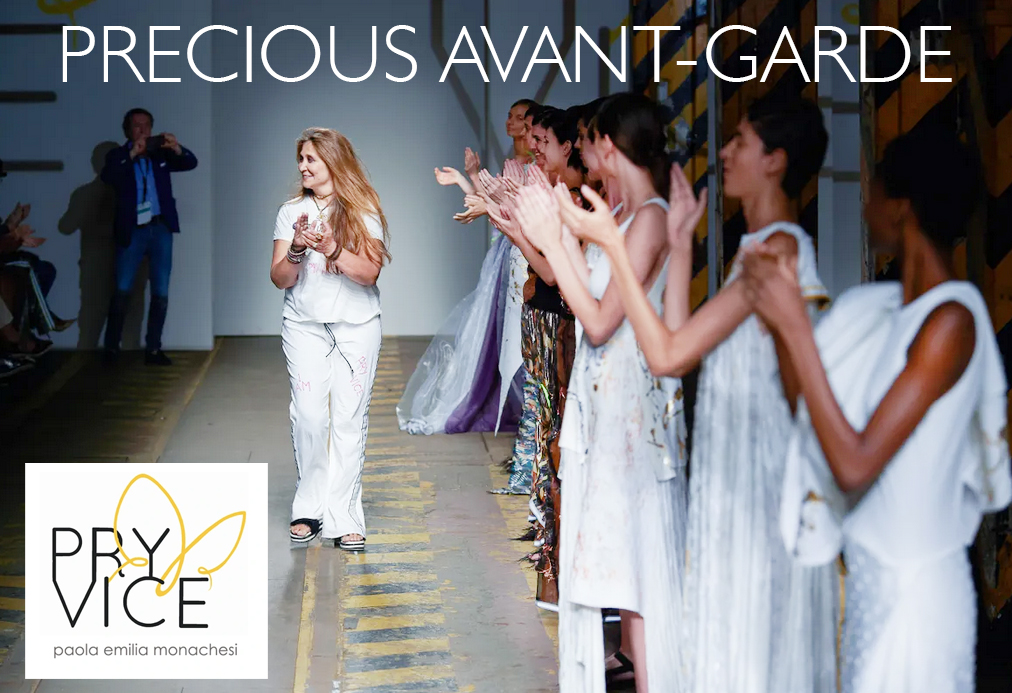 There
are three types of fashion designers: those who give up at the first
difficulties, who fight like lions trying to reach their goals and other who
face this challenging job with a smile and a vulcanic energy. Paola Emilia
Monachesi surely doesn't belong to the first category and with her label "Pryvice"
gives a shot of life to the traditional Italian High Fashion, brightning the catwalks
with flashes of gold and precious metals.
The
first time I've seen the creations designed by PAOLA EMILIA MONACHESI was more
than one year ago, at White Show, where she showcased the collection for the
brand Au197Sm. I can easely remember the exact moment in which her surprising
style impressed me. Gold foils, three-dimensional structures, a lot of white,
something recalling the coolness of street-style but in a fantastic couture
way. I've immediately thought that was one of the most interesting and gorgeous
collections of the year. So avant-garde, so light and precious.
The
Paola's uncontested talent couldn't finish with the adventure at Au197Sm, after
an incredible business career in big names of fashion industry like Versace and
Emilio Pucci. Her new creature is "Pryvice", her private corner of dreams in
which she gives life to all her unbridled fantasy, always fascinated by the
thousands of possibilities offered by technology and the preciousness of
metals.
The
collection "Tech Intencity", that I've seen in the last edition of Altaroma, is
clearly inspired by the future, so hungrily pursued by the designer, but
finally is a future of positiveness and hope. Impressed by this unconventional
approach, I've asked to Paola an interview, in which I discovered not only an
incredibly creative designer, but all the passion that only a lover can have
for life. Here our interesting conversation held in the beautiful "Showroom Livia Gregoretti" in Milan.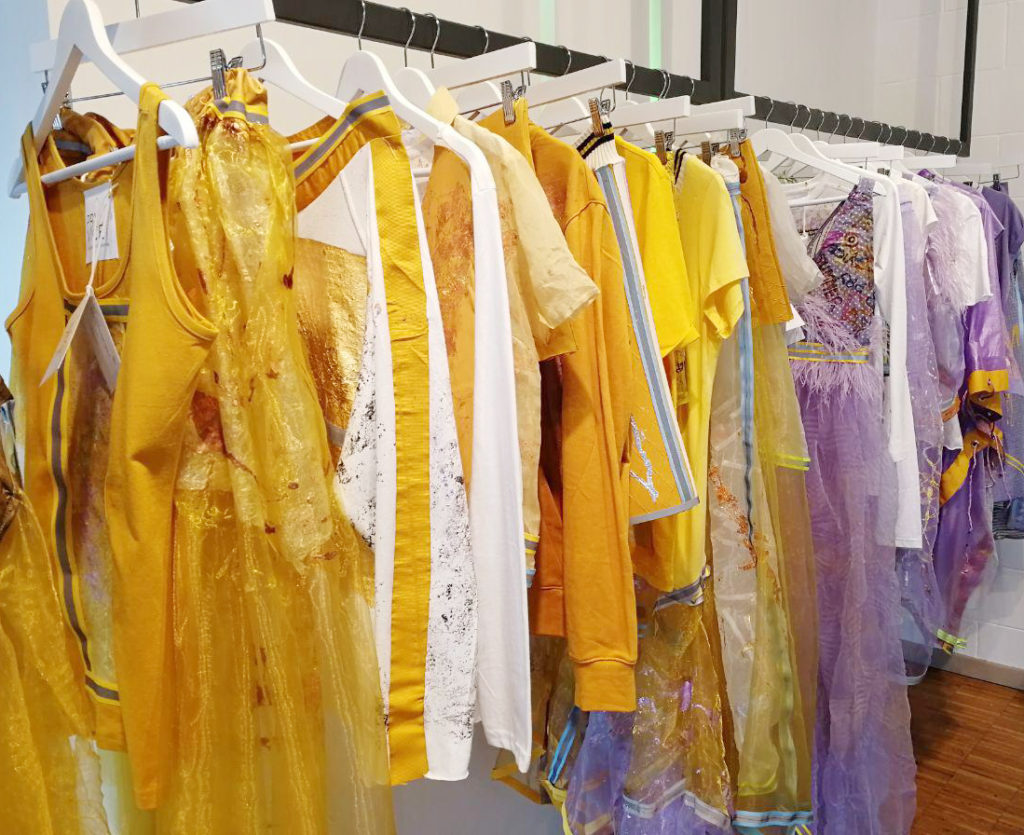 The collection "Tech Intencity" by Pryvice in the Livia Gregoretti's showroom in Milan
The last time
I saw you was in July at Altaroma, with your beautiful fashion show.
Exactly, a
show that continues my path as Artistic and General Director of Au197Sm. We
separated and that brand no longer exists, while I'm continuing with my
concept. I called my new brand "Pryvice" because I wanted to be totally alone.
So a new
adventure?
It's the
continuation of my path of absolute research of new materials and innovative
applications connected to technology. The name "Pryvice" is the union of pry,
which means investigate things with curiosity, and vice, that is part of my
person, something I cannot do without.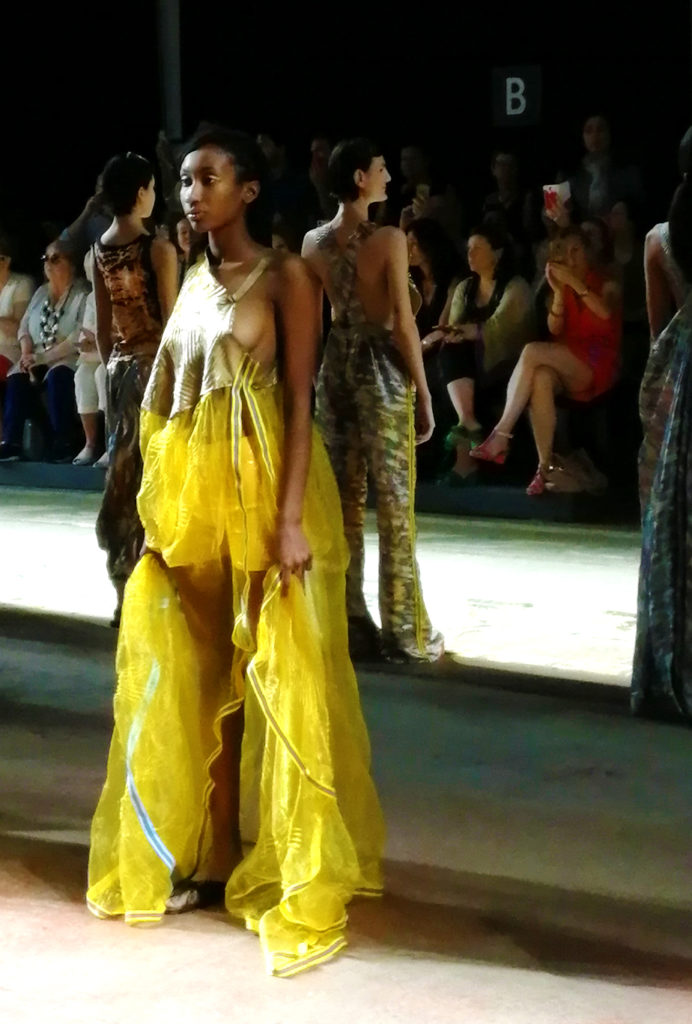 "Pryvice" fashion show at Altaroma in July 2019

My vice is exploring fashion always looking for
something that not yet invented and that can be the starting point to see
things in another way. It's absolutely related to the future and is however
wearable. This is the most important thing. The basic silhouettes are very
comfortable, but for me the details make the difference. All the process is
handmade, so the reproduction of some pieces is very challenging. This doesn't
mean you can't reproduce them, because they are not museum artworks, but
wearable unique pieces. Even the same skirt model will never be the same, because
decorated with applications and not prints. Everything you see here is applied
by my hands.
Do you
concretely make everything? So is this an artisanal approach to future?
Yes,
absolutely. It's precisely combining the craftsmanship to the highest
technology and research, because right now in Italy and worldwide it's
essential a concrete approach to clothes. I don't make drawings. I directly create
on dummy, putting on some fabrics, assembling pieces.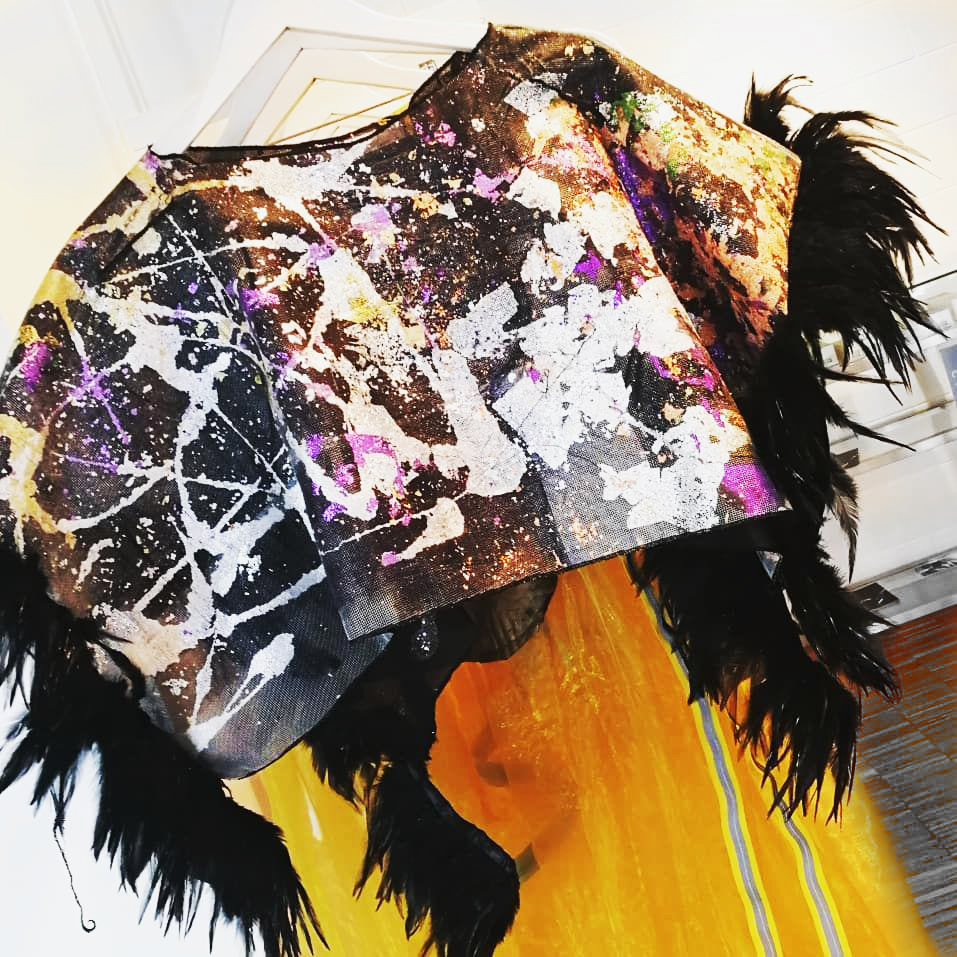 One of the most eye-catching pieces of the collection hand-painted by Paola Emilia Monachesi
A very extemporary method, but also very tactile.
It must be. I
know how fabrics fall well, but everything must be always very light, in every
season. Creating a garment on the dummy you know where to add fabrics seeing
the wearability. The old sketching system is not mine. Simply drawing you don't
know if the result is heavy, if the pattern maker correctly interprets it, if
everything is right or requests adjustments. I find fashion sketches a great
waste of time and money, not mine. This is my basic concept.
This is a
very interesting! So you revolutionized not only your aesthetic concept, but
also the design process.
This is my base and there's no way to get away
from this method. Because intuition is fundamental. Combining fabrics is part
of me, of searching for new things, even materials or decorations never used
for clothing. When I created the pattern of my dresses in gold and silver
called "toile d'araignée", that is the spider's net, I experimented through hundreds
tests of particular spray resins that allow me to obtain this particular effect
just by changing the nozzle and creating the flow using the wide movement of
the hand. Then one gold sheet after another, or steel or copper, I start to
make my applications on. Then there are other resins that allow me to draw, having
much more defined and hard motifs.
The "toile d'araignée" and other special effects created by Paola Emilia Monachesi
Experimentation is the first step for you. Do
you make a lot of tests on many different fabrics until you find what you like?
Exactly! And
everything must be able to surviving many washings. I must always keep in mind
that something can be beautiful, unique and maybe even difficult to do, but it
must be easy to wear and easy to wash.
To better
suit the needs of a normal person's life?
Oh yes!
Another very important thing is that I rarely use zips and buttons. Because I
want that a woman can wear my dresses, whatever size she has, having a
different fluidity effect. It's fundamental how a dress falls on the person,
not the size.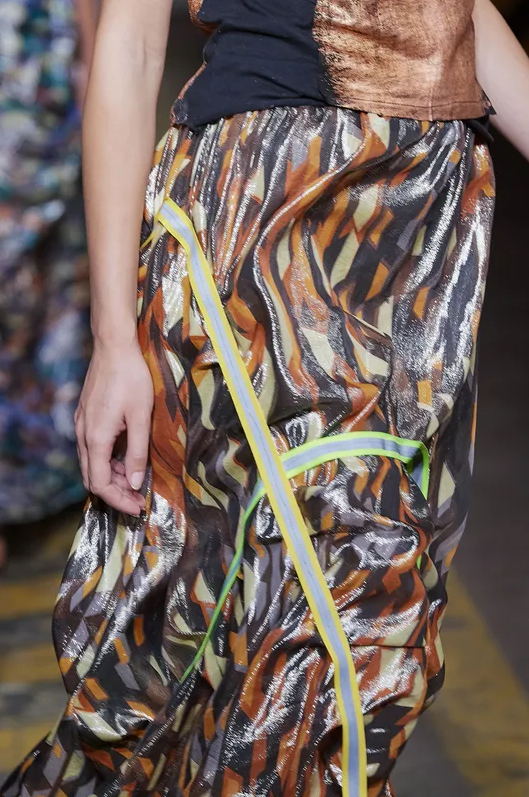 Detail of an outfit from the fashion show "Pryvice" at Altaroma in July 2019
One of the problems
of standard size is the rigidity of shapes and
dimensions. And this marginalized women, who can have the perception of not
being enough for certain brands. This can be frustrating. Instead curvy women can wear and appreciate a product like your. I find it a great approach, which increases
the sense of freedom that your clothes already give.
That's right! Freedom and lightness are very
important to me. I don't care if this dress is at the end transparent, because
you can wear it with a very simple black lingerie dress, a jumpsuit or whatever
you want, it doesn't matter. This piece is enough, wherever you go. Some of my
dresses have the waist lowered on one side or a deep back neckline, because you
can easily slip it over your head. There is no zip, it's easy.
Your
creations are wonderful, but the concept behind them is also beautiful.
You saw them at
Altaroma where I presented them with certain combinations. After the fashion
show I added other pieces to the collection. Some with handmade materials, like
the silk chiffon combined to a net that, with a resin and the heat, I managed
to unite placing inside my decorations made with colored copper, aluminum or silver.
And it's all made by hand.

Besides being a fashion designer, are you also a
textile designer?
In the end,
yes, because I don't buy this kind of material. I have basic fabrics and then
work on them. Also in the jacket I created the material with a net and the
lizard skin. It became a special material that is also waterproof and can be
machine-washed. But please, note that the jacket has no buttons.
A search for
practicality despite the extreme luxury. But it's an incredibly fresh, wearable
and light luxury. My idea is that you don't like closures, maybe preferring more
the concept of openness.
Exactly, maybe the closures give me a sense of discomfort.
Things are never too tight at waistline, they must have a movement. It's
something that I study a lot for any type of woman, because for me it's
fundamental. There are longer or shorter backs, tall or short people and I
don't like women forced into a rigid shape. Speaking about materials, I also
use black copper maybe in a very simple t-shirt or in an over sweatshirt.
Everything is iridescent. In the shirts the grosgrain ribbon has an iridescent
and reflective effects. The lines are simple, clean, but enlivened by the
paintings on fabrics. All made by my hands. Here at the Livia Gregoretti's showroom
you can see many more pieces than in the fashion show, in which I presented
only what was ready. In a dress for example, I created a mix of "toile
d'araignée" and resin, which gives to the simple organza a different movement.
Practically a
pictorial action. Is liberatory this artistic gesture you apply to the fashion
product?
Psychologically
speaking, absolutely yes. Because having a past as Commercial Director at
Versace, having launched Peter Dundas together with Pucci, or as buyer, I'm
never satisfied by what I see around me, in the shops. In fact, all the people
who approach this collection first tell me that they have never seen anything
like it. There is no competitor.
The first time I saw your collection for Au197Sm, I
was completely amazed by your style because it's something totally
incomparable. Very avant-garde, but not
unwearable. Because in the fashion world there are certainly very particular
and creative things, but too often they remain museum pieces. Instead, is
beautiful to see real people wearing your clothes.
Simplicity
and wearability are fundamental. For example, my organza skirt with
hand-painted panel that can be worn with a tight t-shirt or with a very strange
oversized sweatshirt …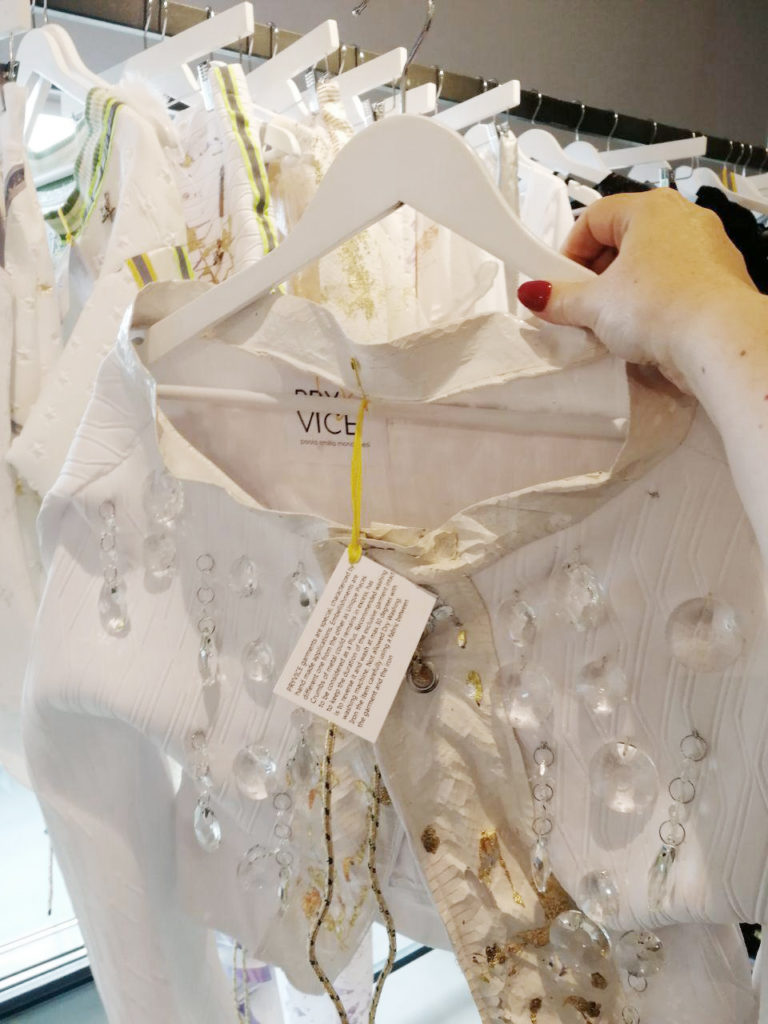 Hi-tech fabrics and sparkling decorations for the creations by "Pryvice"
So
is
each piece interchangeable? There is no concept
of outfits, you can even hybridize the look.
Exact! You
can mix everything. I love to transform different colors into a single shade. A
color fits perfectly with another one, even without having a color-block
effect. Everything turns, in a very easy way. The look is totally
transformable and at the same time a piece becomes a passe-partout garment that
you can use with everything. From purple to
white, to black and yellow, you can mix everything.

This collection has wonderful colors. There are
black, white, neon details, yellows and lilacs in many shades. Everything is
very moved. Is this love for colors applied to metallic interventions a thing that
you will carry on as a leitmotiv of your future winter collections?
Sure. Because
the concept cannot change. A woman can find in the collection something not
standardized. I want to avoid being a product. So I don't speak in groups, but
everything must be mixed.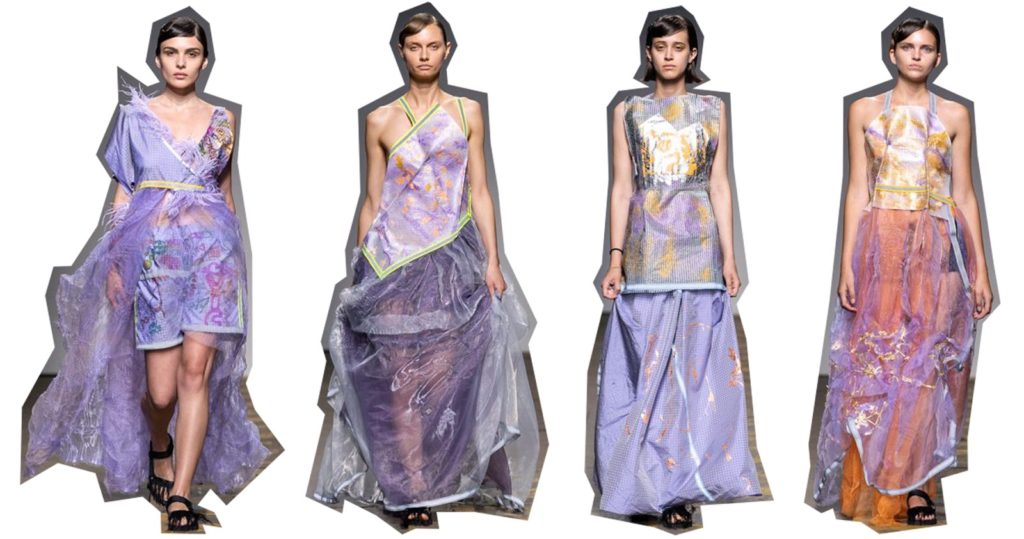 Outfits of the collection "Tech Intencity" showcased at Altaroma in July 2019
So a person who loves your style, can mix the
seasons? It means a timeless style.
Exactly, my
pieces are timeless. And you will never throw, because in the next collection
you will have others that will be totally different, but they will always
follow the same concept.

Well, in the Italian scene your style stands out, but
not for too strong colors or too invasive features. Paradoxically it stands out
for its lightness and harmony. Is this the essence of your character?
This is a
very beautiful thing. I've always been a passionary. Even in 1995 I showcased
for the first time in Tokyo because I designed 5 collections for a Japanese
group and at the same time I was the Sales Manager at Versace. I was young,
with Santo, who still supports me so much today. But I never wanted to stand
out personally. Now there's this opportunity and I realized that I have to make
everything by myself, because I need to express my reality, let people touch it,
understand who understands me. I have to find the right people. Now I'm in the
showroom of Livia, who absolutely married my concept, then I'll be in Paris. I'm
very happy about what I did until now, but never satisfied. That's why I would
add fifty more pieces to this collection, because I already have them in mind.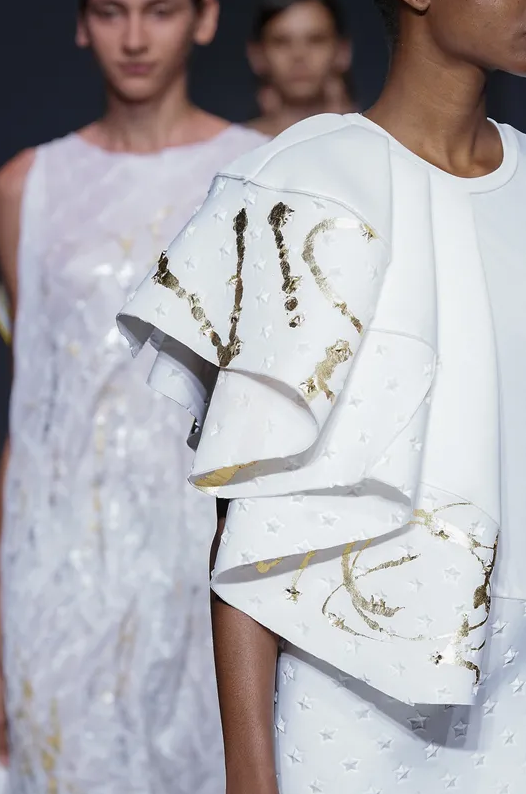 Detail of an outfit from the fashion show "Pryvice" at Altaroma in July 2019

You are a vulcan of energy and even at the end of
the fashion show you go on the catwalk with a strong music, bringing a lot of positivity
and a lot of energy. Are the classic fashion schedules, with their seasonality,
too tight for you?
Yes a lot, in
fact the "see now wear now" concept is fundamental for me. Just as
times and trends quickly change, we cannot stop. It's true that a woman goes every
season to the stores, but also reviewing the same things for months, because the
retailers are obliged to buy a certain amount of clothes for very specific
contracts, in the end is boring. While instead the possibility of producing
every month is interesting. The result would be the same at economic level, but
with a better of turn-over within the store, making them more interesting and
attractive.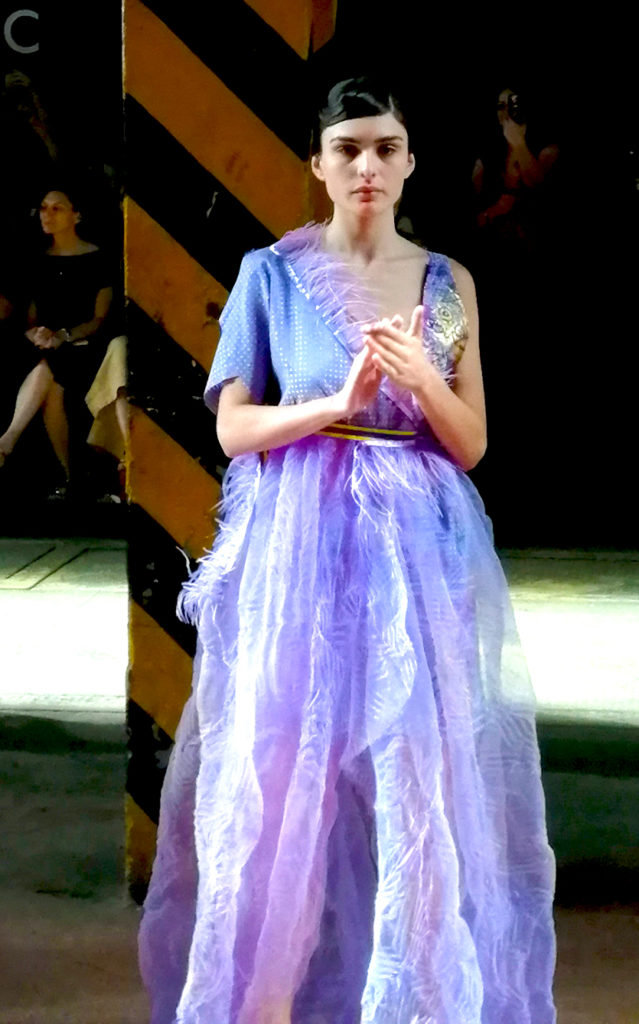 Outfit of the collection "Tech Intencity" showcased at Altaroma in July 2019
I agree, especially in a period like this, with
social media that transformed the usability of images. The new idea is to
scroll thousands of outfits with a finger, wanting them immediately. But I have
to wait six months? Traditional times are now obsolete.
Yes, they are
absolutely anachronistic because too far from modern times. I wish to have the
opportunity to do something else. For example, a client of mine from Qatar
adores a dress and needs in the store 5 pieces with the same line, but other
fabrics. Now there are the traditional tailoring times, especially because the
industry thinks in closed compartments. There is the pattern maker, the one who
cut, the seamstress, everything with enormous costs. Instead this can be
changed and I say it by experience. If the customer requests 5 pieces for
Christmas, he can have them punctual with all the variants he needs.
Is this new
way of producing something that you are already testing or is this a different
process you would like to approach?
It's my
project, but who in Italy agrees with me? How can we do it all together? I can
do it by myself because I'm alone and I know how to organize it. Others are not
in my condition and don't have my background. Who is interested to this
process? Young designers?
Well, from
experience I can tell you that some young designers want to approach new
methodologies, because they can't afford economically the timing and
traditional modalities.
I'd really
like to have a meeting with them, to compare myself with young people. Explain
how the system can be revolutionized and how they can spend less. But they must
be talented, possibly with my same determination and passion. For young people
who have smartphones practically glued to their hands and who have much faster
times than ours, that method is very tight. I'm a very social person and
absolutely impatient both as person and as designer for having something faster
than this.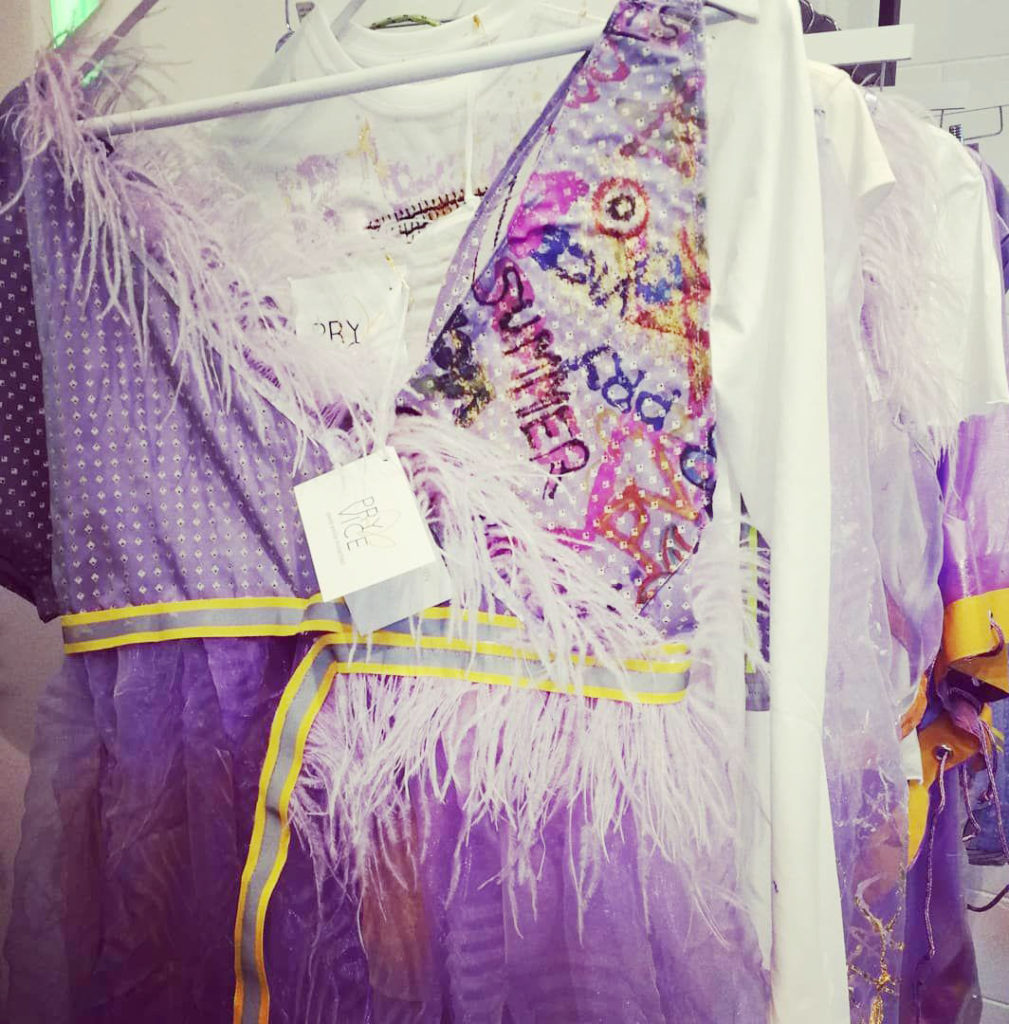 Detail of the lilac dress designed by Paola Emilia Monachesi for her "Pryvice" avant-garde couture collection
I'd like to
understand better your inspiration. In traditional fashion houses the
elaboration of a concept is usually relegated to a specific moment and must
also be rapid, to leave room for the development of the collection. But you
practically paint on clothes, that are born from your hands and body movement.
Is inspiration something that you find at the beginning or is it a work in
progress?
It's a work in progress, one inspiration for each
garment. And then there is necessarily my rational mind in building a main
theme. This is also part of my background. But I have no initial inspiration,
other than pieces of fabric I work with. Now I'll tell you a secret about the
lilac dress. One night it occurred to me that, without the ultrasound machine I
used for the previous collections for Au197Sm and that it costs a fortune, I need
some idea to give movement to the fabric miming the ultrasonic effect. Then I
made it with the corrugated hair straightener, with the heat that changed the
fiber structure. Then I applied the same machine on leather and organza,
previously worked internally with gold. At first sight you cannot understand
it.



I really like
the fact that you don't stop in front of the traditional processing method, so
even with a hair dryer or a hair straightener you can create something.
Of course,
because you have to understand what can bring you to the same result. There are
so many objects in the world you can experiment with. In fashion industry
everything is divided in watertight compartments, while could be linked and
useful to each other.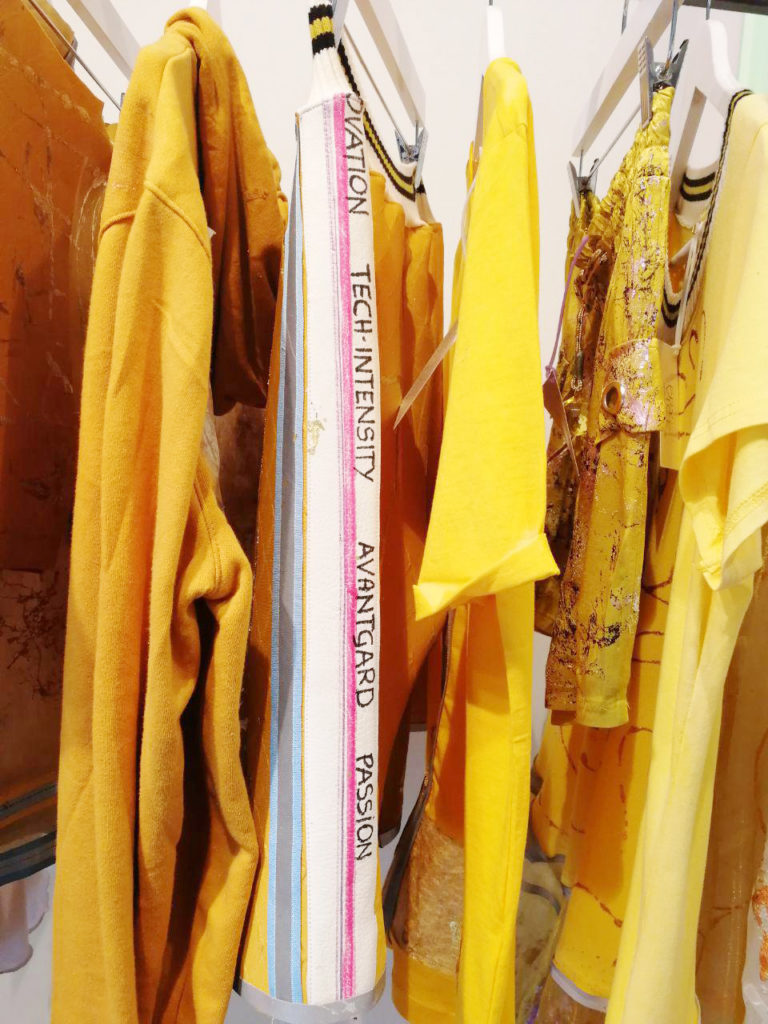 Handmade details on the avant-garde creations realized by Paola Emilia Monachesi
To create connections also with other realities?
Exactly, in
fact for example two groups of architects, one from Rome and one from Vienna,
asked me a collaboration for some pieces. This is great. Usually there is art
and then fashion, or fashion inspired by art, but this is sterile.
Do you prefer hybridizations between genres?
Yes, because in
this way creativity never ends. I create an object that does not remain only in
that fashion show or in that exhibition, but it has an evolution that makes you
remember it, because otherwise everything is forgotten. Instead, working in my
way, I give a sense of continuity. But only enthusiasts, real creatives living
in a world of visions can do this. I have two sides, one more rational and one
more creative.
The second one maybe derives from my family. I'm the
third-degree granddaughter of the famous painter Sante Monachesi, my
grandfather was the tailor who created Loro Piana. I don't know why, but when I
take an object or a fabric in my hands I transform it into something else. Sometimes
young designers are too focused on going out on catwalk making something
strange, which is a forcing that is not strange, but made just to impress, to
emerge. This is something that I consider lack of talent, something made for
social media.
What is your
perception about the future of fashion?
I'm in
extreme confusion over this question. I know there are
designers who would like look forward, but cannot because they have a debt with
the customers who have followed them up to now, then budgets to be respected.
I'm sure they could work in a different way, maybe slowly starting with only the
20% of the collection, to change and enter another world. When people go to a
store for buying something, they want something unique.
A make an example on a
famous brand. The Cucinelli's cashmere sweater, that in the last years evolved in
super glamour and even difficult pieces elaborated with feathers, now is used
to mix with other collections. We don't anymore have the total look, except for
a very high-age segment. Or maybe you can buy 10 cashmere sweaters of all
colors for the winter season, because it's comfortable. This concept can be
true for a big brand like Cucinelli, but we cannot continue to create brands on
the footprint of that genre. It's absurd. Most of the collections are all the
same, the print changes, one makes it in flowers, one in squares. The shape of
the trousers is the same of 2 years before.
I really enjoy watching London
Fashion Week because it's out of this scheme, but it's more of a show. In Paris
there are those, like Chanel, who carry on a very precise concept for many
years, but with very different styling outfits, that is fundamental in the
construction of a collection. Unfortunately, it's a big investment problem that requests the courage
to lose 30-40% of your customers, for going in another direction following the
changes of society. People aged 40-50 do not want to go around with the elegant
suit.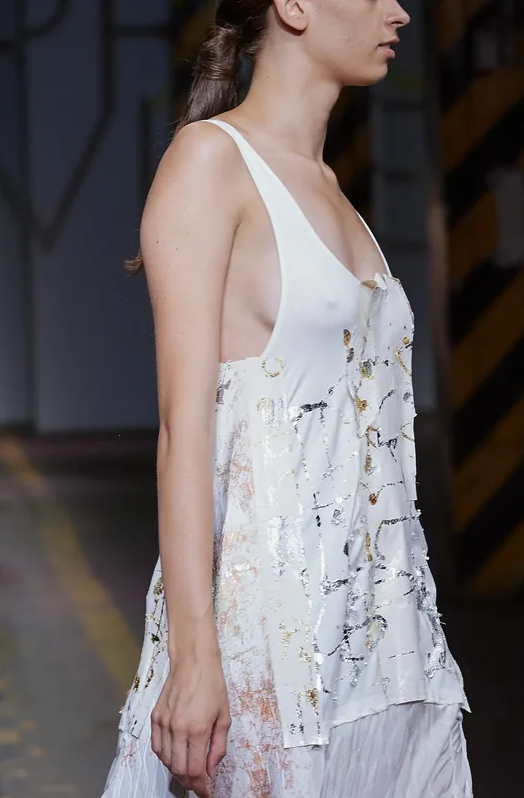 Detail of an outfit from the fashion show "Pryvice" at Altaroma in July 2019

On the contrary, youth has also expanded, so at 40
we are still very young.
Exactly, at
that age I want to be unique, I want to be free. I don't take care of other's
opinion, I want to decide how to go out this morning creating my personal
outfit, maybe even using an old thing that I have in the wardrobe, but with an
amazing piece, with a bomb effect.

Something strong that can be the interpretation of
the identity, of the mood of the moment, without prejudice and constraints. So
the concept of trend is almost lost?
The trend
does not exist. Just watch a fashion show and what is offered. There are
miniskirts, long skirts, midi. What is the trend? In the
color? There are all, as for the lines. Because you have to satisfy at 100% the
segment. And since the segment has expanded, now the collections have thousands
of garments, so a woman builds her image as she wants. The only thing we can do
is helping the young designers and the types of collections like mine, that can
launch new trends. You have to be brave, even without having money. Where there
is a will there is a way.
Do you know who sewed this whole collection with a home sewing
machine? I learned to sew and I did it all by myself. At that
moment I could not do anything else. And the first thing I did was make a
fashion show in Rome.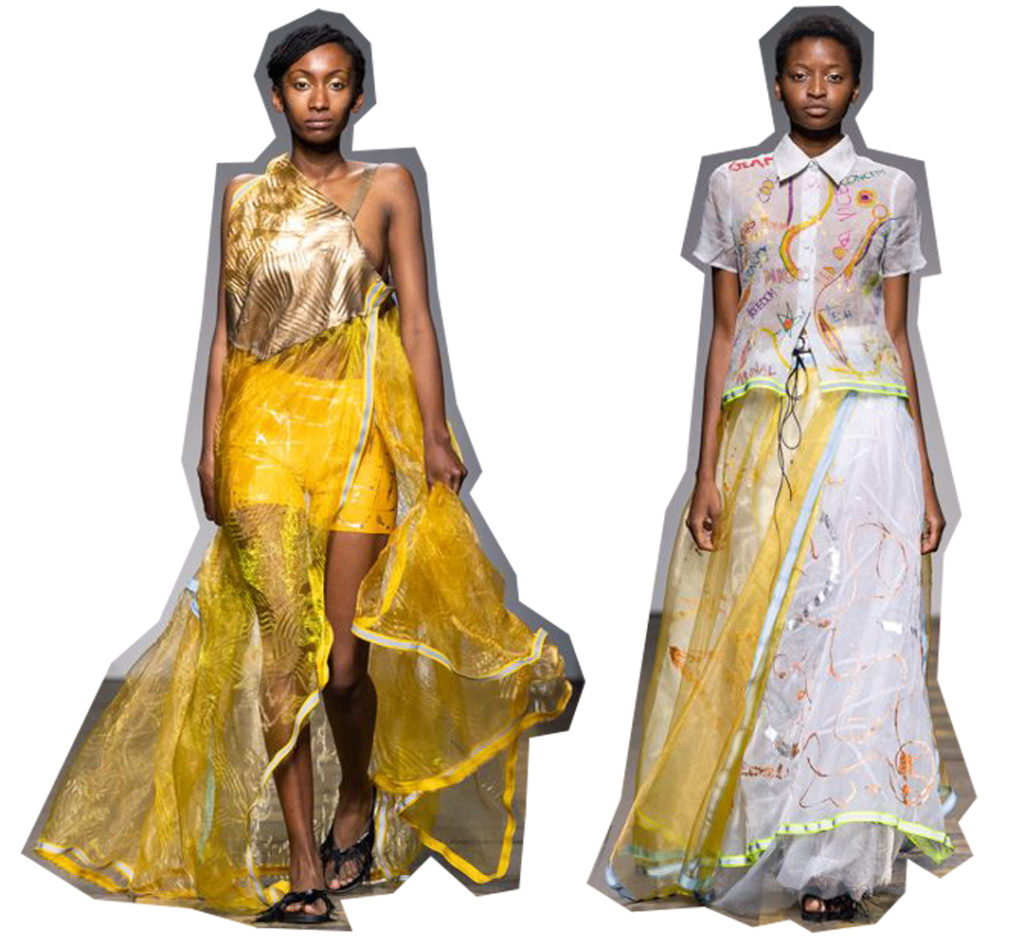 Outfits of the collection "Tech Intencity" showcased at Altaroma in July 2019
What was I waiting for? They were expecting the next fashion show of my previous brand,
because I had showcased in Milan with a collection that made the boom. And what
I could do? I was finished, dead. And I could not give this satisfaction. So in
a week I did what you saw on the catwalk.
In practice
you did a miracle! So you don't sleep and eat until you have what you want?
Exact! Because
I had to stay alive. The first occasion that happened to me was Altaroma and I
did it. I worked alone. Among other things, I also had health problems, but I
said to myself "I have to do it". Night, day, fabrics, research,
experimentation. I can't use certain workmanships because part of a patent, but
I did everything I wanted in an alternative way. And so I did it.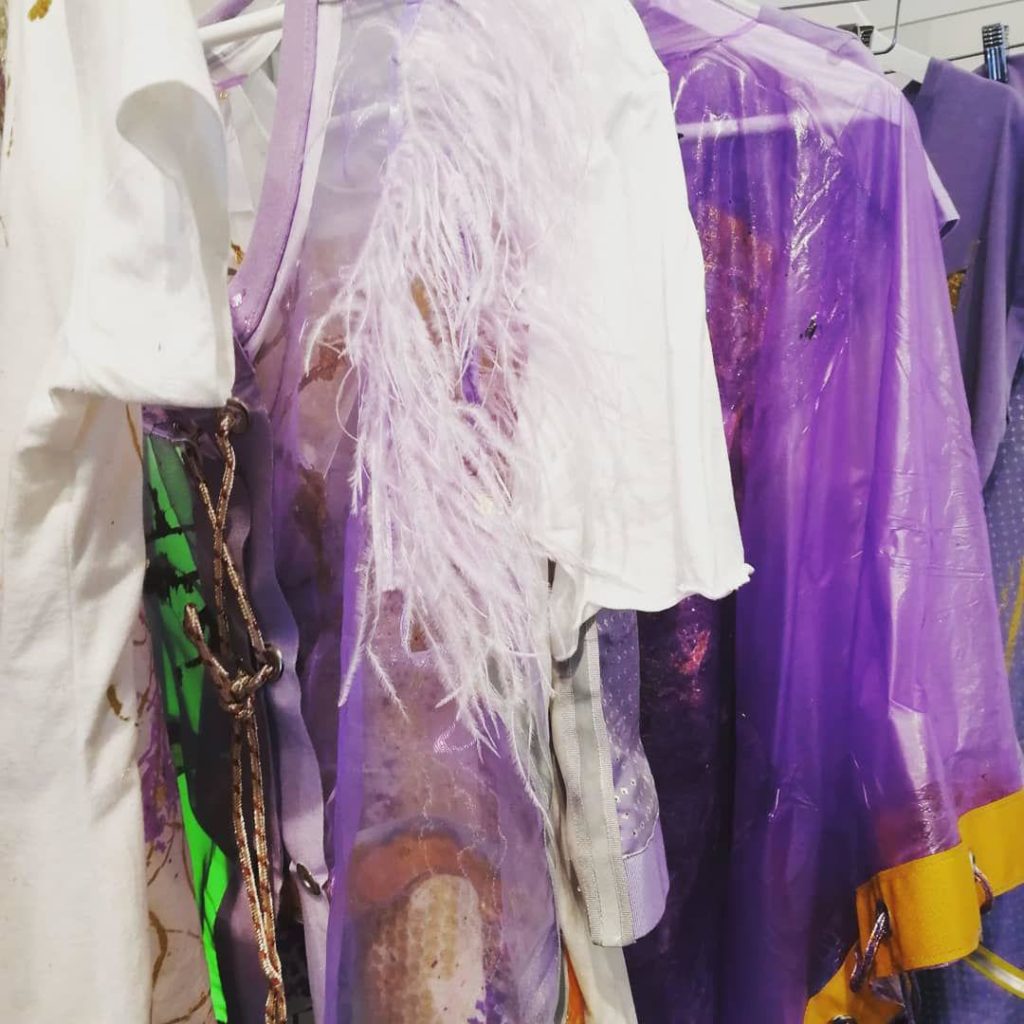 The collection "Tech Intencity" by Pryvice in the Livia Gregoretti's showroom in Milan
Your collection was one of the most appreciated at
Altaroma, a fashion week focused
on a very particular sector of young
designers, emerging brands and artisanal labels, unlike many other realities. How was the relationship
with them?
All those who made my fashion show are all friends,
who knew what had happened to me and wanted to help me, even the models sent to
me from Milan for free. The people who know my life, path and evolution, have
believed in me. When one believes in something the results finally come.
I was totally happy with what they did for me. Alessandro
Mazzini Eventi, for example, gave me the soul with all his team. The nice thing is that when there are these positive
energies, then you also find people with the same energies. Paolo Purina, the
stylist par excellence, did everything he could to do the styling.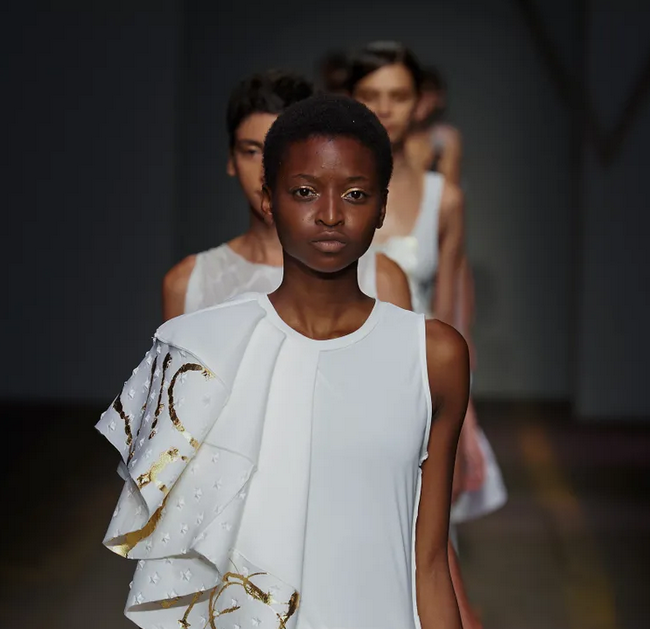 "Pryvice" fashion show at Altaroma in July 2019
A good story, as stories should be.
It must be
so. One must be resourceful and do something.
Now you're here with this collection, what's the
next step?
The childrenwear.
I continue with this female collection and the childrenwear, which I had
already done with Au197Sm going to Pitti, but unfortunately I had to leave. Now
I want the "Pryvice Baby". This is for me a fixed idea. About meswear instead,
in reality within the collection I can insert something that is genderless. I'd
start with luxury sweatshirts, that are a must.

So the first step is the childrenwear and then you
will evaluate the introduction of men's clothing. When we will see the next
collection?
I want to
showcase at Altaroma because they were very kind to me. Even the Barbara Manto
as Pr is really fantastic. If I can I will also Milan, let's see what
opportunities I will have. For now unfortunately I don't have a press office
and I'm evaluating. Not so many journalists and stylists still don't know that
I'm here, in the showroom of Livia Gregoretti.
Do you
believe in e-commerce?
Yes and no. I
believe in the electronic commerce for a capsule that does not concern the main
collection. It must be a separate channel, different from what I show in the
showroom. I believe in the fun of e-commerce. So the shirt that comes to mind
at the moment, the sweatshirt. No more than 6-7 articles. This is what I think
for the moment.
A limited
edition?
Exactly, a
more active edition limit. In which there is also the menswear. And that's the next
goal. Men, children, women, more active but surely super special.
Your policy is to differentiate the lines to have
the online channel and the most exclusive boutiques. Do you want to guarantee
them a privileged treatment to feel them part of your world in a more exclusive
way?
Yes, of course. Then I want to make the brand renowned
online. I will never make the t-shirt with a big "Pryvice" logo, but certainly
there will be sweatshirts and t-shirts with very specific characteristics.
Maybe not with all the artisanal decorations I make in the main collection, but
always with something precious, to wear with leggings or jogging pants.
Are the
experiments something that you do only with a semi-couture collection?
Oh, yes! Like
some processes with bubble-wrap printing, some triple couplings with gold and
silver. Or the resin applied on the net, the hand-painted fabrics with a
crunchy effect. All things machine washable obviously, and wearable by
different people because in any case without size. I like the concept that it
is not only a beautiful fashion to look at, but it is a fashion that you can touches,
rubs and that makes noise. It's essentially multisensory. Because it's
part of my world. I hope I told you everything.

I'm very happy to have met you and to
have been involved in your passion and your wonderful and creative world.
Thanks Paola!