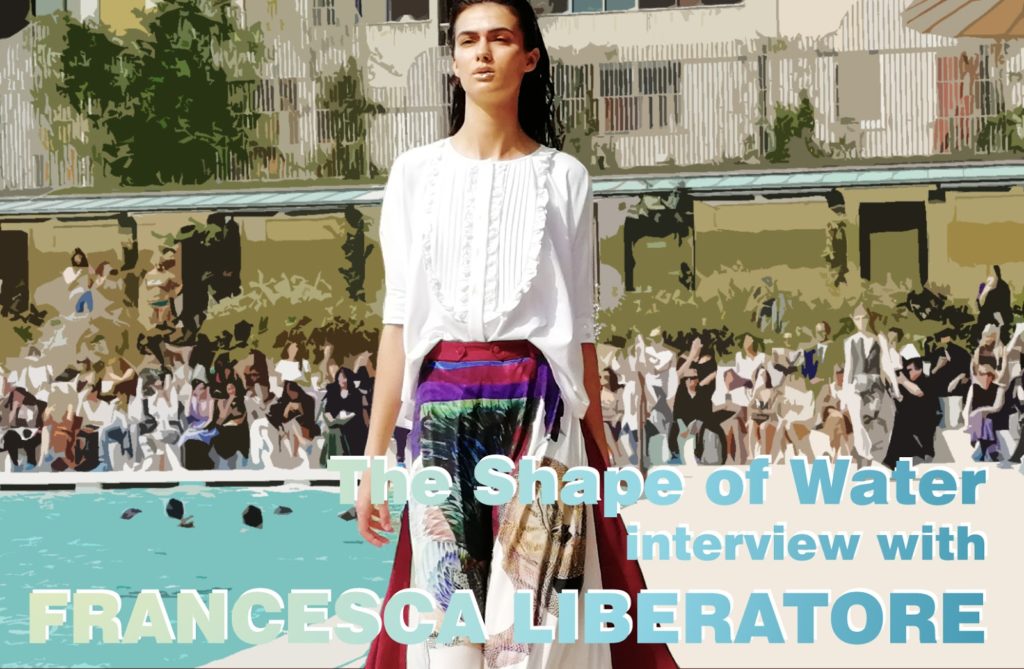 A woman out of the ordinary, a free spirit and yet anchored to reality, of which she is a curious and passionate explorer. After the success of her elegant and graceful fashion show at Bagni Misteriosi during the last Milan Fashion Week, Francesca Liberatore tells us about her collection and the many facets of her personality and work.
If there's a name among the young designers that most of all has brought the essence of Made in Italy around the world, it's surely that of FRANCESCA LIBERATORE. Born in 1983 and daughter of artists, Francesca studied at Central Saint Martins in London, traveled extensively for the UN and above all had to deal, during her life, with great names of international Couture, working for Viktor & Rolf, Jean Paul Gaultier Brioni Donna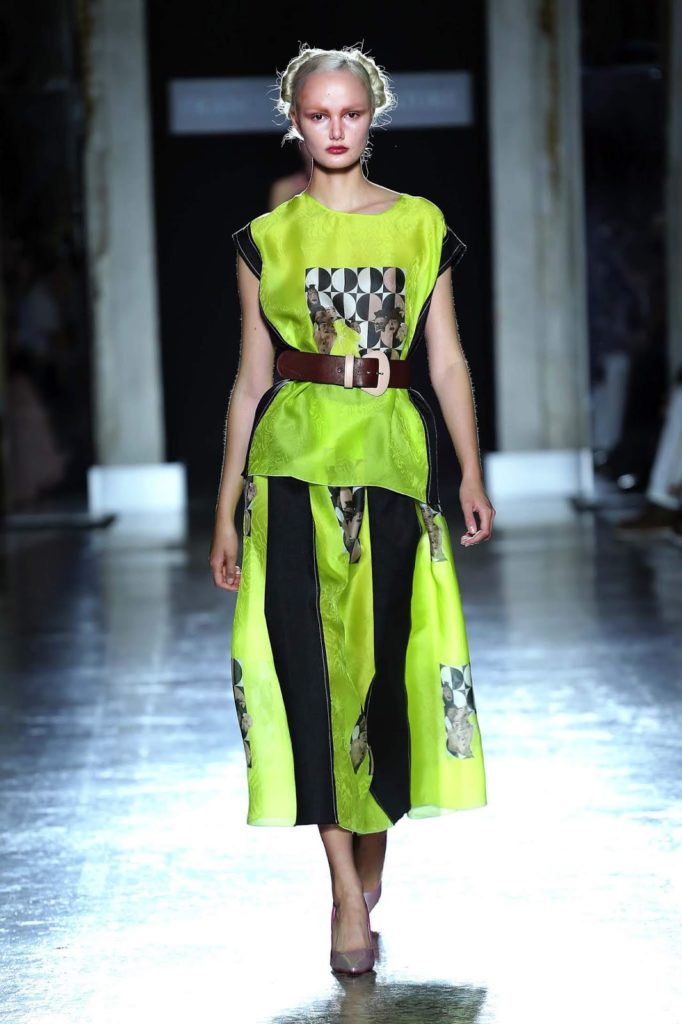 As an independent designer she took off thanks to two competitions: "Next Generation" in 2009, promoted by the Camera Nazionale della Moda Italiana, and the "DHL Exported and IMG" in 2014, which allowed her to present the collections in the main fashion weeks worldwide and especially in New York.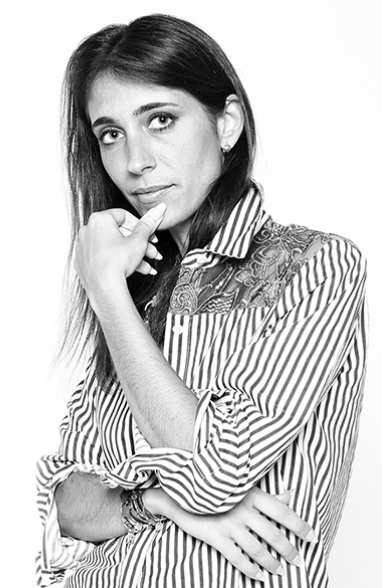 Francesca is a very busy woman, both in her work as a designer and teacher, and in conceptual research. But she is also a very practical woman, with whom it's really nice to have a chat. And so a few days ago, between classes at Naba, she told me some interesting things about her last fashion show, which took place during Milan
Fashion Week in the beautiful setting of Bagni Misteriosi Bagni Misteriosi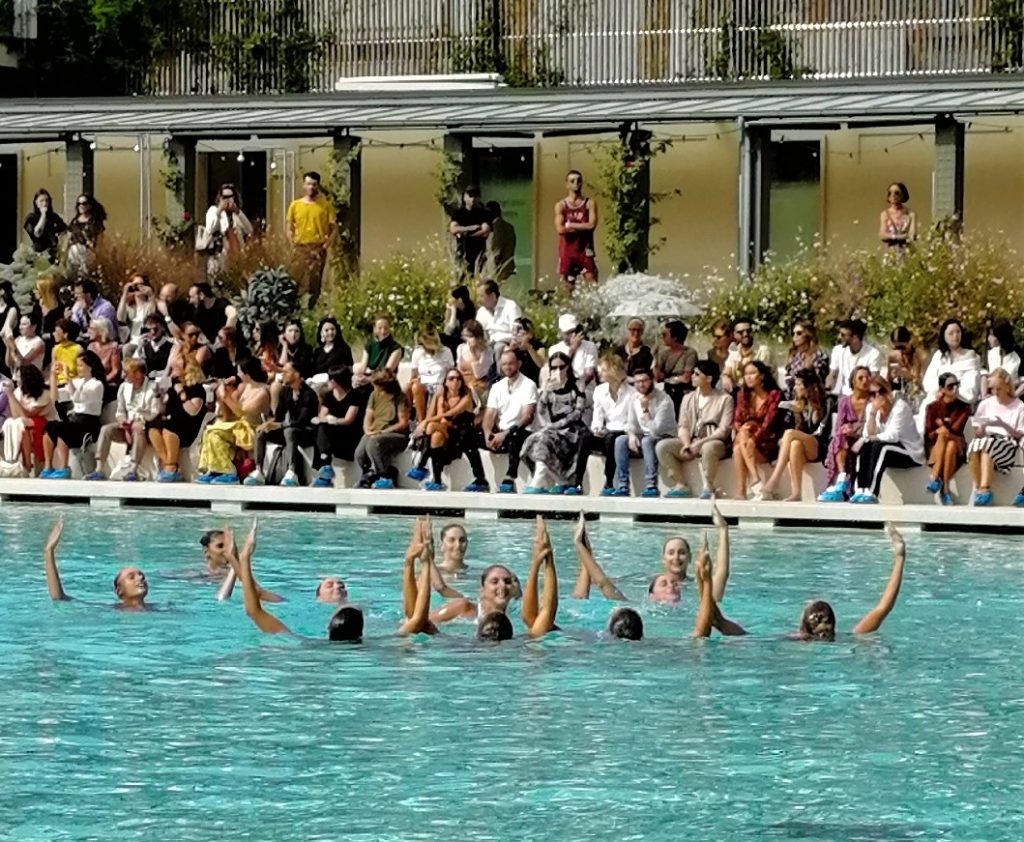 How did the idea of ​​creating this synergy between your collection, created in collaboration with Arena and DHL, and the girls of the Nazionale Italiana di Nuoto Sincronizzato come up?
For me it was
really my need. Even today the first word that comes to mind thinking about the
fashion show is "incredulous", because I still can't believe to have
made a colossal like this, focused on just one person, that is me. It really
was a super special thing! For three seasons I returned to Italy. Two of these
fashion shows were in the Palazzo Reale's Sala delle Cariatidi, one of the most
beautiful set in Milan. A young brand like mine doesn't make budget with a
fashion show. It's the moment that it gives all the users and collaborators of its
fashion. It's a moment of pure image, in which an emotion, an idea, a message,
an identity is presented to public.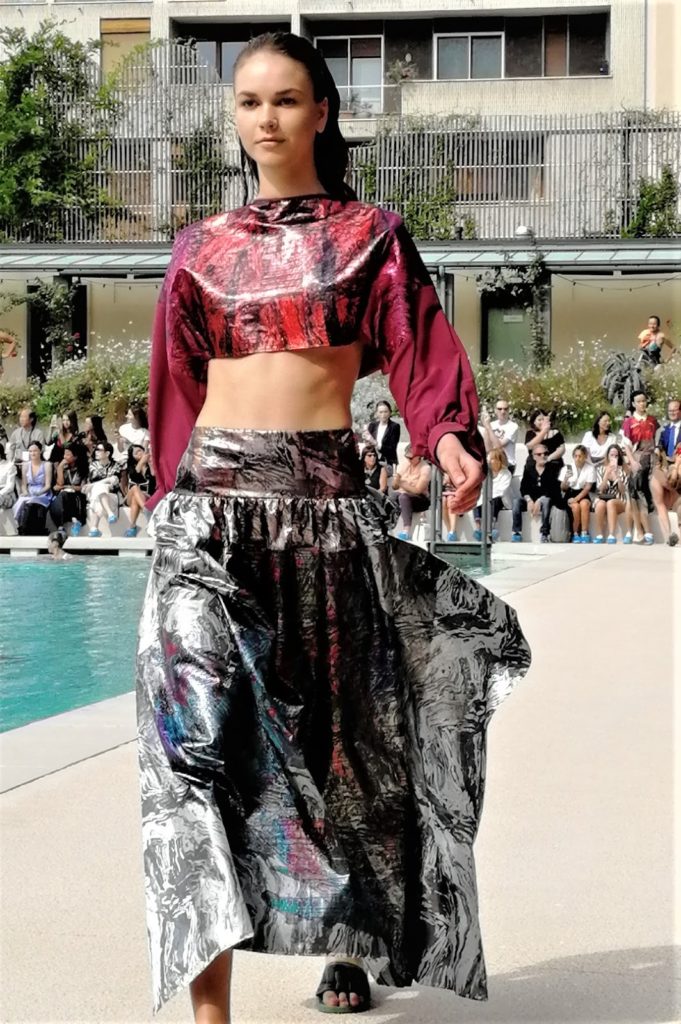 Outfit of the s/s 2020 collection by Francesca Liberatore For a young woman like me, who is
constantly on the move, making the fashion show in the Sala delle Cariatidi for
the third time, seemed frankly really absurd. So I looked for a different
format, with the idea of changing those mechanisms that in Italy remain a bit
static, while in Paris or New York in particular, but even London, things are
moving incredibly very fast. I was interested in taking my fashion show out of
context. I was thinking about where to create a different situation and one day,
while I was in the pool, I thought "why not?" . A swimming pool already has logistically everything. Lights, seats, emergency exits, it was already perfect.
Absolutely yes. The pool was a place that perfectly suited my being. I'm a creative person, I have to find a box that fits my product and above all can communicate it better. I'm the daughter of a sculptor, so for me the contact between the object and the surrounding is fundamental. It's something that I have experienced also in all the fashion weeks I have done abroad.
The pool gave the idea of ​​lightness that is absolutely present in your clothes.
that's right, everything was calculated once the idea of ​​the pool was born. With it came a series of considerations. It was the perfect, logistically speaking. So I started thinking about what it actually represented. For me it was the authenticity of the city, a place used daily by sportsmen, not by fashionistas, but by people who want to feel good, who think about their own well-being. A concept that is not always associated with fashion. So I wanted to reclaim this synergy. Many designers made a fashion show in the pool, before me even Moncler in 2003 and Lanvin last June with the men's collection. But one thing is to make a runway in the pool, another is to create a format in which there's a dialogue with the pool. The great innovation at Bagni Misteriosi was that during my show the pool remained open for swimmers who could watch it from the pool besides ours. On one side there were my guests, on the other the bathers. And to respect their hygiene everyone has put on the shoe covers.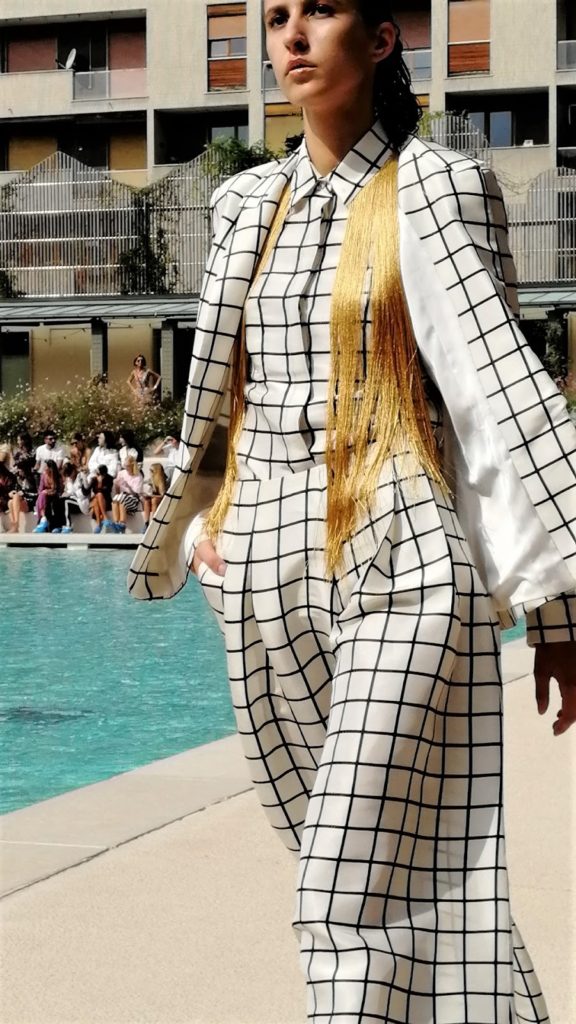 In the various fashion events, that pool is closed and people come in high heels. Instead when I said I wanted the pool open, they immediately asked the use of shoe covers and that for me it was nice. Those who came to see the Francesca Liberatore's fashion show knew that it was a union with the city, with a public place, with the hygiene of bathers and therefore those who wanted to enter had to put on the shoe covers.
Or take off the shoes, as was the funny case of many women.
In fact, they could do it and feel free too! And for me this was also a strong message that I wanted to give.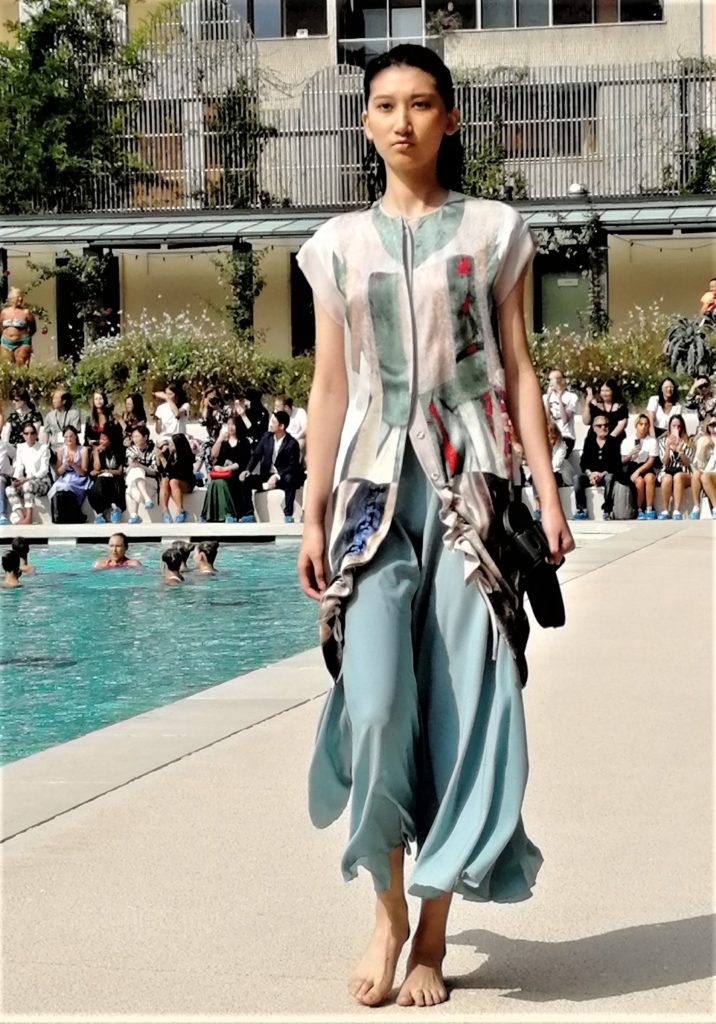 Is it also a way of making fashion in a different way than the usual format, that distances the public from the collection and the designer?
Yes, that's why I also wanted the synchronized swimming team and we were lucky enough to have the best of the best. I wanted a format that could take advantage of the water. My first thought was to look for a synchronized swimming team in Milan that could take action during the fashion show and maybe collaborate with a brand to create their costumes. So I proposed my project to Arena and they agree with the ideals I was proposing: mixture of genres, authenticity, well-being. A well-being that is reflected in healthy, agile bodies. Thus was born my collaboration with Arena, that will continue in the next future.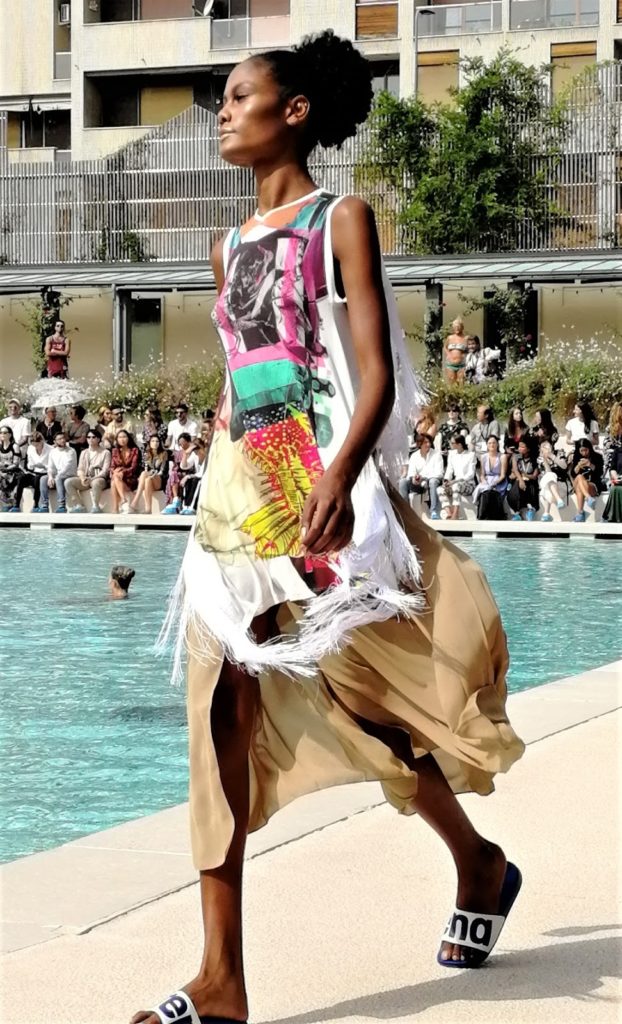 With other projects?
With a very big project, in a few months, of which I cannot yet speak. We started with a swimwear capsule collection "Francesca Liberatore per Arena". Since Arena is renowned for the union with the champions, why not call the Nazionale Olimpica
di Nuoto Sincronizzato? Arena is an Italian, technical brand, but it's also the brand of the National Swimming Team, so the fact of calling the champions was logical and perfect. Then was chosen the location of the Bagni Misteriosi, to aim for the maximum.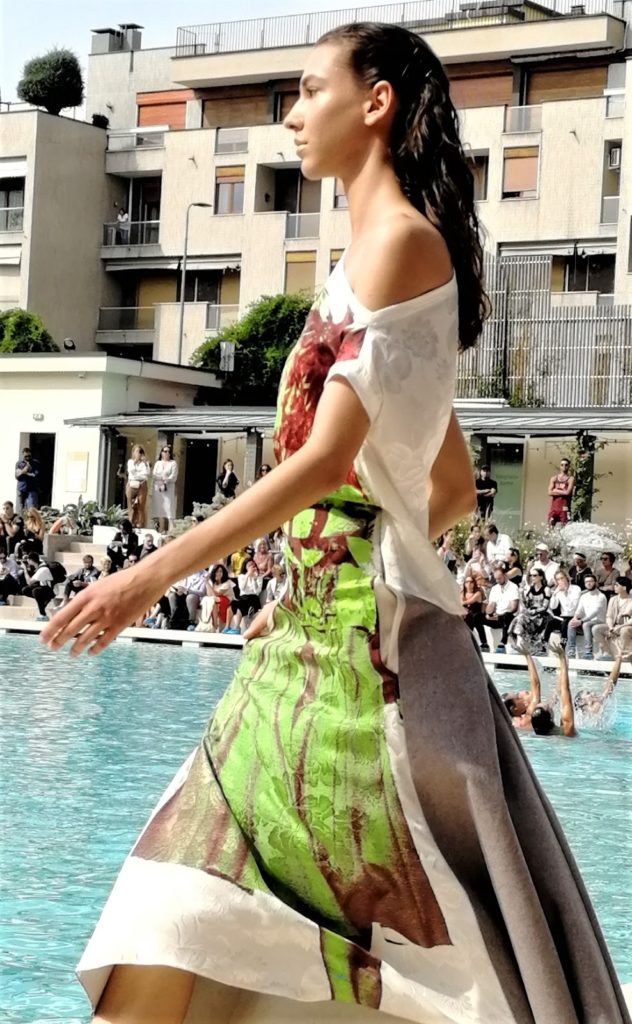 A very beautiful and suggestive location.
Actually at the beginning I was focused on the Milano Sport's pools, because they seemed more authentic for giving the idea of ​​sport. But we couldn't choose many because they were far from the city center or didn't have the depth necessary for the National team to go underwater, while Bagni Misteriosi had 1.70 of depth which was perfect for us. The choice was a combination of factors. Also for what that place represents with the Franco Parenti Theater, among the few theaters that can afford to focus on innovation. And this relationship with the theater has been fundamental for me in my choice.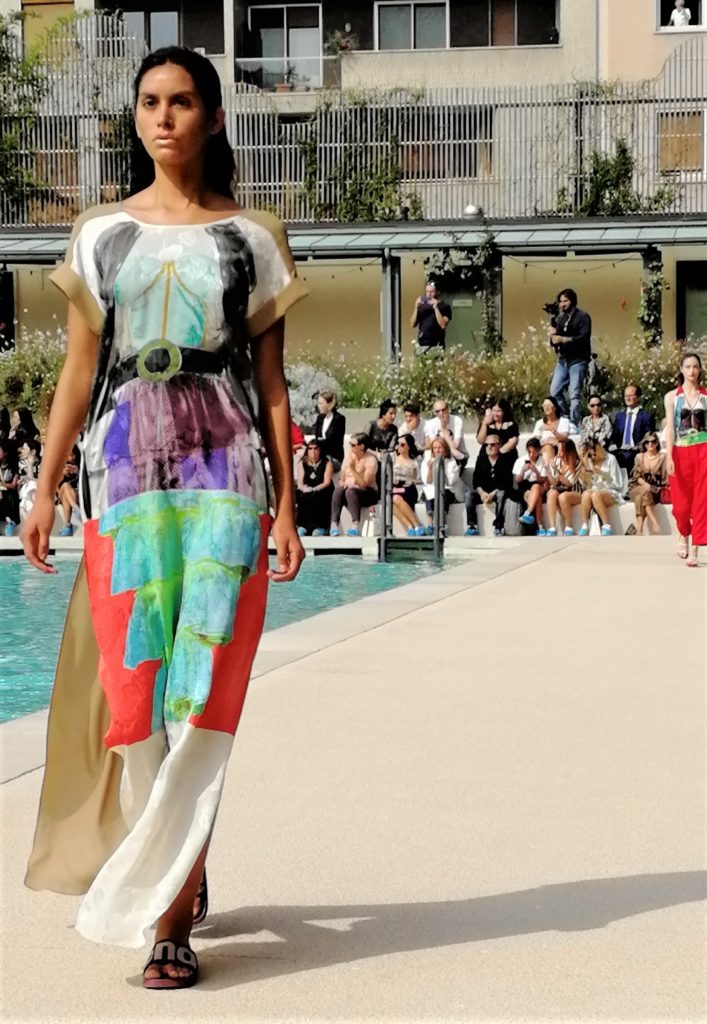 And the partnership with DHL?
DHL is my partner,
to whom I owe so much. DHL brought me to America, with the "DHL Exported"
competition, but above all they moved my collections from America to all over the world, even when I had foreign orders. Work with customs for a young and small brand it could be very difficult. In my opinion DHL has the logistics that no one else can offer, it has very human teams, a very cohesive group. So the relationships between the various offices are very fast and the final customer always gets an optimal result. They wanted to make this project with me, especially when were involved the National Team and Bagni Misteriosi, that represent Milan and its authenticity. Who more efficiently than DHL could combine all this? I was lucky enough to work with all these partnerships, so I'm very happy with the result. With Arena and DHL I created a special swimsuit with DHL's colors, which will be sold as part of the next fashion capsule collection.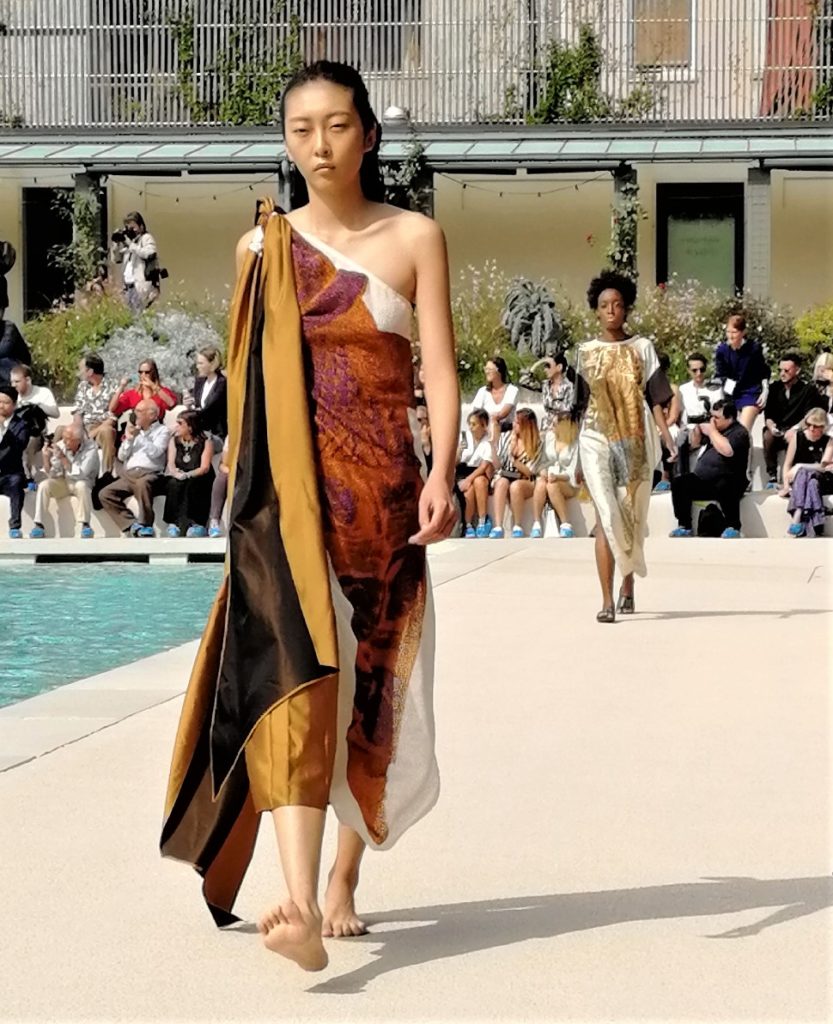 Your collection has a very delicate and graceful femininity. Long fringes, sparkling and sophisticated fabrics, the game of prints. On catwalk the models created a synergy between the movements of the girls in the water and their rhythmic pace. What struck me was the concept of wearability. I found it perfect for a wide range of women, not just for the slender ones. I think that the clothes' fluidity can facilitate people's movements giving a sense of freedom, but also softening the variegated shapes of women. Is there a Francesca Liberatore's woman or you focus on the woman at 360 °? And how do you build your wearability?
I'm happy with what you said because it's something to which I focus a lot. Surely there are many Francesca Liberatore's women. For example, right now I really like Eva Green, who doesn't represent a very thin woman, because she is very sinuous. Especially in this collection I focused on athletes, so bodies sculpted in a certain way, not surely slender. Actually, I really wanted to focus on the well-being of any woman, which can be represented by sport and a healthy body. I also looked for femininity. Any woman can be my woman, I have neither age nor physical structure limits. Being a fashion designer, my ongoing challenge is precisely on wearability, on which I focus most of my attention, both in terms of model and in the way the fabric can facilitate, soften and become one with the body.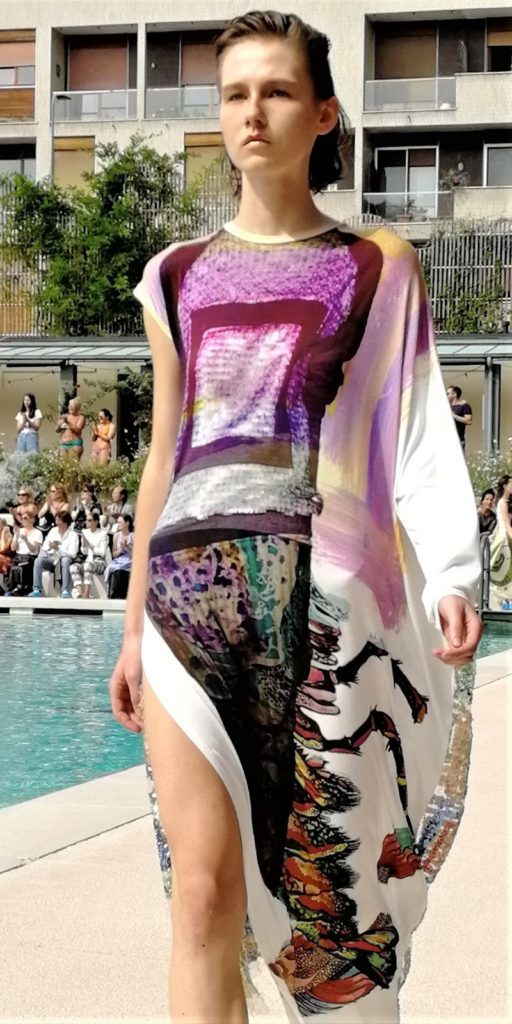 Often I also create holes in strange points, such as the back that is revealed suddenly, rather than transparent parts or provocative slits, but always calibrated on any body type. A veiled femininity that everybody can reveal through a garment. If a dress manages to facilitate this, I think it's a challenge won. I always don't reinforce the sexy shapes of a woman, but I prefer to discover those points that can make her sensual even if she is not slender or super sexy, because that's what every woman looks buying a new piece. For me too. I'm not one who wear super sexy. I can wear a black turtleneck, but maybe with a particular skirt with a sensual slit. This intrigues me, because I like being feminine too.
To play also with the movements and the lines of the dress giving the idea of veiled
sensuality, that sometimes I see and others do not?
Yes, something that surely every woman has in herself, but can be hidden. The woman's movement is fundamental for my clothes, but also for the way I present them. I'm a fashion designer who has never missed a fashion show in 10 years. This was the first time I left the official schedule but always with a fashion show made with a different format. I will never make a static presentation. My parents are both artists and thanks to my heritage, my background, when I'll decide to do a static presentation I'll prefer to put my dress under acrylic and hang it on the wall as a painting to show the print, the fold of the fabric. I'd certainly never forced a woman to stand still. The movement of the fabric is a function of shape, fit and movement. If there is no movement, my idea of ​​presentation is missing.
So from a conceptual point of view, yours is not a fashion that lives for itself, but is
designed in function of its user?
It's designed just for those who use it. But, since I'm a creative, I don't compromise some aspects of my creativity. My style is fashion, but it isn't always synonymous with trend. I aspire to make more timeless a fashion. Even my myths, those who I continue to admire, are still copied today. They realized things that, worn today decontextualized from what was the representation of the woman in a specific period, are still super contemporary. Decontextualize a piece and wear it on jeans, I think it's really a fantastic thing for every woman. And I hope my clothes can have the same effect.
Yours is a young brand, which was born in difficult years and has grown a lot, but which has kept a freshness and lightness that maybe some very structured brands cannot have, for purely commercial reasons. The moment you start a collection, do you have in mind the market and the marketability of the product, do you follow a trend or do you get involved in your inspiration and your creative way of approaching the design process?
Honestly, perhaps none of the three. I tend to the things I like, that I live, that strike me in the contemporary moment. There is certainly a strong social factor. I made a collection on ISIS, for example, although it's not a theme to be treated lightly. I did that about pollution of the oceans, because at that time I saw an image of a bird with plastic in its stomach, that impressed my mind and from which I started a series of prints. But I think that there is always a hope, therefore from that plastic another life was reborn, from its shapes other birds were reborn.
The inspirational theme is something that must touch me in the moment, in the contemporaneity. I do a lot of research, I deepen a lot. It's my growth, my need. If something strikes me I start to explore all its aspects, in the meantime I get other 2000 inputs and then I get in touch with things I never saw, that happen to me by chance. From this comes my personal growth and my internal revolutionary movement, from something that starts from me, that I like, that I want to explore, that comes from the contemporary reality around me. The real challenge then arises in creating a product that may be appropriate for the market. I look at women, subways, shop windows, fashion shows, street-style, I look at my students. And then I try to understand which side the market is saturated and which way we can explore. Then my journey starts from there.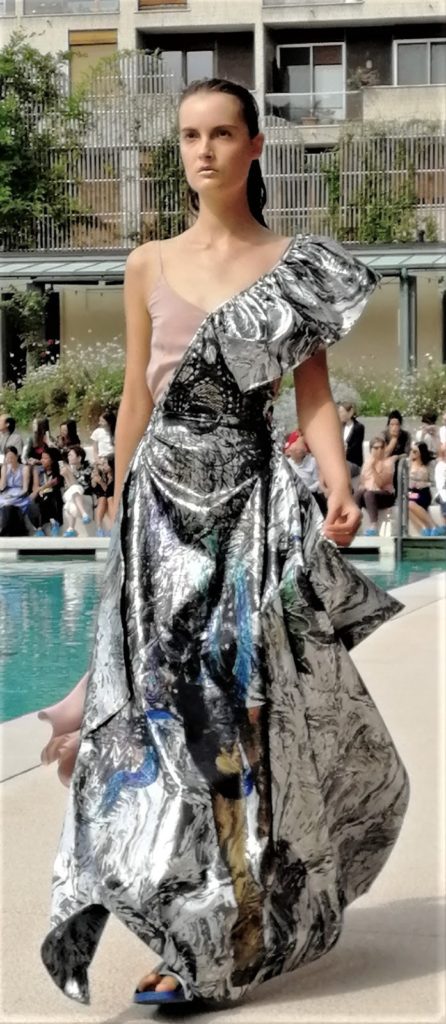 Where do your prints come from? What was the visual input?
From the theme of inspiration, which surely was something visual that impressed me. It can be an illustrated book, a movie, everything. For this collection I found a book for children in which you can mix the head to the body in different ways, exchanging the parts. From this were born all my drawings that united different
marine animals, as well as parts of the female body. Everything is transformed
and my drawings became the children's game. The Francesca Liberatore's t-shirt, for example, was for me a white canvas that becomes the basis for the print of a fancy animal, in a game of interchangeability. My prints always start from the theme and every time, as a creative visionary, I transform them. When I see
an image I already know what to do with it, how to transform it. This is a strange and beautiful mind game that has structured me in a certain way.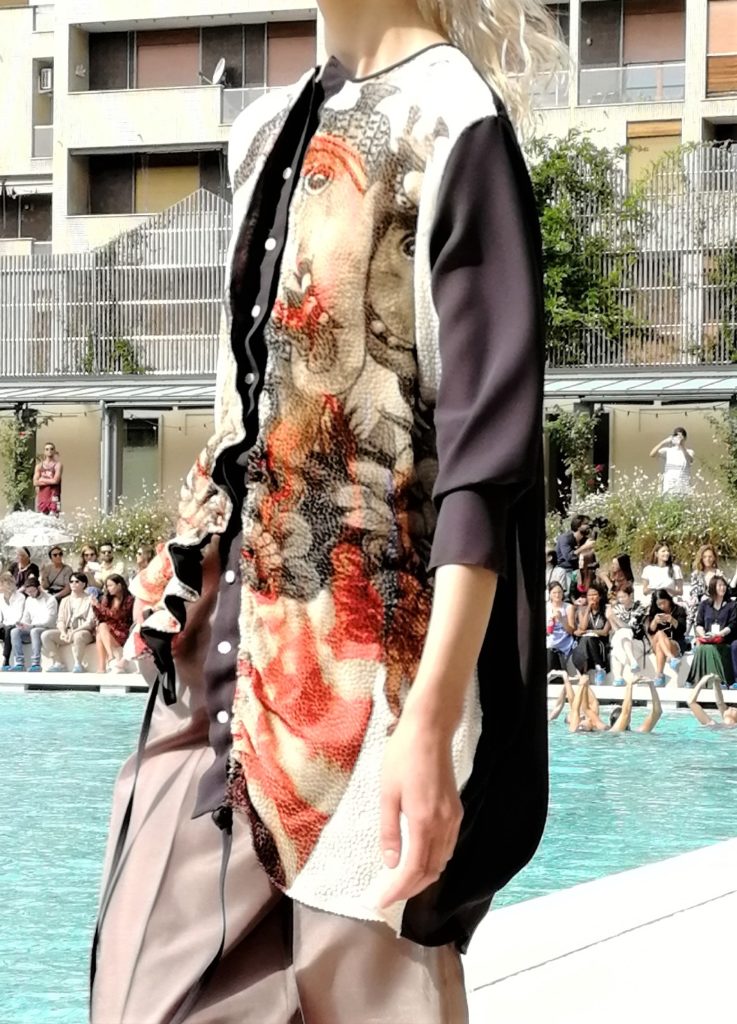 You have a very strong cultural background, a bold artistic vein that flows into you, but you are also a very determined woman, multitasking, who makes many things and projects, who collaborates with many realities, who teaches. Is the designer role something that you carry out coordinately with all the other things to do, including teaching, or is it always the most important part of your work? What kind of designer are you?
It's a strange thing, because my being a designer corresponds to my true being. I couldn't be anything else. I couldn't teach if I wasn't a designer, I couldn't travel, I couldn't make research if I wasn't a designer. Francesca Liberatore is this. I want to design clothes and my eyes always tend to that when I see a seam, a pair of shoes, a movie. What I see through my eyes is always conveyed by what I am. And I'm a fashion designer, a creative. This supervises whatever else I do. But in reality it's the thing that is relegated to the last part of my time, because today's world is hectic. I seem to be multitasking, but I'm actually the most mono-tasking woman in the world. I can do one thing at a time, being super focused. I think this was caused by my education, from the Anglo-Saxon method. At Saint Martins we worked 24 hours a day on a project that ended after two weeks. I see my poor students working in parallel on 3-4 projects at the same time and they have all their exams in February, even three different subjects in a day, which I could never do. I have to stay 24hrs on one thing at a time.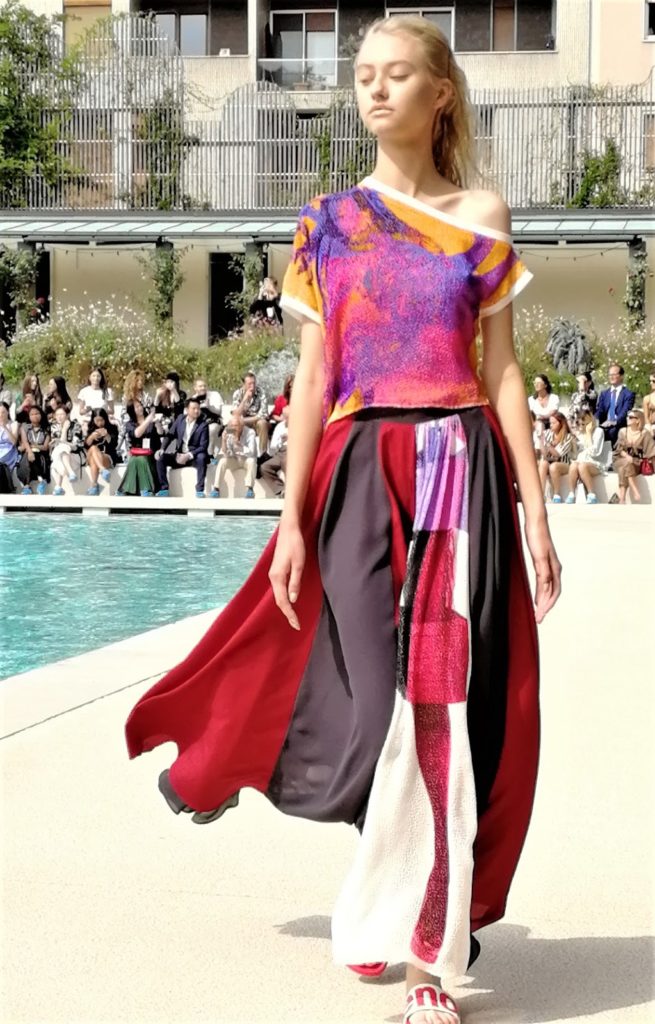 Outfit of the s/s 2020 collection by Francesca Liberatore
Maximum concentration and then change project, change story, immediately afterwards?
Yes, absolutely. It's the essence of my being a designer. Everything I say, do and express come from my being first and foremost a designer. Then unfortunately compared to collaborations, travel for the UN, teaching in America or here in Italy, the time I dedicate to my collection is short, maybe that's what I do at night for three days. Then I become crazy around labs to make the collection in the way I want, because I'd never accept a compromise on it. It's my priority, it must come as I want because it's the only thing on which I express all my creativity. I also need all the other things, because all the gains are reinvested in the collection, in the fashion show, in managing to do what my head says without compromises.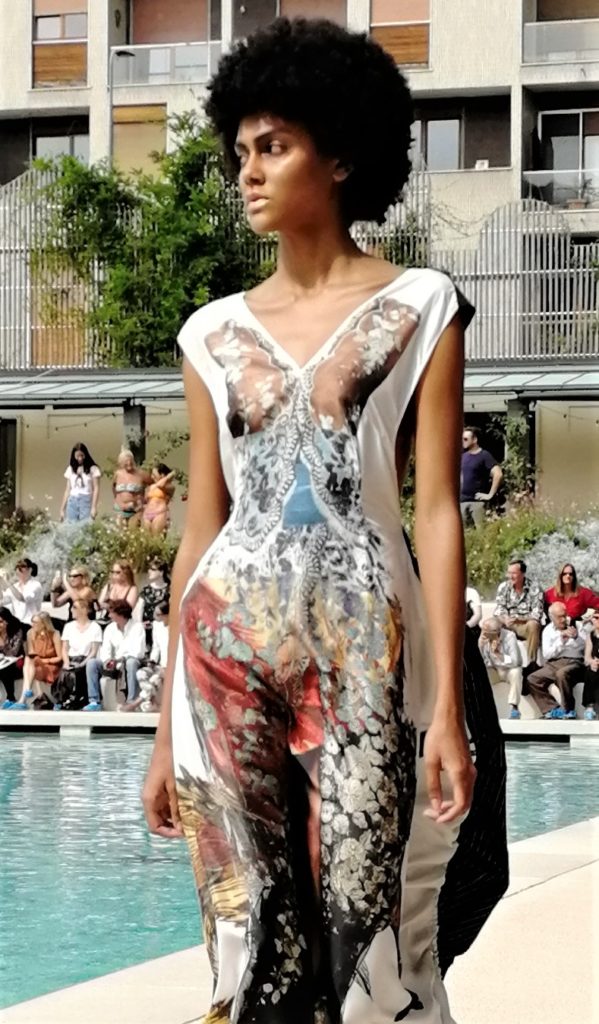 Outfit of the s/s 2020 collection by Francesca Liberatore
You come from Central Saint Martin and teach at Academy of Brera and Naba, so you learned different approaches to training. As a teacher, what are you trying to give to your students?
Hope, which I think is the most difficult thing right now. I involve them as much as possible when there are my fashion shows. I'm happy to show them that even if you are a normal person, you can do something. Seeing me, even every day, and then an event like the one we organized with 900 guests, they remain enchanted, but they can see that it's something tangible. It won't always be this way, when maybe they'll become junior designers in a style office with other 30 junior designers and as many senior designers, a situation in which they will hardly ever see the light. I was lucky, both working for Viktor & Rolf, Jean Paul Gaultier and Brioni Donna, to work with numbers one and to be face to face with them. This gave me so much, an incomparable experience. See those geniuses, people who gave their lives to put all their passion into this work, who are always creatives despite of the market. That was the biggest value for me.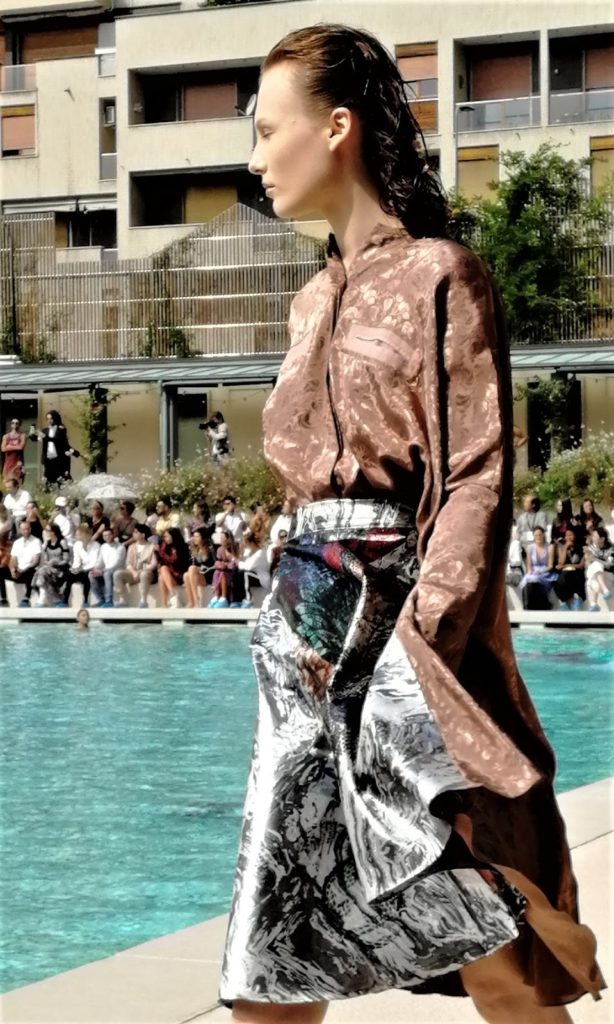 Outfit of the s/s 2020 collection by Francesca Liberatore
What I try to give to my students is the possibility of seeing the double face of reality. On the one side a person who works with them all the time on their projects, on school hours and lessons, on the other side being able to believe that a single person can do everything I did. It's the demonstration that everything is possible and that above all we can always speak with serenity of our work, eliminating the idea that fashion is only stress, nights, anxiolytics. That it's true for many, but not in my team. Anything can happen at any time. But I always tell them that life goes on, if a model doesn't come, if something goes wrong, everything is solvable. We are not saving lives. Take it easy, but you can still do something.
This is a very nice approach, because very often the aspiring designer who arrives at a fashion school has a dreamlike vision of this world, which in reality is very
practical. Let's take a step back, to the moment you start the collection, creating
patterns, prints, choice of fabrics, samples. What are the difficulties that a
designer faced along the way, especially experimenting with new things?
About my work, fortunately few. I'm lucky because after 10 years I collaborate with numbers one. All the laboratories that work with me, and for many other brands, are consolidated. I work with Punto Seta, the textile company that produces my
special fabrics and gives me the opportunity to experiment with prints and
jacquards, for over 10 years and this is a great value. Surely the main
difficulty, the first step, is to reach these realities, because not everyone
has this possibility. For 10 years I built a network, a credibility. Swarovski,
Saga Fur, Punto Seta, DHL, are my historical partners. I have created synergies
through results to maintained them for 10 years. The hardest thing is to get
there. But once you get there it's all easier.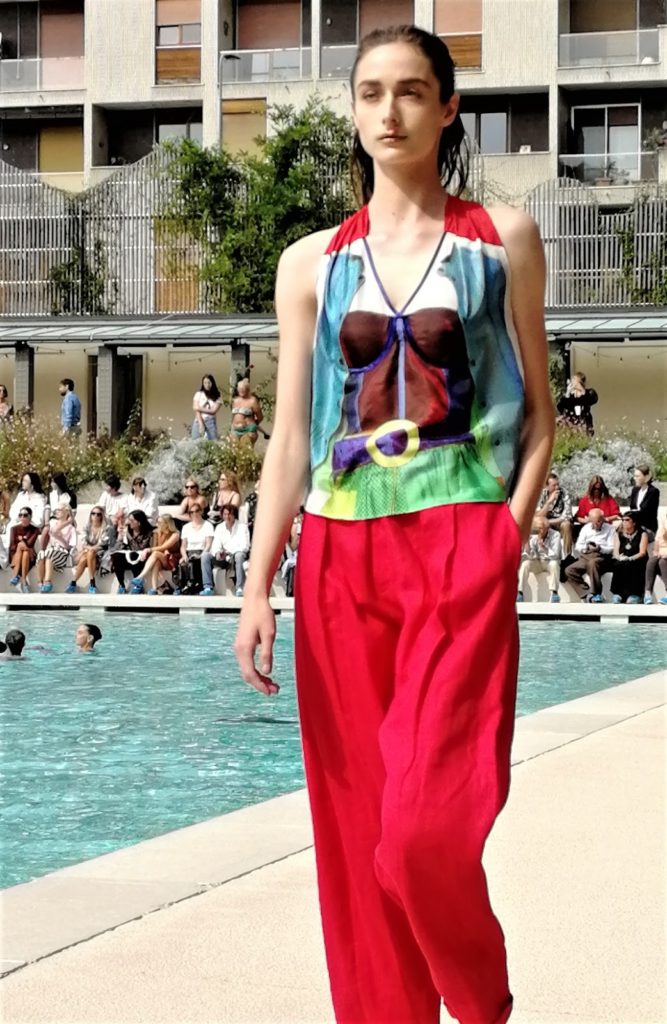 In my work, I'm not afraid of
anything. I fear what does not concern it directly. For example, the positioning
in the fashion week schedule. Or the cancellation of a model at the last minute.
It happened. The unpredictable things that don't depend on me frighten me,
because on my work I feel I have acquired an experience that surely helps me.
Whenever I make a mistake, I know I won't be wrong later. I learned how to
solve problems quickly. My job ends with the fitting and I see that the model
looks great with my outfit. What can happen in the runway, models that fall,
that don't come, the rain … That's out of my control.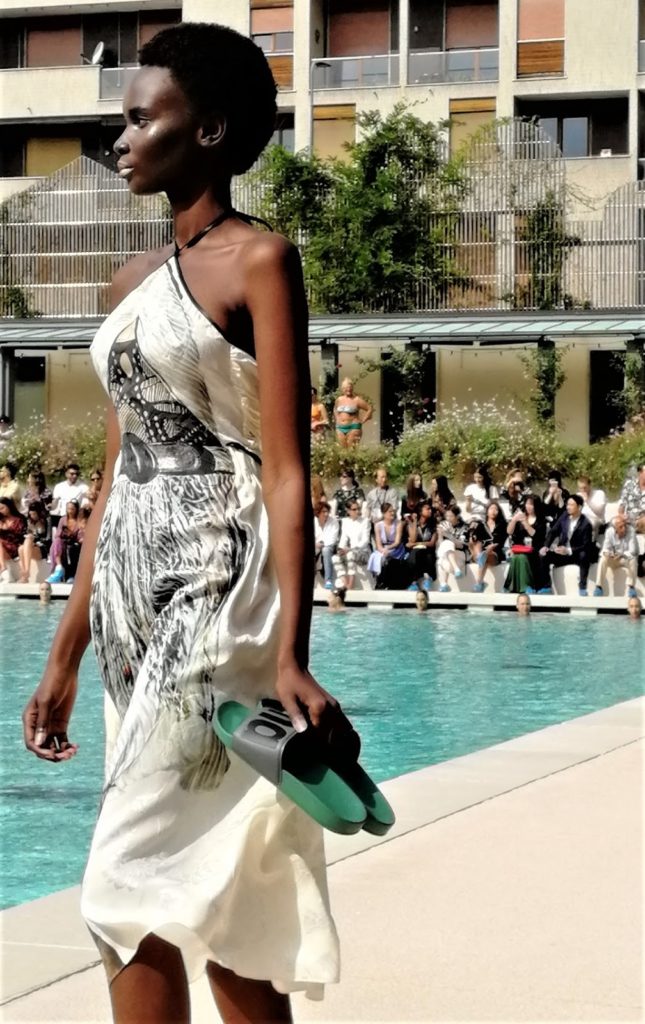 In your last fashion show you managed to create a relaxing moment, within the whirlwind of events in the fashion week schedule.
With my team we did the maximum for 4 months to give a show out of the ordinary that was worth watching and with our strength. We took the risk of being superimposed on other shows and the show was a little longer than expected. Someone said that it was a little long compared to the other Milanese fashion shows. But creativity needs its time, its space and the time of reflection of the beholder, for being enjoyable. If everything has to be perceived only with three clicks on Instagram, I can also avoid having all those people as guests. Maybe I'm
different now compared to a few seasons ago, but this feeling really changed my
view of fashion shows. Moving from a room of 300 people to a location of 900
people, I could give some more invitation. I can really tell you that the this
changed the perspective of many people who wrote to me. It was a human fashion
show, in which people saw something they always wanted to see and never saw.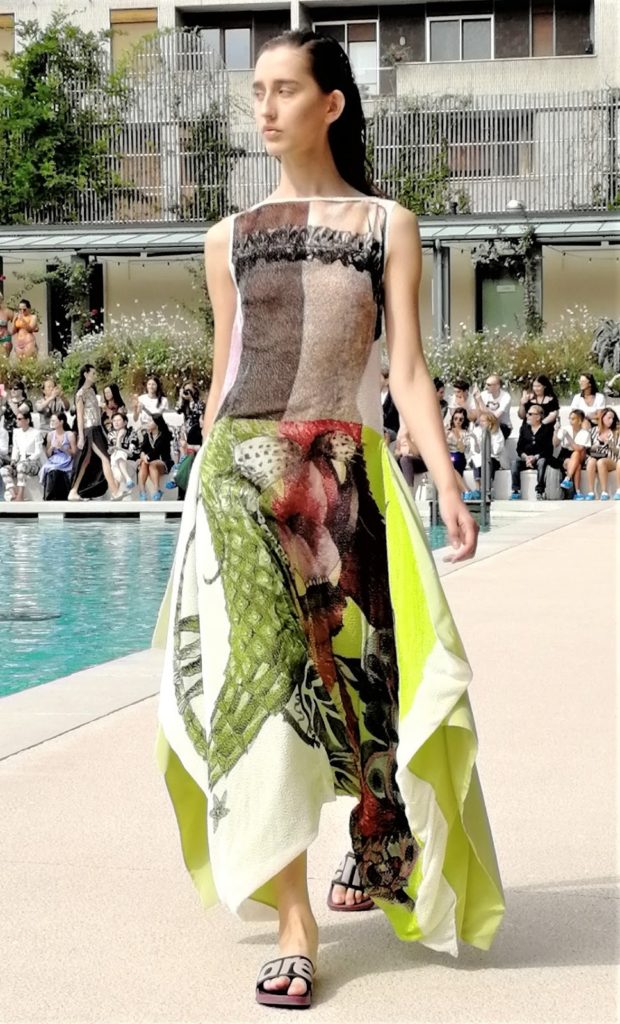 In your opinion, would it be possible to have a more open fashion system, not forced in a structural scheme like the fashion week, with a very tight schedule, with the usual brands that present more or less their collections in the same way? Is
possible a new way to face the market?
With some limits. This is the first time in 10 years that I left the official calendar, but I could afford it because I knew that my name now has value even for many
journalists or people who follow me. Otherwise, not having a press office, it
would have been crazy, I'd have thrown 10 years of work. It was however a risk.
And it could be a huge risk if I didn't have my follow up. In my opinion,
fashion is a system. To make your voice heard, until you have reached the top,
you must be integrated into the system. Because if you are a young person who
has always been out of the system, who has never had the chance to have that
recognition that I have had in 10 years of career, you have difficulty getting
yourself heard. Unless you invest a lot of money, because money changes
everything. You should be in the system, because it gives you great visibility
and possibilities. Otherwise you are an indie, as in music.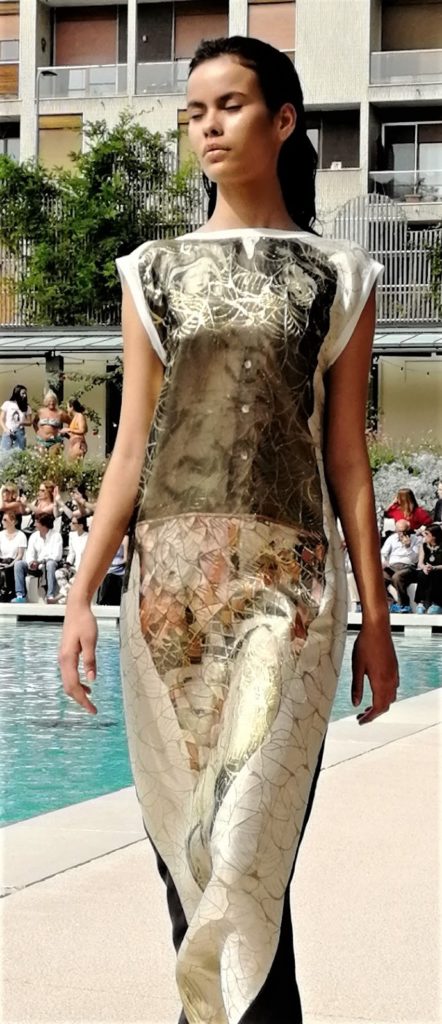 Yes, of course, you remain a niche brand that then risks being lost along the way.
Exact! Having an artist father, I know that fashion is not art. You can be creative, but you are dealing with a product, a market, a body. You have many limitations. What I always say to my students is that if an artist dies, maybe he is recognized
after his death, if a designer dies and has not been recognized in life, surely
after death he will be forgotten. This is a very real thing. We live by what is
published in the newspapers, because we turn to a world, not to ourselves. It's
like a singer making a song. It can be good, but if only your friends listen it,
this doesn't work. Everyone should enjoy of your creation. Only in this way can
you give a message, because fashion is also communication. So if you want to
talk, you have to make people listen.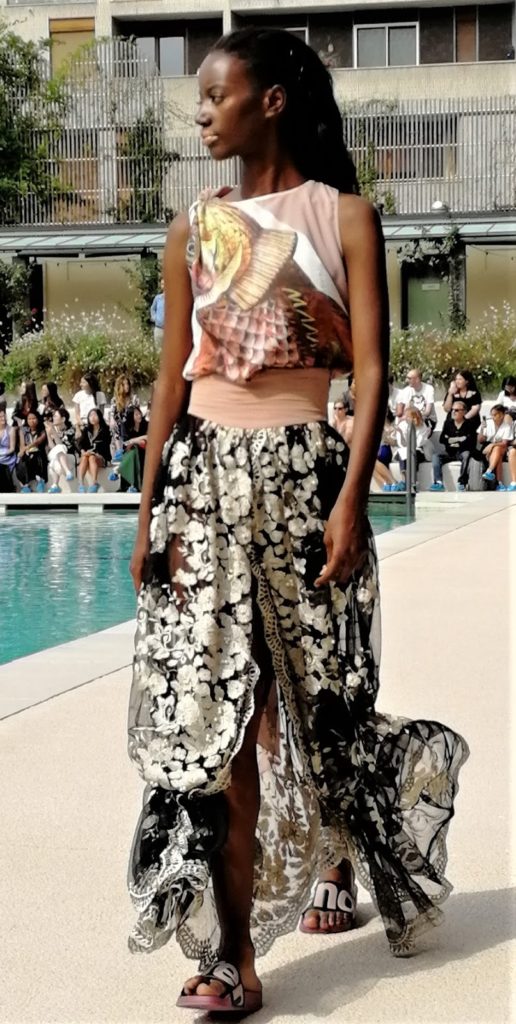 You must have an audience to contact. Know the rules and then break them, or rather to change them slowly, step by step.
Especially if you want to change things. This year I allowed myself to change things because I had a background, but without my past, my experiences and my credibility I'd have been a fool.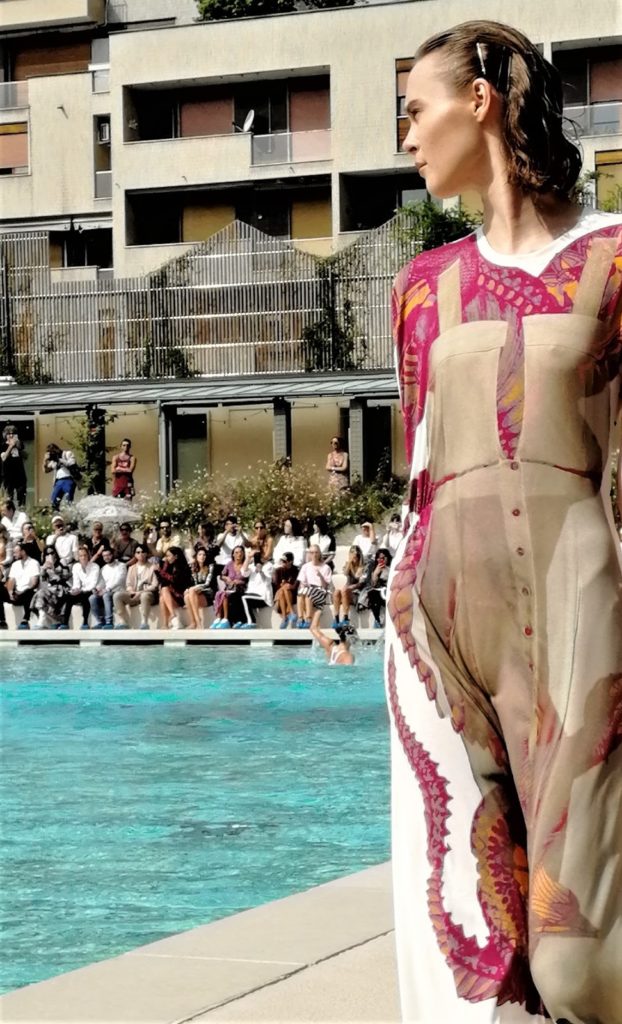 Your brand is very strong in the product quality, as well as for its recognizable aesthetic. First talk about your students, so I ask you an advice for them. How does a young person find his own identity? How did you manage to find your identity,
both in terms of communication and creativity?
These are the experiences you make. Logically you should have a talent, a personality. Character is formed with the family, the background, the culture. It's
something you already need to have when you start being a designer. Around
20-23-25 ​​years people are trained. Those who are not trained at that age are
a risk to me, because I think they will never be formed. Especially in an
environment like fashion, which destabilizes you a lot, you must have strong
roots. Identity is formed thanks to time and sometimes a bit of luck. There are
moments that pass in life. If you are lucky enough to catch them, you can
interact with numbers one, otherwise you'll be in chaos or you never get there.
It's important to have continuous experiences. Because if you continually see
beauty, genius, you can recognize them and even get as close to it as possible.
If you have never lived it, you will never even understand its existence. In
everyday life, a person experiences things. The stronger they are, the more you
realize their value. The advice I can give to a young person is to live many
experiences and to aim high, because then there is always time to go down.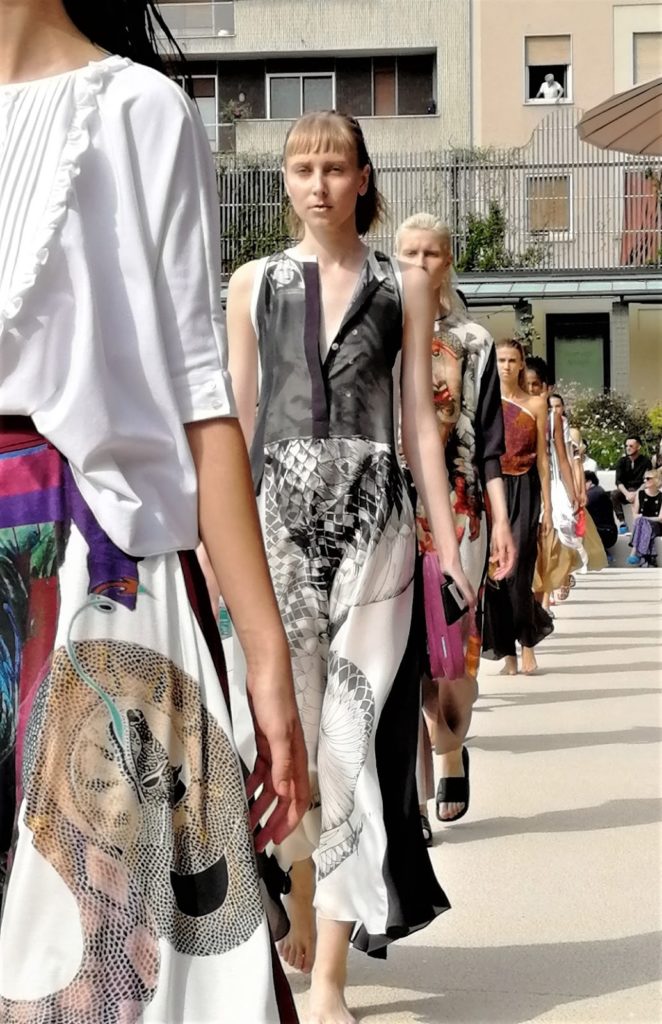 Thank you very much Francesca for the nice interview!