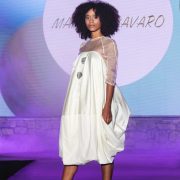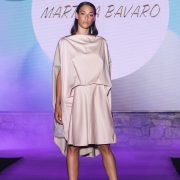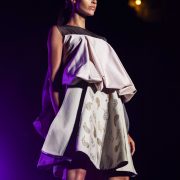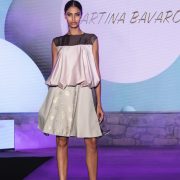 View Gallery
Martina Bavaro, young emerging designer coming from Istituto di Moda Burgo and Istituto Marangoni, was the Special Guest of the latest edition of GDD FASHION WEEK. We interviewed her for discovering something more about her personality and style.
For young designers is not always easy to have a very defined style since the beginning, but there are some special cases in which we can clearly understand an aesthetic code already in the first collections. MARTINA BAVARO is one of these exceptions.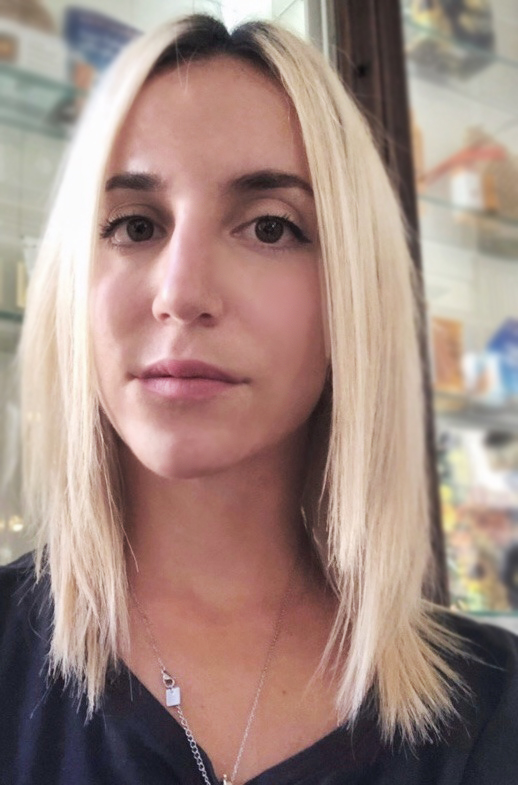 We met Martina for the first time during the exhibition "Eyes on Me" at Milano Unica where she was with her fashion school Istituto Marangoni and she impressed us for the great refinery of lines, colors and embellishments of her first graduate collection.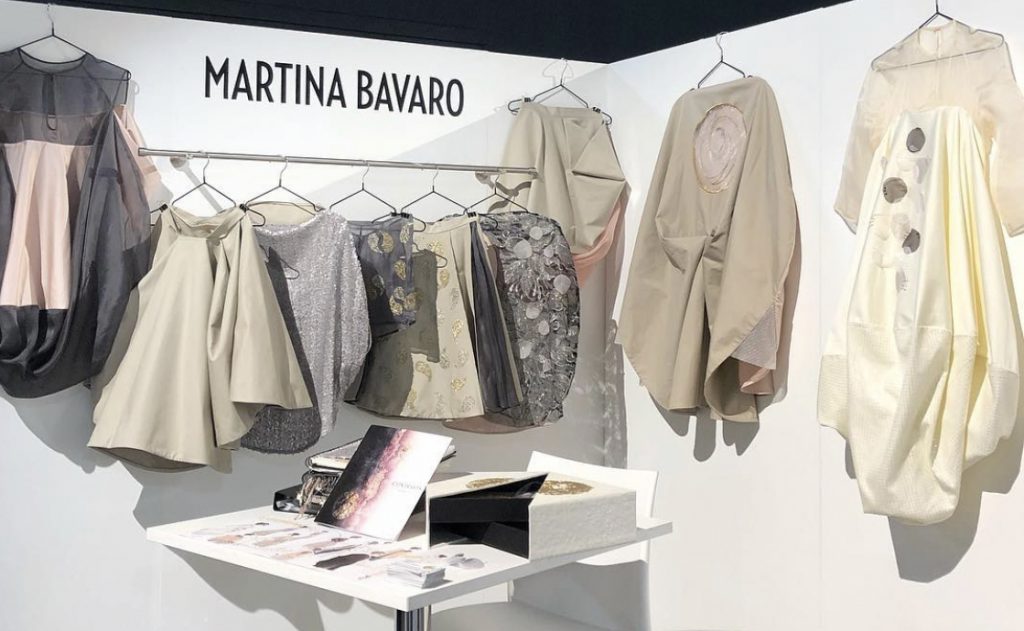 Now Martina entered into our Community TFP TALENTS, being selected also for one of our latest fashion contests, having the possibility to wear with her outfit the Italian influencer and actress Lucia Orlando and winning a photographic shooting settled at "Parco dell'Acquedotto Romano" in Rome.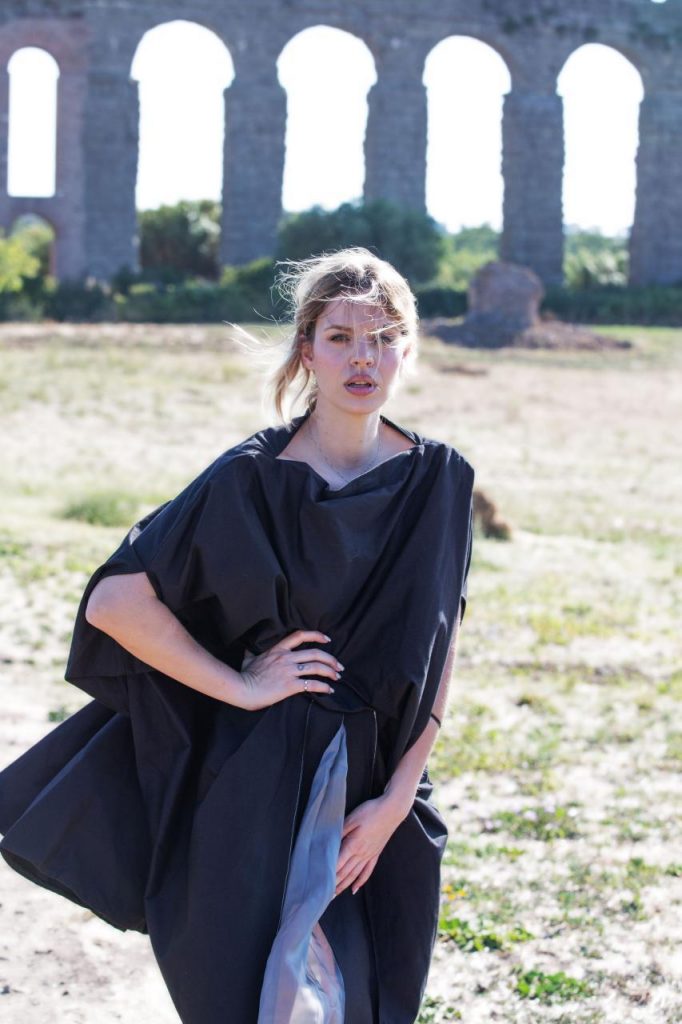 This August she had the chance to present her collection as Special Guest in the prestigious and stunning set created by the team of GDD FASHION WEEK in Amantea, with a beautiful fashion show and being also in the jury of the fashion competition. So, for celebrating this occasion, we decided to interview her.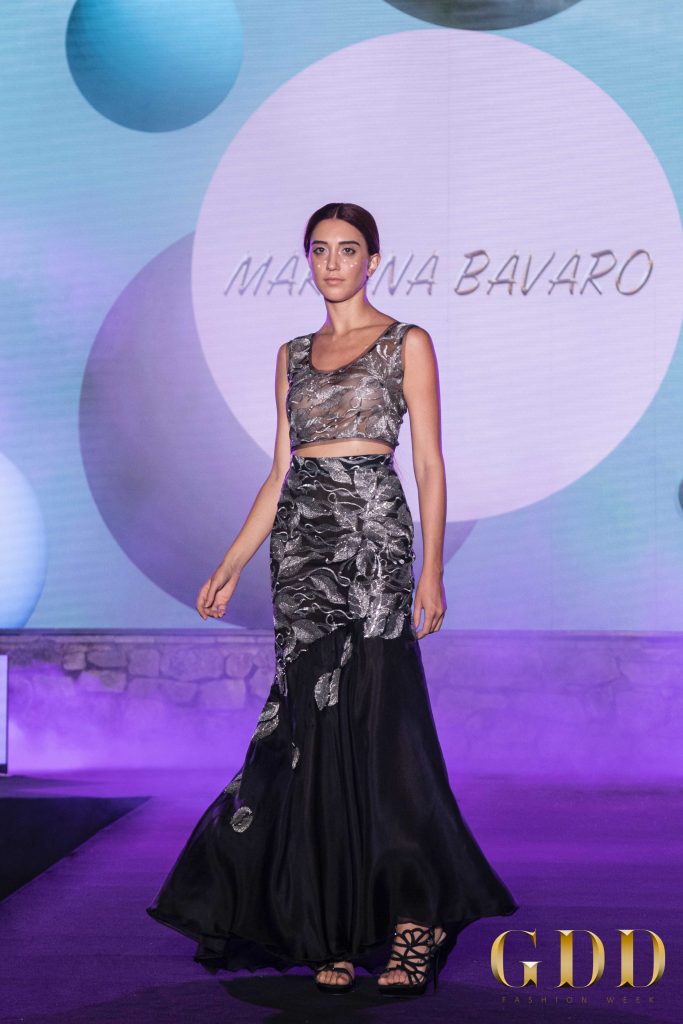 Before being a fashion designer your path was completely different. Why did you decide to change field?
Yes, totally, since I was a child I believed I'll be a doctor and I channeled my studies on this, during university, however, I realized, or rather, someone helped me to understand that I was not on the right path… my parents! They pointed me out my passion for fashion sketches (not a simple or obvious decision for everyone), started drawing on medicine books bridal dresses, and pushed me to follow my instinct to have clearer ideas.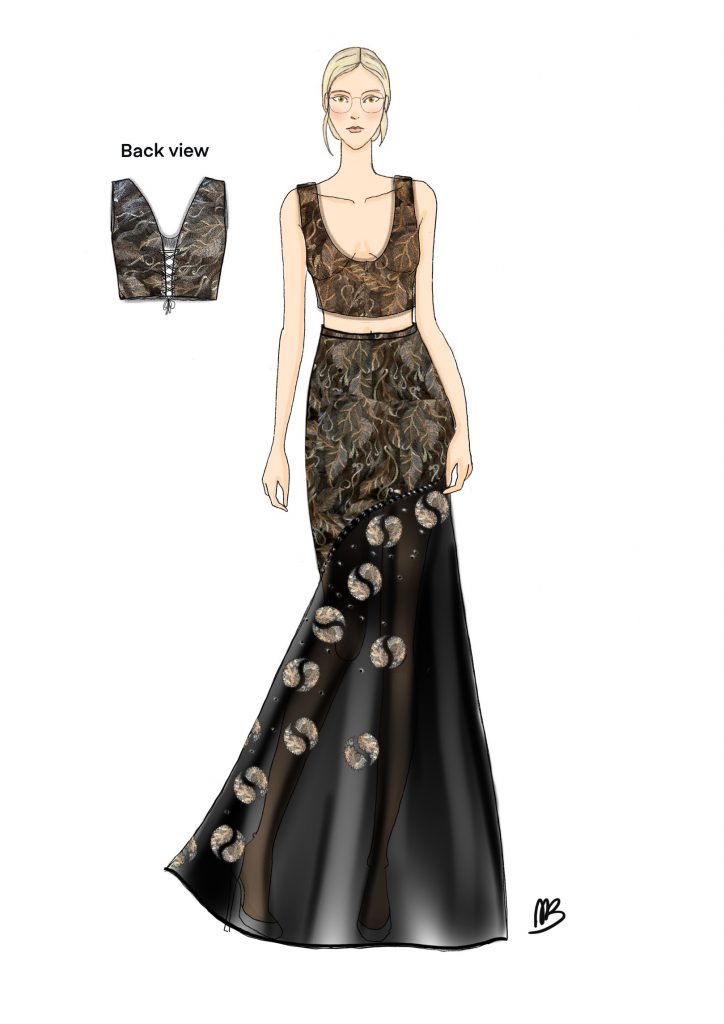 How was your first approach to fashion design education?
I started a course of fashion sketches at Istituto di Moda Burgo, where I learned all drawing and colors techniques, the months I spent there changes something in me..
What happens when you discovered the fashion world?
People said I have a new light in my eyes and it was true, discover the fashion world for me it was like bringing out the real me, the strong girl hidden behind shyness was borning. I could see my emotions and thoughts come true, with a pencil and a piece of fabric, my hands were skilled, not to become a doctor but a designer!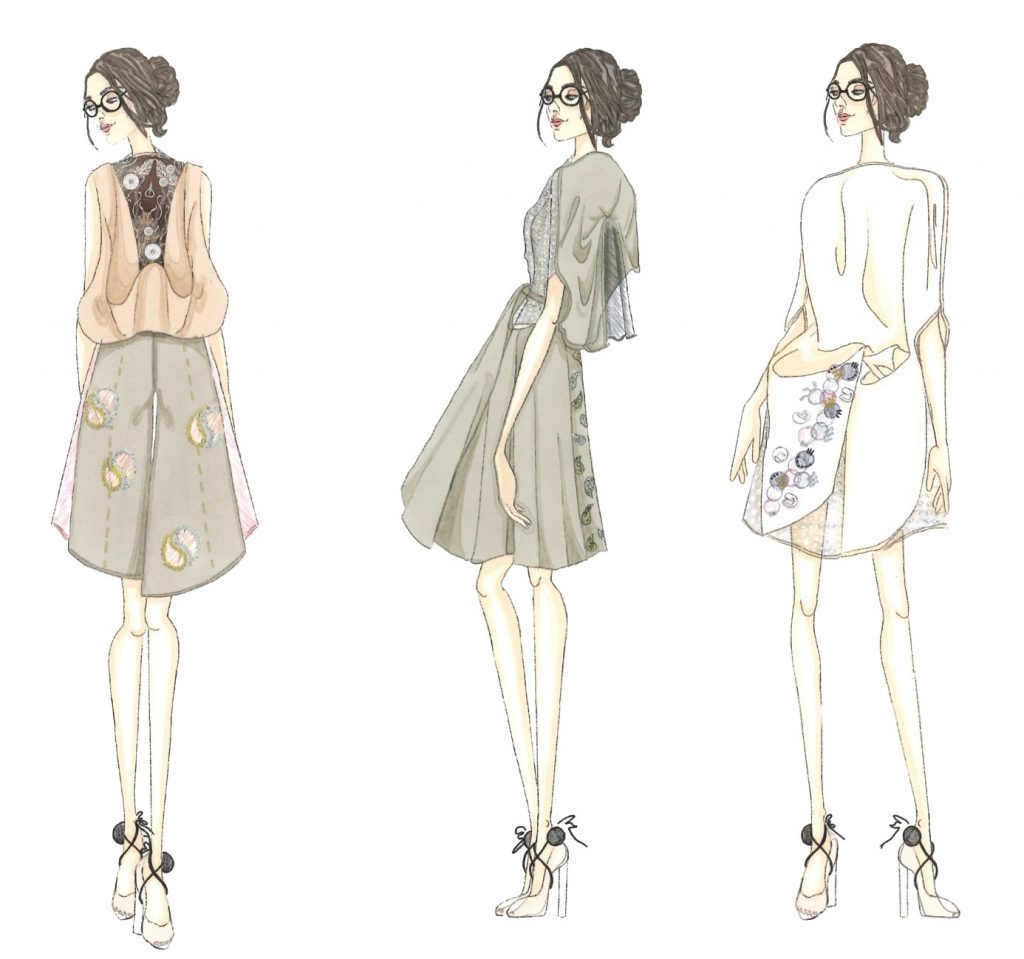 So you decided to enroll at Istituto Marangoni…
Right, I attended the three-years fashion design course at Istituto Marangoni and the last years I've been selected among the 40 students who would have created a graduation collection, and subsequently among those who would have exhibited it during the graduate fashion show.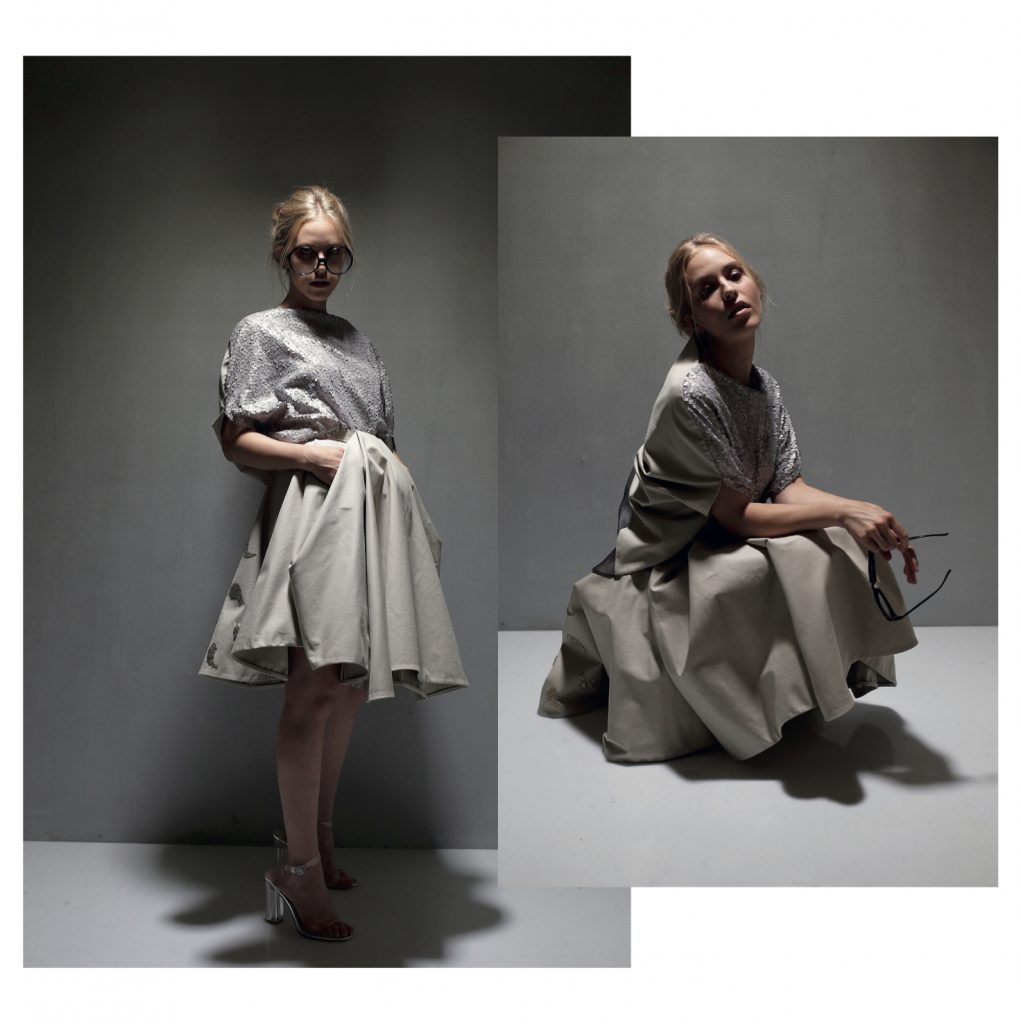 We met during the exhibition "Eyes on Me" at Milano Unica and you impressed me for the beautiful embroideries of your creations. Then you began to work as freelance designer with a particular focus on fabrics. Can you tell us something about these experiences?
I had this opportunity through the school, and it was interesting because I could see people stopped at my corner and ask me for information about the collection and congratulating for the refinery and fabrics; I met fashion professionals and I collaborates with different brands for collections, the most interesting is the one with Thirty-four Sagl for the design of laces and embroideries.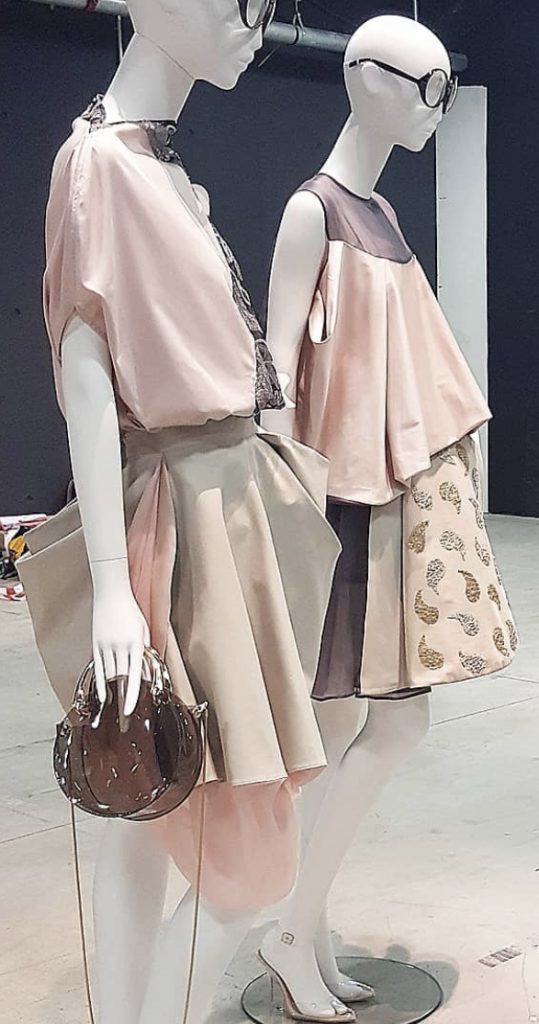 Now you are launching your namesake label…
Yes, work for other companies in the sector is always stimulating for creativity and for continuously learning but I love to create also for me, to show my personality, and to follow my original dream. I understood with my graduate collection that I can do that, also with the help of the TFP TALENTS platform, it's difficult for an emerging designer but if you believe in it you can do it, right? The best part of all the work is the end when I see "my children" on the catwalk.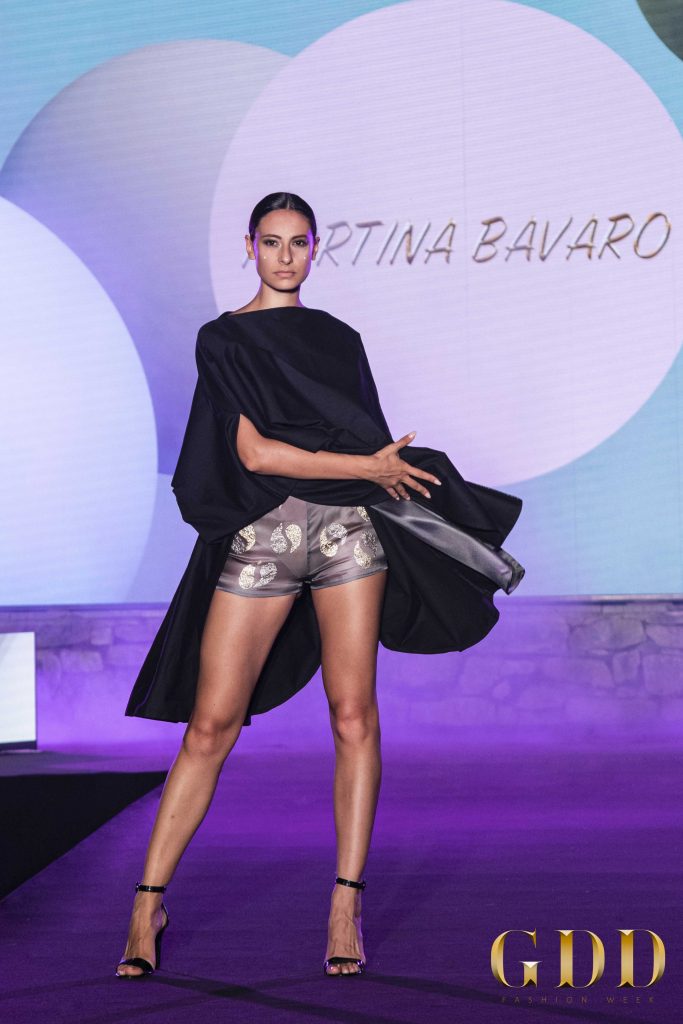 And in fact we've seen your creations on catwalk as Special Guest of GDD Fashion Week last August. A very important event for emerging designers…
It was an incredible experience, I met new people and lived the emotions of a fashion show, I was there as part of the jury that would select a new young designer, I presented an important award for La Mia Boutique, and I was a guest at the gala during which my prêt à couture collection has been presented.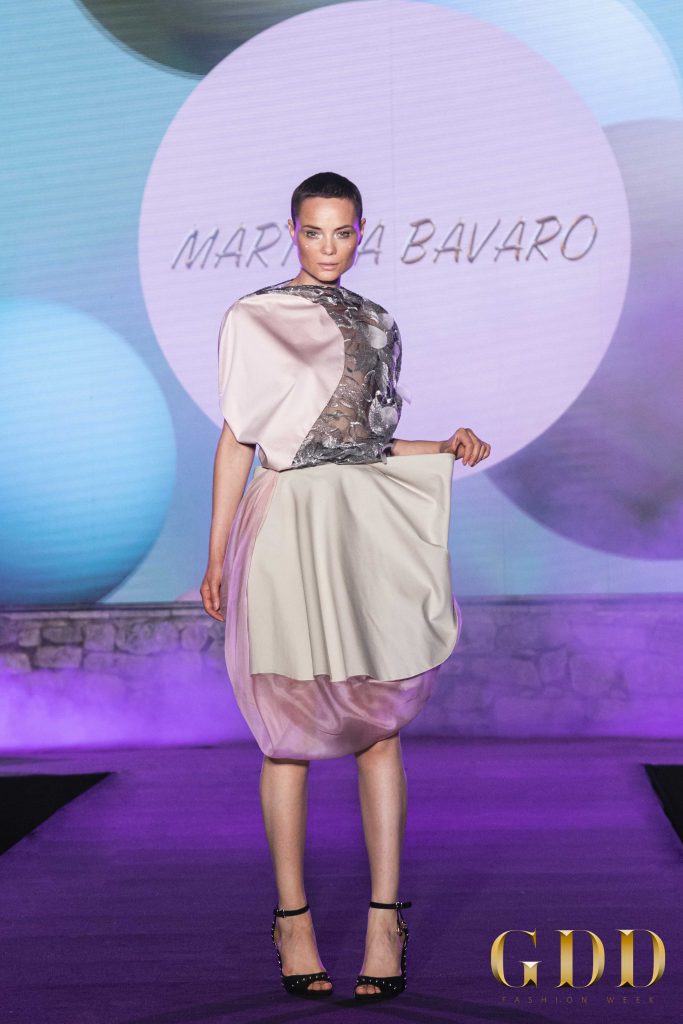 What is the inspiration of your collection?
The inspiration for the collection comes from the meaning of Yin and Yang, I like this symbol because the circle with its continuously starting and ending and with its two sides, black and white, represents the good and the bad in our lives, that cannot stay alone because is only together that they are perfect. So the shapes are created with circular draped panels and fabrics are opaque, like cotton, and glossy, and transparent like organdy and silk. Single pieces are then embellished with embroidery and applications.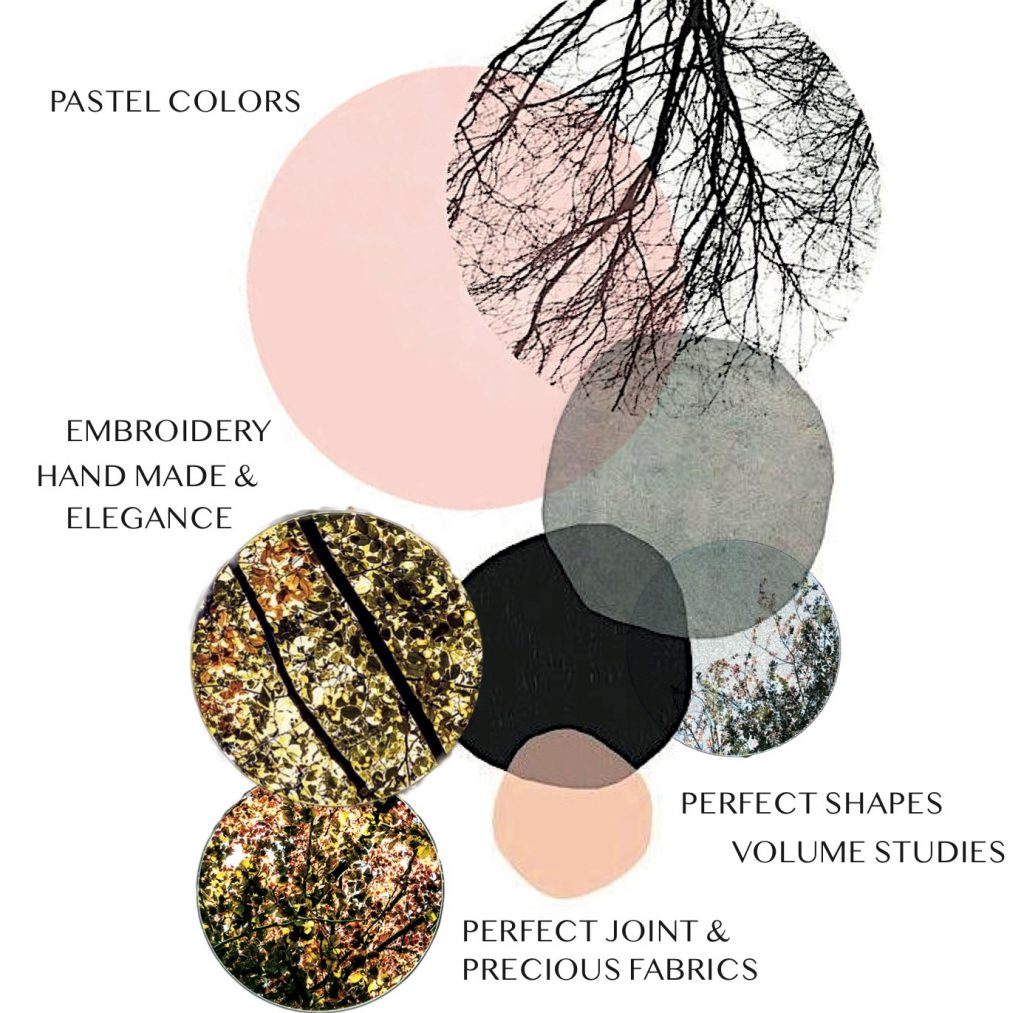 How may you define your style?
I have a decisive definition for my style, serene luxury, to give an image that can wear a woman always elegant and fine but never old-style or too flashy, it's also important to stay comfy so I never use annoying seams or constrictions if not strictly necessary modeling.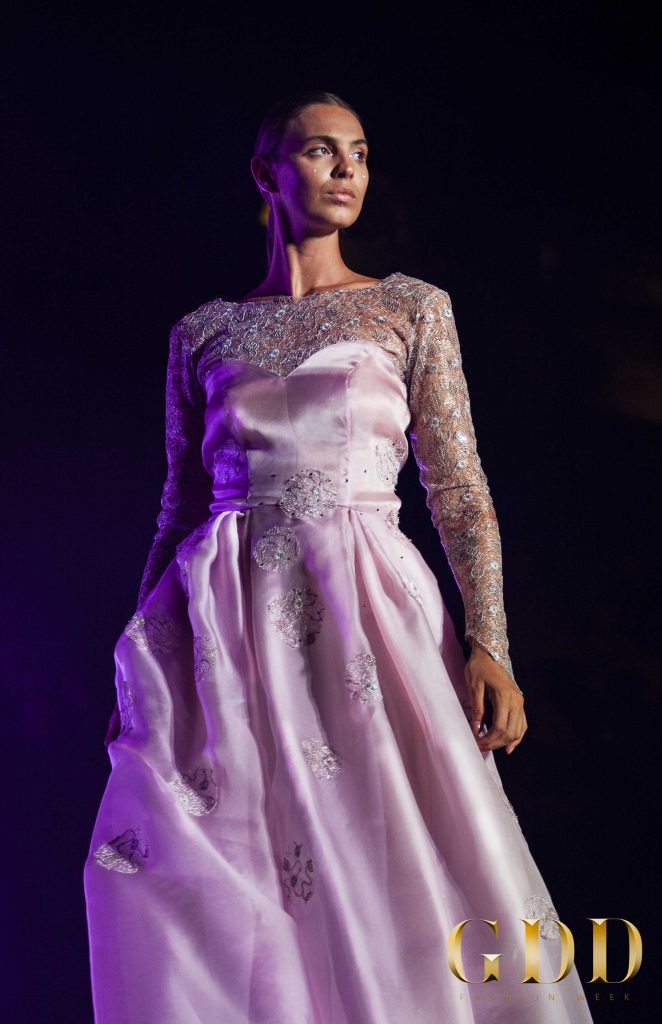 Fabrics and embellishments are very important in your dresses
Yes, I love chose unique, natural and rich fabrics and always give a touch with embellishment works like embroidery for example, I draw them and I like to imagine it on my creations. I think also that shapes has to be interesting and not trivial, but if the fabrics is spectacular even the simplest dress will have a strong impact; I try to create something that is timeless, beautiful and made to last today and tomorrow.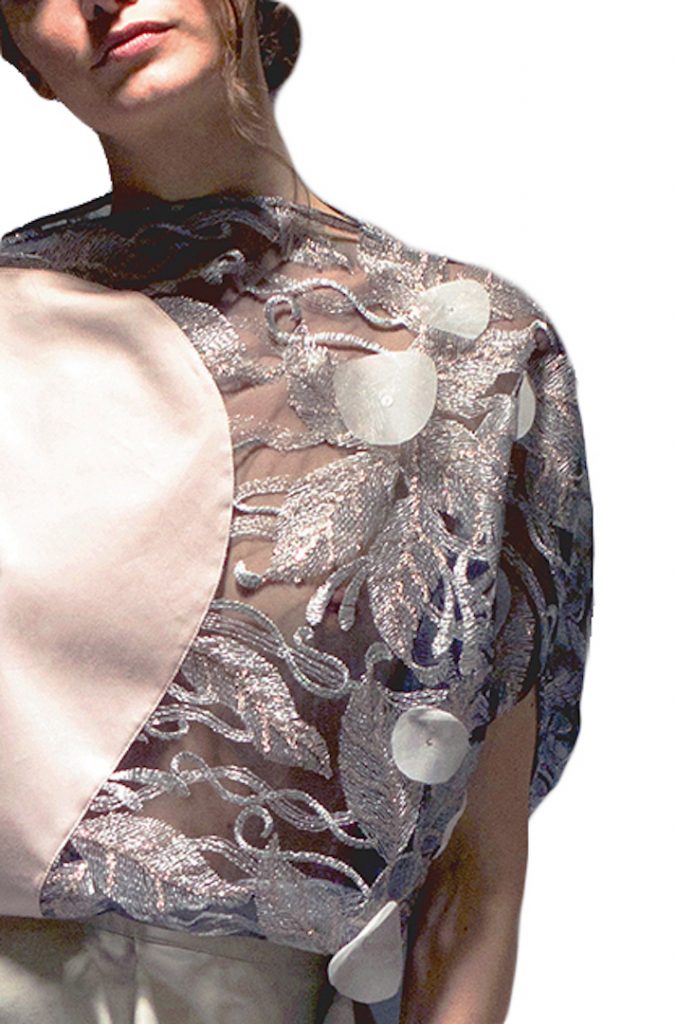 Now you are working on a more ready-to-wear new capsule collection for Never Tee Stop. Can you give us some little preview about these new project?
Of course, yes I'm creating a capsule for Never Tee Stop, characterized by my typical serene luxury style, you are going to find particular prints on different clothes. Meantime I also thinking and working about the next collection but, of course, you have to wait just a little bit for it…
What are your plans for the future?
Definitely work hard to carry out the new ideas of my brand, but also by continuing to work as a freelancer for other brands who will ask me, as I told at the beginning it's important to stimulate the creativity. Very soon you will find my collection on Never Tee Stop e-commerce and also on mine, I'm working on it, and certainly we will see to the next fashion events. In the meantime, you can take a peek at the work in progress on my Instagram profile, @martina__bavaro
Thanks Martina for your time and for sharing with us your creativity! We can't wait to see your next works!