Like every year, the White Show Milano has confirmed itself as the reference trade fair for international event in the heart of Milan Fashion Week, leader in the world of information and international networking, with a consolidated strength capable of connecting research brands to contemporary fashion to business.
White Show's commitment to the revolution of an ethical fashion system invests important resources, to guarantee the controlled use of materials, respect for the workers, the individual and his work environment, up to the careful selection of brands that are completely sustainable.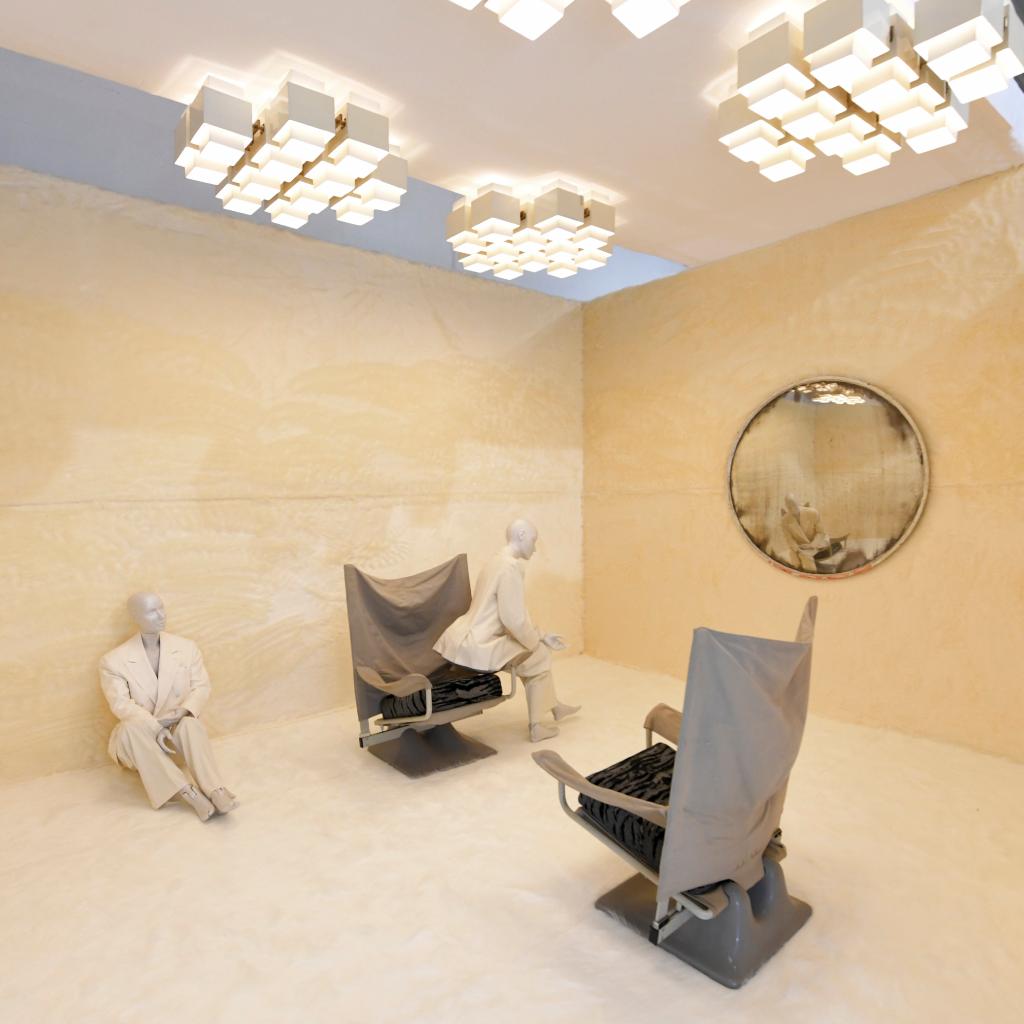 The exhibition has an entire area dedicated to producers of raw materials engaged in a concrete revolution in the fashion system, through advanced production criteria that are good for the environment.
The theme SIGN OF THE TIMES, under the artistic direction of Massimiliano Bizzi and Beppe Angiolini, has marked the 2021 exhibit, underlining the importance of the time we are living, the resumption of life after difficult months and demonstrating how the world, especially the fashion one, is moving forward and evolving, while keeping an eye on past values.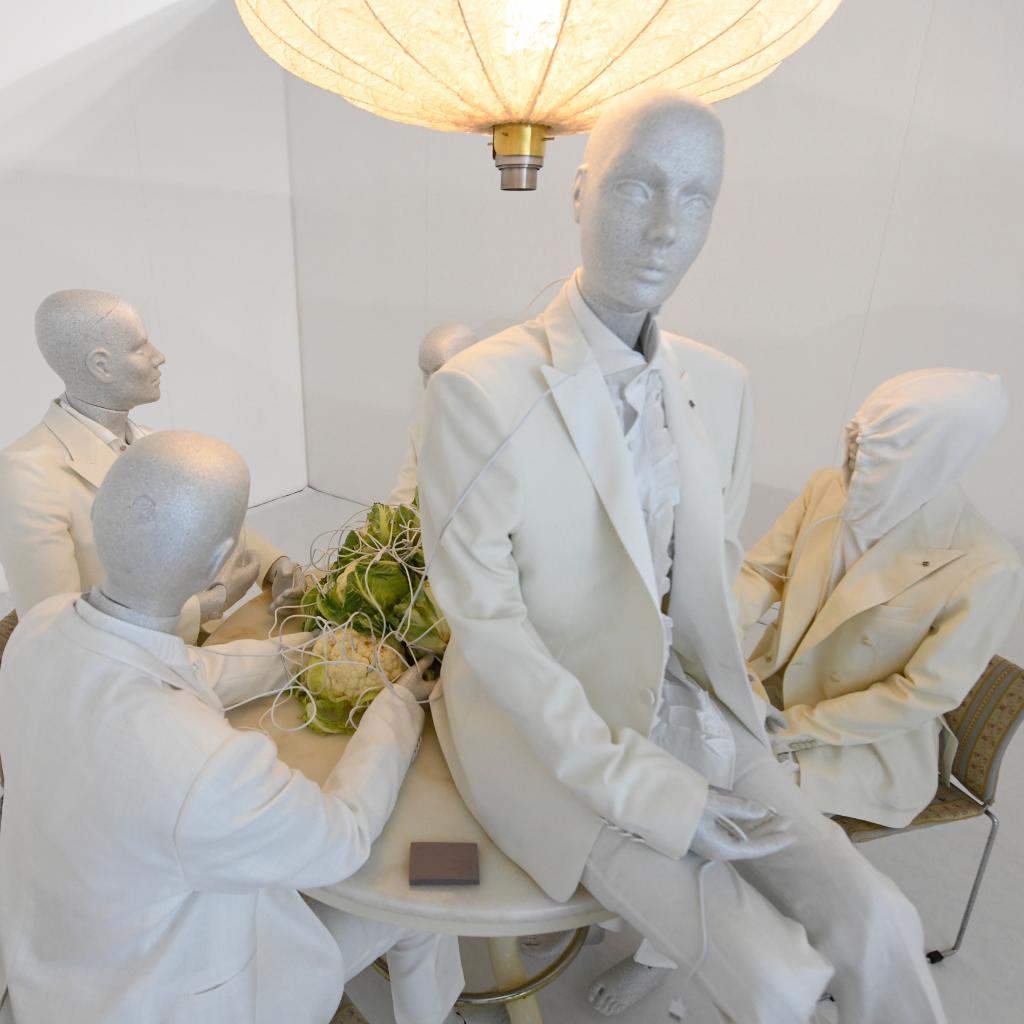 Our focus has always been on emerging Italian fashion brands. During the White Show we met many different designers, some were new surprises, others were already known.
We would like to introduce you to a selection of the best brands and designers we have seen at the exhibition.
---
DADAMAX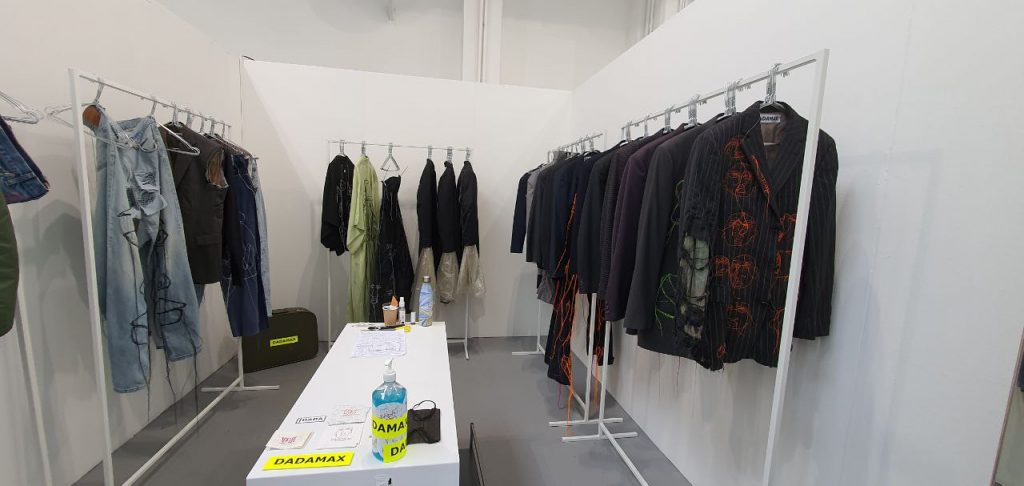 Dadamax is an Italian emerging fashion brand founded in 2016 by Dafne Maio, a young fashion designer who describes herself first as a dreamer more than a designer, as most of her idea and inspiration come from her dreams and visions.
The aim of Dadamax is to give new life to men's vintage blazers. Blazers that belonged our fathers, grandfathers or men of our history. Customisations and embroidered portraits create new stories and a new life.
"I don't like to throw away clothes, but rather give them new life and new shape. My jackets belonged to my father, just as when you buy them at a flea market they belonged to other fathers, uncles and grandparents. I would like those who wear these jackets to feel protected, as I do. By reworking them, the clothes become like an amulet." (Dafne Maio)
MAIORANO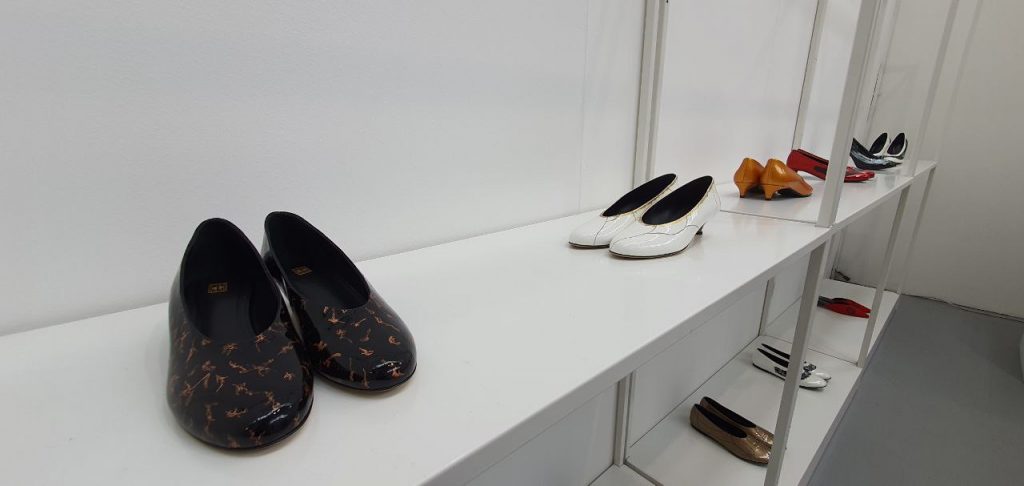 Maiorano, a Roman brand of luxury footwear, contemplates a new aesthetic vision and a new philosophy, focused on balancing art and fashion.
The challenge carried out by the emerging designer and founder Matteo Maiorano is to intervene on this balance with the ultimate goal of making it harmonious.
The focus of the collections is represented by uniqueness, which is also a symbol of the brand's philosophy. Each product is handcrafted in Italy and after the production process the young designer applies, one by one, an indelible mark on the shoes, painting or engraving the surface.
The result obtained will never be the same as another, identifying its characteristics as unique and unrepeatable. The brand produces at the same time female and male models, united by a common root and a style that interfaces in a natural fluidity and androgyny.
MY GOLDEN CAGE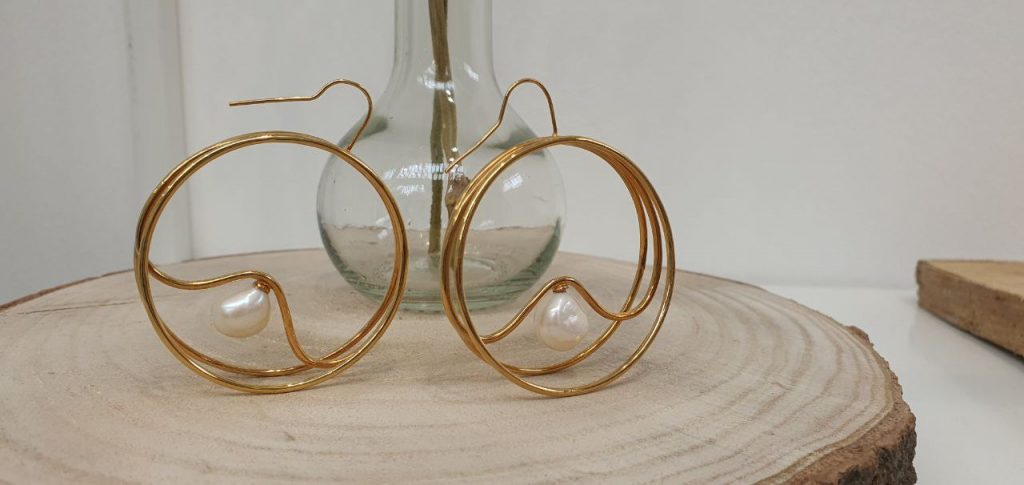 My Golden Cage was born as a "creative outlet" for the designer Maria Elena Pino. She needed to create your her own space, a blank page to fill or a small "golden cage" where she could create a totally new, unseen, contemporary, different jewel from everything.
At the White Show the emerging brand presented "ICONIC", a collection with no time nor season.
Pieces of transition and change, that marked different seasons and events. Focusing the attention on each single piece, taking the right time to appreciate it and to know its history in order to appreciate a new world where slowness is a value and the time to take care of things is a wealth.
The aim is not to have disposable pieces, on a "seasonal" deadline, but to enhance ideas and shapes that characterise the brand today. Leaving a deeper trace of a fleeting moment.
VADERETRO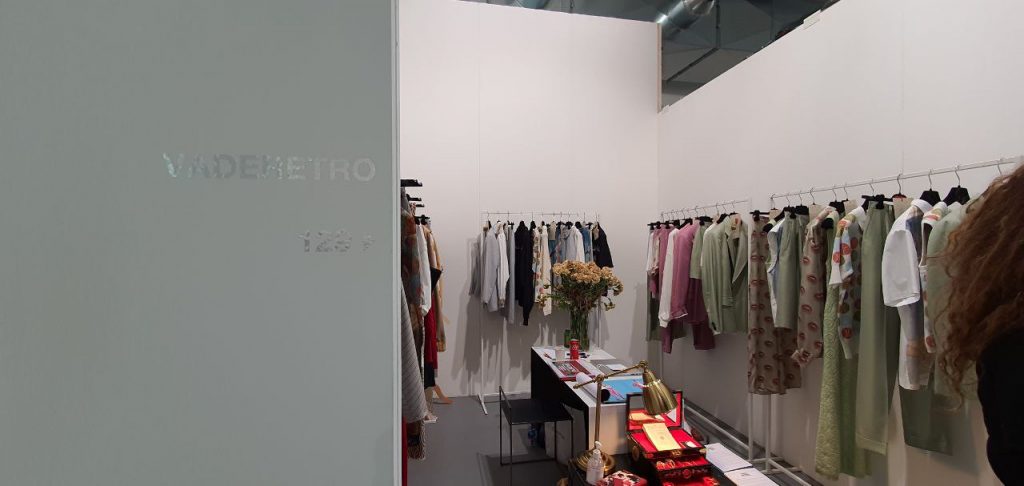 A little anachronistic, a little old-fashioned, Vaderetro is both anti-modern and thoroughly retro. It is not just a brand, it is a way of living.
For this season, Vaderetro interprets Baudelaire's Spleen – reflecting beyond melancholia, the absolute and existential boredom, and his Ideal – in other words, the aspiration towards perfection.
This paradoxical marriage is shown in the brand's Spring-Summer 22 Collection, through meticulously hand-finished sartorial garments contrasted with raw edges, unfinished ones, bold graphics, daring paintings printed on elegant clothes, and hand-knitted pieces.
The aesthetic of Vaderetro for this season grazes the Baudelairian spiritual dandyism, for an understated, effortless style, yet anti-conformist, taunting the bourgeoisie imprisoned in their conventions. Going back to its essential founding principles, Vaderetro pits itself again against the society pre-constructed codes.
This Spring-Summer 22 collection is the opportunity for Vaderetro to introduce its woman, whom character is at the border between an elegant eccentricity in self affirmation and a provocative decline. In line with the genderless ethos of the brand, Vaderetro woman goes beyond femininity or masculinity.
---
Even this year the White Show Milano confirms its important partnership with Altaroma, the prestigious Roman Fashion Week dedicated to emerging designers, to remark the prestige of Made in Italy fashion on a global level, that's why eight brands were selected and hosted some brand in collaboration with Altaroma. 
CASAPRETI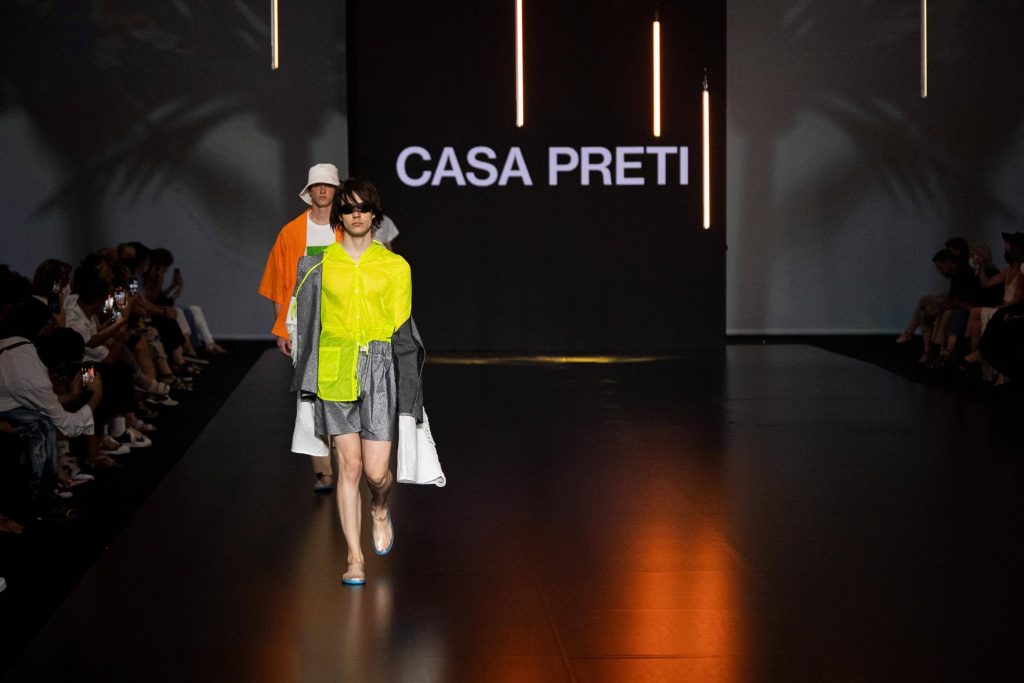 Casa Preti was born in 2017 from the meeting between the Italian tailor Mattia Piazza and the Swiss architect Steve Gallay, their clothes are characterised by clerical lines that, unchanging over time, have reached a level of truth becoming iconic.
The mood of the SS 2022 presented at the White Show is mainly based on the concept of Skin. The collection is interconnected with the act of seeing society as a body, in which every single individual is indispensable. A body signed by marks, indelible signs, which become handworked textiles or marble slats, through modelling.
From a production point of view of production, there is the need to go back to fundamental values. For Casa Preti, this is linked with the concept of social sustainability. All the production chain for their garments has been organised locally, respecting every value of every party.
Sustainability, inclusivity, and love are the starting points to generate a conversation, to which the brand felt compelled to respond.
CATERINA MORO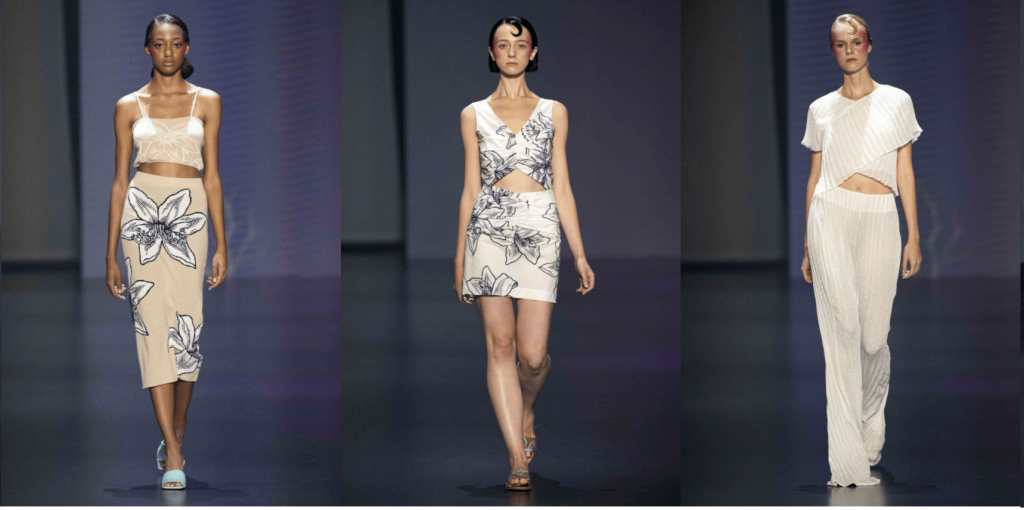 The '22 Spring – Summer collection by Caterina Moro, an Italian emerging designer, revolves around the Sea Lily, a plant that grows throughout the Mediterranean. In winter it spends a period of time in complete rest losing all the portion above the ground and then reappears in summer season. Its white flowers float in the water and can be pushed by the currents into distant territories.
The Sea Lily is a symbol of perseverance and resilience, and it's declined on the iconic pieces of the collection. A new concept of beauty, that blooms where it isn't expected: on a dirty wall or on a sand dune.
Caterina Moro explores the lightness of the Sea Lily in collaboration with the Italian street artist Lucamaleonte. Printed in organic colours, the Lilies embellish raw linens and silks conceived as a wall to paint on.
The color palette in mainly based on white, sand and beige, along brighter shades such as lime and bluette.
Moreover, the Wastemark Certified Recovered Fabrics certifies how the brand is embarking on a sustainable path towards luxury, in complete harmony with the planet.
CDC STUDIO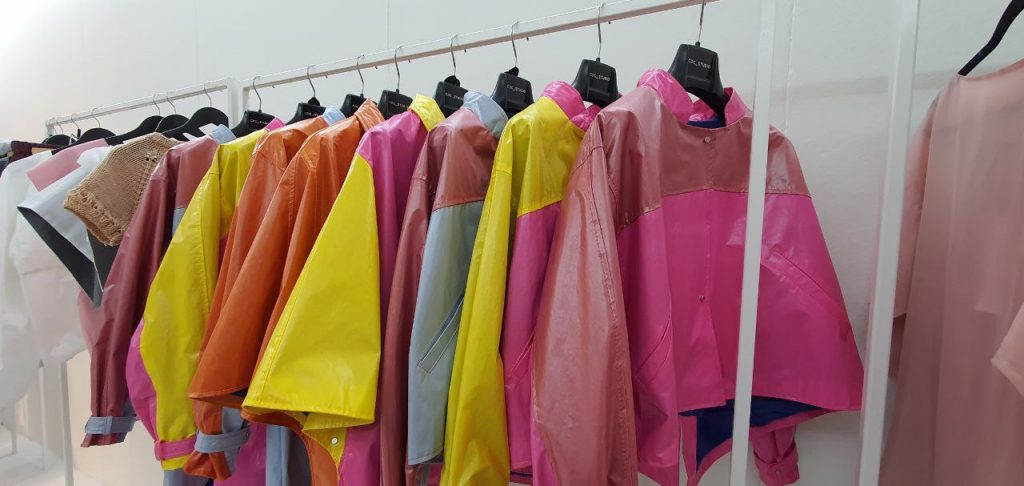 Joy, color, rebirth are concepts on which this collection is based.
CDC Studio's collection is born through reuse, bringing a new life to discarded materials in a totally made in Italy process of sustainability and tailoring.
A totally sustainable clothing collection that comes from the innovative vision of Cristina di Carlo, designer and product manager who for greater control of the circular supply chain and to give a strong character to her garments, has conceived and designed her own highly innovative, totally sustainable and patented.
COEO, as Cristina called her fabric, is different from all currently existing recycled plastic materials, deriving entirely from plastics that have already finished their first cycle of use.
The Joyful collection for next spring summer 2022, made with COEO fabric and other totally sustainable materials, thus becomes the emblem of rebirth and the joy of living.
The colours fuchsia, yellow, blue, orange, are just some of the variants proposed for next season. Each coat is ultralight, water repellent, windproof and very resistant.
ZEROBARRACENTO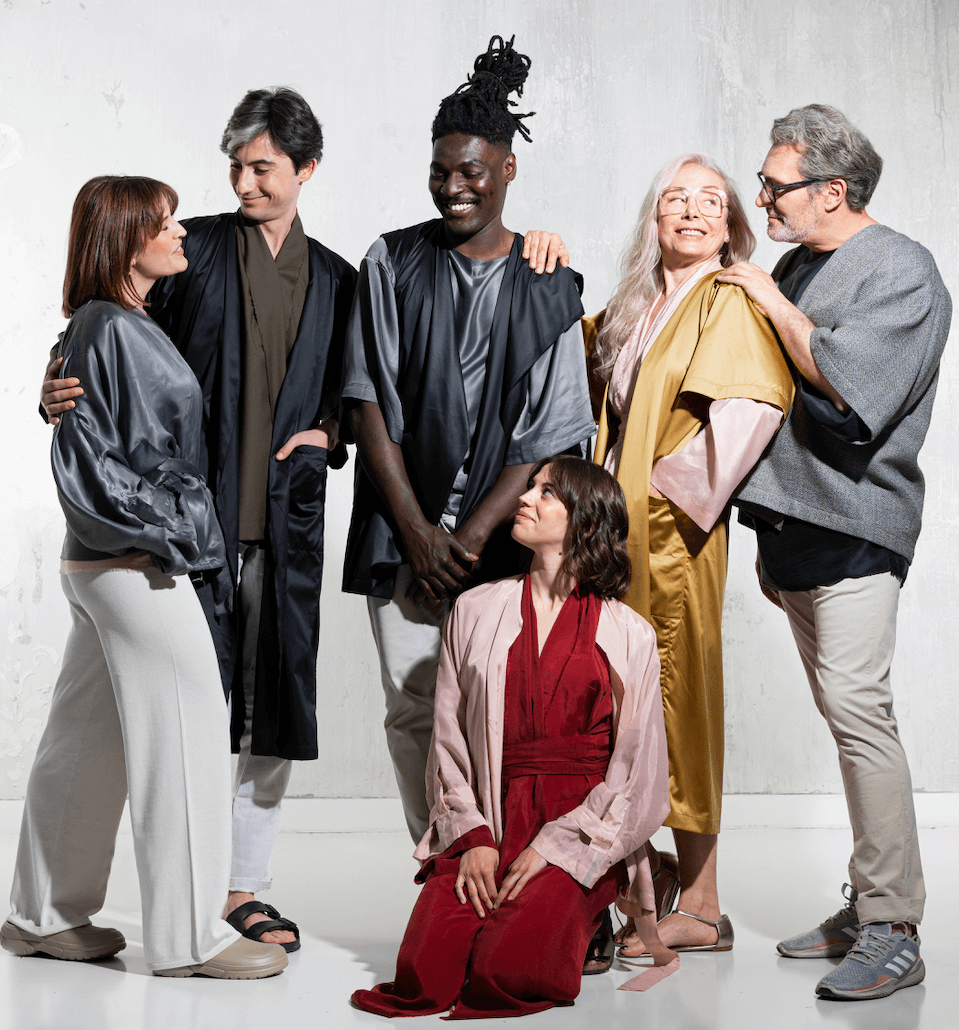 Zerobarracento, brand designed by Camilla Carrara, presented "A Silent Hug", a new collection based on new beginnings through the intrinsic values ​​of the brand: the Made in Italy, the high quality certified Italian materials and functional zero waste design present a silent, soft and luxury background.
A slow path from 0 to 100 that helps to make everyone feel special and intimately pampered phase of one's life. The volumes and the relaxed style are well suited to a more complete outfit, created for a state of mind with a strong drive for comfort. Details focused on a timeless, high-quality design that works in all seasons.
Minimalist, clean and sophisticated look, with soft yet captivating volumes. "A Silent Hug" conveys a sense of optimism and a desire to escape.
Zerobarracento wants to offer a uniform identity, an armour of invincibility and protection, a product able to embrace and accompany those who choose it by adapting to the body, to the style and evolution of personality.
A secure blanket that offers physical and mental comfort and ensures one emotional connection with the garments so that they last long enough to fall in love with them every day.
Article by Federica Macheda