On the occasion of the seventh edition of Fashion Graduate Italia, dedicated to the best graduating students and undergraduates of Italian fashion academies and schools, the clothes designed by the talented students of Istituto Modartech were shown on the catwalk.
Istituto Modartech emerging designers had a common thread for their collections: the research for the most innovative fabrics and solutions in terms of environmental sustainability.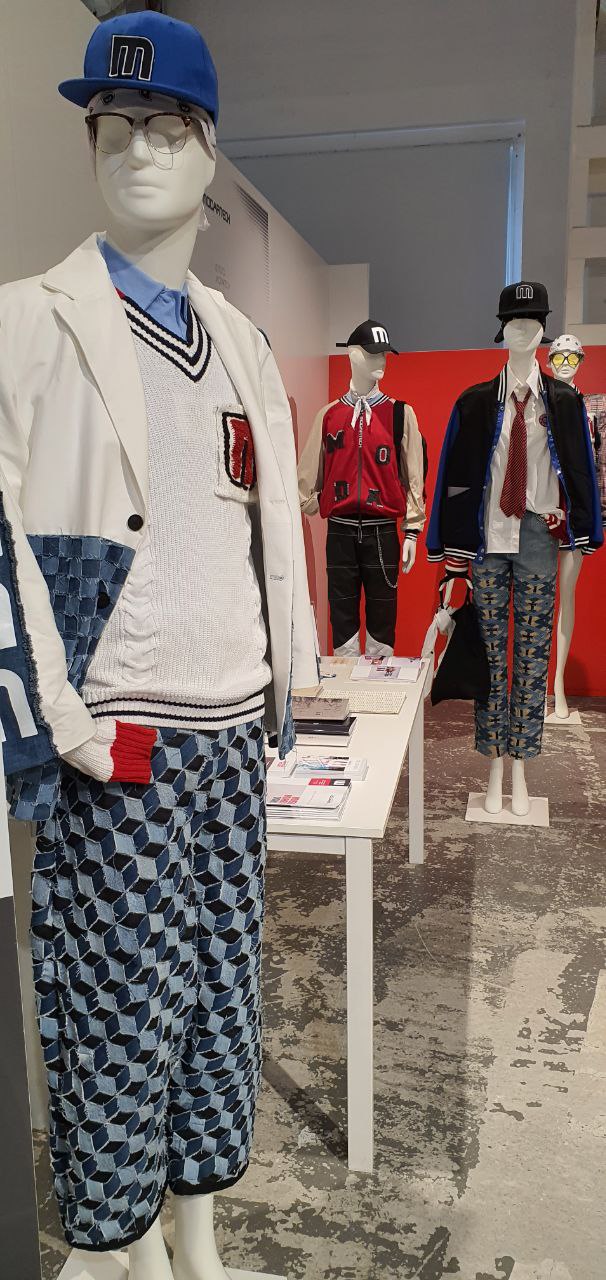 The personal readings of the young students of the fashion academy were varied.
The outfits become harbingers of social messages to counter discrimination and prejudice and they introduce a new concept of gender fluid fashion to be inclusive and make anyone feel at ease.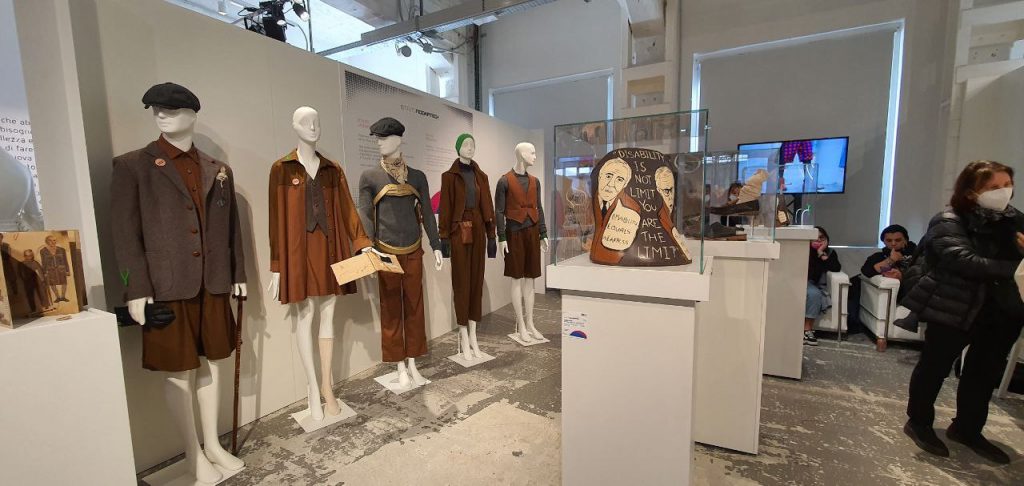 Sara Vannucchi – PAY ATTENTION
Sara Vannucchi denounces through her collection the restrictions imposed by modern conservative society declined in a fashion key.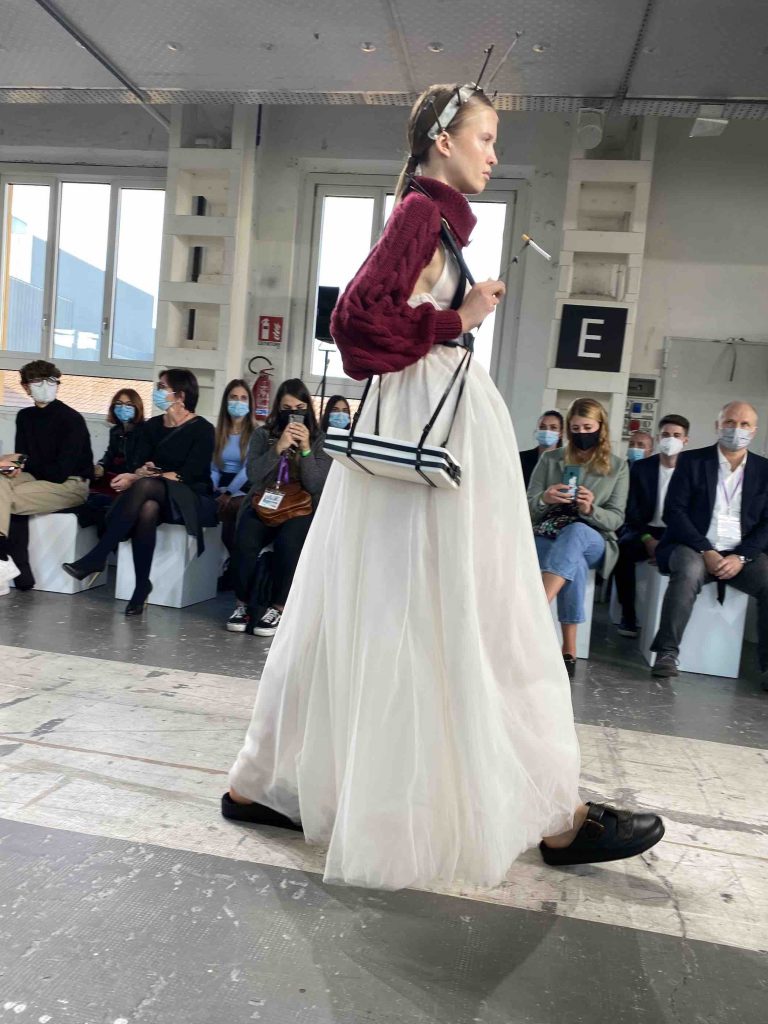 The lightness of tulle contrasts with the heaviness of leather and wool, large volumes and shapes are constrained by tight harnesses, knitwear accessories communicate provocative phrases through embroidery.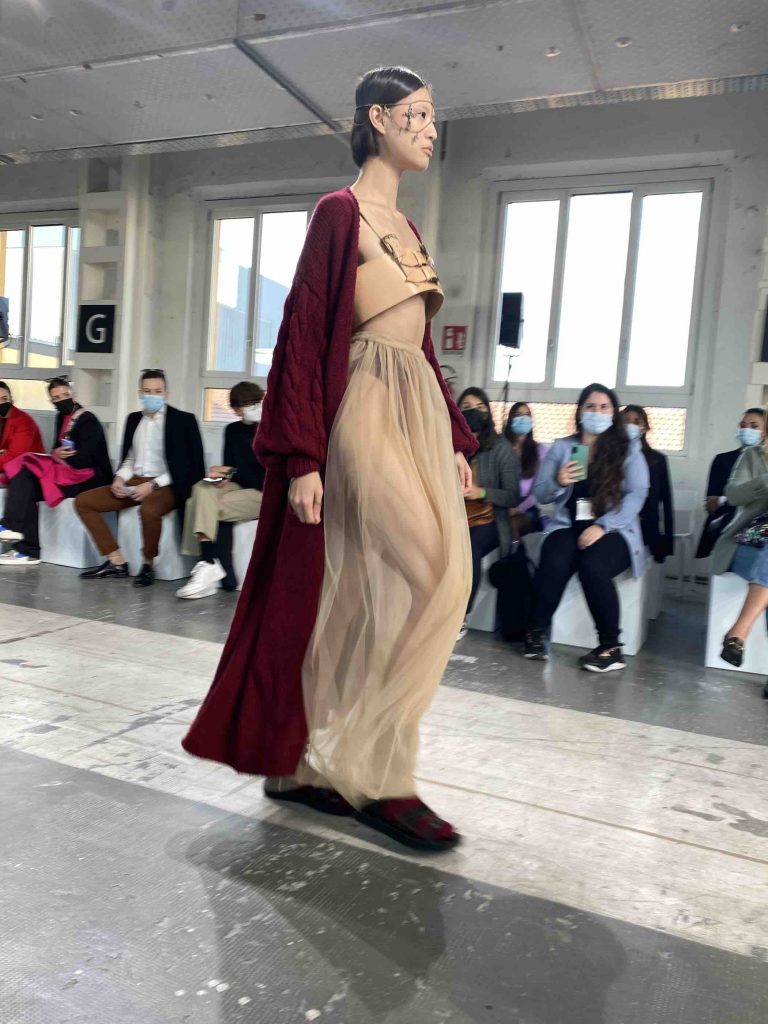 Great attention to the design of garments and accessories with the use of White Carrara marble, a natural stone which, applied to the heels of shoes and bags, symbolizes the ecclesiastical world and the grandeur of its rules.
Sara Ramalli – BABY DRIVE
Sara Ramalli take on fashion conveys a playful, ironic and childish imagery where everything is still possible.
The collection explores the children world, playing with vibes of lightness and awareness of a newfound reality after a period of constraints and limitations.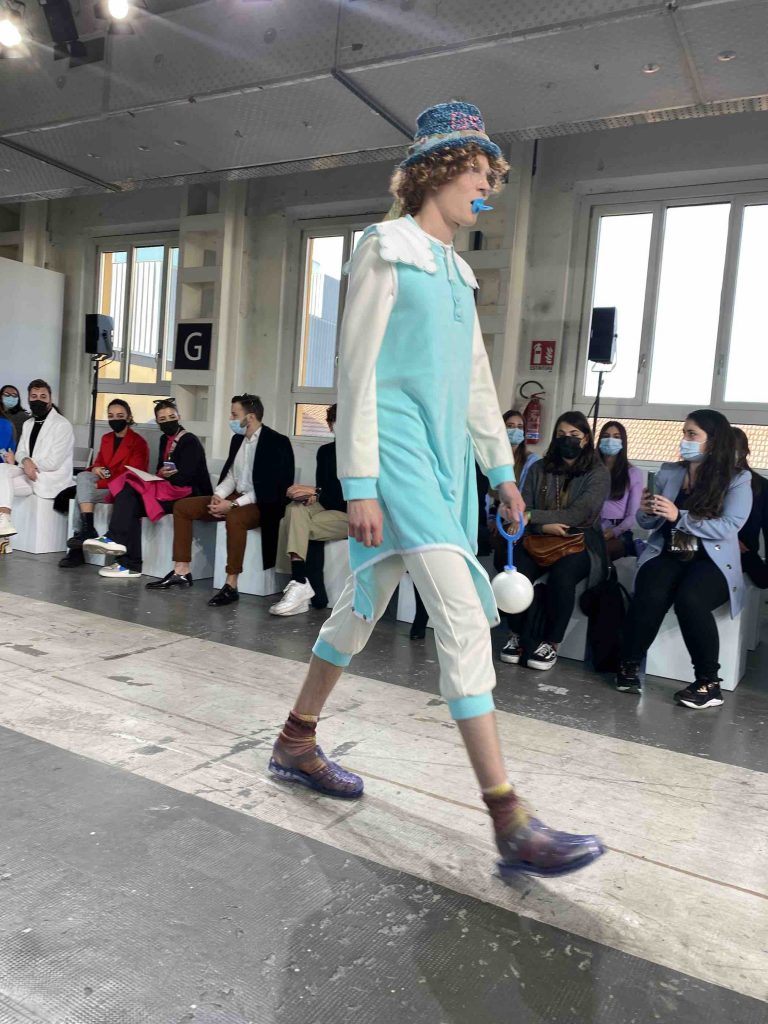 A spring-summer collection that combines craftsmanship, social inclusion and handmade items, lashing the innocent aura of the baby outfit made of bodysuits, bibs, Waldorf dolls and rompers.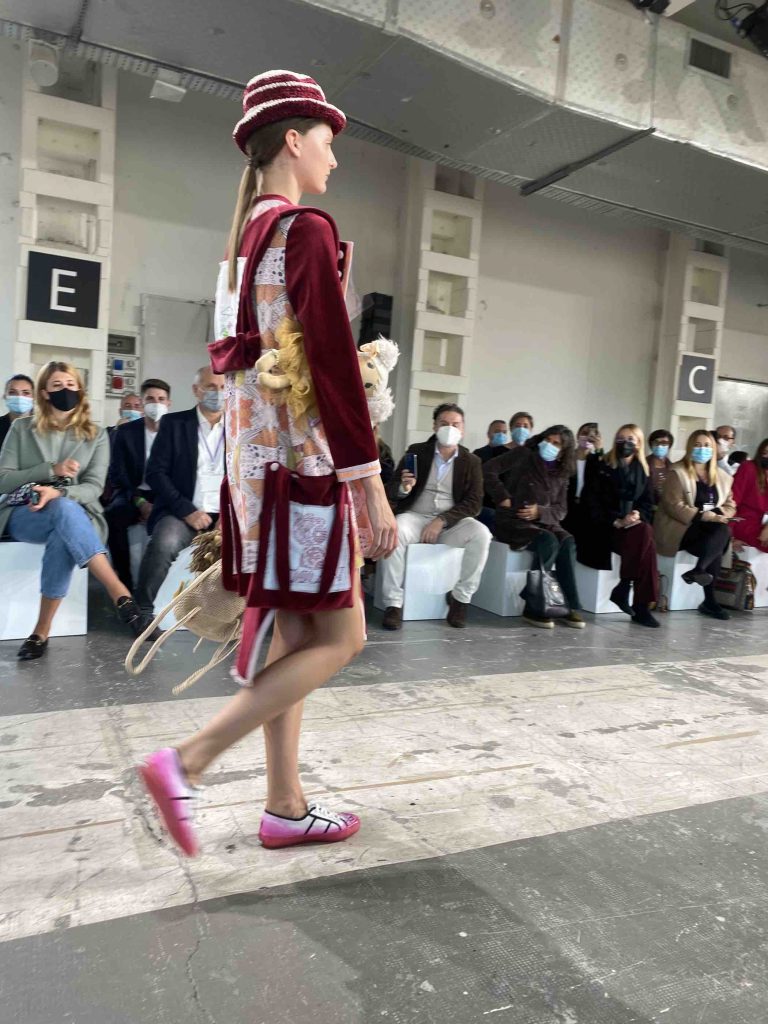 The workmanship, embroidery and stitching of the accessories are completely handmade using natural fabrics and yarns, using local knitwear and shoe factories.
Greta De Angeli – SPECIES BOND
The collection created by Greta De Angeli is a celebration of the special and indissoluble bond between man and pet.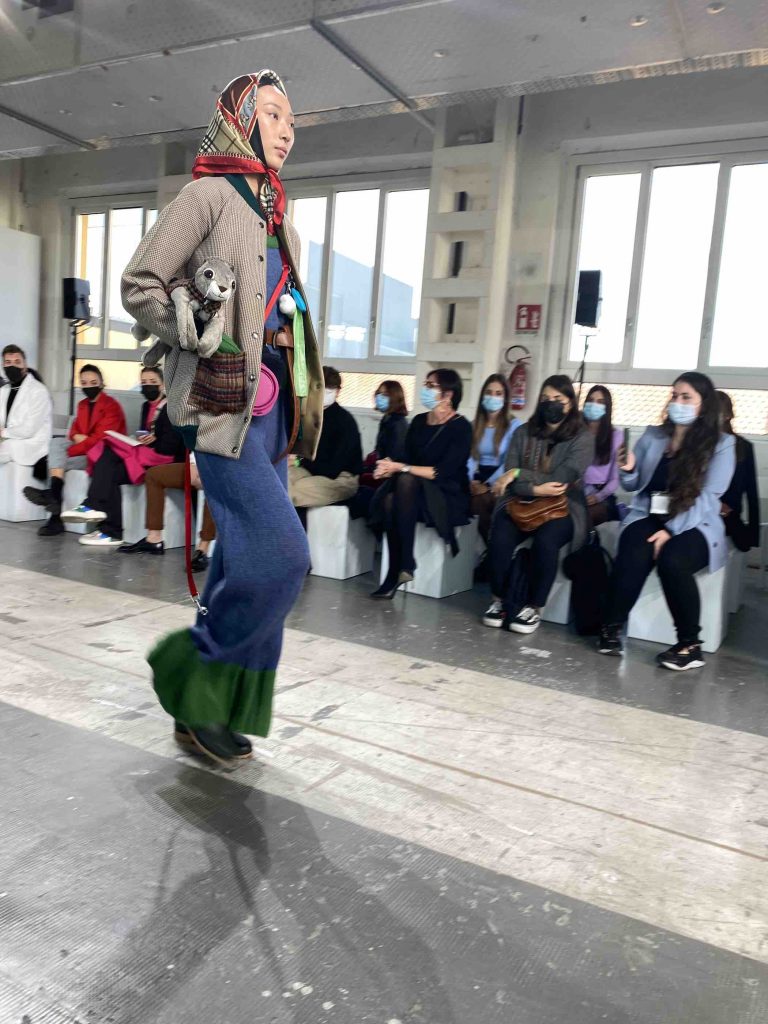 The garments meet the needs that owners have to face every time they leave the house with their four-legged friend in combination with petwear proposals intended to be worn by animals, in particular by dogs.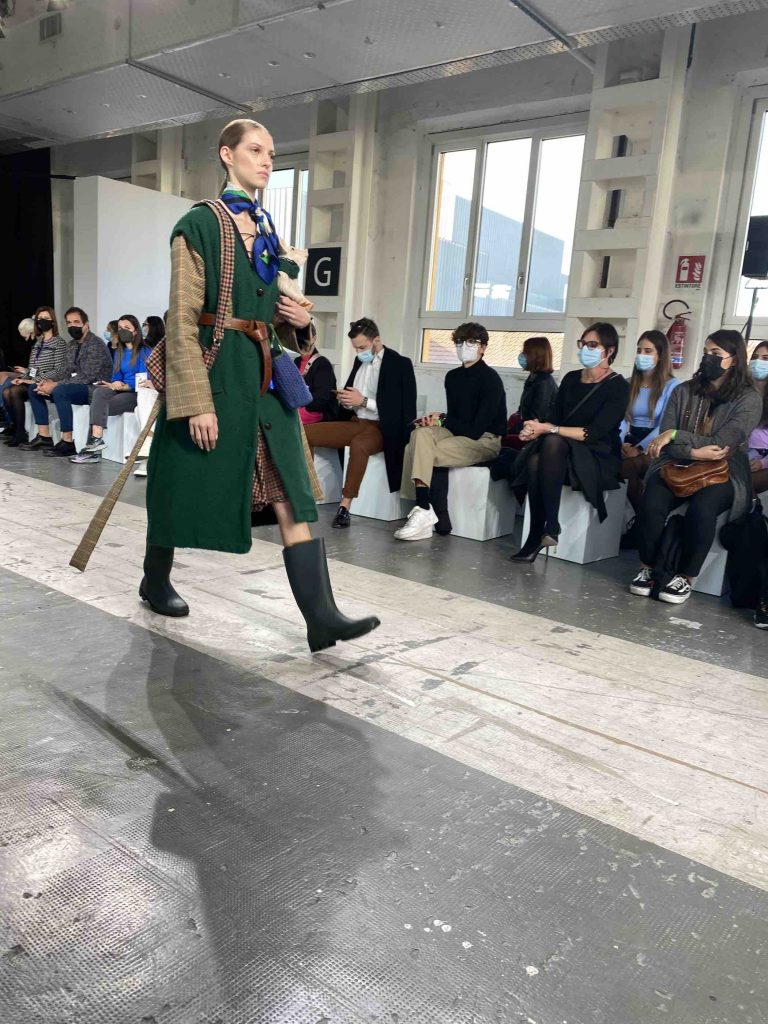 A mix of utility accessories, knitwear, leather details, handmade elements and colourful fabrics make up the collection designed for those who love being outdoors and walking with their pet.
Laura Frosini – COTTAGECORE
The collection by Laura Frosini makes you daydream bucolic atmospheres, green meadows and childhood memories in the countryside in full cottage style.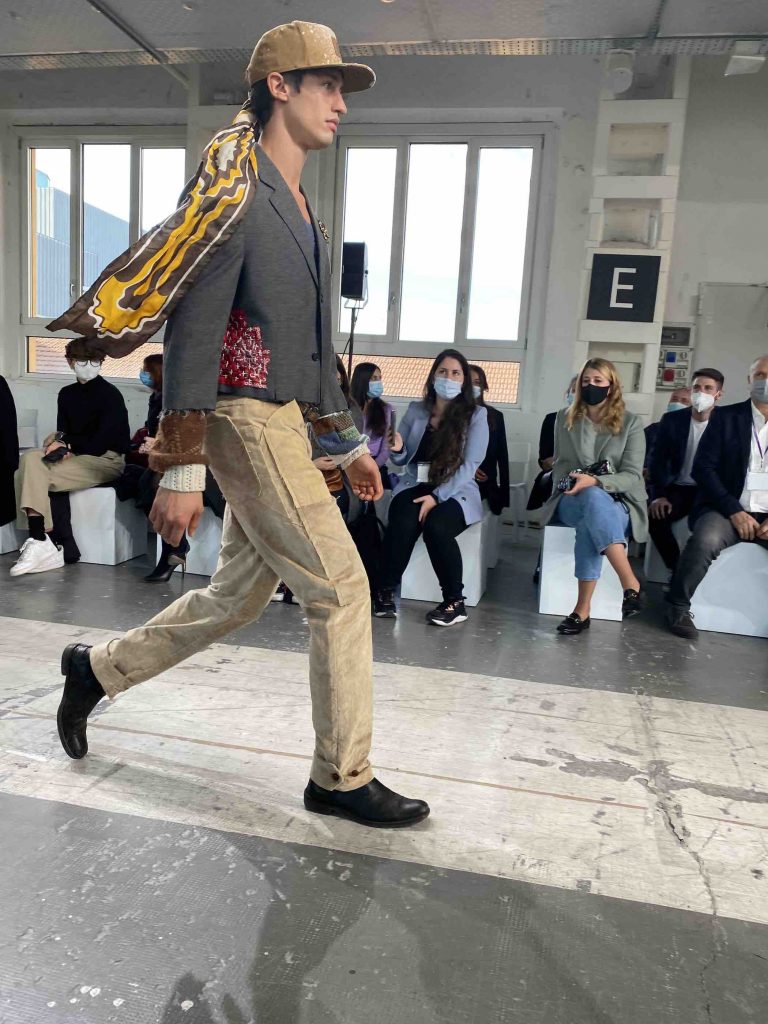 A return to the past and tradition where second hand becomes the common thread of the proposals: reused vintage garments alternate with ruffles, lace, straw hats, ripped and patched jeans typical of life in the countryside. A nostalgic celebration of romance, love and nature.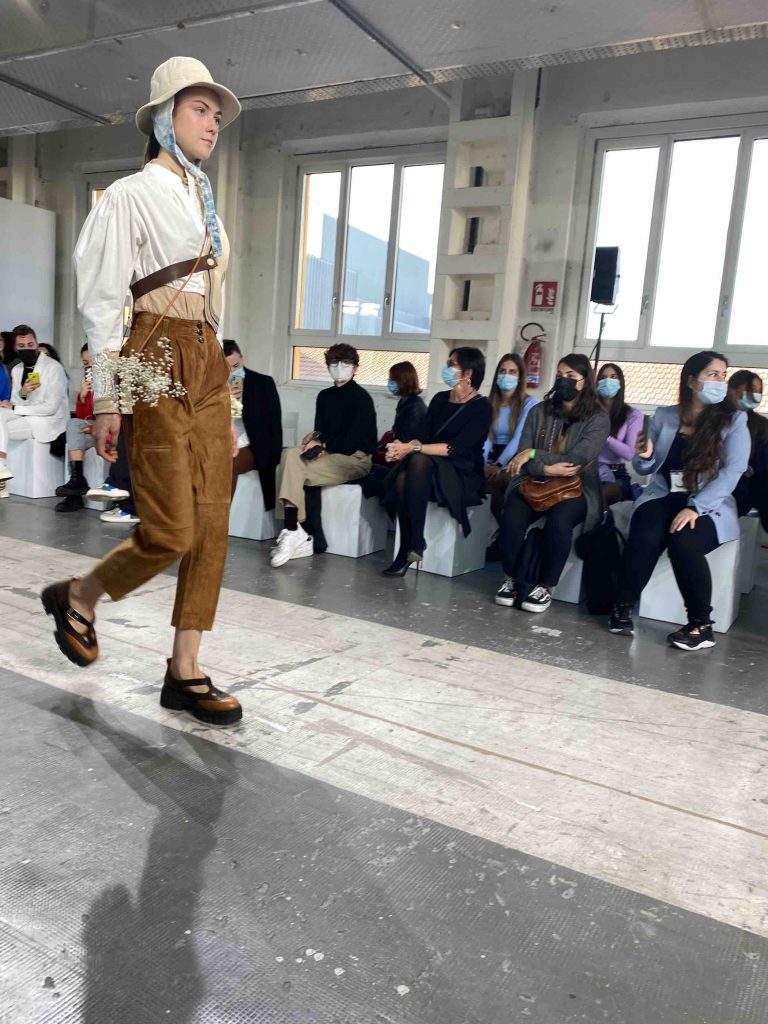 Particular attention is paid to the environment and upcycling with hand-dyed organic fabrics with natural techniques and manual processes.
Costante Torcini – THE FISHER KING
Tailoring and modelling come together in Costante Torcini's collection with a casual elegance that recalls 13th century styles, English silk embroidery and Pre-Raphaelite prints combined with a new idea of fashion based on recycling and reusing. 
An intimate and metaphysical pilgrimage where man finds himself in a deeply divided society.
The outfits feature a soft minimalism mood with a refined and responsible style and a sustainable soul thanks to the use of natural, recyclable and biodegradable fabrics such as virgin wool, alpaca and cotton.
Azzurra Anichini – SHOGANAI
"SHOGANAI", the collection by Azzurra Anichini, observes the present and denounces the social and cultural conditions in which contemporary man lives, focusing on the well-being and oriental practice of ZEN.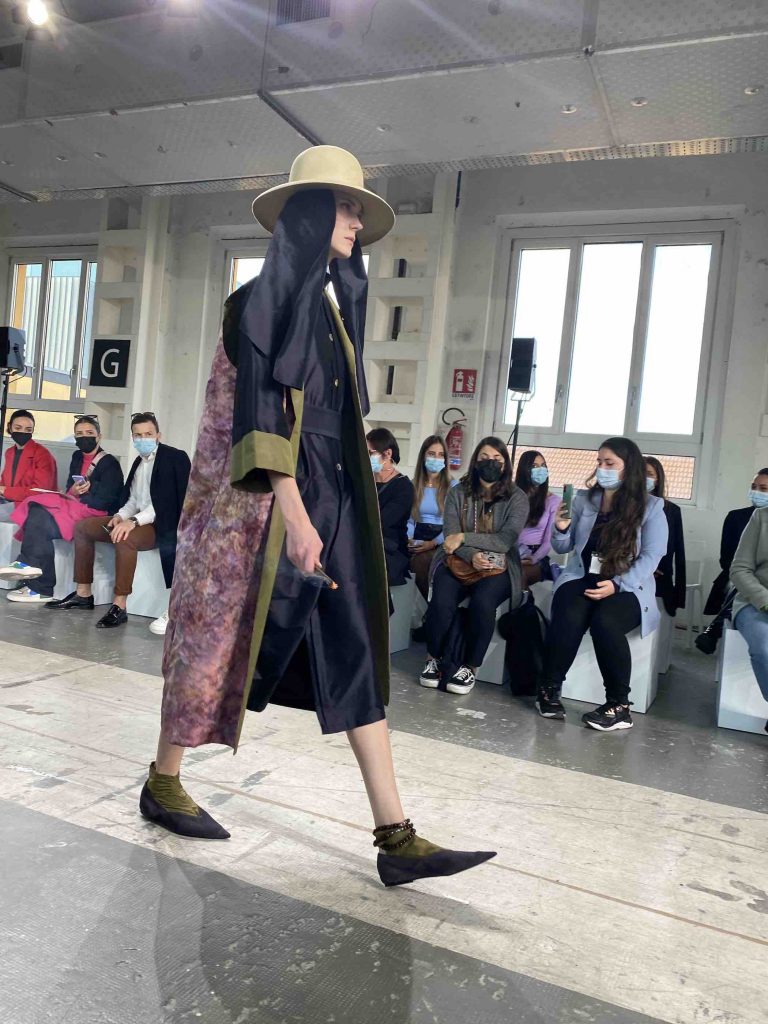 The garments are made with clean lines to give freedom of movement, comfort and well-being. The fabrics are soft and fluid.
The colour palette, made up almost entirely by earthy shades, in clear reference to the places where Zen is practiced.
Accessories and handmade inserts pay homage to the pacifist and activist Yoko Ono and the Buddhist monk Taisen Deshimaru, founder of Zen philosophy.
Elena Baldacci – RESILIENCE
Elena Baldacci explores the concept of resilience and man's ability to resist and react to any adversity through an eco-friendly and highly symbolic collection.
See Also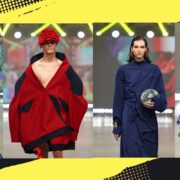 Dresses with voluminous structures represent the boulder of difficulties, faux leather inserts communicate the strength of man, while rebirth and fortune are symbolized by fluid and light fabrics embellished with personalized beetle-shaped jewels.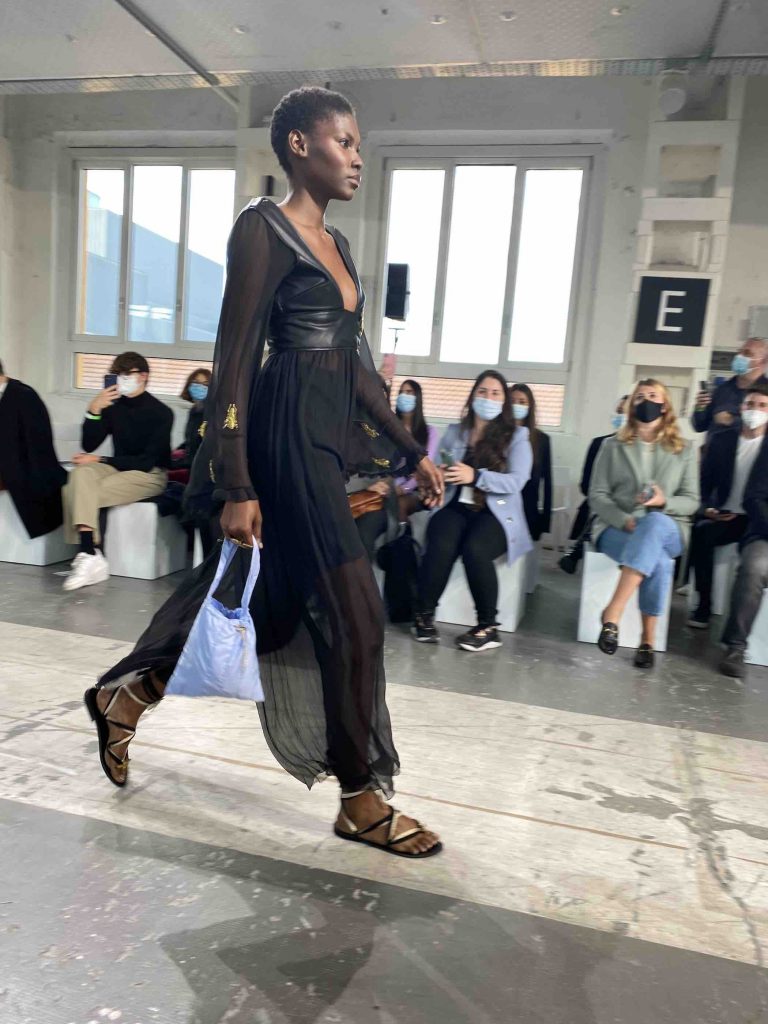 A low environmental impact collection with materials that reduce air pollution such as recycled polyester, eco-leather and natural fabrics such as silk and cotton.
Chiara Menapace – MY BODY MY ART
Chiara Menapace's collection tells the process of healing from bullying through the values of inclusiveness, bodypositive and sustainability. 
The old painters' coats with free shapes and large volumes are transformed into an artist's palette with freehand paints that symbolize freedom of expression.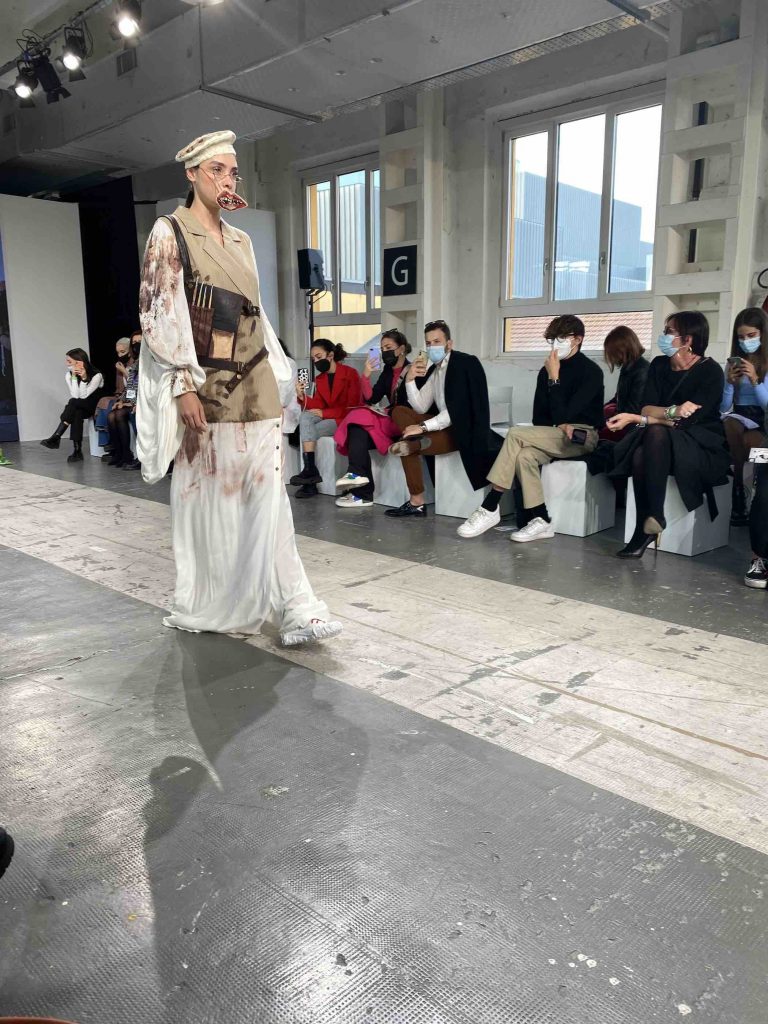 Great importance is given to the processing and manual interventions such as machine embroidery and needle punching and to accessories made up of old vintage coats that benefit the environment thanks to the mixture of recycling, creativity and craftsmanship.
Lisa Orsini – AN EXTRA CHROMOSOME OF LOVE
Lisa Orsini celebrates diversity and inclusion through her collection, a new take on down syndrome told and seen through the eyes of fashion.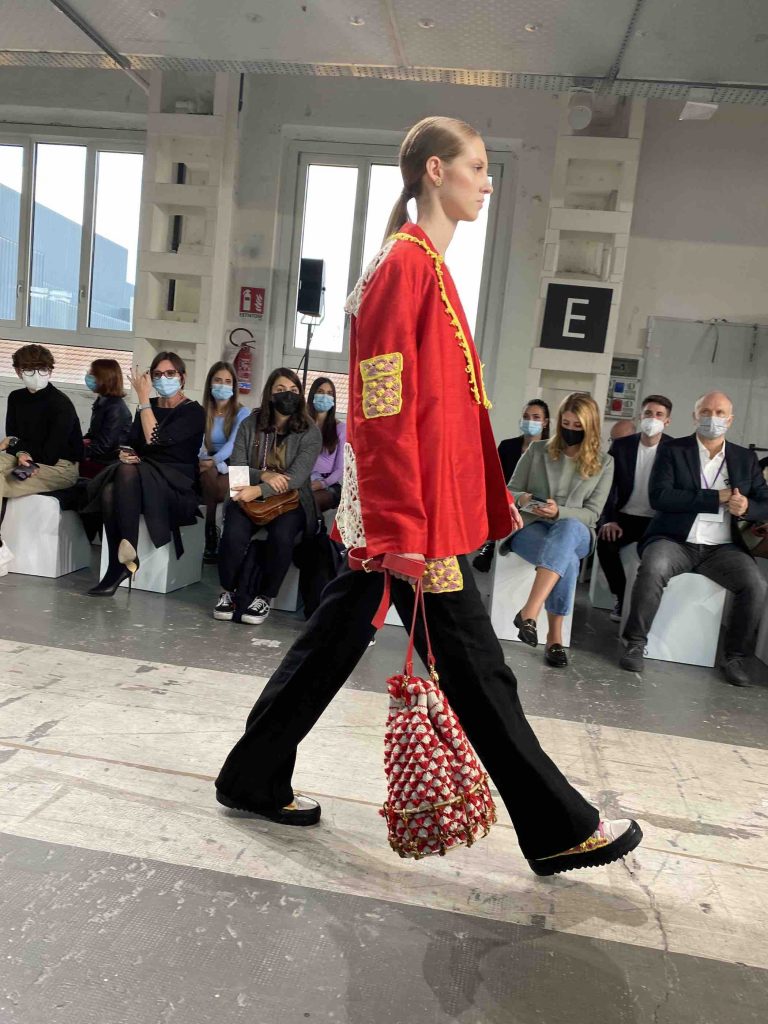 An indissoluble bond between sisters, the strength of a community and the love of life are the common thread of the collection in the name of comfort, simplicity and bright colors.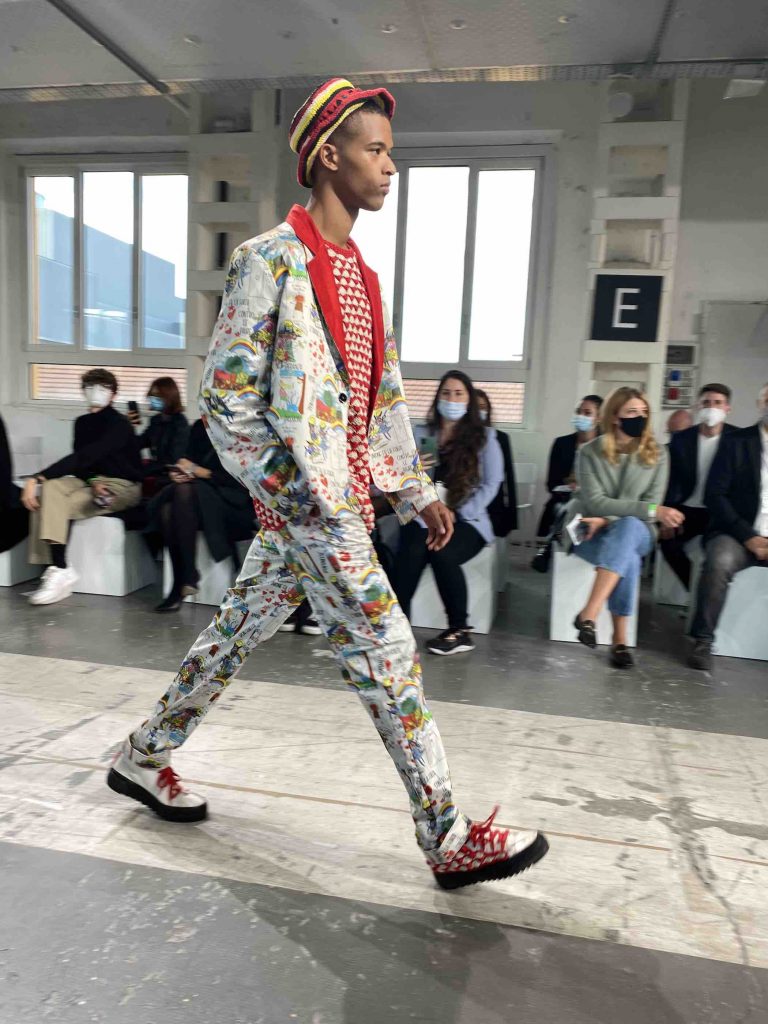 Casual chic outfits that mix craftsmanship and handmade with precious and natural fabrics, crochet work, embroidery and prints illustrated by the protagonists of the story.
Niccolò Salvetti – COUNTER CULTURE BODIES
The collection thought by Niccolò Salvetti expresses his take on youth countercultures, a vision that moves aways from mainstream circuits with a new threatening and provocative soul.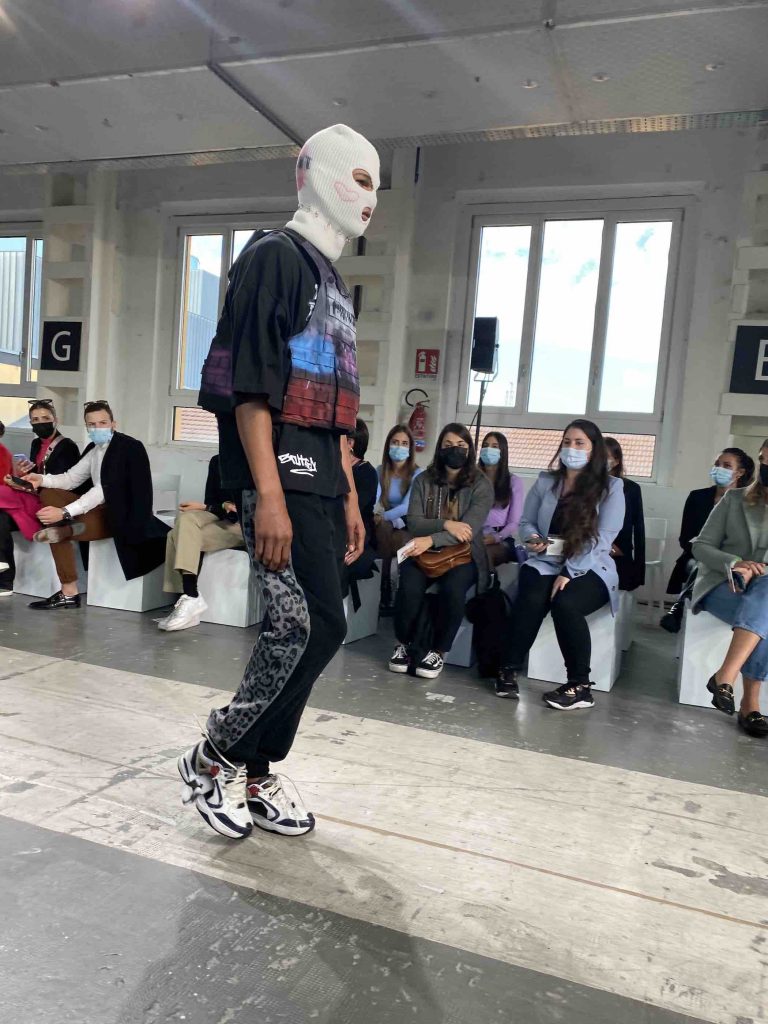 The garments seen on the runway are colourful and ironic. They play with the communicative power of the underground imaginary, you can clearly see references to cinema, art, comics, graffiti and pop icons. 
The outfits are made with raw fabrics with tactile and visual contrasts that recall the typically young and pop style and are enriched with prints, quotes and hand drawings made in spray can typical of street art.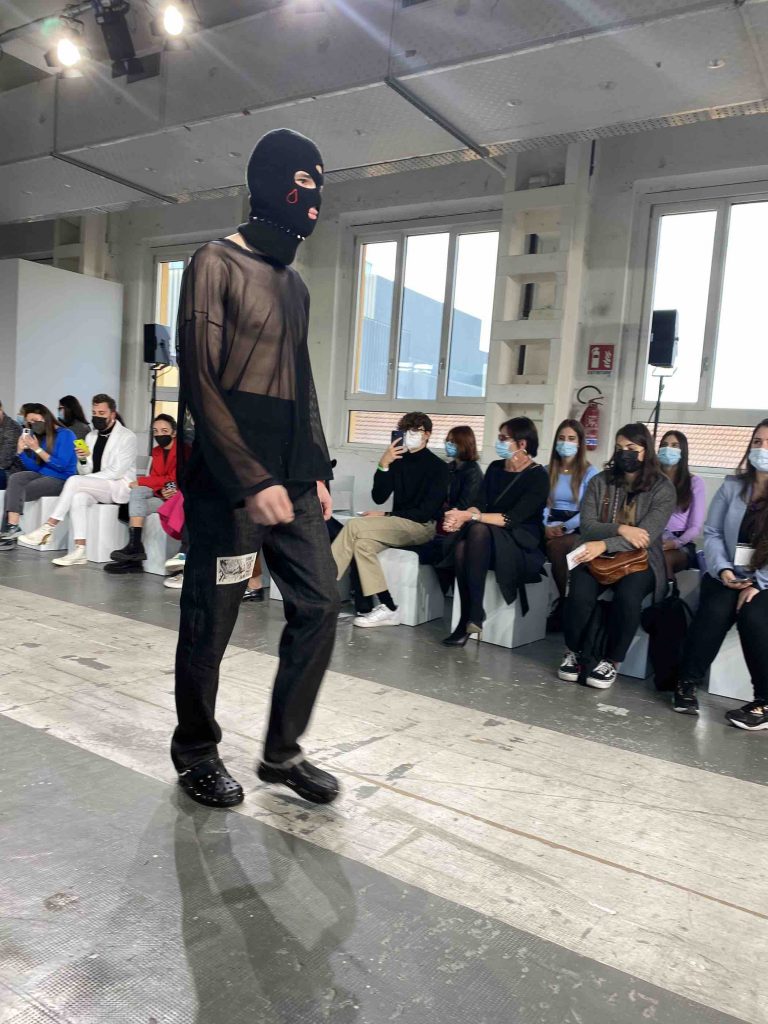 A project that is contaminated by the digital world of gaming, the collection itself creates a combination of creativity, design and technology.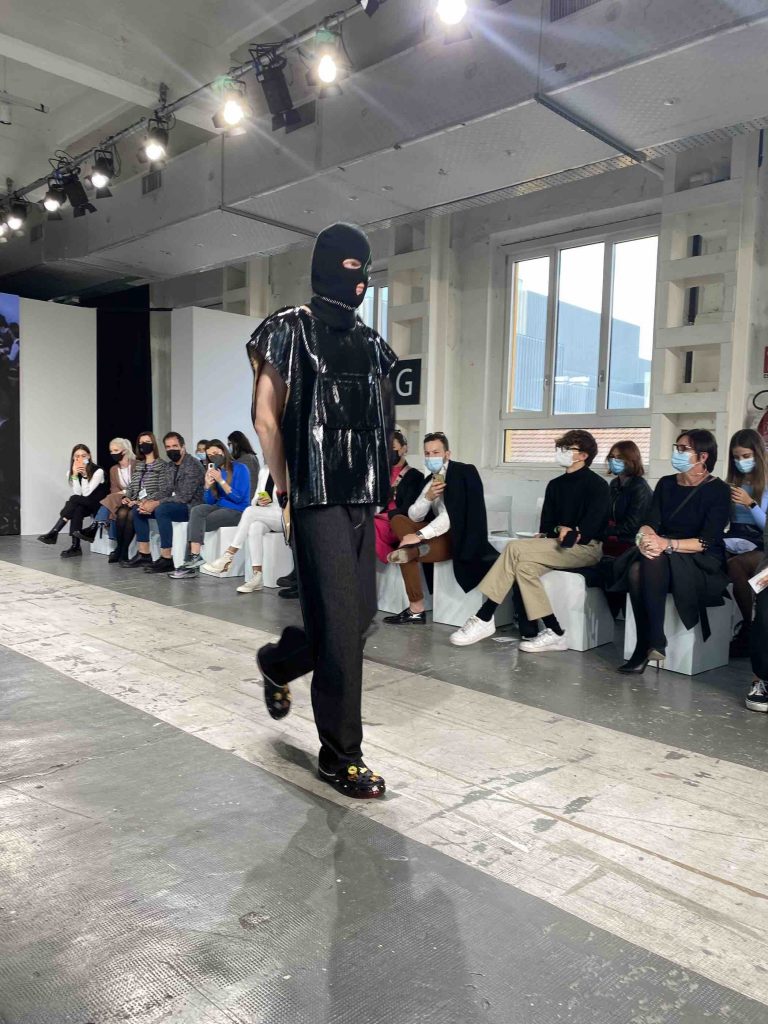 Article by Federica Macheda