In November 2021, Istituto di Moda Burgo took part in Fashion Graduate Italia, an event dedicated to fashion students in Italy, who have the opportunity to highlight their talent and creativity, at Base Milano.
The clothes designed by the students of the Istituto di Moda Burgo were shown on the catwalk of the graduate fashion week and we had the occasion to admire the creations of Lucrezia Cappella, Giulia Tambosco, Ilaria Guida, Claudia Fasciana, Andrea Costi, Behnoosh Lavaei, Enrico Tondelli, Valentina Vergani e FenFen Hu.
The concept that binds their capsule collections is "Dimensional Mind", inspired by the events experienced in this particular historical period. The garments are a hymn to a renewed lightness and classic elegance, with strong touches of modernity. The fundamental fits has always characterized the excellence of the Burgo Institute.
Andrea Costi
The collection by the young designer Andrea Costi is characterized by the use of sheer materials, that give to the garments light and soft volumes. He also plays with pleated fabrics and rouches, giving an overall creased effect.
Enrico Tondelli
The garments created by the emerging fashion designer Enrico Tondelli are a skilful blend of masculine and feminine, mixing elements belonging to the male wardrobe with elements typical of female fashion.
Giulia Tambosco
The graduate collection by the young fashion designer Giulia Tambosco plays with historical references and a clear romanticism taking some elements, such as the gorges, from a late Renaissance period and corsetry from the 700s century, declined in a modern way.
Behnoosh Lavaei
The inspiration behind Behnoosh Lavaei collection are a clear reference to the 80s and reminded us of some iconic pieces by John Galliano for Dior. The garments silhouettes are delicate and feminine but modernized by the use of a plastic touch.
Lucrezia Cappella
The young designer Lucrezia Cappella created a revisited version of the utility style, playing with minimal sartorial elements contrasted with large pockets and interesting geometries. The collection is also dynamic thanks to the use of acid and bright colours.
See Also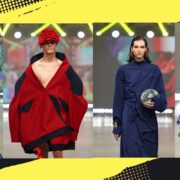 Valentina Vergani e FenFen Hu
The capsule collection by the fashion students Valentina Vergani and FenFen Hu is an ode to femininity and elegance. The pastel coloured dresses are characterized by fluid and soft volumes with trapeze silhouettes and oversized lengths.
Claudia Fasciana
The fashion collection designed by Claudia Fasciana is elegant and feminine. Transparent fabrics are combined with shiny satins and silks. The dresses have plays of contrasting colours, interesting details like green piping and a touch of sparkling crystals.
Ilaria Guida
Ilaria Guida combined in her garments classic and tailored elements, like the 90s style suits with contemporary and romantic mood. The outfits are games of volumes, pleats and tulle rouches, while the colour palette combines the neutrals and basic beige and black with the delicacy of sky blue and bright green.
Article by Federica Macheda